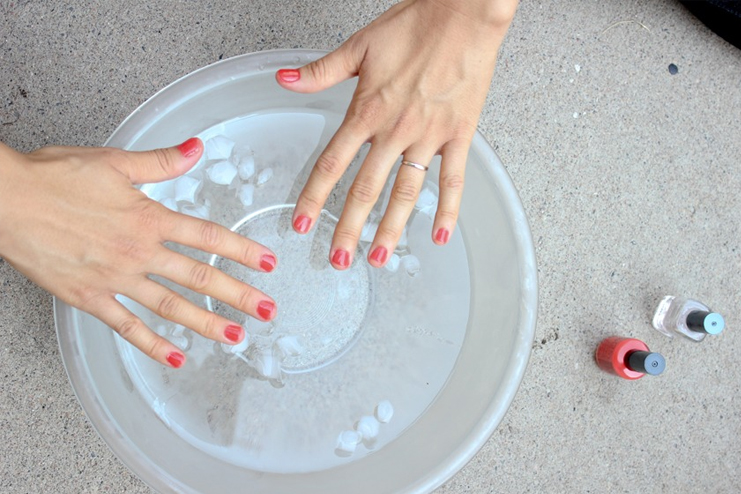 Women are fond of nail painting and nail art. I know the fun in changing the shades as am a nail art lover. Love to experiment nail arts and shades. This is never ending love for me. If you are someone like me, then you also find it difficult when trying to dry your painted nails.
Drying the nails is a tough task and make me lose interest in decorating my nails. We do the nail art with extra care making the details perfect. But at last it gets wiped or smudged by it gets dry. Isn't it annoying every time? This experience made me write how to dry nail polish naturally.
You cannot get the tool to dry your nail polish. And why do you need to it when you have the natural and easy ways. After following these ways, I dint find it difficult to do the nail art. I totally love doing nail art from start to end.
Ways to Dry Your Nail Polish Faster
1. Dip Your Nail in Cold Water

The chocolate melts when place it in heat temperature. So, you need to store it in refrigerator. Now don't hurry up to place your nails in your refrigerator. Lets us makes it more simple. Get a bowl of cold water and dip your nails into it once your done with nail painting.
Dipping your painted nail to dry faster is one of the brilliant tricks. It is already followed and proven. So, give it a try for easy and fast dry.
2. Thin Layers Dry Fast

When you do thick layers, it is hard to dry faster. It takes hours and not even minutes. So, you better apply thin layers of nail polish. You can also save your nails from smudging and messing. You can instantly experiment this and notice the difference of thick and thin coats. Apply thick coats on one hand and then apply thin coats on other hand. We bet, thin coated nails dry faster compared to thick.
3. Apply a Top Coat

Top coat gel is of thinner texture when compared to normal nail polish. So, to avoid smudging and messing of your painted nails, you must seal with a neat top coat. Top coat speeds up the nail polish drying process. Any ways, you also get shinier and flawless nails with the top coat. And why would you skip it, when it is all the ways good to wear?
4. Use Blow Dryer

Oh Yeah! Blow dryer produces heat and it is not useful technique. This is what you think when you read this point. So, we can be wise in using blow dryer to dry the nail polish. Keep it on lowest setting which don't produce heat at all. Nothing in wrong or harm in trying this trick on spot. Grab a polish and apply to your nails and let the dryer blow some air over your nails. You can do this for 2-3 minutes to dry your nails.
5. Baby Oil

Once you are done painting your nails, simply let the oil drop come on to each of your nail. Make sure you apply one drop to avoid greasiness and mess. You can sit for 1-2 minutes which is less time compared to normal. You can even use olive oil or cooking oil which works the same.
Once you apply and wait for nail polish to dry, you can wipe away the applied oil.
When you find simple ways, you must not keep it complicated. Being a little tricky can dry the nails polish faster. It is all about using the things to do the best. Now you can have the smudge free nails and need not struggle waiting for your nails to dry.
Related Articles: