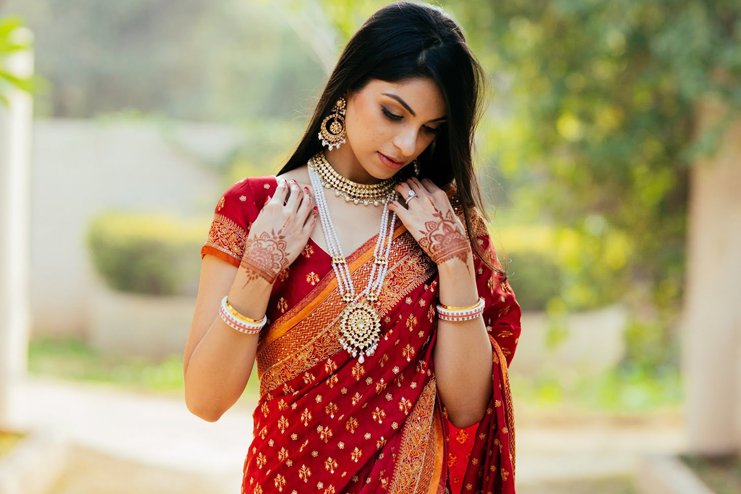 Love for jewelry is never for any woman. And keeps on looking for the best options to accessorize herself. A bride to be would is always excited for jewelry and she tries to be wise during jewelry shopping.
When you are selecting jewelry, you must look for something that enhances your beauty. The never failing jewelry for an Indian bride is pearl jewelry. The bride's shines with the pearls jewelry. Every Indian bride loves to accessorize her look pearl jewelry. So, you can look at the trending designs of pearl sets for Indian brides.
If you are bride who wants to look unique, then you must go for these designs of peal jewelry. You will love to team up these pearl sets with your traditional wedding outfits. You don't need to be wise while choosing the designs as all are fantastic for Indian brides.
Latest Pearl Sets for Indian Brides
1. Golden Pearl Set

You may love to wear a simple pearl set. But as a bride you must go for grand and traditional looking jewelry. So, choose a golden pearl set that adds extra shine on you. The brightness of gold and clam shine of pearls make a lovely combination for an Indian bride. You are going to be an ethereal bride in golden pearl set. If you want to be a minimalist even as a bride, then you can go for pearl drop set.
You can have a look at the above image of golden pearl set which looks prettiest with golden and pearl combinations.
2. Kundan Pearl Set

Kundan pearl set suits a traditional bride of India. Kundan jewelry can match with the ethnicity of your traditional saree you will wear on your wedding day. You will also You can also choose pearl set with the colourful kundans. The pretty shape of kundan and pearls makes the jewelry the most attractive one. You can pick the jewelry with tiny pearls which adds the delicacy to your bridal appearance.
Kundan attached pearl sets are of various designs. The grand look that comes with the fusion of kundans and pearls is made for Indian brides. You will fall in love with your pearl as it enhance your bridal beauty.
3. Beaded Pearl Necklace

Beaded pearl necklace is the simplest jewelry that you can wear for wedding rituals. As a bride, you must appear pretty and unique. Even the simple jewelry must make your look special. As you are going to wear a lightweight outfits for your wedding rituals, you can pair up a beaded pearl necklace. You can look at the above attached beaded pearl necklace. Generally, the beaded pearl necklace comes with a pearl dropping. And it is going to be the most attractive part of the necklace. Beaded pearls are all in multiple styles and designs. It is simple to choose one to match your bridal look. It can also take the place in your set of jewelry of bridal look as beaded pearl necklace is simple.
4. Pearl Neck Choker

A pearl neck choker makes you look classy as a modern bride. You can also make a traditional appearance with the neck choker. Neck choker wrap the neck beautifully and that is the reason women prefer neck chokers. In the above image, you can see a neck choker with tiny pearls and a giant pretty pendent. And neck choker is enough to make you look dolled up as a perfect bride.
Neck choker is a jewelry piece that suits various outfits and never lose its fashion. So, to look well adorned as an Indian bride, you can choose a pearl neck choker.
5. Pearl and Diamond Woven Set

Pearl and diamond woven jewelry set is the best choice for an Indian bride. Brides are preferring contemporary designs which can also give them a ethnic look. The pearl set that woven with diamonds makes the bride look angelic. She is going to mesmerize and enhance her beauty with a pearl set. This kind of jewelry suits for reception like occasions. The evening ceremonies demand elegant outfits and jewelry. Then you can pick a pearl and diamond woven set for your fashionable Indian bridal look. You can look at the above image and you may stick with such pearl set for your reception.
6. A Long Chain with Pearls

Long chains are loved and accepted universally. But the beauty of the Indian traditional long chains suit the brides. You can pair the long chains along with other jewelry on your wedding day. A pearl long chain adds a unique kind of look to your bridal appearance. Long chains with pearls are delicate and elegant. If you want to add a pearl set to your collection, then choose a pearl long chain which is stylish for modern women. You can also wear the pearl long chain for your simple outfits and sarees.
7. Gold Colour Pearl Set

Gold colour pearl set is a unique kind of pearl. Most of the women prefer pure white or ivory coloured pearls. And if you want a unique selection for yourself, then choose golden colour pearl set. The pearls come in golden colour which is going to make you look pretty in a different way. You are going to fall in love with the designs and the looks of golden pearl sets. We are sure that you are going to choose this if you want to look eccentric as an Indian bride.
8. Layered Pearl Necklace

Layered necklace is a beauty piece in any kind. It is a vintage style of jewelry. The layers make the necklace look heavy and grand. All the shiny pearls coming together makes the necklace attractive. A bride can wear a layered necklace and simply add other simple jewelry. As an Indian bride you are going to prefer a layered pearl necklace over other jewelry pieces. Getting dolled up with beautiful jewelry is every bride's wish. But it is also important to choose a suitable jewelry piece for the special occasion.
9. Ivory Pearl Set

Ivory pearl set is the most preferred by Indian brides. The ivory shade of the pearls makes your bridal look shiny. The ivory pearls with other embellishments makes the most prettiest necklace. You will find ivory pearl necklace with diamonds, silver and kundans which is wonderful fusion. The ivory pearl set also suits your traditional and semi traditional outfits. The pearl set can be a heavily adorned with pearls and can be simple with less pearls. You can have a glance of the above image where you can see grand and simple ivory pearl sets.
10. Pearl Set Turkish Jewelry

Pearl set Turkish jewelry that looks unique on an Indian bride and suits well. You may think Turkish is not for Indian brides. But it is much looks like Indian jewelry. Forget the name and look at the above image of pearl set turkish jewelry. You are going to be beautifully adorned with the pearl set. You will just wait for a chance to wear it on and embrace it.
11. Multi Coloured Pearl Necklace

You can wear a multi coloured pearl necklace for your wedding rituals. The multi coloured pearl jewelry is going to style your simple outfits. You can choose the simple adorned pearl set. The earrings mostly come with pearl dropping. You are going to love the combination of the colours. It appears elegant when an Indian bride pairs the multi colour pearl necklace with her light weight outfits.
12. Rani Haar

Rani haar is a layered necklace which is connected beautifully with giant pendents. This necklace is worn by every Indian bride which is treated as the auspicious ornament for brides. Ivory or pure white pearls are used to make the ethereal rani haar. Rani haar is woven and beaded with latest styles. The main pendent of the necklace makes it the most attractive. And you can also elegant jhumkis as part of the set. Rani haar is a perfect jewelry piece for Indian women that can be paired with all traditional saree. It is made with traditions more than just diamonds and pearls.
You are any ways adorned with the blush. The pearl set is going to make you a little more adorned. The jewelry adds the shine and make you feel special on your big day. It is not about just wearing jewelry but you must be adorned with the suitable and fashionable jewelry. The jewelry should also not miss the ethnicity that an Indian bride needs. You can choose the pearl sets for all wedding occasions and rituals.
A pearl set makes you a real bride of India.
Related Article: