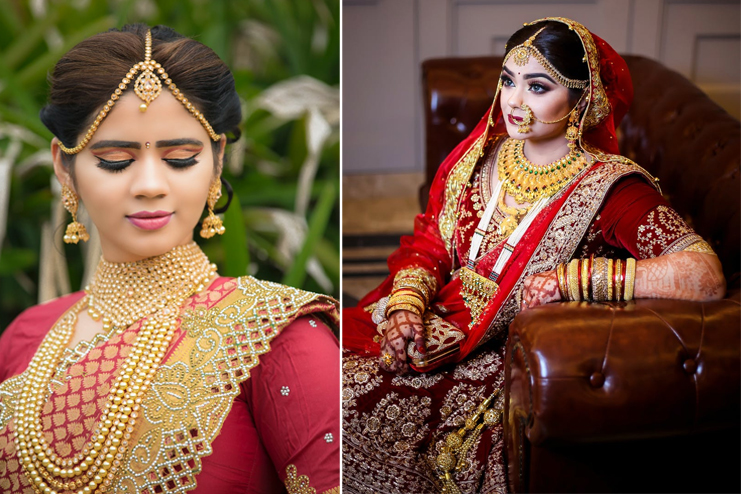 An Indian bride needs many accessories and ornaments to look perfectly traditional. A few compulsory ornaments can easily define an Indian bridal look. One of such precious ornament is matha patti.
Matha patti is an integral part of all the Indian brides. It is more than a head accessory that cannot be described in simple words. A bride may not skip wearing the makeup but not matha patti.
The traditional matha patti is now trending with the modern styles. You have matha patti styles for Indian brides which match up with lehengas, sarees and other traditional bridal outfits. If you are a bride to be, then you must have a glance at the below latest bridal matha patti styles.
Matha Patti For Indian Brides
Be it any region and religion, matha patti is loved by every Indian woman. It can be a traditional style accessory. The beauty of this ornament is, it makes the bride look unique from routine style. It is mostly worn by Hindu and Muslim brides in India.
It is another version of maang tikka and has the same significance. It is just an extended style of maang tikka. The real significance of matha patti is- the holy union of male and female spiritually, physically and emotionally.
Matha Patti Style For Every Indian Bride
1. Side matha patti

Side matha patti is something unique from what you often see. If you want to be a modish bridal look, then you can opt this style of matha patti.
It is not too heavy or over styled for a simple bride. The side bridal matha patti can be designed without missing any traditional essence. You can have a look at the above image.
2. Layered matha patti

Layered matha patti is the something you can go as traditional Indian bride. The layers of matha patti can make you look well adorned.
The layers cover your head with the designs. The lightweight chains that are layered makes the bride look pretty. You have double and triple layered bridal matha patti styles.
3. Matha patti with pearls

Matha patti with pearls make you look well adorned bride. You can just keep your other ornaments simple. Just cheer up with pearls matha patti which is specially designed for traditional Indian bride.
Every woman who wants the matha patti to be simply classy, must go for the pearls one.
4. Matha patti with diamonds

A modern bride would like to choose a diamond matha patti over anything. It is one of the trending style of matha patti for brides.
If you are wondering, whats so great in choosing a diamond matha patti, then you must look at the diamond matha patti for bride. Indian brides look ethereal with diamond jewelry.
5. Gold matha patti

Some regions only prefer the purely golden ornaments for brides. The South Indian brides mostly look and wear the gold jewelry. So, for South Indian and other brides who are looking for gold matha patti, can look at the style here.
You can look attractive traditionally as a bride. It is an head turning style for every bride.
6. Silver matha patti

Brides can also try the variety of matha patti styles. A silver matha patti is lovely for wedding rituals. Sivler matha patti makes you look extremely modish as a bride.
On your bridal shower, sangeeth and other wedding rituals, you would love to wear some light but traditional ornaments. Then, you can look for a silver matha patti.
7. Matha patti with dangles

Matha patti with dangles is traditional and royal for an Indian bride. If you feel the pearl and diamond drops are too simple, then you can choose the one with dangles.
Bridal matha patti with dangles is elegant. As you want to fully embellished and adorned with bridal jewelry, you can choose this style of bridal matha patti.
8. Matha patti with colourful beads

Matha patti with colourful beads can be your favourite. I became a fan of this matha patti style. The colourful drops if beads makes it a classy ornament.
You will fall in love with the bridal ornaments, when you find one suitable piece for yourself. This can be the one suitable style of matha patti that makes you happy as a bride.
9. Over sized matha patti

Over sized matha pattis are well adorned with pearls, beads and diamonds. The extended designs of an over sized make it a perfect ornament for Indian brides. You will love every bit of the over sized matha patti for brides.
You will love adorning your head with a over sized bridal matha patti. You can choose a bridal matha patti with pearl and diamond drops. This is one of the latest styles of bridal matha patti that every bride can choose.
10. Chain style simple matha patti

Chain style matha patti is classy for an Indian bride. All the brides may not like heavy and over sized ornaments. For such brides who wants to keep the bridal look simple and classy can pick a chain style simple matha patti.
The bridal jewelry with chain style is trending and suits the new gen brides. The bride looks dolled with the layered chains. You can look at the images that are attached- where the brides are appearing godly with chain style simple matha patti.
11. Matha patti with kundans

The kundan bridal jewelry is something that is amazingly beautiful.The shining kundans make the matha patti look simply magnificent. You can shine brighter and pretty with a kundan matha patti.
If you want a traditional and fashionable bridal matha patti, then you can pick the one which is woven with kudans. Check out the samples that are attached above for you.
12. Intricate matha patti

Eyes of an Indian bride goes on the intricate jewelry and accessories. The more intricate the ornaments are, the more adorned she feels.
You can make the intricate matha patti designs which are woven with diamonds, kundans and pearls.
A bride must fall in love with her special wedding look. The ornaments and accessories play the role of styling an Indian bride traditionally. Be a super styled Indian bride without skipping even a bit of ethnicity.