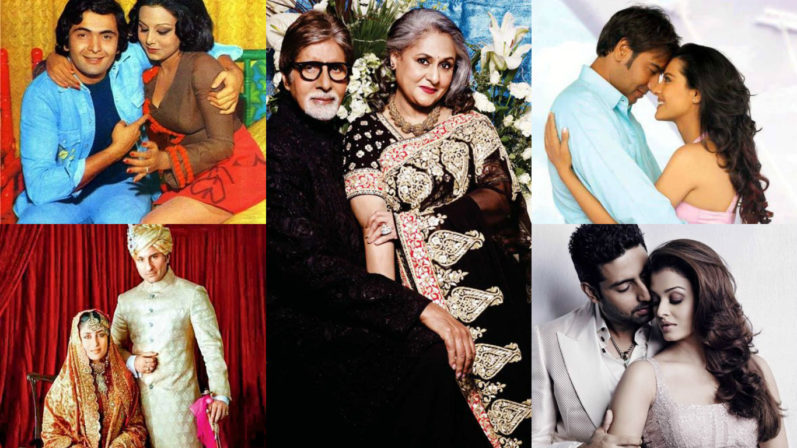 We know that Bollywood is home of talent, fashion and romantic love stories. The Hindi film platform brought many souls together and many people ended as real-life couples.
We have adorable real life couples in Bollywood. A few couples have shown their spark and chemistry on screen and didn't fail to show it off screen too. We have listed the top Bollywood real life couples.
If you see B-Town has the love stories from yester actors and actresses to recent times. Check out the 10 most celebrated and happening real life couples in B-Town.
Real Life Couples in Bollywood
1. Saira Bhanu and Dilip Kumar

For Saira Bhanu, it was a fangirl movement on a day she met Dilip Kumar. On the same day, he noticed how beautiful she is. She fell for him when she was 12 years old and he was 23. Kumar proposed her during the shooting of the film "Jhuk Gayaa Asmaan". Later they got married in 1966.
The actress once said in an interview that she is lucky to have Dilip Kumar as her husband and she tagged him with "my Kohinoor". This beautiful bond is seen in their movies like "Sagina", "Duniya". The couple had the ups and downs in their beautiful relationship but always choose togetherness.
2. Amitabh Bachchan and Jaya Bachchan

Jaya Bachchan and Amitabh Bachchan is another romantic fairy tale but in the world of reality. Their first meet was in Pune Film Institute 1970. At that time Jaya was already a famous actress in B-Town and Amitabh was struggling to make a mark as an actor. But he once saw Jaya's picture on a magazine cover and fell for her. She was the women of his dream with traditions and values.
Again they both met on the sets of film "Guddi". Over time, Jaya recognized Big B that he different from usual heroes. They both fell in love with each other and got hitched in 1973. That's how the star heroine Jaya Badhuri became Jaya Bachchan. As part of every relationship, they have experienced the bitterness in their relationship but still inseparable as a couple.
3. Hema Malini and Dharmendra

Hema Malini and Dharmendra are an epitome of love. Hema Malini is known as "Dream girl" of Indian cinema more than by her original name and Dharmendra was ruling the hearts of film lovers in his time. They met in the sets of their film "Tum Haseen Main Jawan". They both fell in love with each other being a team for the film shooting. The twist here is, Dharmendra was a married man by then but fell for the beauty of Hema.
The actress didn't pay attention to Dhamendra's love interest for her. But the on-screen magic became alive in their off-screen lives. Hema Malini's father was against their love as an actor is a married man and from the other end, actor's wife Prakash Kaur was not ready to divorce him. Both the love birds went of their ways to stand for their relationship. Prior to marriage, the couple converted to Muslim as it will be legal to have two wives. Finally, they tied the knot in 1980 and have two beautiful daughters Esha Deol and Ahana Deol. The big decision is worth their eternal love of 40 years. We can say it is a perfect happily ever after love story.
4. Kajol and Ajay Dengan

Is love, at first sight, everything in love? The best example to say that love, at first sight, is not everything is this couple- Kajol and Ajay Devgan. It was not "love at first sight" for the couple but they are one of the adorable real life couples of Bollywood.
Kajol and Ajay met on the sets of the film Hulchul. Kajol was a bubble girl who always brought the charm around her as she does in the movies. The hero, Ajay is more a reserved person. Their nature stopped from becoming friends but later when they worked for the movie, their strangeness transformed into friendship. It was all of smiles and shyness as they realized there are more than just friends.
At the time Kuh Kuch Hota Hai film, Kajol met with an accident and was affected with anemia. It was hard for her to recover from the incident. Then her co-star Shah Rukh Khan and film director Karan Johar called up Ajay. After a conversation with Ajay, Kajol felt good which shows their stronger attachment. They both got engaged in 1999 when both were equally ruling the B-Town. After marriage, Kajol took a long gap from movies dedicating her time for family. She loves to flaunt her precious bond with her family with Instagram posts.
5. Twinkle Khanna and Akshay Kumar

Twinkle Khanna and Akshay Kuram a known as a power couple of Bollywood. Twinkle is a pretty woman who is well versed with her multiple talents like acting, blogging and designing. The love of her life, Akshay is an idol of martial arts in Bollywood. These two talents raised a bond of romantic love.
Some of the love stories start with beauty and for few it's their bond. But for Akshay, it was Twinkle's qualities which made him fall for her. She was a confident, talented and headstrong woman. They first met for a Filmfare magazine shoot and later fell for each other during their movie "International Khiladi.
The story behind their marriage is- twinkle was sure about her movie "Mela" will do great at box office. She told Akshay, if the movie is a flop then she will marry him and the movie was a flop. Soon after this, they decided to marry. The playful words came true for the couple. The respect, value for each other keeps them going as a beautiful couple in Bollywood.
6. Aishwarya Rai and Abhishek Bachchan

Aishwarya Rai and Abhishek Bachchan's is a charming real life couple of Bollywood. In an interview, Abhishek shared that "Aishwarya is dedicated to whatever she does, be it acting, or as a mother." This kind of recognition is what a woman expects from her man when she deserves it. No wonder, they are the most loved couple in B-Town.
Their love story is simple which changed from a dear friendly bond to marriage. They are many movies in their combination. The first movie for them as leading characters together is, Dhai Akshar and then it followed with a couple of movies. The world fell for Aish from her very first appearance but Abhishek fell for her during the movie Muzaffar Ali.
Then he proposed her during their next movie "Umraao Jaan" and tied knot. Abhishek is a gentleman who keeps it a woman leading relationship. Also, they both have learned from each other in their 9 years of marriage.
7. Kareena Kapoor and Saif Ali Khan

Kareena and Saif is too far as they much a blend as Saifeena. This mesmerizing couple acted in a few films. They acted together in the movies LOC Kargil and Omkara. The next movie Tashan was lucky for them as the cupid struck then. At the time of the movie, Kareena was in struggling point of her career. She got the right support from Saif and was extremely attracted to his appearance and his good nature.
He proposed her for marriage but she wanted to know him better. Again he proposed her in their Paris trip and she accepted his passionate love. It seems. Saif's father proposed his mother Sharmila Tagore in the Paris and the history repeated. Saif was a sorted man and Kareena's family was all okay to accept their love. And now we know that it is a happening real life couple in Bollywood.
8. Genelia Dsouza and Ritesh Deshmukh

Genelia Dsouza and Ritesh Deshmukh always leave us awestruck their cute chemistry. You will feel it, even more, knowing their love story. It is no less than a romantic Bollywood flick.
When Genelia first met Ritesh, she had an impression that he will be a spoiled brat as he is Chief Minister's son. To her wonder, he was respectful to her parents and elders. She says, working with him for the movie Tujhe Meri Kasam, changed her impression about Ritesh.
They loved each other's company and started going around. Both dated for a decade and then vowed to stay together forever. He said, "She is my flag bearer". And yes, she is an inspirational wife of a responsible husband. They are a perfect pair.
9. Deepika Padukone and Ranvir Singh

The couple was in a long term relationship before their marriage. Their first impression on each other are unbelievable to what they are in present. Deepika felt Ranveer is don't of her kind. Anyways, Ranveer started admiring Deepika's beauty from the very first sight.
Their first movie together was Galiyon ke Rasleela ram Leela in the year 2013. Their chemistry was a crowd puller. So, the film directors chose to star them in other movies which made their bond closer.
Reportedly, Ranveer Singh visited the movie set to spend time with his lady love. Their appearances and PDA was a sign of their private relationship. Also at IIFA Awards, Ranveer went down his knees for Deepika. The rumours about their relationship were going viral. They both decided to put an end to all the rumours and made it official with wedding news.
They hitched in November 2018.
10. Bipasha Basu and Karan Singh Grover

Bipasha Basu and Karan Grover's was an unexpected relationship. Bips says, though she believes in marriage, didn't know that she would get married. She believed that there is a beautiful relationship in the store for her when only Karan proposed her.
The two celebs were rumoured to be in a relationship for long. Their hanging outs and PDA raised the speculations. Lately, Bipasha took her social media to announce her marriage with Karan. She wrote " "I love Karan because we are like twin souls – we believe in enjoying life like travelling and loving nature." She also added, "It's about the choices you make in life". It is more like a loving note from a bride to be for her beau.
The two had a different relationship before they committing forever. Their past relationships made them feel skeptical about the future as a couple. But they sorted it out and didn't stress over it. Bipasha said in an interview "Our relationship's key fundamental foundation is friendship. It's selfless and loving."
You know how Bollywood is also a stage of love stories. The passion of love is unstoppable while the stars come to show their talents. The real life Bollywood couples wonderfully handled the stardom along with their respective life partners. So they become the most celebrated couples in the industry undoubtedly.
Other Recommended Articles