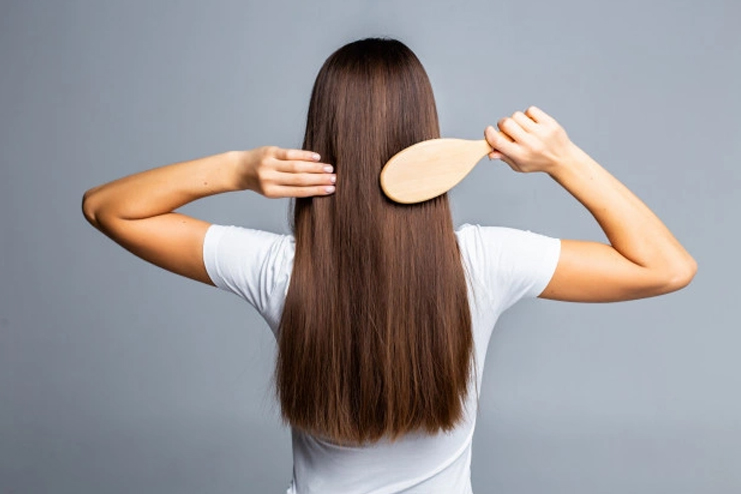 You put your hair through multiple styles with the shades and textures. It is not a bad treatment to style your hair to the fancy. But the care that you show after styling and certain treatment is important. One such condition is rebonded hair. It is good to choose a best shampoo for your rebondedn hair.
Shampooing your hair also means you are soaking it prior to cleansing. So, it matters the shampoo you pick to cleanse and maintain your hair. You need to be more particular with your rebonded hair. Hair is need of gentle touch post rebonding treatment. You must find the best shampoos to maintain your rebonded hair.
Reonded hair is a chemical treatment for to straighten the tresses. All the shampoos are not compatible with rebonded hair. We can be a help for you to find the best shampoos for rebonded hair in India.
Which is the Best Shampoo For Rebonded Hair?
1. Matrix Opti Care Smooth Straight Shampoo

Your smoothened hair needs to be moisturized to maintain the straight texture. Matrix opti care is to favoourable for chemical treated hair. It helps you maintain smooth and soft texture after rebonded treatment.
The shampoo is easy to use for everyday. It lathers well and you can wash out clearly. If you are noticing any hair fall then it is a perfect choice for you. It can help reduce hair fall to little extent.
It is the best rebonded shampoo for that tames the frizz. It leave your tresses manageable by removing the dryness. It adds shine to your hair after a gentle wash. If you are facing split ends problems with your chemical treated hair then opt this shampoo. It claims to prevent split ends.
PROS
Easy to rinse
Travel friendly
Frizz free
Moisturizes hair
2. L'oreal Professionnel Liss Ultimate Shampoo

Bouncy hair with smooth texture looks gorgeous. If you are dreaming of such hair then y7ou must try Loreal shampoo. It comes with a gentle keratin formula to keep the tresses soft and smooth with bounce. it helps retain the shine that you lose over the time over the hair treatment.
The formula of the shampoo is developed with the ingredients kukui nut and primose oil. It doesn't lather like the other shampoo. If you are fine to use less lathering shampoos only then you can pick this. Anyways, it is a good cleanser though it don't lather much.
The shampoo controls the frizz of the hair after every wash. It is a shampoo to treat frizzy, dry and straightened hair. If you are facing mild dandruff problem even then you can use this shampoo. You can use the shampoo without any fears of hair fall or reactions. It is a best shampoo for rebounded hair for everyday use.
PROS
Controls frizz
Easy to wash
Reduces dandruff
For everyday use
3. Wella Professionals Invigo Nutri Enrich Deep Nourishing Shampoo

Finding a shampoo that doesn't for your hair type is not a simple task. If your hair is less dry and damaged after rebonded treatment then you can choose this shampoo. It is a best shampoo for rebonded hair. It becomes effortless to maintain the softness and smooth texture of hair with this shampoo.
The shampoo doesn't trigger hair fall which means its a safe pick for rebonded hair. It is also important to consider the consistency of shampoo. The good consistency of shampoo can spread properly on the scalp. This shampoo spreads evenly allowing you to cleanse your hair effectively.
It is a specialized shampoo for chemically straightened hair. It has the goodness of goji berry and vitamin E. Oleic acid is to moisturize your hair and keep it manageable. The shampoo is not great for excessively dry hair.
PROS
Spreads evenly on scalp
Natural ingredients
Doesn't trigger hair fall
CONS
Not for excessively dry hair
4. Schwarzkopf Professional Bonacure Peptide Repair Rescue Micellar Shampoo
If you are looking for a shampoo that cleanses out the impurities then here is the best one. This is a best shampoo to cleanse your rebounded hair. After the rebounding hair treatment, you can start this shampoo. It conditions your hair to appear soft and smooth for a longer time.
It is great to use even without a conditioner and still go with manageable hair. It is stops hair from tangling and messing up after the hair wash. You need not fear of using this new shampoo. It doesn't cause hair fall or dandruff problems.
The shampoos which don't lather well seem unsuitable for daily use. If its the same for you then you will be happy using this shampoo. Schwarzkopf Professional Bonacure shampoo lathers well. If you feel it is an expensive shampoo then you can pick it only when you straighten your hair. Undoubtedly it is a best shampoo for rebounded hair.
PROS
Pleasant fragrance
Cleanses hair well
Need little quantity
Keeps hair tangle free
5. Kerastase Nutritive Bain Oleo-Relax Shampoo Unisex Shampoo

Maintaining the smooth and straightened effect of rebounded hair is not easy with regular shampoos. You must choose an expert like Keratese shampoo. It that works on hair texture after your hair is straightened.
It boosts the moisture of your dry hair. It contains the shorea oil to nourish your hair cuticles and prevent dryness. The deeply nourished hair become shiny, free from tangles. You will find it easy to manage your hair after a wash with this shampoo.
Sometimes, hair affects with the problems like split ends after chemical treatment. You can use this shampoo to best treat your rebounded hair. Pick this shampoo to keeps your hair smoother until the next straightening session. It is also a suitable shampoo for styling your hair.
6. The Body Shop Rainforest Moisture Shampoo

The Body shop shampoo is free from SLS, parabens and fragrances. It is a natural and gentle shampoo. If you want to experiment a natural shampoo for your rebonded hair then you can choose it. People with oily scalp tend to catch dust and dirt easily. You may have to rinse your hair twice but not with this shampoo. It washes out the oil in a single wash.
It adds moisture to your hair without weigh down. As it moisturizes your hair, it also retain the shine naturally. You will need a small amount of shampoo to wash and rinse your hair completely.
It is specially made to moisturize your hair and keep it smooth. It makes your hair healthy and natural. Keep the harsh chemicals from your hair post rebound treatment. This shampoo is a best choice for rebounded hair.
PROS
SLS and paraben free
Natural ingredients
Adds shine naturally
Moisturizes hair
When you are choosing a shampoo for your rebounded hair consider the formula. The moisturizing formula can keep your hair smooth and soft. It conditions your hair and maintains the texture without stripping the oils and affecting with dryness. The list of the best shampoos for rebounded hair are chosen on the same basis. You can pick one of the above for your hair.