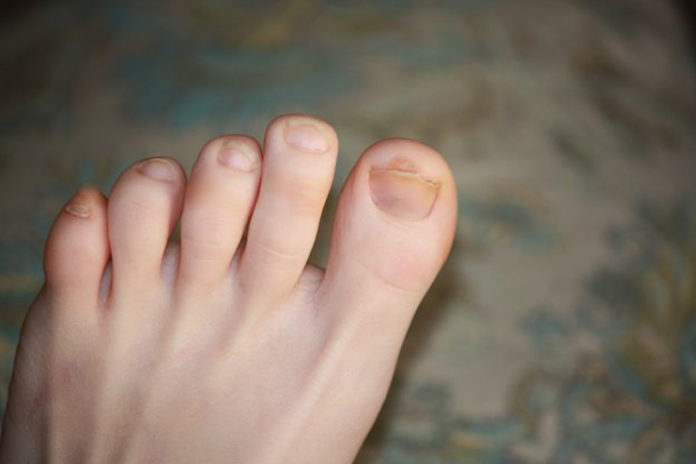 When you notice an usual change in your body, you will go in search to know the causes, symptoms of the indication. If you are going in search to know all about a minor change in your body or skin, then you are doing it right.
Are your toenails affected with fungus? We know the fungus in toenails is not painful. It is an infection due to some unnoticed causes. Still there is a need to clear the fungus in toenails. We don't suggest you to leave any skin or health condition even it is painless. Maybe, you would treat the fungus toenails after knowing the all about it, like causes, easy remedies and some more additional information.
The fungus forms under the nail and grows by damaging the nail colour. The nail colour become white, brown or yellow with formed fungus. Gradually, nail also become thicker and firm. The fungus effected toenail also may fall off by itself.
Causes Of Toenails Fungus
Toenail fungus is caused by the micro organisms which are termed as fungi. The group of fungi called dermatophytes cause the fungal infections under nails. There are full chances of fungi growing when nails are warm and moist.
Home Remedies To Cure Toenail Fungus
The home remedies to get rid of toenail fungus are mostly handy. So, choose a remedy to let the fungus go. All the ingredients and natural ways are powerful that can work on fungus to go out of your toenails.
1. Vicks Vaporub

Vicks vaporub works great for curing cold. But now you must try to treat toenail fungus as it has the powerful ingredients like camphor and eucalyptus oil.
What to do?
Apply little amount of vicks vaporub on your fungus toenails and leave it for 25-30 minutes. Repeat this for twice a day, Continue to apply it daily until the fungus is removed from toenails.
2. Baking Soda

Baking soda is an option to cure many minor health issues and skin conditions instantly. Baking soda is filled with anti fungal properties and also gives moisture to your fungal effected toenails.
What to do?
Method 1
All you need to do is apply baking soda and water mixed paste to your toe nails.
Method 2
You can soak your food in bucket of water in which pinches of baking soda is added. You must soak your foot for 10-12 minutes.
Method 3
You can add some baking soda in your socks and shoes. This will allow your foot gain some moisture.
3. Tea tree oil

Tea tree oil is an essential oil and best way to treat your fungus toe nails naturally at home. As tea tree oil is loaded with antibacterial and antiseptic properties, it is used to cure many skin problems.
What to do?
Just apply tea tree oil to directly on the fungus effected toenails. You must do this twice a day. Continue to apply tea tree oil every day until you get rid of fungus toe nails.
4. Vinegar

Vinegar is powerful food preservative and it has anti fungal agents. Vinegar is found as the best and harmless way to treat fungus toenails. It can also give u relief from foot ache.
What to do?
You need to dilute vinegar with warm water and soak your foot for 15 minutes. You can do this once a day and continue until you see clear toenails without fungus.
5. Coconut oil

Coconut oil is a great moisturizer for skin. So, take the help of coconut oil to cure the fungus toe nails. Coconut oil is an antibacterial ingredient which saves your skin from fungal infections and other skin conditions. So, you can also apply coconut oil to your skin to prevent from abnormal skin conditions.
What to do?
You can normally massage your toenails with coconut oil. Massage gently around your nail cuticles. After massaging with coconut oil, leave your foot for 30-45 minutes. Do the same for twice a day and fungus removal is possible with coconut oil application.
6. Snakeroot Extract

Snakeroot is a plant from sunflower family. Applying snakeroot extract is one of the effective ways to treat toenail fungus. It is that effective as it has anti fungal properties which can treat the fungal infections.
In a study it proved that applying snakeroot over three months treated toenail fungus.
What to do?
You can directly apply snakeroot extract on your fungus effected toenails. Continue to apply until the toenails get rid of fungus.
7. Garlic

Garlic is the super kitchen item that helps in curing various health issue and skin conditions. Garlic contains medicinal properties. The anti fungal and anti microbial properties in garlic can treat the toenail fungus. It is simple and easy way to use and treat toenail fungus.
What to do?
Make the garlic cloves into paste and apply on your toenails. Leave it paste on the fungus toenails for 30 minutes and do the same daily once.
Ways to Prevent Toenail Fungus
When you go with prevention, you need not take the treatment. So, choose the better option to keep yourself healthy and happy. Here are some ways to prevent from toenail fungus which are part of your daily habits-
1. Do not wear others footwear
As said above, toenail fungus is contagious. Think before using other footwear which is a direct way of spreading toenail fungus.
2. Go with footwear to any public places
The skin conditions and infections spread easily in public places like pools, locker rooms. Hence, do not go with barefoot.
3. Always choose breathable footwear
Tight footwear cause moist in your foot and this may lead to formation of fungus in your nails. So, it is always better to choose breathable and comfortable footwear.
4. Trim your nails keeping them short
Short nails don't give a chance for ingrown nails and you will also be able to reduce the chances of nail injuries.When Toenails Fungus is Risky?
When Toenails Fungus is Risky?
There are certain conditions where you must not ignore toenail fungus for long. It is better you treat the fungal infection in your toes as soon as possible. Know the conditions-
A diabetic person
People above 65
Nail injury
Is Toenail Fungus Contagious?
Yes! Toenails fungus is a fungal infection which is spreadable. It is not spreadable with touch or talk. But if you are wearing a person's socks who has toenail fungus, you may also be affected with it. It would not spread and affect other body parts but there are full chances of affecting your others toenails of foot.
Know the causes of every change on your body. You must work on getting rid of an abnormal health and skin condition. The abnormal and unusual condition of health are harmful for your health. The abnormal and unusual skin conditions damage your natural beauty. So, you must encounter the health and skin conditions with all the possible and advanced treatments.