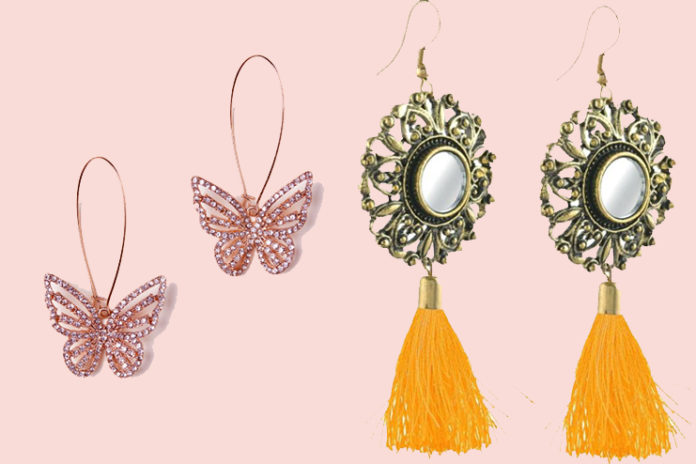 Women are falling in love with something unique. The routine colours and cliche shapes are not winning the hearts of fashion ladies anymore. The outfit is not matching with earrings or footwear. It is more a contrast game in fashion. The fashion shapes are crooked, twisted and that is how they are trending. Beauty lies in the twists and with some colours added into it.
The heart stealing jewelry is quirky earrings for women in India. Fashion has no specific shape or colour. The quirky earrings are not specific with certain shape or colour. But the designs of quirky earrings, aims to style you up.
If you are still preferring the perfect and intricate jewelry, then you must have a look at quirky earrings that are wondering modern women. The different styles look like different themes and then they are called as quirky earrings.
Try These Styles Of Quirky Earrings In India
1. Fauna Quirky earrings
If you are in love with the fauna designs, then you must try the quirky earrings. You get to wear the different kind of tiny shaped animals on your ears. You get the earrings in all metals and colours as well. The designs and carvings of the fauna earrings is beautiful and expresses your love for nature. There is also delicacy in fauna quirky earrings.
a) Adorable Elephant Earrings

Elephant shaped earrings are adorable. You get baby elephants and vintage style earrings. Elephant lovers will not miss to wear these earrings which are also fashionable. You are fashion lady with traditional wear, then must choose quirky elephant earrings.
b) Birds and Leaves Earrings

Birds and leaves are extremely feminine with the intricate designs. The birds are beautifully surrounded with the tiny leaves. You also find, just bird quirky earrings. In above image, you can see the birds beautifully hanging and surrounded with flora. You can also have the pearl or pebble drops attached to the earrings.
c) Owl Shaped Earrings

Owl shaped earrings are trending and they are much suitable for traditional outfits. You get silver and gold plated owl quirky earrings. The tiny owls let you be elegant by wearing the owl shaped quirky earrings.
2. Dangle and Drop Quirky Earrings
Earrings with dangles and drops are elegant. You have vintage and contemporary styles. Jewelry with classy styles can never be missed. You get to update with the fashionable accessories. You can pair the quirky earrings with your traditional wear outfits.
a) Butterfly Drop Earrings

Women love butterflies for their delicacy and beautiful colours. The earrings with butterfly drop look pretty. The design can be intricate with the details in feathers or the outline of butterfly. You also get tiny butterfly dangles in cute shape.
b) Lotus Drop Earrings

The drop earrings must look pretty with tiny designs. The lotus drop earrings are pretty in traditional or modern style. You get to wear the silver and gold lotus drop earrings. In above image, you can see the meditating man inside the lotus. This is a beautiful style of earrings which is quirky and simple.
c) Half Face Drop Earrings

Half face drop earrings musty be called quirky. The earrings are that unique and you would prefer this style if you love to choose something new. When you are well dressed, don't you go for new accessories which are worthy to pair up with your outfit.
3. Quirky Earrings with Mirrors
Mirror earrings are trending with lovely designs. Jewelry becomes alluring with mirror and designs around it. The heavy earrings are always in trend for their elegance. You get mirrors in different shapes and sizes. You can have unique accessories wearing something made of mirror.
a) Geometrical Mirror Earrings

The geometrical patterns and designs are stunning which are ruling in fashion world since long. You get the geometrical earrings in silver and gold plating. It is a classy idea to wear geometrical jewelry to raise your fashion sense.
b) Fabric and Mirror Earrings

Mirror earrings are elegant in every direction. The colourful fabric around the mirror makes the earrings attractive. You can easily pair them with traditional attires and indo-western outfits as well. The vibrant colours like pink, blue and green can make the earrings look stylish.
c) Layered Mirror Earrings

Layered earrings are of contemporary style. Layered mirror earrings look stylish with your light outfits. Light weight outfits and mirror earrings is a fabulous combination. You will fall in love with mirror jewelry.
4. Quirky Leather Earrings
Leather earrings are asymmetrical with different designs. The earrings look modish with the simple and vibrant colours. If you want the stylish look with simple accessories then it can be with leather earrings. They are beautifully quirky with the lovely colours.
a) Carved Leather Earrings

The beautiful carving on the leather earrings suits the fancy outfits. The cool style that you love to wear is easy with such simple styles. The floral carvings and the tiny designs with intricacy is lovely.
In the above image, you can see how the simple designs made the earrings look beautiful.
b) Feathers with Leather Earrings

The feather design is trending in jewelry. You want all unique when you are in enthusiasm of styling for the day. Then, you can choose the feather earrings made with leather. The delicate feathers with stiff leather look simply beautiful.
c) Multi Colour Leather Earrings

Multi colours in your accessories must make you look attractive. For leather earrings, all the nice colours come together to make the earrings look quirky. The quirky earrings with multi colours can also be multi layered.
d) Painted Leather Earrings

The painting on the leather comes with deep details. The beautiful painted leather earrings look unique. The more ideas together is more quirky. The contrasts colours that are mixed on the leather make the painting stand out. There you make the style statement wearing these earrings.
5. Quirky Tassel Earrings
Tassel earrings are colourful with bundle of threads together. They look quirky with some innovative styles. You got to try all the styles of tassel earrings. You can pair up the tassel earrings with your traditional outfits. The way the tassels hand is beautiful and you look elegant wearing the tassel earrings.
a) Triangle Tassel Earrings

The geometrical shapes are well used in fashion accessories. Geometrical shapes are trending in outfits and accessories. So, you can try the triangle tassel earrings which are quirky. In the above image, you can see the pastel colour tassels attached with triangle shaped rings.
b) Half Circle Tassel Earrings

Half circle tassel earrings are pretty and simply the tassels are attached to a round ring. To look pretty with minimal accessories, you need such earrings. You look simple but elegant when you prefer the suitable accessories. Let the outfit match with your earrings.
c) Tassels with Pearl Earrings

It is fantastic combination of coloured tassels and pearls. Let the earrings be the attraction for this time. The earrings alone can style you up and you may not need other accessories.
The bright or pastel colours with pearls make the earrings alluring. Can anything not be beautiful, when there are pearls attached?
You are full of uniqueness and you need the quirky earrings to complete your identity. You have traditional and modern styles of quirky earrings in India. The more you are into fashion, the more you go for multiple styles. Your fashion experiments are never dying when you such lovely accessories to wear. Love your own style and grab the attention wearing the quirky earrings.
Related Articles: