How about a change in your look? Change should be progressive and progressive in fashion dictionary refers to trends! When I suddenly want a new me, I switch from traditional to modern outfits, go for a shorter hairstyle or from nose stud to nose ring. Now, I got an idea of ear cuffs on me can give me a new look. I love experimenting my looks. Experiments are a matter of courage to face. When it is all your wish to shape yourself, what else stops you from trying new things.
While going through the ear cuffs styles and designs, I found many interesting and gorgeous ear cuffs. Now, I can't hold myself to share them all here.
Ear Cuffs As A Trend: Wearing ear cuffs are not only a trend or fashion, it is also showing up attitude. The way ear cuffs are getting tucked is amazing. The possibility of showing attitude wearing ear cuffs is easy with their shapes and kinds to wear. They are plenty of styles in ear cuffs and can be worn as Indian accessories. Wearing ear cuffs is a change over in a women's look. You may not believe in this fact. Many of the Bollywood Divas are wearing ear cuffs and they look stunning. You may now think that ear cuffs for all outfits is suitable or not. As there are plenty of designs in ear cuffs, they are of various styles like casual, heavily and beautifully loaded with stones and pearls.
You shall look into the magical effect of ear cuffs doing presently. If you are bored of your same old look and want to go for a unique style, then you can happily switch to any of the below designs.
Kinds of Ear cuffs:
1. Ring Ear Cuffs: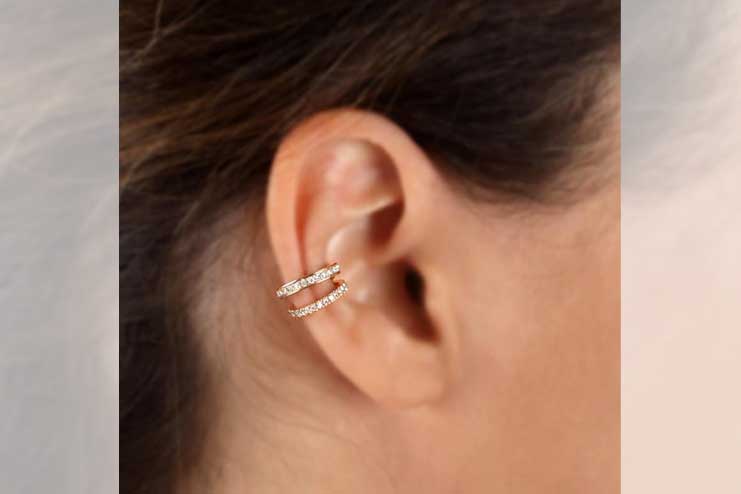 Image source: etsy.com
These are off simple round designed rings. As we know ear cuffs are basically of round shaped just like rings. But now ear cuffs got into fashion and many styles. These ear cuffs are ever trendy. People still prefer these earrings and looks pretty, when it multi rings designs.
2. Woven Ear Cuffs: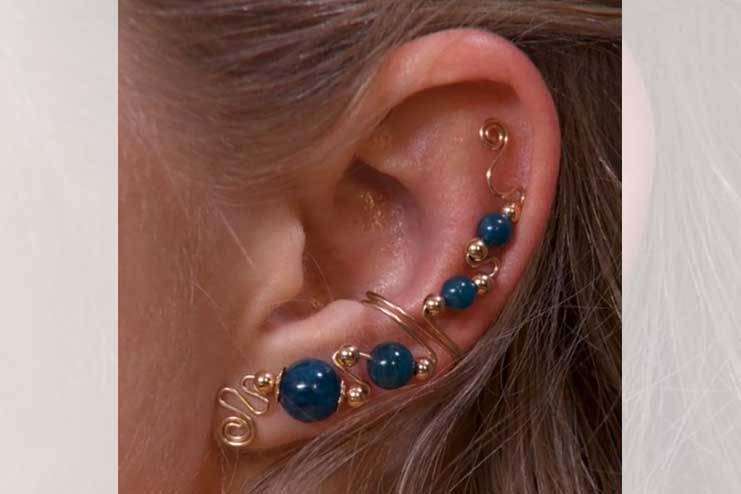 Women ear cuffs have no specific shape and they are made of strings and wires. These designs are highly in demand and ruling the ear cuff trends. These are cuffs can be hand made at home as well. We also have Indian traditional woven ear cuffs. They hug the ears in an elegant way. You can pick these earrings, for a part wear if heavily woven with stones and pearls. Along with the studded diamonds with droppings and hangings will look the fashionable design.
3. Elf Ear Cuffs: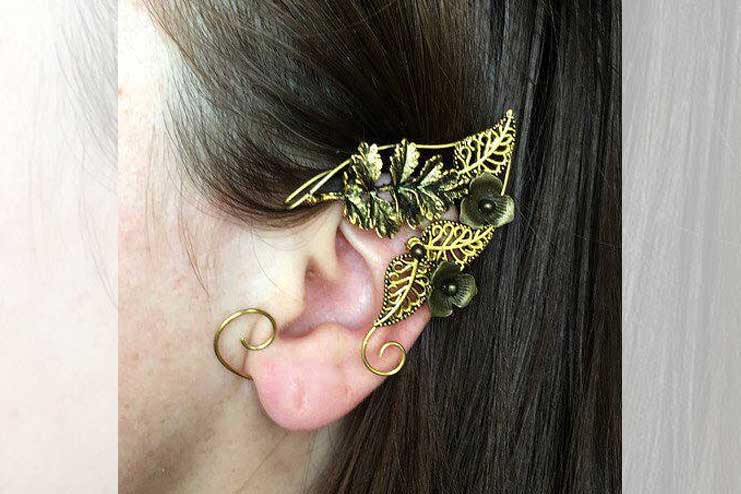 Elf ear cuffs are the once which sit on the outer edge of the ear and not on the cartilage. They are thousands of designs in elf ear cuffs and they are handmade. They can be studded with colour beads, stone, and pearls. Have a look at the below image, elf ear cuff is made of a gold coloured metal and twisted in beautiful way.
You can look into the wide range of designs of ear cuffs here.
4. Cartilage Wrap: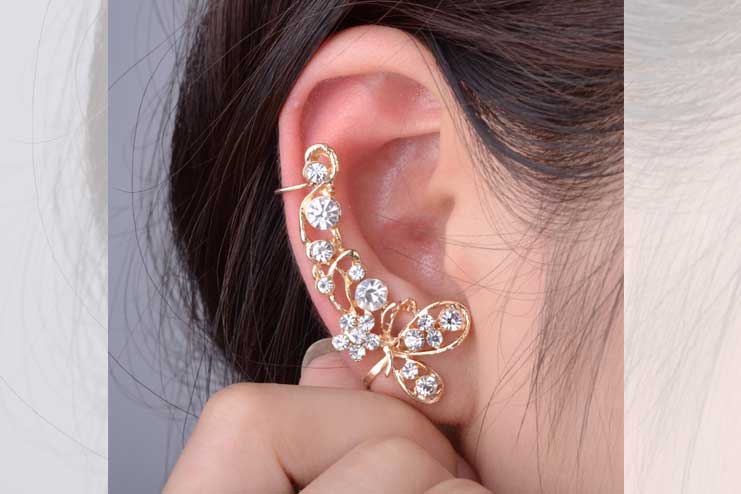 Cartilage wrap are something opposite to elf ear cuffs. They cover the ear cartilage and just stick in a gorgeous way. In the below image, you have a look at traditional cartilage ear cuff. Cartilage ear cuffs are of many designs.
Different Designs to Wear ear cuffs
1. Wave Ear Cuffs: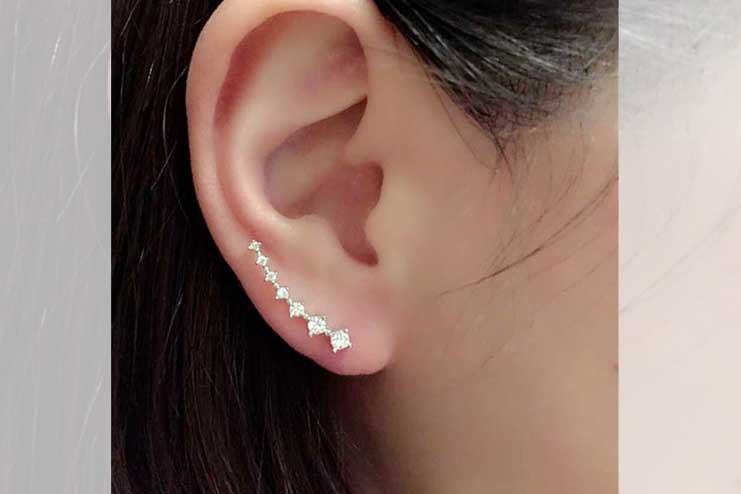 Wave ear cuffs got such beautiful twists and there are a number of designs. The ear can be covered fully with these ear cuffs and these are available in casual and heavily woven. They can also be a smooth wave, ocean wave, baby wave in wave ear cuffs.
Baby wave ear cuffs: Baby wave ear cuffs are with various designs and with fixed brighten stones.
2. Smooth Wave Ear Cuffs: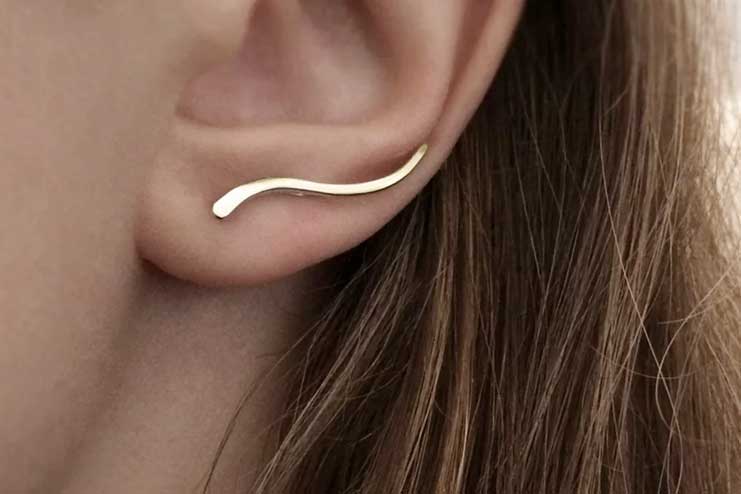 Smooth wave ear cuffs are simply beautiful. A shinning string on the ear bring beauty to your face.
3. Ocean Wave Ear Cuffs: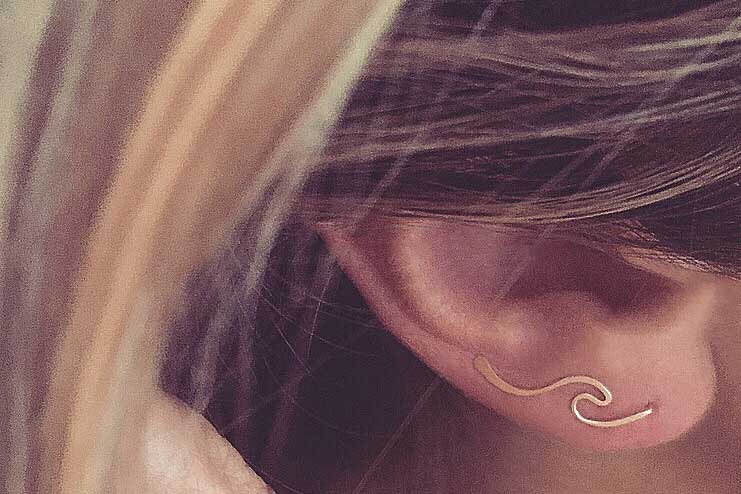 The curve for ocean wave is lovely. A little twist make in these ear cuffs differentiate the complete look of the ear cuffs.
2. Spiked Ear Cuffs: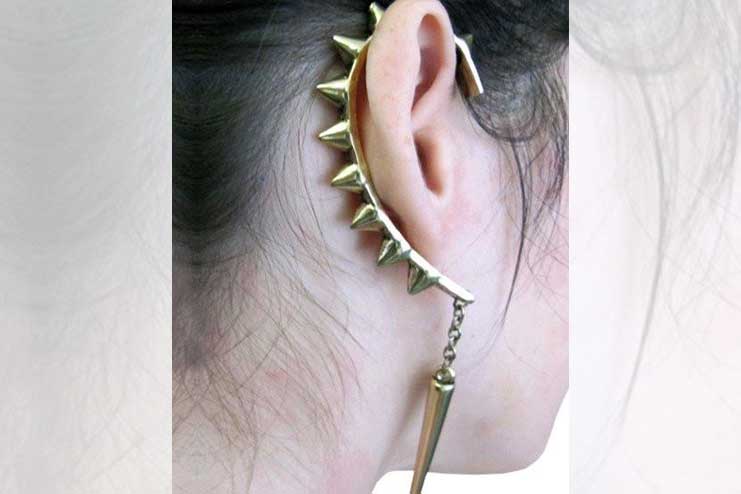 These ear cuffs wrap your ears with blunt spikes. A drop or a hanging along with the spike ear cuffs are brilliant style. In the below image the spiked aer cuffs are also given a hanging and it looks extremely fashionable.
3. Multi Chain Ear Cuffs: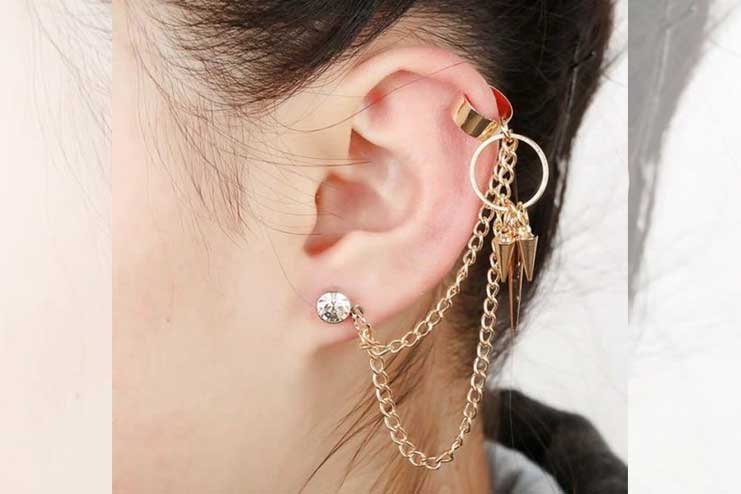 Chains create fashion and keep tranding in any acessory all over the world and ear cuffs with multi chain is the prettiest. The delicate chains attached to your ear turns into an elegant lady. In the below image, we can see the chains attached to the ear ring with extra haggings and the over all look of the ear is just pretty.
4. Zig-Zag Ear cuffs: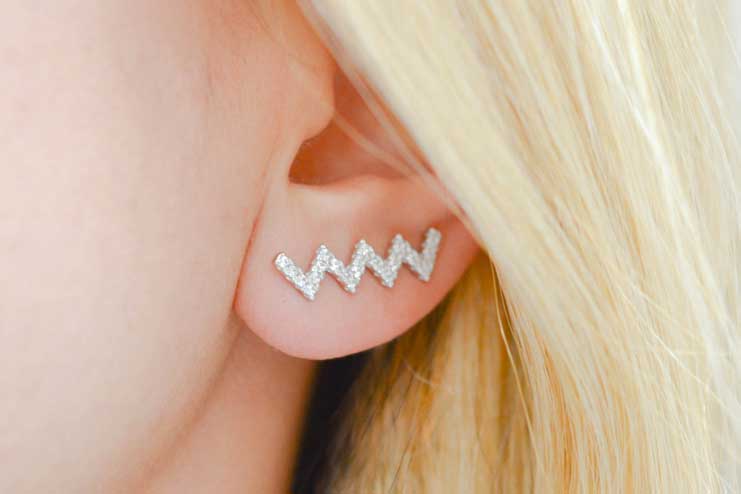 Zig-zag shape is a trendy shaped. They climb up the ears and gives a stunning look. In following, image zig-zag ear ring is woven with diamonds but it also be plain and simple.
5. Leaf Ear Cuff: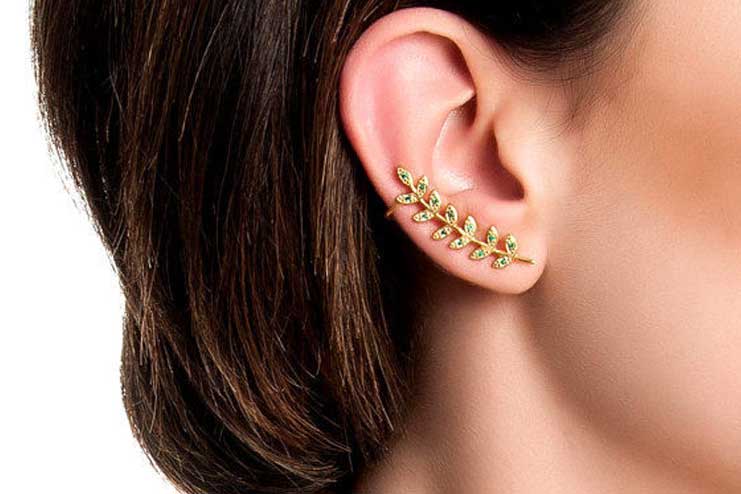 Leaf ear cuffs have number designs. The leaf shapes are plenty and they are very much suitable to traditional Indian outfits. In the below image, we have leaf ear cuff which is suits a traditional outfit.
6. Multi-ring Ear Cuffs: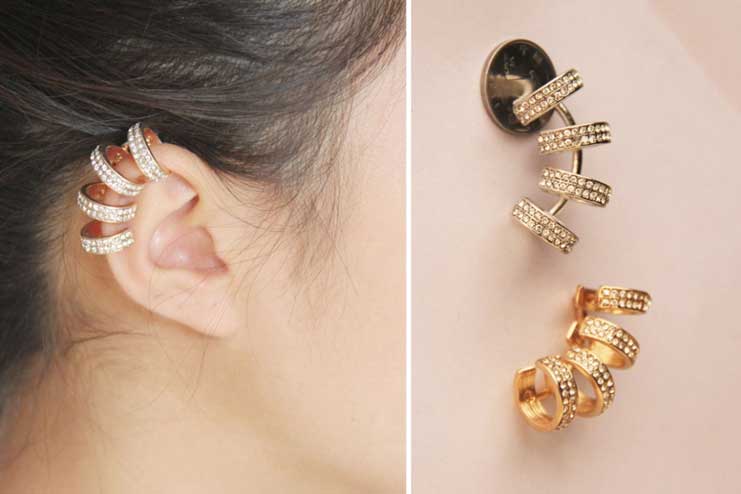 Many tiny multi rings together is a lovely design. The diamond woven or the plain rings, any of them can stick to your ears well. In the below image, the rings are woven with diamonds and it is a four rings ear cuff. Triple ring ear cuff look pretty.
7. Star and Moon Ear cuffs: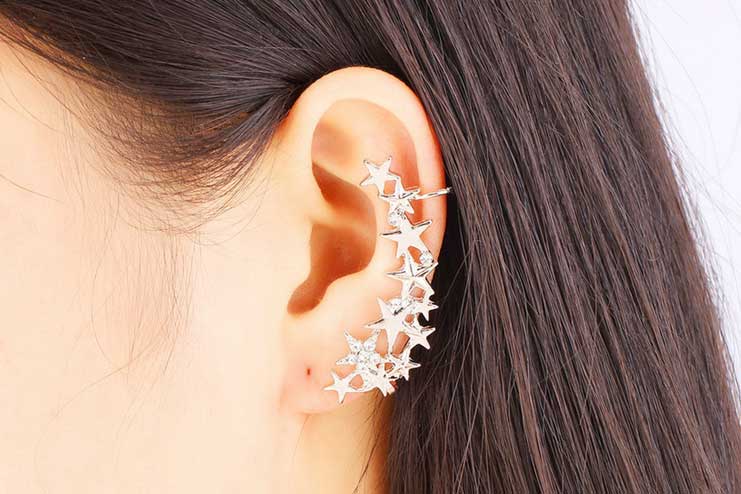 These are the basic designs and commonly preferred to wear. Commonly worn but no where less to run in trend of ear cuffs. They can be single stud of star ear cuffs or mutliple stars attached as a ear cuff. How it can't be lovely when it is stars worn as ear cuffs.
Ways to wear ear cuffs: Making a brilliant choice of accessories is highly important. Coming to ear cuffs, choose something sits comfortably on you ear. Let them be visible as they are meant to show off. Make sure that the ear cuffs you select the ear cuffs which sits comfortably on your ears. Go for ear cuffs that matches your outfits just to add some more prettiness.
If you love elaborative design then you can go for wrap ear cuffs. Thousands of wraps ear cuffs are available. They wrap well on cartilage or outer edge of the ear.
If you don't want the ear cuff on cartilage, then you can opt Elf ear cuffs. Elf ear cuffs just hug the outer edge of the ear as said above.
If you want less designed and simple ear cuffs, then you should choose wave ear cuffs.
You can also go for ring ear cuffs, multi ring ear cuffs to keep it simple and elegant.
Woven ear cuffs are the bigger designed cuffs which hold your ears nicely.
When you find the happiness in re-creating yourself, don't hold yourself. Just go with the flow! Never ending fashion goals will keep woman alive. Stay connected with these trending designs and ideas to wear ear cuffs. Hope your ears get extra shine with your cool choice of ear cuffs.