Long hair is hard to handle. So, women choose to cut short it, now short hair is a problem. We either have to leave hair loose or tie up a pony and no more hairstyles. Short hair girls do not have many hairstyles. If you can give some creative thought of playing with your gorgeous hair, you will never regret to go for short hair.
How About Braided Hairstyles for Short Hair?
We have a few braided hairstyles for short hair. We found them really cute and pretty. Now, with short hair, you can need not struggle for hairstyles or no more boring ponytails. You can show short hair is not a problem with a few cute braided hairstyles.
1. Half up Braid: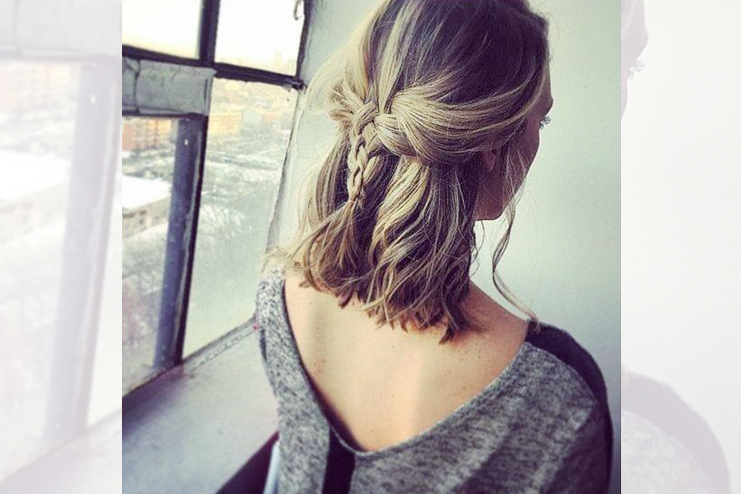 This is one of the too simple braided hairstyles. Half braid hairstyle is much suitable for weddings and parties to pair it up with an ethnic outfit. In the below image you can find the look of this braided hairstyle and it seems to look easy to try and it is easy in real too.
Part your hair on one side. It can be either right or left.
Hold both the section from either side of your hair.
The right section should be crossed to under the middle.
Then cross left section under the right. On the next section, pick up some hair and include it into the braid.
Continue the same process till you get little short braid.
Tie up the braid with a clear elastic hair band.
Now, just stretch your lovely braid to make it look thick. This way, braid stands out and elevate properly.
Styling Tips: You can just curl up the front hair and make tiny curls. The braid at back and curls in front make perfect hairstyle for your short hair.
2. Messy Braided Ponytail: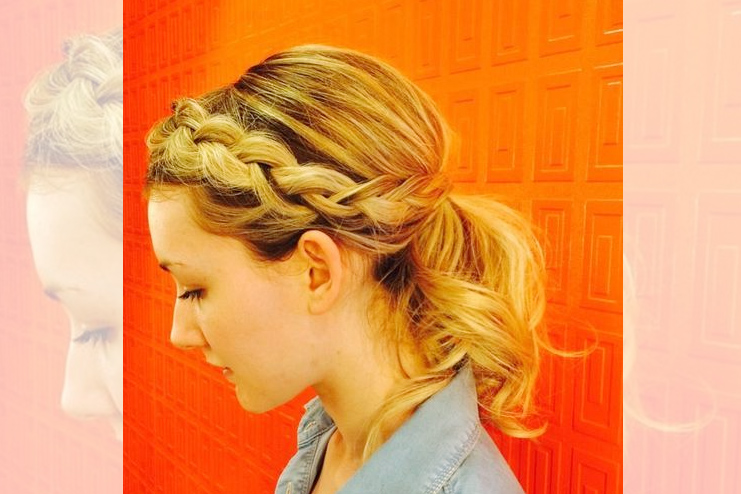 This is simple yet prettiest hairstyle and will make you the happiest to have short hair. This is a stylish hairstyle for a short hair girl. You can wear it for casual outfits. The messy look of this braid makes you look funky and you can opt this for your western outfit to go even funkier.
Steps:
Hold all the hair in your hand and make an equal partition.
Put on both the side equally.
Gather a section and then divide it into three strands.
Now, make a braid bit tightly to put up a braided look.
Other side left open hair and braid should be tied up with a band.
Start to make it messy.
Styling tips: Make it messy and comb the pony without any bumps. So that it looks perfect.
3. Waterfall Braid Hairstyle: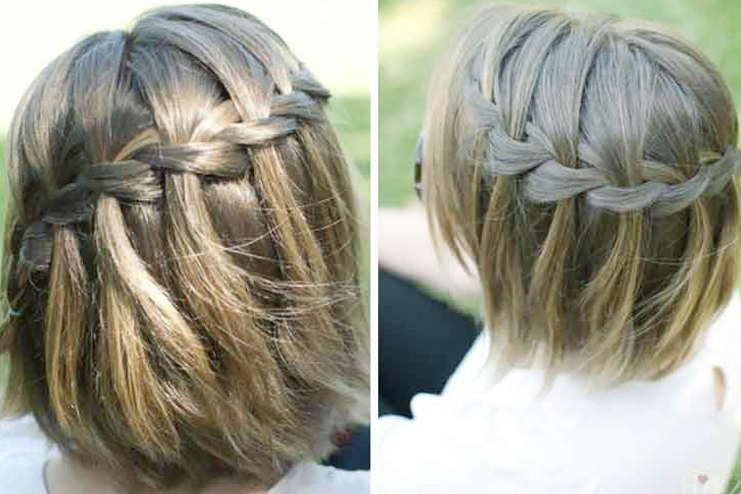 It flows beautifully on your head and the little braid looks pretty. You can try this hairstyle on ethnic wear and casual wear as well. In the below image you can have look at the braid.
Gather a big section of hair at the front and split it into three strands.
Hold the back strand and cross it over the middle strand.
Now, take the front strand and cross it over the middle one.
Next, take the back strand and add a little section of hair into it.
Cross this back strand and a new section of hair over the middle.  Leave the front strand as it is.
Take a section of hair behind the front strand.
Cross this new section over the middle.
Repeating the same steps, take the back strand and add a new section of hair into it.
Cross that back section and a new section of hair over the middle.
Then, leave the front strand as is and take a section behind it to cross over the middle.
Repeat all the same steps all the way to the back of your head and secure it with a clear elastic.
4. Twisted Braid Half Updo: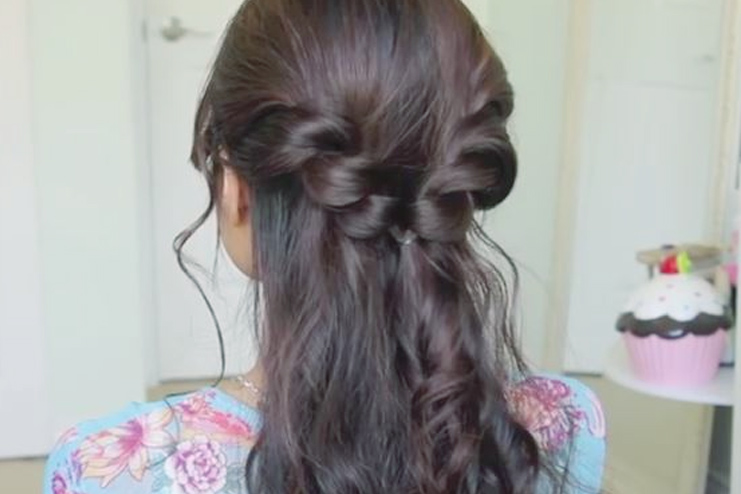 This hairstyle looks simply pretty for short hair and something really easy to try. The twisted braid half updo can be put on for any traditional and western outfits.
Steps:
From your hairline separate hair into two sections.
Make two three strands braids on either of the sides.
Twist the braid and turn it back of your head.
Then secure it with a hairpin.
Now, twist the other side braid and put it on the back of your head.
Secure it with a hairpin again.
Use an elastic band to tie up two little braids together.
Now, you can either leave your hair as is or Add another small ponytail underneath the hair tie already there. Then, split the section into two, and flip the remaining bottom of your hair into the small hole you just created. As you can see, it instantly elevates the look!
5. Criss Cross Side Braid: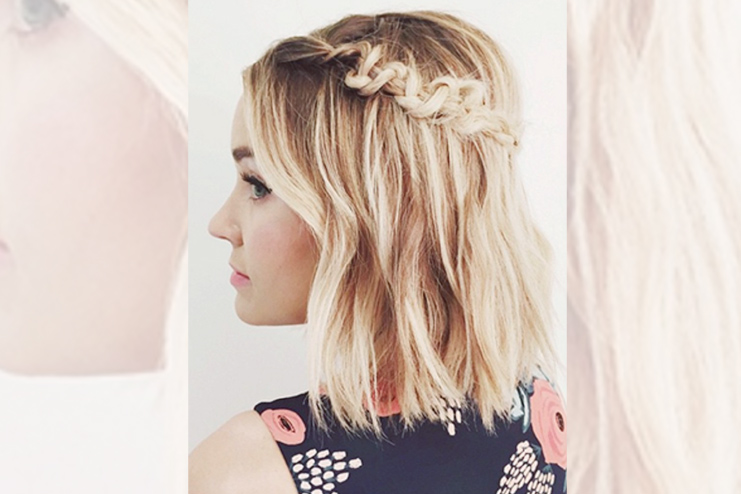 This is one of the easiest braids but looks cute. You can try this braid to get a stylish and trendy look. Bobs can opt this hairstyle. You can give your ethnic wear a western essence with criss cross side braid.
Steps:
Gather a section of your hair on any of the side of your head.
Make a three strands braid.
Once you get the braid, hold one of the strands and pull it backward.
Then, extend it slowly back to the position.
The normal braid turns into criss cross braid.
Now, just take the got braid back side of the head and secure it with a hairpin.
Styling tips: To keep the rest of the hair as is for long, use a hairspray and let it sit. You can also use beads in between your little side braid. The colour beads or ethnic beads you give you the prettiest look.
6. Side Tiny Braid: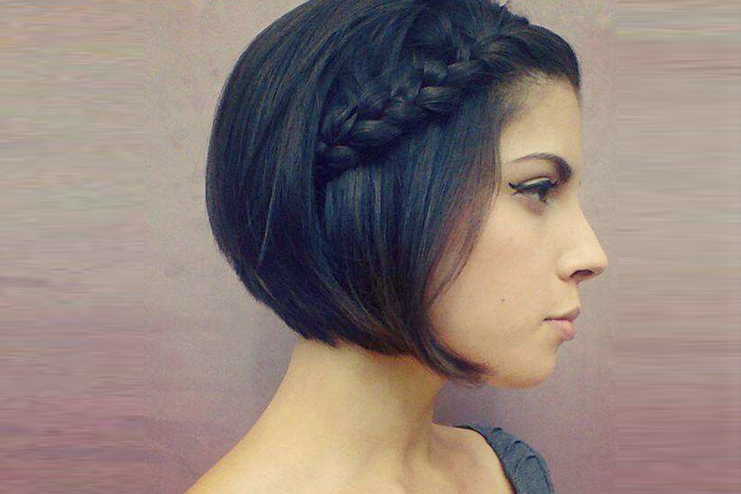 Steps:
Decide on which side you want the tiny braids.
Take a little section and split it into three strands.
Make a normal braid and take it back side of your head.
Now, pin it with a hairpin.
The same way makes another tiny braid on the same side.
Styling tips: You can even make triple tiny braids if you have a thicker hair and triple tiny braids all together look lovely. Pin the Baird to the left hair or clutch it which a cute little hairdo.
7. Braid updo: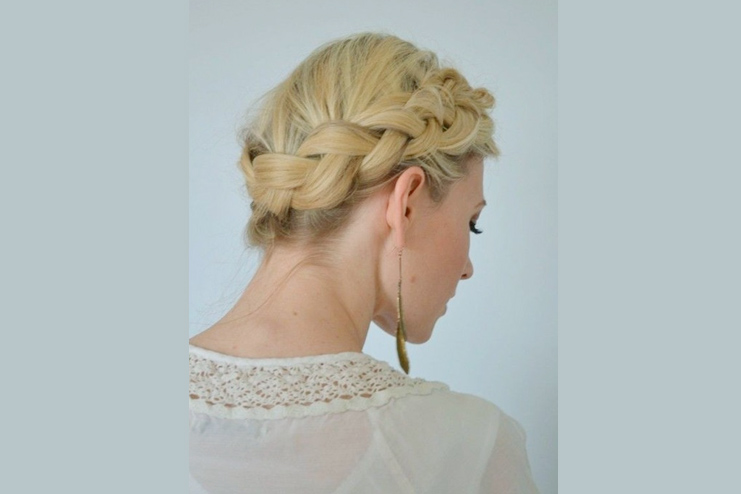 This is must try braided hairstyle for parties. On a traditional trending outfit. If you attach an embellished hairdo, it goes perfectly.
Steps:
Make an equal partition of your hair.
Gather one side hair section and hold it.
Start making a tight braid and then use an elastic band.
Make the same braid on the other side.
Now, take two braids to the back side of your head and secure them with a pin.
You will be left with some loose hair at the back. Just hide it in without being visible.
After setting everything with hairpins, you will get your pretty braid updo.
Styling tips: You can stick a simply embellished hairdo on the braid. You make it a bit messy by stretching it but not too messy. You can also pin the braid out to make the braid elevate.
8. Braid Crown: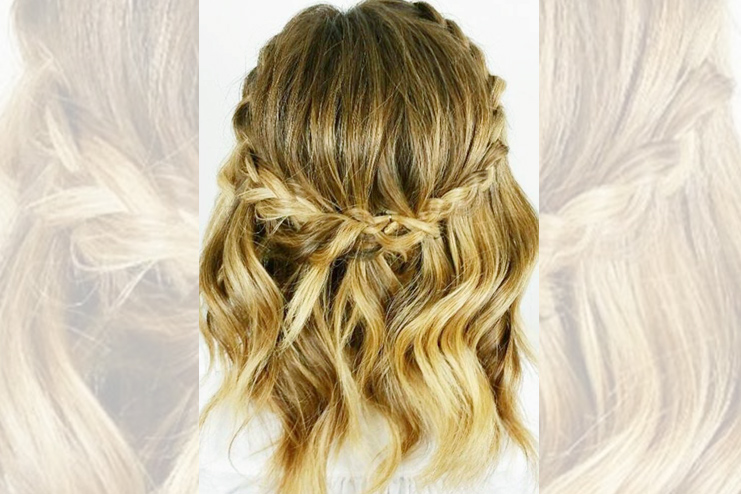 A braid crown is an easy do hairstyle. It looks like a tiara on your head and this braided crown is much suitable for brides on gowns.
Steps:
Make your hair into equal sections.
Right in front of the forehead gather a section and make a three strands braid.
Make another braid on the other side tightly. Make sure both the braids are equally tight.
Gently bring both the braids to the back of your head.
Attach both the braids and pin it properly.
Styling tips: You can make a tiny bun with left out hair at the back. Make it visible without pinning it inside the bride and make it little messy. It makes other hairstyle and nice variation of this hairstyle like a braid crown with bun.
Now braids are no more pretty only for long hair, it works amazing for short hair. You may try many more hairstyles with your creativity adding to these hairstyles. Hope you won't regret going for short hair after finding such cute braided hairstyles. Go pretty and keep loving your gorgeous hair.