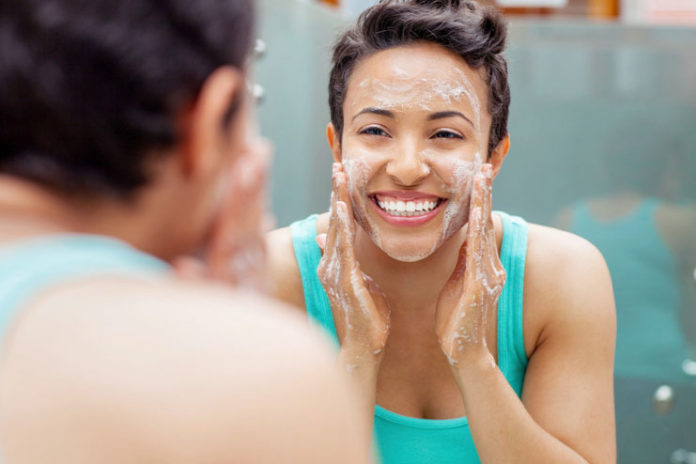 We all might have at some point in time dealt with some skin related problems. That can be anything from pimples, acne to sun tan or rashes. Facials are such type of technique in the face cleaning process that it can help to give an instant glowing skin.So here, are some best facial kit for glowing skin that can assist you with any skin issues.
Some Of The Best Facial Kit Of 2017 For Glowing Skin?
Here are some of the best facial kit for oily skin, glowing skin, skin whitening and many more:
1. VLCC Papaya Fruit Facial Kit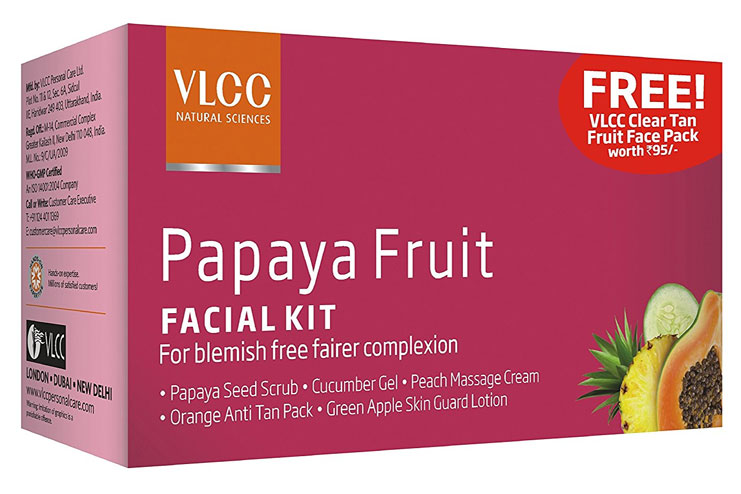 Price: Rs. 150
This VLCC Papaya Fruit Facial Kit can help to lighten the blemishes, minimize the enlarged pores as well as fade all the superficial pigmentations. It can also help to provide even skin tone and give more fair complexion. This pack contains:
a. A Papaya Face Scrub – That can help to remove the blemish as well as superficial pigmentation.
b. A Cucumber Gel – Which can cool down the skin while leaving a visible radiance as well as refreshment.
c. A Peach Massage Cream – That can help to tighten the skin, reduce the wrinkles and lighten the age spots.
d. A Orange Anti Tan Pack – Which can improve the skin complexion.
e. A Green Apple Skin Guard Lotion – Which can help to prevent pimples and blemishes.
This facial kit can brighten the face and make the glow stay for almost two days, making the skin soft as well as smooth. It also claims to have used the natural ingredients.
2. Nature's Essence Choco Facial Kit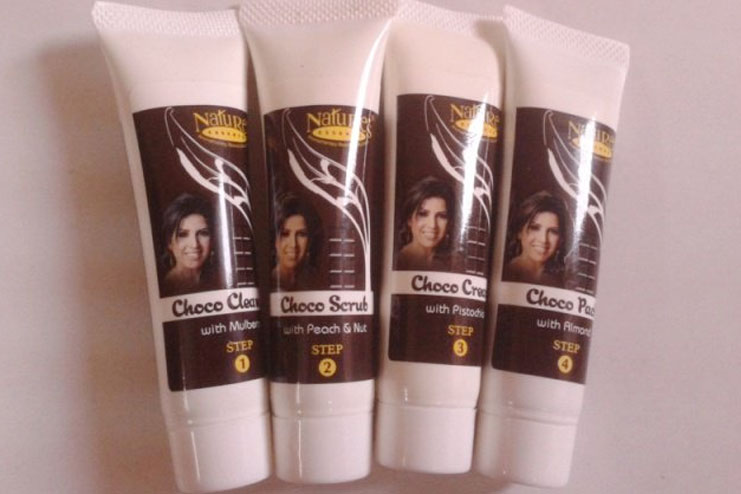 Price: Rs. 150
This choco facial kit has a blend of milk cream, cocoa powder, nourishing nuts, choco dust, as well as extracts of some purifying herbs. It can give a smooth, soft, and lustrous texture to your skin. It is even equally beneficial for all the age groups and skin types except for the acne prone skin. This kit also comprises of
a. The Choco Cleanser
b. A Choco Scrub,
c. A Choco Cream, and
d. A Choco Pack.
It can make the skin soft and smooth.
3. Shahnaz Husain 24 Carat Gold Facial Kit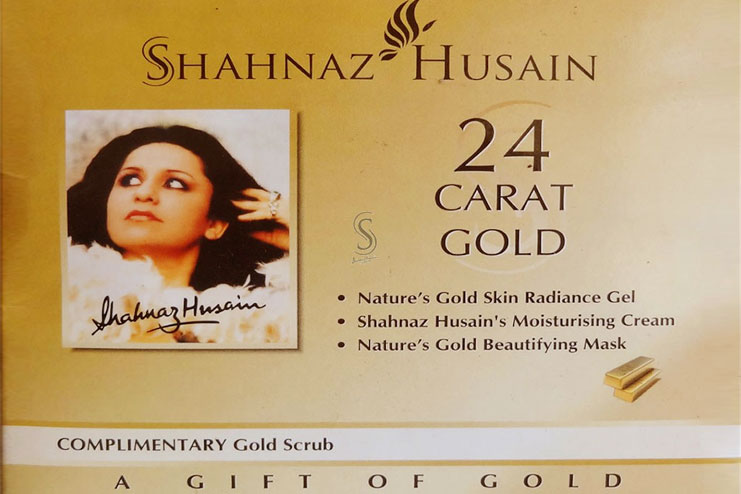 Price: Rs. 599
This gold skin radiance facial kit claims to be a very sensational innovation in achieving a perfect skin beauty as well as radiance. It comprises of age-defying
a. Pure Gold Scrub,
b. Gold Mask,
c. Gold Gel, and
d. Moisturizing Cream
It can help to purify, revitalize and rejuvenate the skin, giving a very youthful as well as golden glow.
4. VLCC De-pigmentation Facial Kit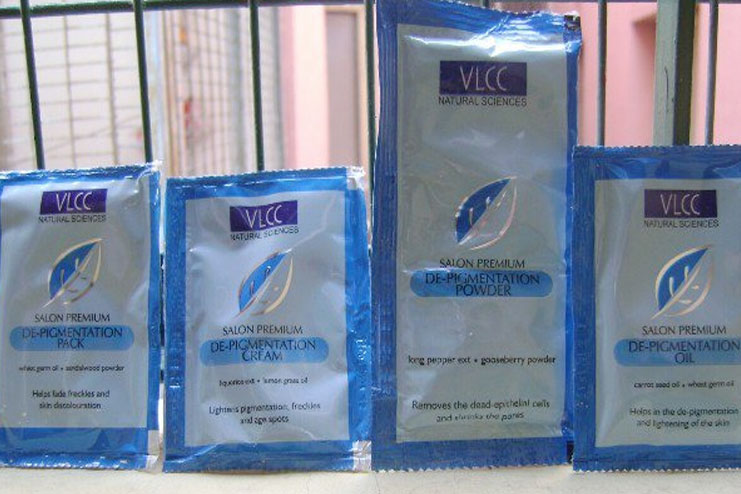 Price: Rs. 120
This treatment can help to reduce the hyperpigmentation. This line of treatment has liquorice, spirulina, and many aromatic compounds. It can help fade freckles, lightens and even the skin tone, improving the clarity. Each kit has four sachets of 10 grams:
a. VLCC de pigmenting powder.
b. VLCC de pigmenting oil.
c. VLCC de pigmenting cream.
d. VLCC de pigmenting pack.
This is a very good facial kit, which can depigment the skin and you can see the results with yourself.
5. Lotus Herbals Natural Glow Skin Radiance Facial Kit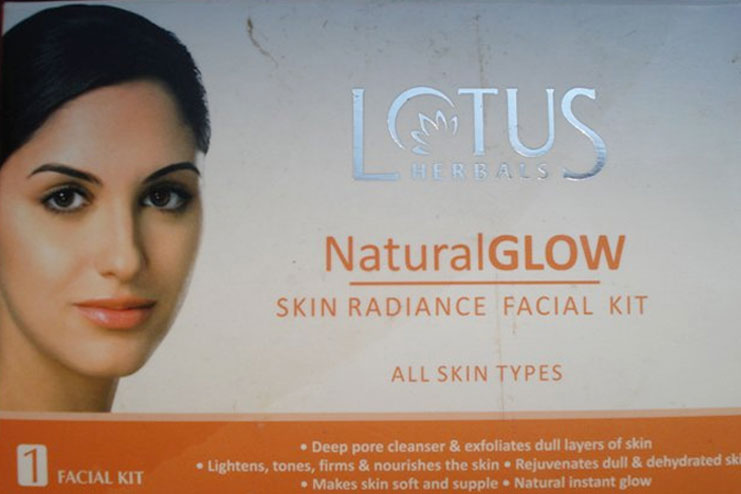 Price: Rs. 175
It is a deep pore cleaner and can exfoliate the dull layer of the skin. Can help to lighten, tones, firms as well as nourish the skin. It can rejuvenate the dull as well as dehydrated skin. Make the skin soft and supple. Gives a natural instant glow. It contains five sachets comprising of:
a. Lemon Pure Turmeric and Lemon Cleansing Milk.
b. Wheatnourish Wheatgerm Oil and Honey Nourishment Creme.
c. Orange Peel and Alpine Salt Whitening Skin Polisher.
d. Cocomoist Cocoa Butter Moisturizing Lotion.
e. Frujuvenate Skin Perfecting and Rejuvenating Fruit Pack.
It can give an instant glow, and the skin will look rejuvenated as well as glowing.
6. VLCC Anti Tan Facial Kit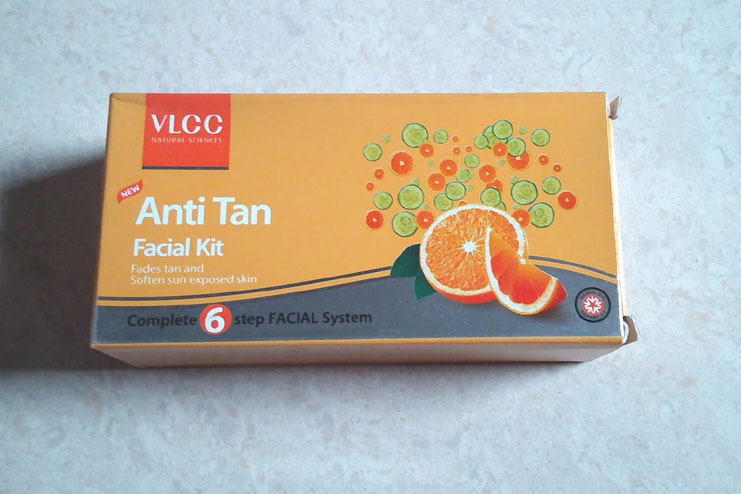 Price: Rs. 325
This specially made VLCC Anti-Tan Facial Kit is basically based on the age old Ayurvedic recipes, which have been developed for the specific treatment by using the latest scientific production techniques. This kit mostly comprises of:
a. VLCC Oat Meal Scrub – Face Scrub
b. VLCC Melawhite Powder – Detan Powder
c. VLCC Melawhite Gel – Detan Gel
d. VLCC Melawhite Pack – Detan Pack
e. VLCC Pista – Hydrating Facial Massage Cream
When this pack is being used regularly, it do remove the tan and even out the complexion. It claims to be natural, so try to go for all skin types.
7. Jovees Pearl Whitening Kit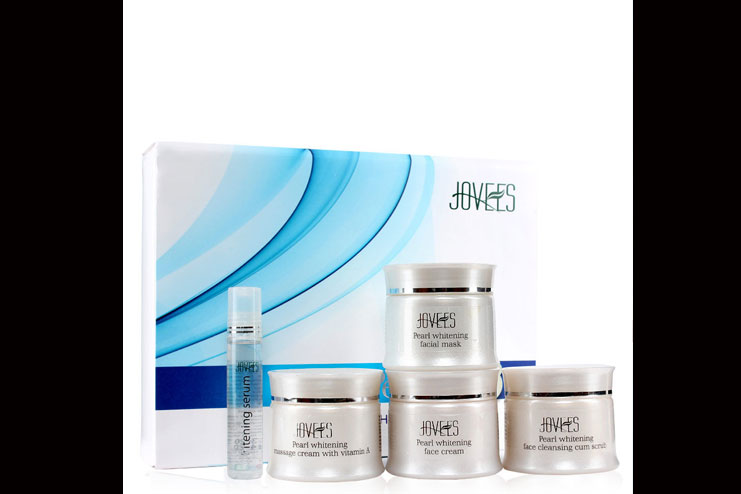 Price: Rs 858
This Jovees Pearl Whitening Facial Kit contains total of five products or can say facial steps which can help to rich the natural ingredients and heal tanned skin. It will also help to increase the fairness of your skin.
This kit can help to lower your skin melanin levels and keep the skin's shine intact. The skin whitening facial kit can help to rejuvenate the skin, restore the lost radiance and improve the complexion. It includes
a. A Face Cleanser Cum Scrub,
b. Massage cream with Vitamin A,
c. Pearl Whitening Facial Mask,
d. Pearl Whitening Face Whitening Serum.
8. Lotus Radiant Pearl Cellular Lightening Facial Kit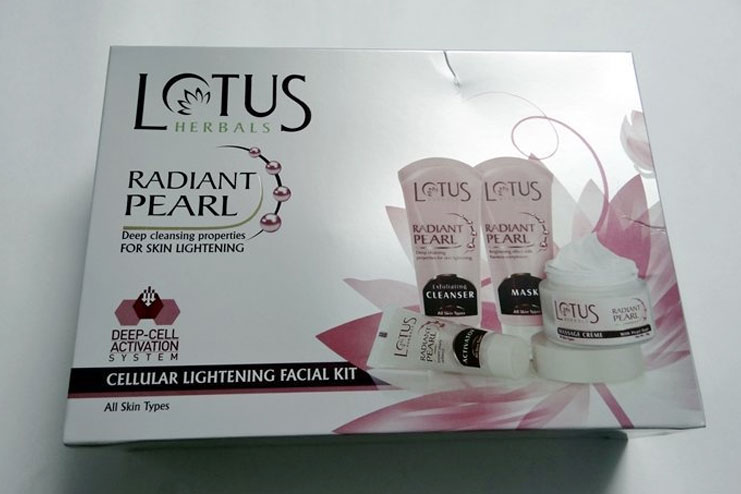 Price: Rs 900
Lotus radiant pearl cellular lightening facial kit has an exfoliating cleanser, activator, massage cream as well as a mask. They can help to get a healthy skin tone and lighten the darkness of the skin. The creamy exfoliating cleanser has licorice green tea extracts as well as pearl dust which can remove the skin pollutants and the dullness. This massage cream has the best of the pearl dust along with the plant extracts. Hence, this can help to rejuvenate the dull and dehydrated skin. Moreover, it will also control the melanin production and cure the dark spots.
9. VLCC Diamond Facial Kit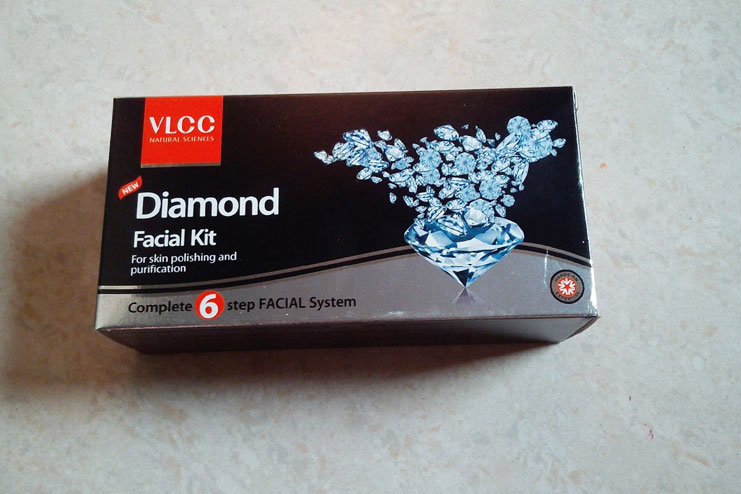 Price: Rs. 195
It can help to reduce the wrinkles and rejuvenate the skin, leaving it youthful. The VLCC Diamond Facial Kit can help to purify, brighten as well as polish the skin. The presence of diamond bhasma in this facial kit can detoxify and help to build the skin's immunity and fight against the pollution while leaving it youthful as well as glowing. This pack has a diamond scrub, diamond massage gel, diamond detox lotion, and a wash-off mask.
It can improve the skin texture, make the skin toned as well as fresh. It also has a tightening effect on your skin. The effect stays for at least of two days. Have detoxifying properties and give a youthful appearance. It is good for sagging as well as matured skin.
10. Astaberry Kesar Facial Kit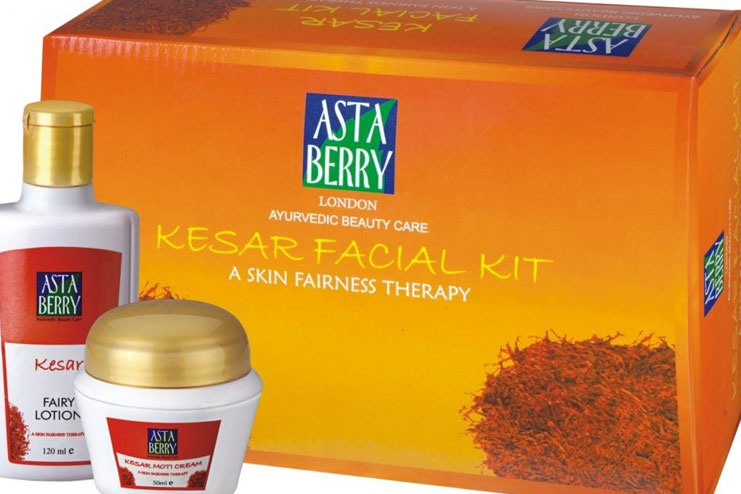 Price: Rs.425
This kesar facial kit is by the brand Astaberry and is known to be a great complexion booster. The richness of the Kesar in it can help to activate your skin's lymphatic system as well as purify it of all the toxins thereby promoting a very radiant and natural glow. In Ayurveda, kesar is very well famed as the blood purifier since the time being. Also, the dark circles, acne and other problem will be aptly addressed since the kesar is a very powerful antioxidant. This kit includes
a. Kesar scrub,
b. Kesar cream,
c. Kesar cleanser,
d. Kesar faces pack,
e. Kesar Massage Gel and Toner.
With the routine use, not only the complexion will improve but even the roughness of the skin will be bashed aside, and the skin will turn baby soft.
11. Vaadi Herbals Lemongrass Anti-Pigmentation Spa Facial Kit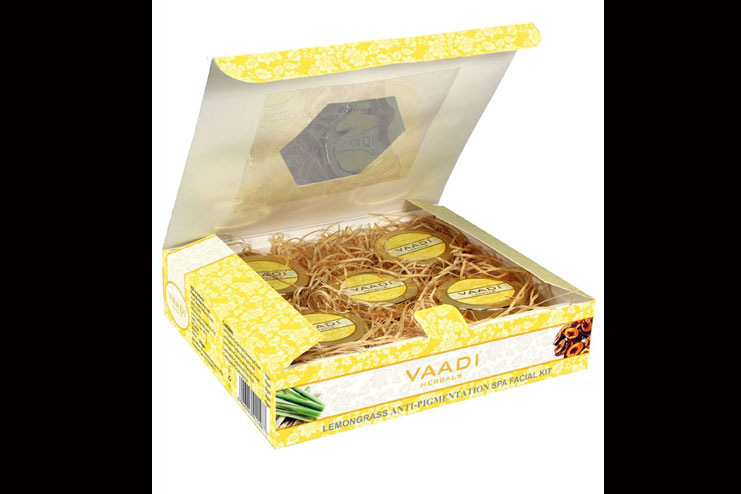 Price: Rs.780
This facial kit is infused with the goodness of cedarwood as well as lemongrass, anti-oxidants, that can enhance the complexion, combat the pigmentation, improve skin health by boosting blood circulation in your skin. This kit has
a. Lemongrass-Cedarwood cleansing cream for in-depth cleansing,
b. Lemongrass-Cedarwood faces pack,
c. Lemongrass-Cedarwood massage gel,
d. Lemongrass-Cedarwood massage cream,
e. Lemongrass-Cedarwood facial scrub.
How To Pick The Right Facial Kit For Your Skin Type?
Here are some tips on how to pick a herbal or home facial kit and what to keep in mind while using facial kits.
a. First of all, try to know about your skin type.
b. Remember that oily skin needs cleansing. It must be cleaned with deep cleansing gels and lotions.
c. A scrub for an oily skin must be the tough one. As it can exfoliate the skin and smoothen the unevenness. Massaging cream must be mild.
d. For dry skin, mild cleansers can be used. As because of dry skin, do not vigorous cleansing like oily skin.
e. Gentle scrubs are good to be used for removing dry, flaky skin.
f. Remember to use hydrating gels, serums as well as intense moisturizing creams for dry skin. Avoid any dry and powdered masks.
g. Always use water-based, oxygen, moisturizing, fruity, cream as well as oil based facial.
h. For normal skin, you can use mild to intense cleansing creams.
i. Moisturizing mask is best for facial use.