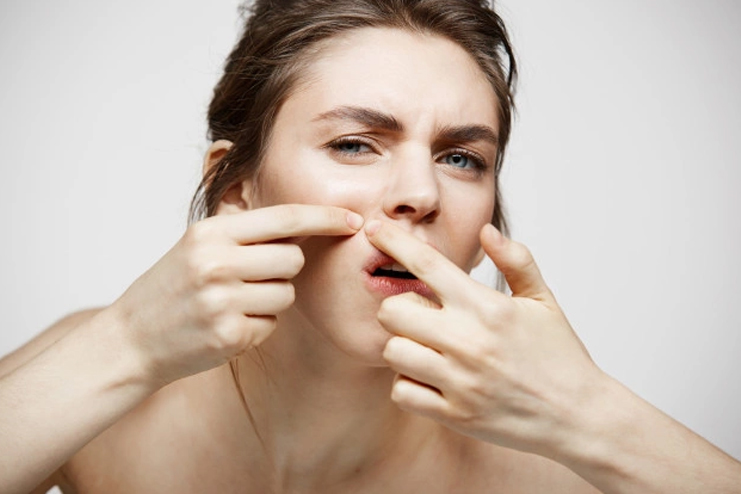 Acne is the a common disease caused in majority of people. It is disappointing to see acne often on your skin. You know when acne frustrates when it occurs on back. Though we can simply manage wearing the back covering dresses, it hurts when hand goes on it. The flared and highly inflamed back acne even makes it difficult to lean on back. Isn't it?
My back acne gave me tough time and got rid of it finally. So, thought I must share the remedies that I followed.
Home remedies can keep this nasty back acne in control. You can know more about back acne. If you are left out trying something natural for your back acne treatment, then work with these home remedies.
Causes of back acne
When we see acne, we keep analyzing the causes. Women recheck their on going diet and correct it, also think it is all due to stress. Thinking all this is another stress. So, know the very common causes of back acne. This gives you some break from thinking and do something what you need to.
Genetics
It can be a problem carried from your family. Specific genetic changes can result increase the risk of acne.
Hormones
If you are seeing back acne in your teenage years, then it is quite common due to hormonal changes. Even during menstruation and pregnancy, hormonal changes can cause acne.
Sweat
If you are wearing tight, skin fit clothes then that can increase back acne. You are just packing your skin without letting it breath.
Stress
Don't you think there is a link between acne and stress? There is connection- says a study.
When you are a stressed, it stimulates inflammation. Tension, pressure and stress can be causes for acne and it can also worsen it.
Dandruff
Even dandruff can cause acne on back, forehead. Dandruff is a kind of fungus which can get into skin and turn into acne. If you oily scalp, dandruff prone scalp, then you must treat it before to prevent acne.
Natural Remedies To Get Rid Of Back Acne
1. Tea tree oil

Tea tree is powerful enough to kill the bacteria that caused back acne. It has anti inflammatory properties. When the bacteria is destroyed, the pain, redness will be reduced. Tea tree oil is the best way to heal the painful back acne.
How to do?
1. Take a few drops of tea tree oil and mix with carrier oil.
2. Apply the mixed oil on the acne and leave it.
3. Repeat this remedy for a week to get rid of acne.
2. Apple cider vinegar

Apple cider vinegar is known to kill several types of bacteria and viruses. It is capable of killing the bacteria called propionibacterium which causes acne often. It is an effective natural remedy for acne as it contains the organic acids which also kills bacteria.
You can also have apple cider vinegar directly to control acne.
How to do?
1. Take 1 tablespoon of apple cider vinegar with 1 cup of water.
2. Dilute water and vinegar.
3. Dip a cotton swab in the diluted apple cider vinegar and apply it on acne.
4. Wait for 30 minutes before rising it off.
5. Do this daily for 2-3 times.
3. Mint Leaves

Something that contain anti inflammatory properties can deal with acne effectively. And mint leaves got that wanted goodness to treat back acne. It soothes the inflamed acne.
You can also consume mint to remove impurities in blood. Impure blood can increase acne.
How to do?
1. Take few mint leaves and smash them until paste.
2. Add water to obtain smooth paste.
3. Apply mint paste on the acne.
4. Leave it for 15-20 minutes and then rinse off.
5. Do this twice a day until acne is reduced.
4. Oatmeal

Oatmeal is another natural exfoliator for skin. You can get rid of dead skin and dirt with oatmeal. It also removes the acne scars if any. Exfoliating with oatmeal must be your skin care routine.
Cleansing with oatmeal is like extra care for your skin. The excess oil, sebum, dust and dirt that sits on your backs comes off with this remedy.
How to do?
1. Take oatmeal of 3 tablespoons and add little amount of honey to it.
2. Add 3-4 drops of water and blend it well.
3. Apply the made mixture on your back and rub it for 2 minutes.
4. Wait for 20 minutes and then rinse with lukewarm water.
5. Aloe vera

Aloe vera is a everywhere seen herb with great benefit for skin. The medicinal properties in aloe vera also work for acne. It has the ability of healing wounds. If you acne on your back is inflamed, then this is the simple solution to calm it.
How to do?
1. Pluck a fresh aloe vera stem and extract the gel from it.
2. Cleanse your back with an antibacterial cleanser or soap.
3. Pat dry it before applying the aloe vera gel.
4. Apply the gel on your back and leave it 10 minutes.
5. Wash it off with water.
6. Repeat it twice a day till the acne clears.
6. Lemon juice

Lemon juice is a potent remedy that cures acne. It acts like an astringent and balances oil and also removes excess oil.
If you have any previous acne scars on your back, You can use this remedy to lighten them. Lemon consists of bleaching properties. It also helps from further skin breakouts.
How to do?
1. Wash and clean your back before applying lemon.
2. Take few drops of lemon in a bowl.
3. Dip a cotton ball into the lemon juice and apply it on acne.
4. Leave it for 10-15 minutes and then rinse it off.
7. Sugar scrub

It is a must to exfoliate your back and sugar scrub is the best of all to do that. The sugar granules gently removes all the dead skin on your back. All the dirt and oil that is sitting on back gets off with sugar scrub.
How to do?
1. Take 1 tablespoon coconut oil with 2 tablespoons sugar.
2. Add little honey and mix all the ingredients.
3. Scrub this instant made sugar scrub on your back.
4. Rub in gentle circular motions for 3 minutes. Do it without hurting acne.
5. Then rinse off your back with lukewarm water.
8. Neem Oil

Herbal oils are reputed to cure acne. Here, neem oil naturally is filled with antimicrobial properties. It also has the anti inflammatory compounds called nimbidin and quercetin.
Neem oil calms the inflammation and redness of acne as it contain aspirin similar properties. The antioxidants and vitamins in neem oil will nourish your skin and helps it fight acne further.
How to do?
1. Dip a cotton ball into neem oil and apply it on affected area.
2. Rub for few seconds for your skin to absorb the oil.
3. Then leave it for 20 minutes and wash it off.
4. Do it 3-4 times a week until you get rid of back acne.
9. Epsom salt

If your back is affected with stubborn blackheads, then you need to exfoliate it with epsom salt. The abrasive texture of the salt loosen the blackheads and exfoliates them. It also removes the dirt and oil on your back.
How to do?
1. You need 2-3 cups of epsom salt.
2. Add few drops of olive oil to the salt.
3. Apply the mixture to your back and rub it without too much pressure.
4. After gentle rubbing, let it soak your skin for 20 minutes.
5. Then wash your back with lukewarm water. Don't apply any moisturizer if your is oily skin.
6. You must do this 4-5 times a week.
10. Turmeric

Turmeric is antiseptic and we know this basic fact. It is a ingredient that excess oil that is causing acne. After applying turmeric, you will see acne sobering. You will also relieve from the acne pain and inflammation.
How to do?
1. Take 1 teaspoon of turmeric and mix it with 1 tablespoon aloe vera.
2. Make a paste of the ingredients.
3. Apply the paste on back acne and leave it for few minutes.
4. Let it stay for 15-20 minutes and then wash it off.
11. Garlic

Garlic has a unique component which makes it antibacterial, anti fungal and anti inflammatory. This component kills bacteria and also reduces swelling, redness of acne.
Garlic can also improve blood circulation when you apply it on skin. You will have relief from painful acne with this home remedy.
How to do?
1. Take 2 garlic cloves and smash them into paste.
2. Apply the garlic paste on your back.
3. Leave it for 5-10 minutes and then wash it off.
4. Do it 2 times a week until you see the difference.
Tips to get rid of back acne
1. Don't wear tight clothes
As said before, you are trapping your skin under tight clothes. Breathable clothes are better to avoid back acne.
2. Exfoliate your back
If you are exfoliating your face to remove the impurities and dead skin, then also exfoliate your back. You can scrub your back with a sugar scrub or a bath brush. This way you can remove the dead skin which can clog skin pores. The settled dirt and excessive oil gets removed with exfoliation.
3. Shower after workout
We have mentioned that sweat can be a common cause for back acne. So, you sweat more when you exercise. Soon after workout, leave your skin without washing out all the sweat. Also don't wear the sweat clothes that are you wore already as even that contribute back acne.
4. Keep your back away from hair
If you are applying oil, then keep your hair off your back. If the oil from hair drips on your back, it adds oil and dirt as well. More dirt and oil can cause more back acne this way. Also when your washing your hair, don't let the shampoo and other hair products droop on your back. The chemical in the hair products can clog the skin pores.
Don't take the pain or hide the back acne as you have the home remedies. Skipping the care, can cause more acne as it spreads. So, stop the acne spreading on your back with the natural and inexpensive ways that are possible at home.