Wedding is the biggest affair in any family where it brings everyone together. Shopping, arrangements and appearances, everything matters for a wedding. You cant even compromise on any of the segment as everything has its own importance.
In India, summertime is also wedding time. The hot sunny day and weddings are dreadful for everyone on the wedding floor. Every face takes the tan and ends with tiredness. You may think a lot to beat the heat and enjoy the wedding parties. But do all your plans work out?
Some of the simple summer wedding ideas can make it all cool. When you are planning for the wedding in summer, also keep some plans on to deal with the humidity. The summer wedding ideas can make the time bright but not tiring for you. Let the summer wedding not end with tired faces but light up with smiles and happiness.
Wedding Plan-Ideas for Summer Wedding In India
1. Make the Wedding In A garden- Escape from the Heat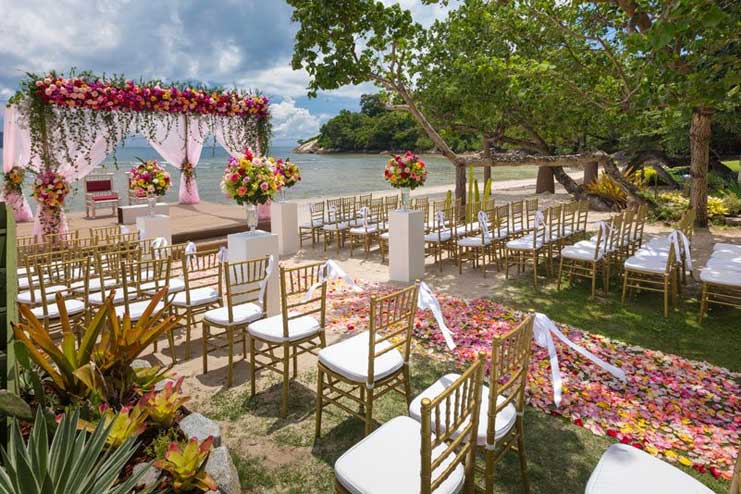 The best way to escape from summer heat is greenery. So you can plan your wedding to happen in a cool garden. It is not only a way to escape from heat but it is also a beautiful wedding. Having the wedding in a lovely garden is all dreamy but very much possible. Wedding in garden is also a chance to decorate as much as you want. The decorations can be classy with flowers and bright lights.
2. Seasonal Fruits and Flavoured Drinks- Keeps Hydrated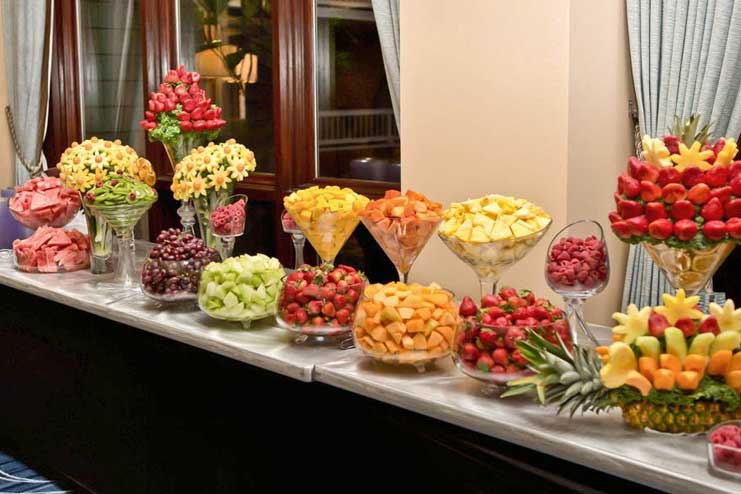 Include the seasonal fruits and drinks for guests. The fruit juices and fruit bowls can save the guests from heat. It can also keep the people active with good amount of fluids. You can cutoff other expenses of sweets and heavy food items and arrange a fruit stall. The best way to recharge in summer is having juices in the summer season, especially for weddings. It also keeps the guests hydrated all the day.
3. Menu with Light Food- Complete Healthy Meal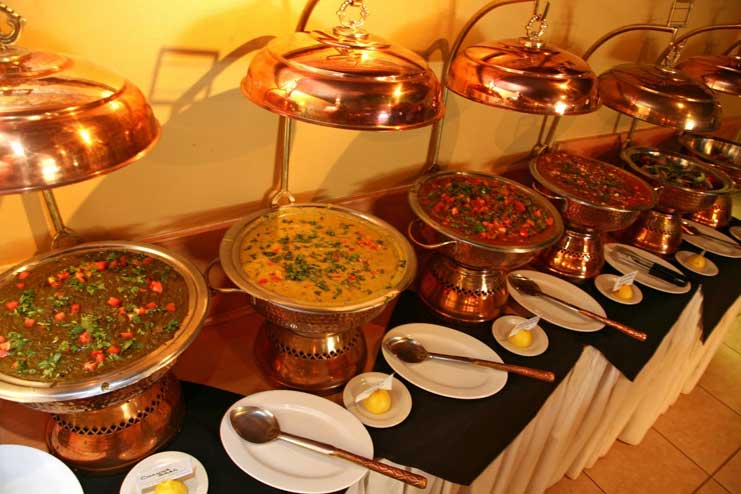 Heavy food can make people feel tired easily. So, it is better to include light food in the menu without heavy fried and fatty food. In the menu, you can add the light and healthy desserts. The desserts which feels light but tasty and which can help in digestion of main course. Choose an unusual cuisine which can match the summer days. It is good to include ice cream with other light desserts.
4. Have a Themed Decor- All Pleasant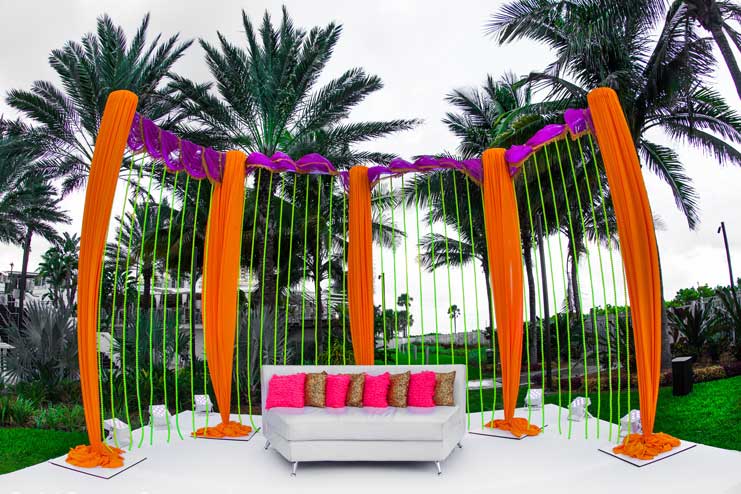 The themed decor where you have pleasant decorations. The natural local flowers and the mild fragrance can be the part of the themed decor. Vibrant colours is enough at corners or minimal. See that the wedding decor is mostly covered with light but soothing colours.
5. A Pool Party- It's a Cool Party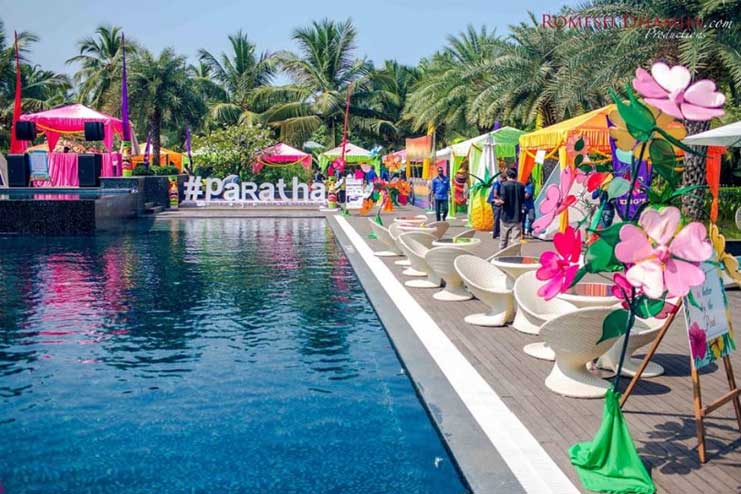 A pool party is a wonderful idea for a summer wedding. Guests families and children can enjoy a pool party. It is a brilliant escape from the summer heat. Everyone can stay relaxed and have a fun time at the party. The pool party is the cool party for everyone in the wedding event or ceremony. You can also have a bridal shower pool party.
6. Paper Fans- Little Relaxation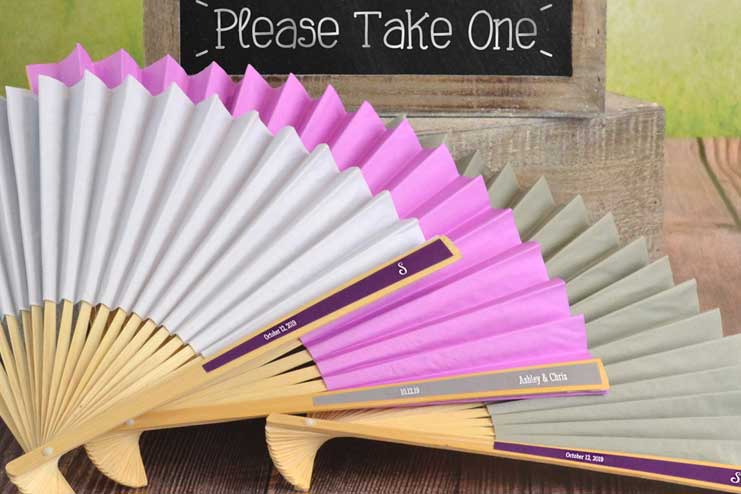 Guests face difficulties in reaching the destination and they need some air. You can offer your guest's paper fans which will give them a better relaxation form a sunny day. It is better to place the paper fans stall near the entrance. It costs less but wonderful ideas for wedding in summers.
Outfits Ideas- For Indian Brides Of Summer Wedding
1. Sunglasses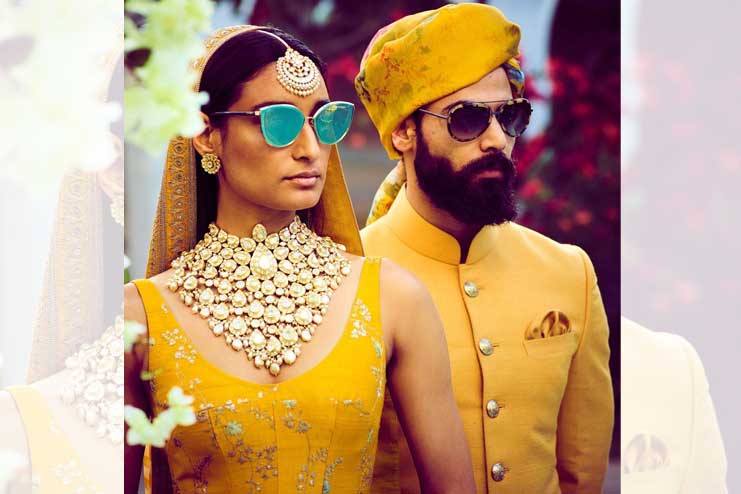 It is better if you can have sunglasses for guests to wear to protect their eyes from UV rays. Sunglasses also look stylish and the best prop to for summers. Bride and the groom must also wear sunglasses. It is a rocking style to wear sunglasses with traditional outfits. So, don't hesitate or think about your fashion sense!
2. Themed Outfits for Bride and Groom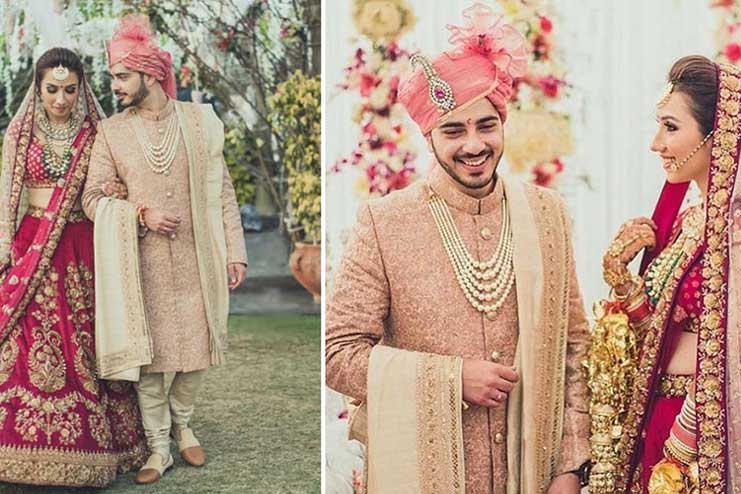 Bride and groom must wear the themed outfits. The vibrant colours are heavy in summers. We agree that Indian weddings have the specific traditional colours. So, you can choose creams, dark pastels colours like peach, green and orange colours. Outfits that can match the themed decorations is an amazing idea. Everything look perfect and classy with themes.
3. Choose Less Embellished Outfits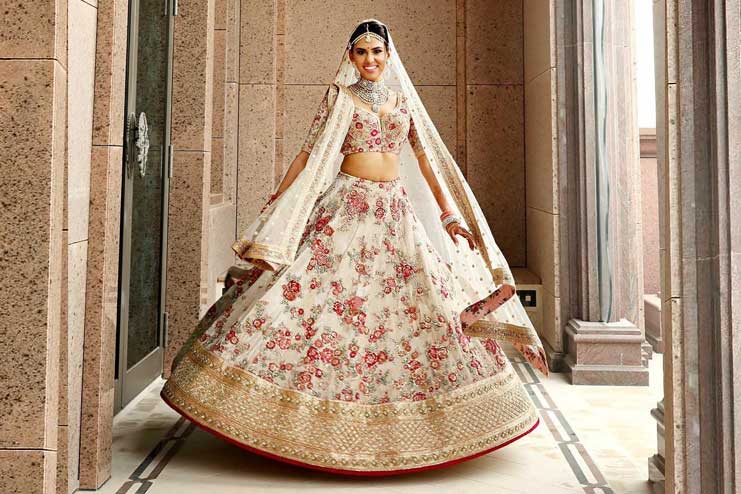 Heavy embellished outfits can make you feel heavy. You get tired soon with heavy outfits. So, it is always better to choose the less embellished but beautiful outfits for summer weddings. You also feel uncomfortable with the embellished outfits.
4. Go for Lightweight Fabrics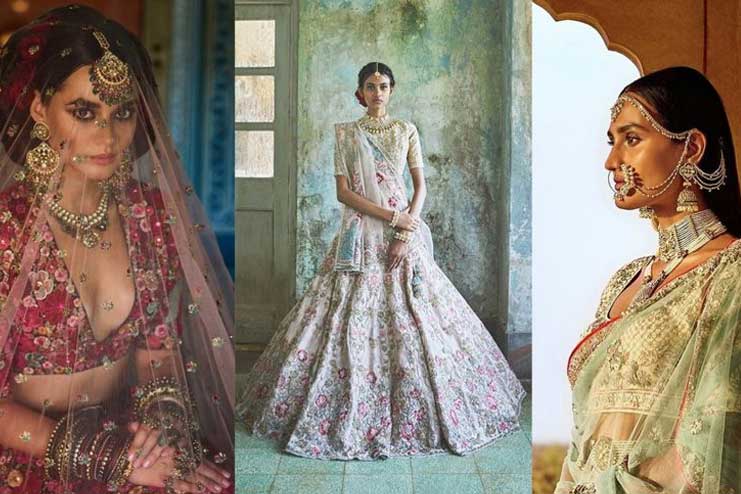 You cannot go against Indian traditions for your wedding. If you choose to wear lehengas, then you can pick the lightweight fabrics like silk chiffon or sheer. But do not go for fabrics like velvet and brocade. The lightweight fabrics can keep you in comforts without too much of sweating and irritation. Moreover, you have fashionable and comfortable outfits.
5. Pick Jewelry Wisely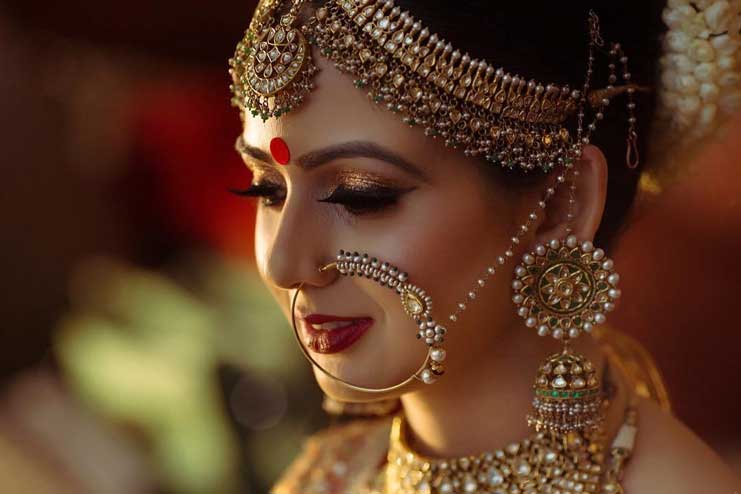 Heavy jewelry is a must for every Indian bride. But you also need to choose the jewelry is easy to wear and stay. Sometimes, you feel like pulling off all the jewelry, especially in summers. So, do not pick the ornaments like tight neck chokers and chains.
Makeup Ideas- For Indian Brides of Summer Weddings
1. Overdo Moisturizer is a no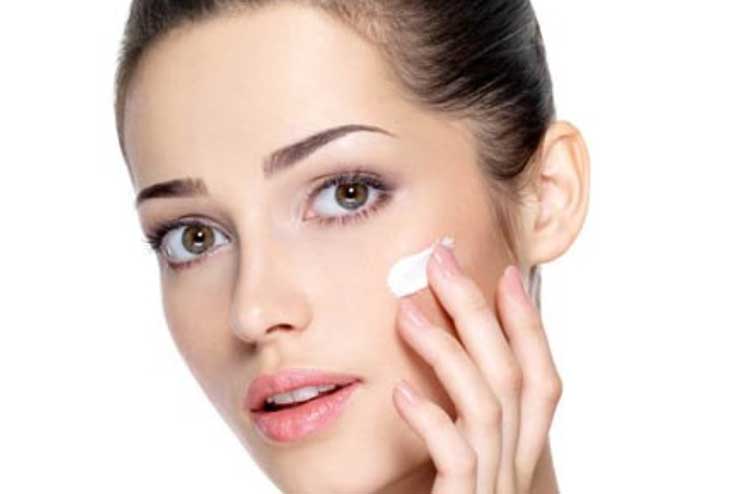 It is better if you wont over moisturize your skin. IN summers, your skin easily becomes oily. So, you must moisturize your face once a day and that too with little amount of moisturizer. Your makeup also cannot stick and stay properly on over moisturized skin.
2. Use Waterproof and Smudge Proof Products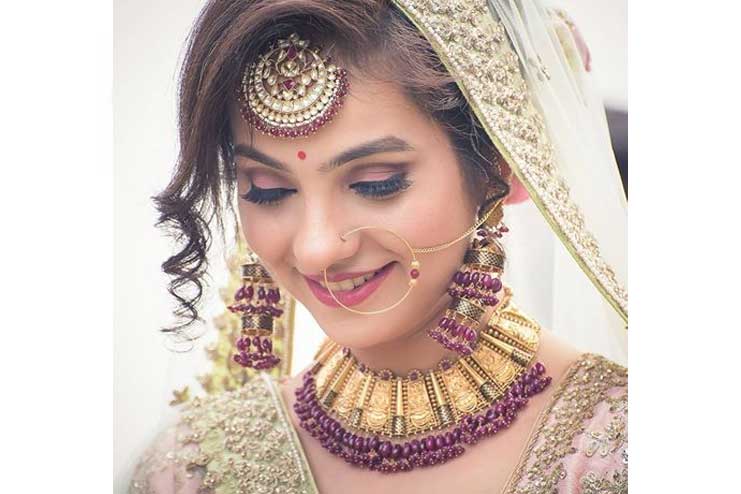 In summers, you know you that you keep sweating. If you sweat, you face looks cakey. All the makeup comes off by itself if it not waterproof or smudge proof. So, you must use the waterproof and smudge proof products to keep your makeup as applied.
3. Better Not to Use Heavy Foundation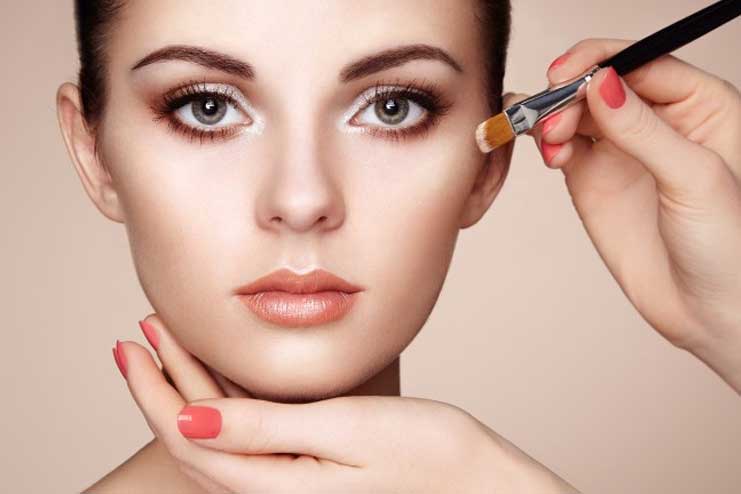 You are advised to use less foundation. Foundation should be applied evenly but not heavily. So, keep your foundation minimal. It should look natural and flawless. You can invest in a good foundation which can give you good skin complexion.
Let your wedding be the happiest day for you and an enjoyable day for your guests. All the ideas for summer Indian weddings are simple but still makes a lot of difference. It is easy to make the summer weddings cool even with low budget. Wear the right outfits for your wedding day and flawless makeup. So, try to implement all the ideas of summer wedding to escape from the bright sun. Dazzle all the day and get clicked perfectly!