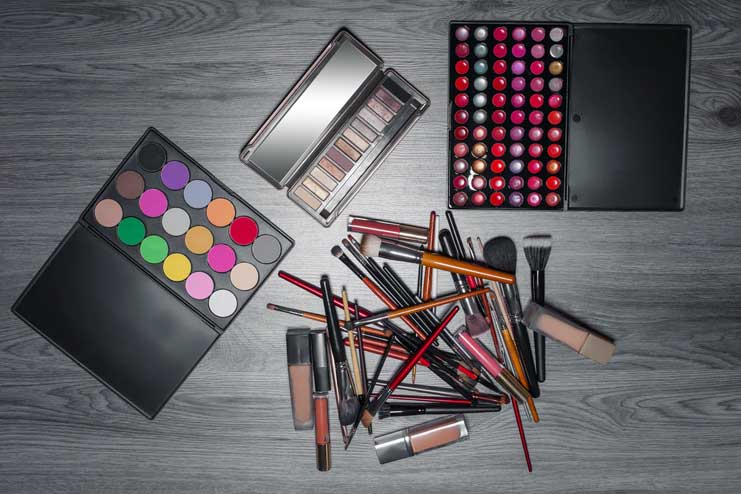 A wedding day is a raise that you chase till and make it successful. The plans and arrangements everything must work as you want. In between this hurried moment, you miss to manage your makeup. Imagine, looking at your messed up makeup with smudged mascara and creases shades, faded lipstick. Then, you need an emergency kit that saves you from this mess.
The emergency beauty kit must come in your rescue for the slight touch up and set the hair beautifully. You can simply look fresh in the middle of the day just like you stepped in the morning. There are a few essentials that you must never forget to lock in your wedding day emergency makeup kit.
When you have a kit with all important things, you don't have to look back to beautify yourself quickly. It is the best way to plan for smart and modern women for big occasions like weddings and parties.
Products You Need In Wedding makeup Kit For Wedding
1. Blotting papers

Why do you need blotting papers?
A piece of blotting paper can remove the excess oil and dirt on your skin. It absorbs the grease that is formed after a few hours of makeup. You need to clear this mess on your skin to look fresh. As you it is not easy to have water instantly, you need to keep blotting papers available in your wedding emergency beauty kit.
2. Setting spray

For every makeup session, you need to seal the makeup on your face. If you are giving a touch up to your face, it fades in a few hours. A setting spray is an instant way to lock that flawless makeup.
If you are not including a setting spray in your beauty kit, your makeup doesn't last long. It can smudge or fly away with air. Women who experienced something like this would know that setting spray is an essential for wedding makeup. And it is a must in an emergency makeup kit. Will you forget it still?
3. Cotton balls

You don't want to use your beautiful piece of cloth to wipe out the smudged mascara or kajal. Am I right?
Then better stuff a few cotton balls in your beauty kit when you are starting to the wedding venue. When your makeup creases, a drop of oil with a cotton ball can clear out that mess. These basic things can't be borrowed at the last minute. When you exclude them, you can't handle it. If you have experienced it already, then you will be the reason we are calling cotton balls a makeup essential.
4. Makeup remover

If you are done for an hectic and celebrated day, you find that makeup highly annoying. All you want to do is get rid of the makeup. Don't have an idea to water wash your face which is a mess again. Just carry a makeup remover or best micellar water to wipe all the makeup off your skin.
Any time you want to remove the makeup and set your skin free on a wedding day, you can't follow someone to lend a few drops of makeup remover. Better to have it handy. This is a tip out of self experience!
5. Mascara

Mascara is a beautiful makeup product. Women can't let their eyes go without mascara on a special day. If your mascara is fading or needs an extra stroke up on, then you want it in your kit.
Mascara is a basic makeup need, especially on a wedding day. Wedding day lasts for a longer time. So, we would suggest you to choose waterproof mascara that stays almost for a day. You don't have to reapply or it also doesn't smudge easily along with your happy tears. We also suggest you to choose other waterproof makeup products for wedding. It is simply to help you be mess free till the end of the day.
6. Lipstick

Your lips look unhappy even for a few minutes without the flawless stick of colour. Decorate your lips and keep your favourite shades in the kit for your lips to get ready for pouting.
My beauty advice is to have a lip balm along with your lipstick. Apply the lip balm underneath your lip colour. Again, only carry the shades you want on your lips. Why do stuff that is unnecessary and run out of space in your kit?
7. Lip balm

Maintaining lips hydrated and plump lips is not easy. Though you apply the finest coats of lipstick, it fades over the time. Just to add colour, you give your lips a touch up. But applying lipstick over dry lips is a bad idea. It makes your lips look unnatural and over dry. The tint settles in the lines of your lips. So, you need to have a lip balm.
Soak your lips in the lip balm for sometime and then clean it. You can also carry lip oil. Then clean it and apply the lipstick. This is a basic tip for your instant lip makeup. Your lips don't look dry or messy if you coat them with lip balm prior to lipstick. Also remember to choose an oil free lip balm which hydrates and moisturizes your lips enough.
8. Sunscreen

Sunscreen is a must to have in your kit. You want to protect your skin from sun damage. For a wedding, you have to execute the plans roaming all around. The travelling part can damage your skin. So, it is a mandatory product that you must keep in your emergency beauty kit for a wedding.
9. Eyeshadow palette

You love brown shades for eye makeup and how about glitter green? You may have many such favourite shades in your list of eye makeup. You can't keep collecting single shade.
The kit that has the trending colours and shades. You have multi purpose makeup palettes for special occasions like weddings. You can check out the eye makeup palettes from brands like Lakme, MAC, Revlon. So, be smart with your makeup and choose an eye palette colour.
10. Nail polish

Is a nail polish really an essential to be part of your makeup kit? For me it is. For every nail narcissist, it is a need. If you love your nails, then you don't want to keep them plain. Imagine you decked up top to bottom as you always dreamt. But you forgot the minor thing- nail polish, You feel incomplete without polish your nails.
So, have a traditional colour nail polish. As you dress up for a wedding, you can have one or two traditional colours which go well with your wedding dress. I would ask you to pick the colours like maroon, fuchsia, red or peach colours. These are classy shades which look pretty on your nails wearing any colour ethnic outfit.
Hair Makeup Emergency Kit For A Wedding
11. Comb

A comb is a must to have with you. If you want to remove the tangled hair, then comb is the only tool you can use. Using your hand is a bad idea and better not to use someone's hair tools. Hair needs hygiene to be healthy.
Combing makes your hair look refreshed and it makes it manageable for you. In general, we all carry a comb and it is even more an important thing in your emergency beauty kit that you pack for a wedding.
12. Bobby pins

Bobby pins are the best for your hairstyling. They don't beautify your hair visibly but hide into the hair to make a gorgeous hairstyle.
The high tight bun or messy bright bun with hair accessories, every special hairstyle needs the bobby pins. So, you don't regret forgetting to carry the hair pins in your beauty kit for a wedding. Anyways, the pins weigh too less!
13. Hair bands

Rubber Bands are the best and simple hair accessories to tie and hold your hair. Just imagine, you are irritated with your non stop flying hair. Loose hair is not always beautiful. At a point, it can irritate you the most. All that irritation with your hair can be calmed down with a rubber band.
Rubber bands are also a useful accessory to make some lovely hairstyles. Tucking them in your hair, it gives you a nice hairstyle. There are any simple but classy hairstyles that you can make with a set of rubber bands.
14. Safety pins

How many embarrassing experiences did you have when you didn't carry the safety pins? I am sure every woman would face at least one embarrassing situation without a safety pin. To secure the dupatta, saree, you need a bunch of safety pins.
The extra pins are a must to take along for women. And make sure the tiny accessories are handy and not misplaced. It is better to keep the safety pins ready to secure it all in your emergency beauty kit.
15. Hairspray

You need a hairspray for your hair to stay in place. If you want to secure your hairstyle throughout the day you can hold your hairstyle. A few cosmetics are required seasonally. But there is no such option for setting your hair. You need to hairspray any time as you want your hair to look presentable. If you know that hairstyle is an integral part of your appearance on the wedding day then you should also know that hairspray is an essential thing to pack in your makeup kit.
If you want to switch to another hairstyle, then you definitely need a hairspray to do instant hairstyling. Easy and simpler when you keep a hairspray handy!
16. Hairdryer

Hair dryer is another important thing that is underrated. If your hair is soaked in sweat or your hair is still damp, then the only option you have is a hair dryer. Get a travel friendly hair dryer and rely on it to dry your hair in an emergency.
I have seen many regretting not carrying their hairdryer. The excess water in your hair also is not friendly to do hairstyles. If your hair is already done at home and if you are sure of its stay as is, you don't need a hairdryer.
17. Hair straightener

If you prefer creating specific hair texture like curls and straight hair, then it is a must have for your hair makeup. You can pick a travel friendly hair straightener to set your hair gogreesously. If you want to keep the same hairstyle throughout, then you don't have to carry the tool.
Hair makeup is a kind of passion for a few women. Transforming the hairstyle is also an effortless skill for those who are passionate about doing hairstyles. For such women hair straightener is a must to carry in the emergency kit for wedding.
Recheck your kit if you have all these things. These are all basic for you to look fresh and flawless within a minute. An emergency beauty kit is like an emergency health kit when you want to look good and presentable. Not a wonder describing it as an emergency. So, don't miss the makeup and beauty essentials in your kit for the wedding.