Colours that enhance the beauty must be worn happily. It is all about the shade you want on you. The sparkling or pastel colour but the look must be attractive.
Women love mehndi and they can't leave their hands empty for any occasion. The choice of mehndi designs become easy with variations. One of the variation you must try for your hands is with glitters.
The darkest mehndi on your hands is beautiful and adding the glitters is beauty enhancing. Your hands with glitters and the dark mehndi are captivating. You can take the combinations of various colours to make your hand look adorned. The embellishments and the intricate designs with glittered mehndi are trending.
1. Golden glitter mehndi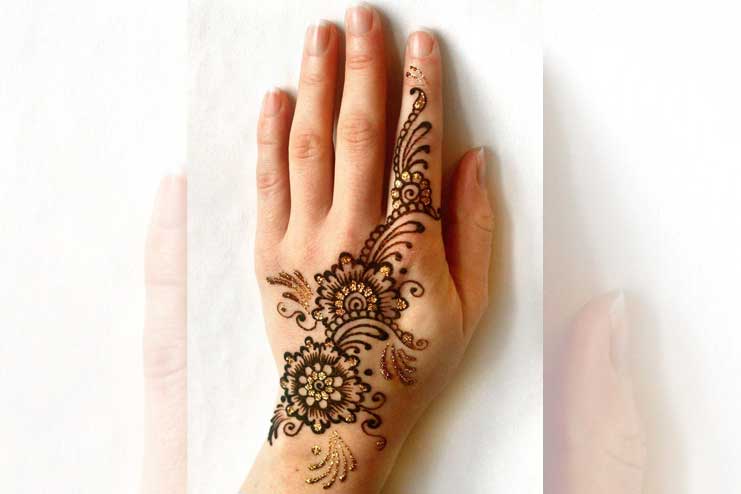 You can cover your hand with golden glitter mehndi designs and attach a few silver stones. The shine and sparks that your hands throw is alluring. Your hands look well embellished even with less of golden glitters. The gold scattered designs can be intricate Indian designs or beautifully shaded Arabic designs.
2. Silver glitter mehndi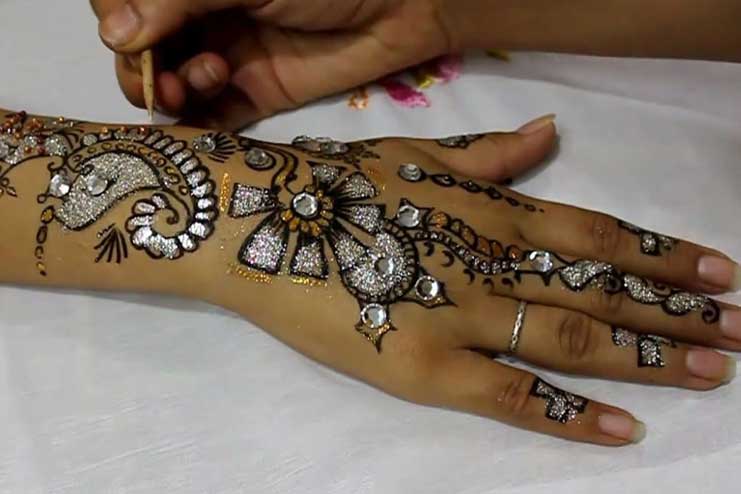 You can add the silver glitter into henna applied on your hand. We know that silver and a dark colour is a wonderful combination. If you want to add some other colours in or around, you can add them. Your silver glittered hands look great for occasions like weddings, receptions and festivals.
Mehndi with silver glitter is beautiful with floral designs. So, you can draw the silver leaves, flowers and petals designs till your forearms which will shine on.
3. Blue Glitter mehndi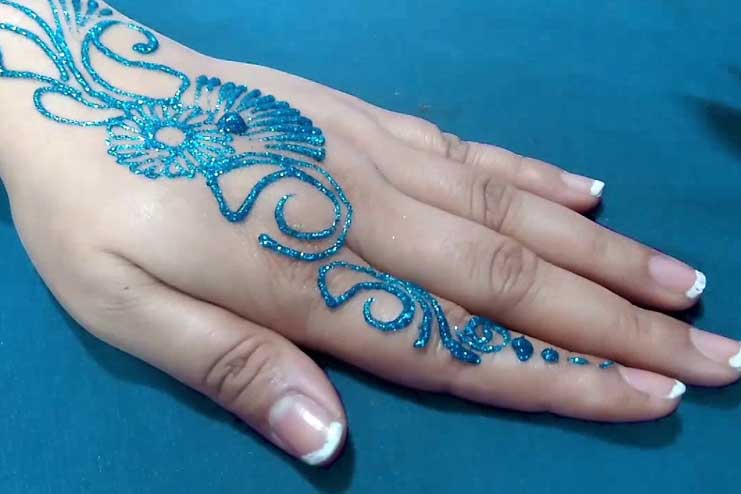 Blue glitter designs alone look stylish on the hands. The simple designs look great with the blue glitter. You can just do the design on your hand with blue glitter or add blue glitter to henna applied hands. The maroon colour of henna and the light blue colour look fabulous. Let your finger get the blue rings and your wrist gets the bracelets. The idea of making jewellery with blue glittered mehndi is creative and attractive.
4. Purple and blue glitter mehndi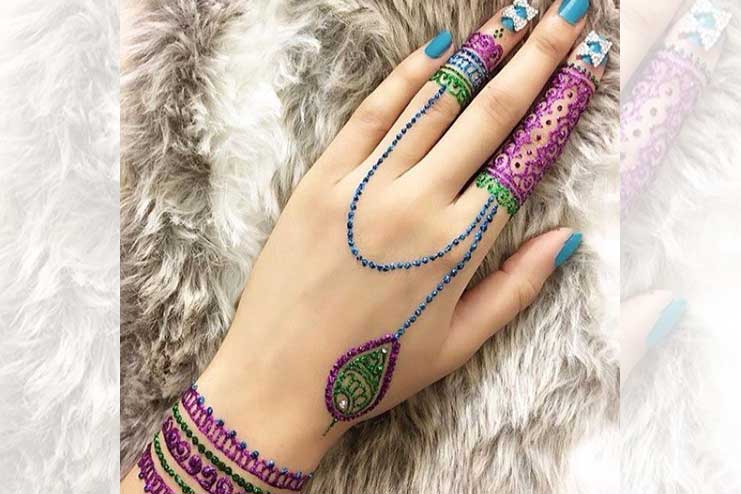 Purple is a magical colour that lightens up anything. The combination of blue and purple is amazing. The blend of these two colour and the glitter added designs are lovely. You can cover your full hands with this lovely blend. In the above image, you can see the magic of the purple and blue. The delicate chains made with the glitter mehndi and embellishments make you feel beautiful. You can also decorate your fingers with the delicate glitter mehndi designs.
5. Pink and white glitter mehndi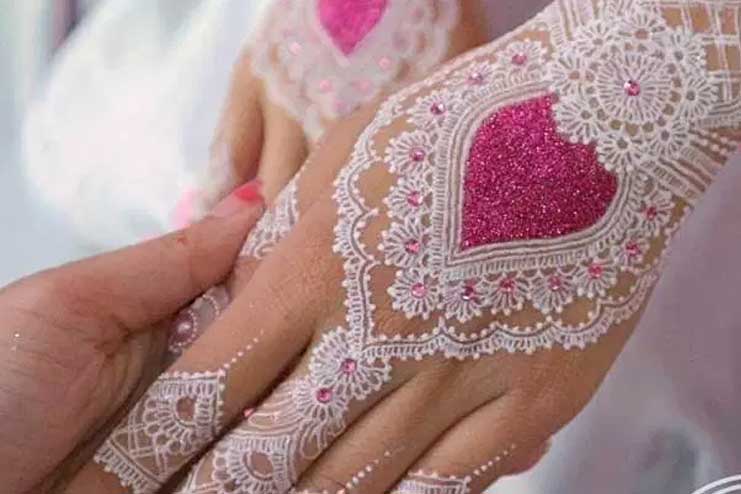 Let your hands be covered with intricate designs made with white glitter. You can just add the pretty pink colour to brighten up your hands. When you add the pink colour glitter, it elevates the white glittered design. In between the designs, add the pink stones to do the real magic of pink and white. You must take this combination to create an elegant look.
6. Green and blue glitter mehndi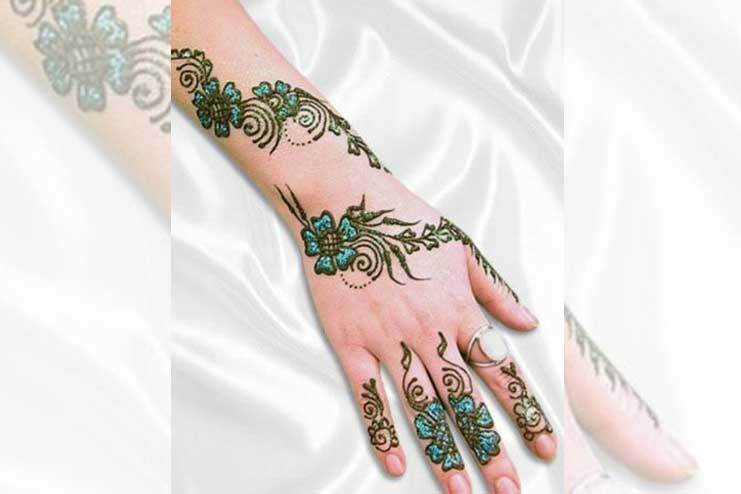 The blend of blue and green colours for your graceful hands is beauty enhancing. As green may get mixed up with the henna colour, you can choose a light green colour. You can attach some silver stones to add beauty to your designs with green and blue. The vibrant colours stay beautifully calm with silver stones.
7. Multi colours in mehndi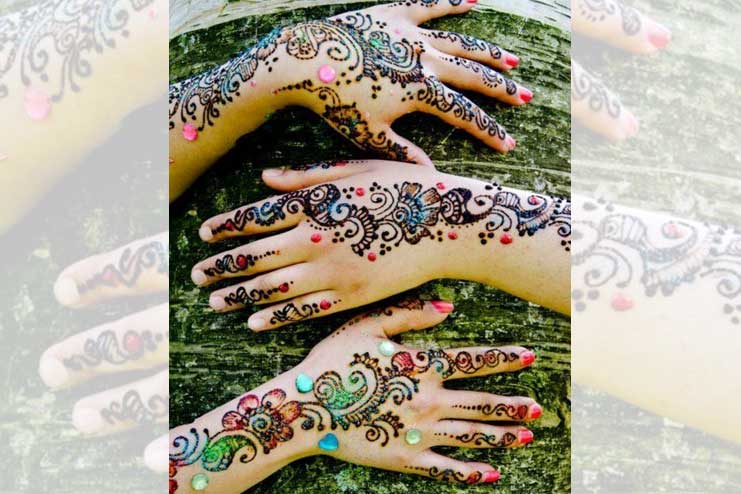 You can add your favorite colours without messing the look. Better you don't include too many colours. You can take colour to glitter your hands and other stone of other colour to adorn. Red glitter with silver and gold stones looks stunning on hands. So, you must select the design where you can use the glitters and stones well. The brooder designs give you more chance of including the glitters and stones.
8. Orange Colour glitter mehndi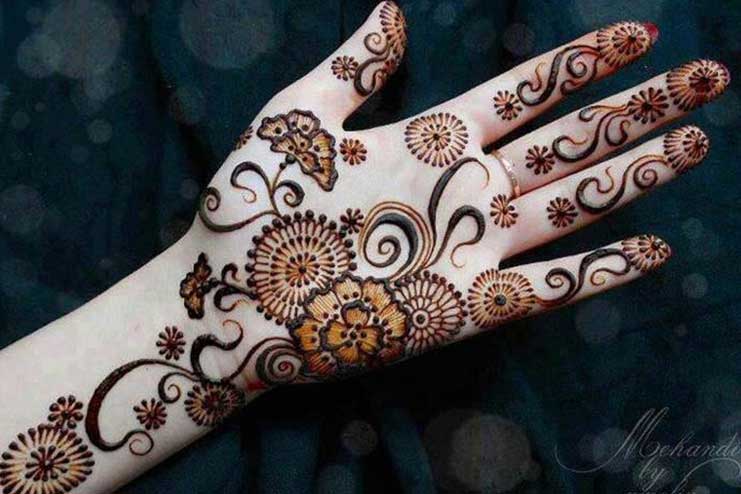 Orange is a sweet colour that can add the nicest look to your hands. You can apply henna designs and fill the orange glitter in it. Less orange glitter can make your hands look attractive. You can do these designs for a festival which is perfect for your traditional outfits. It keeps you simple and beautiful by staying on your hands.
Let your hands set with glitters with the pretty colour. The shine and sparkles that come on to your hands can match your outfits and occasion. You can make them look stylish or traditional with designs and colours added to the designs.
Related Article: 5 Fabulous Mehndi Designs For This Diwali