Women go crazy to decorate themselves and they don't need expensive ornaments to beautify themselves. That is how they really find happiness by creating various designs and patterns out of anything. Women are the package of all beauty creative skills. No one can deny this fact!
In the world of women fashion, mehndi plays an important role. A woman put all her efforts just to get pretty color on their hands and legs with mehndi. It can be any party, event or a wedding, the hands will be filled with mehndi designs. Every small curve on the hands gives a beautiful look.
That is the reason women are fond of the mehndi designs. Moreover, the colour becomes attractive and can't take off eyes from the hands once it's done. As we know that mehndi designs are more of floral, fauna, lines and curves. But giving a touch of your creativity itself makes them so pretty on the hands. They are plenty of mehndi designs and they are never-ending. We want to bring you a few latest mehndi designs.
Simple Finger Mehndi Designs:
These simple mehndi designs have no much decoration. They look simple with a few curves and lines with mehndi on the hands. It may sound simple but looks beautiful. Once you imagine a design in your mind, can just put on the hand. If you want to add some more designs to make it look even more pretty. But when you're going with mehndi designs, make sure that mehndi design is little broader and extremely thin. Here you can give many variations in your design keeping it simple as well.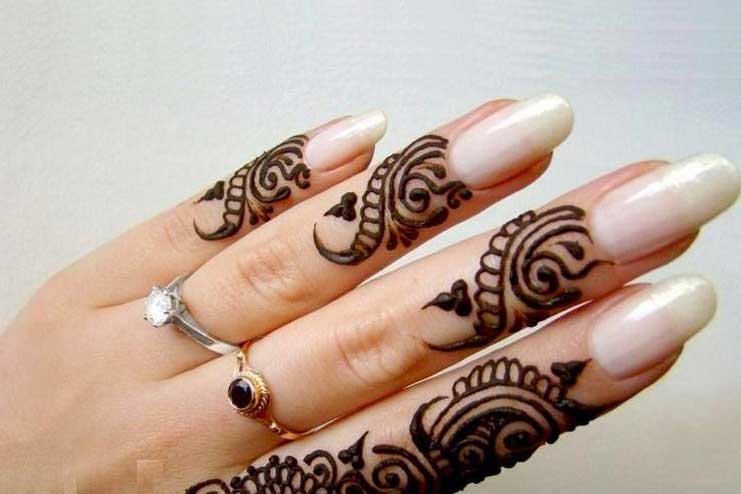 Easy Finger Mehndi Designs:
Easy finger mehndi designs are useful when you don't have a creative touch. A simple design with few flowers on either side of the finger makes it look pretty just like any other mehndi design. When it is easy mehndi designs, you should try to fill with mehndi more and lesser design variations.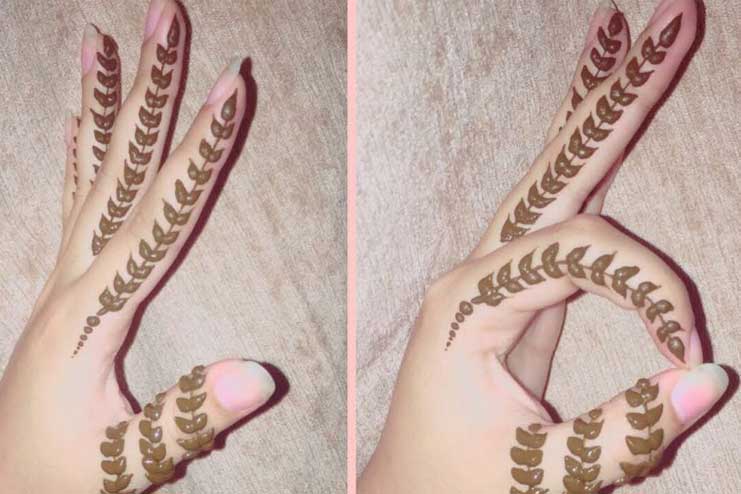 Arabic Finger Mehndi Designs:
Arabic designs are the most popular once. The style of the designs is completely unique. The smaller elements of leaves, flowers, dots and circles with fillings of mehndi gives the Arabic design look. Arabic designs are simple and elegant by looks. As said above Arabic mehndi designs are known for their unique style of flowing on hands. Simply, you can't take off your eyes from these Arabic mehndi designs. To get an Arabic style on your hands, the design should be broader and thick. It is more of mehndi filling with thin cribbling in the designs.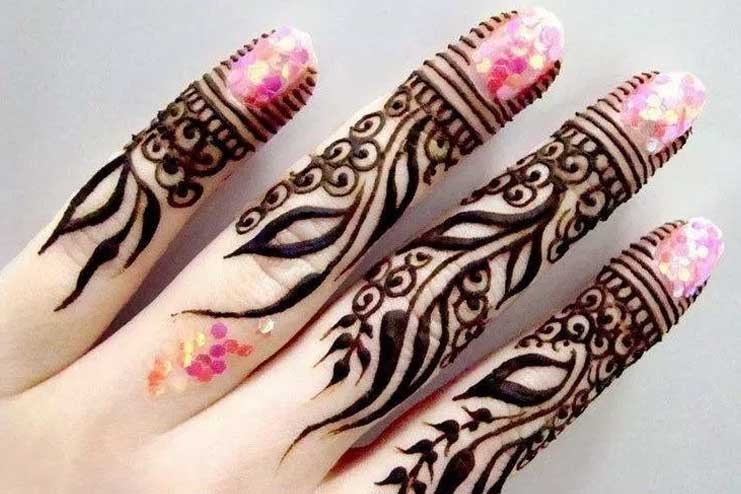 Indian Finger Mehndi Designs:
Indian finger mehndi designs include several elements. Anyways it is completely dependant on your choice of designs. You can put on simple and heavy designs from thumb to little finger. You will love the way Indian designs cover your fingers.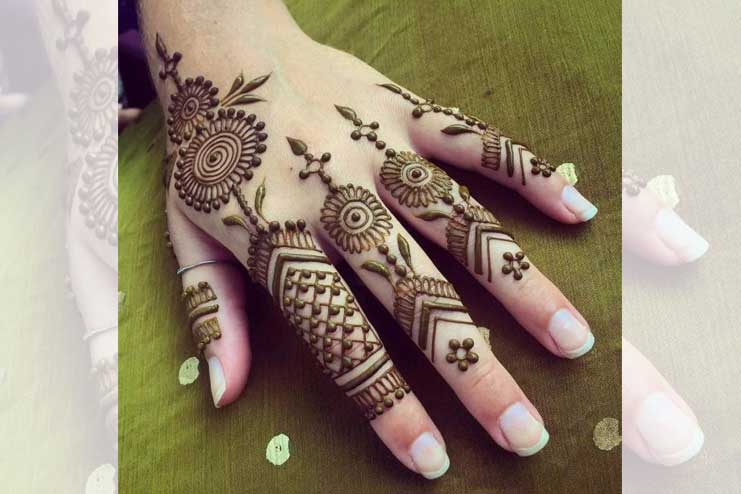 Finger Mehndi Designs 2018:
1. Stylish Mehndi Designs: mehndi have no rules to follow. So, be the best of your creativity. Try to make some design with chain designs on the complete finger. You can also have different designs on all five fingers. If you have covered your index finger with full of designs, you can just copy the part of the complete design and put it on other fingers. This the most stylish way to design your finger with mehndi. The stylish mehndi designs can be of any type like Arabic or Indian. Either of the designs can look stylish with tiny flower and leaf designs.
Have a look at the image showing, how a stylish finger mehndi design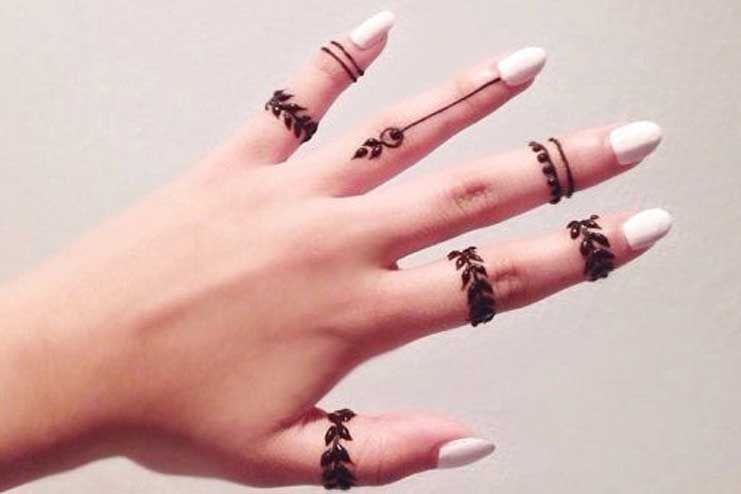 2. Mehndi design with leaves: Can you believe that you can fill your fingers beautifully with leaf designs. The flow of mehndi design with leaves looks flawless. Look in the below image how well the finger made the whole hand pretty. The fully covered fingers with leaves are related to Indian design.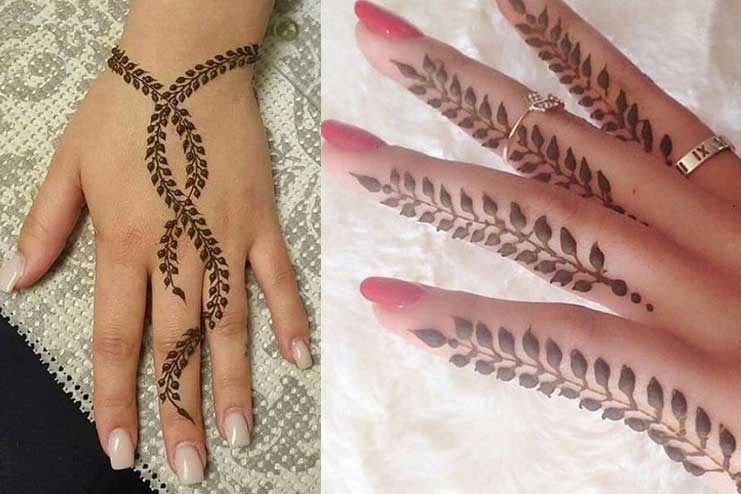 3. One-finger Mehndi Design: One finger designs were not introduced earlier but now is the coolest way of mehndi on your hand. Design on your one finger can enhance the beauty of your whole hand. Just pick your favorite finger among the five and start with the pretty looking design. There are many one-finger mehndi designs. That looks trendy wearing one finger mehndi design. Have a look in the below image, how the one finger mehndi design made the hand attractive.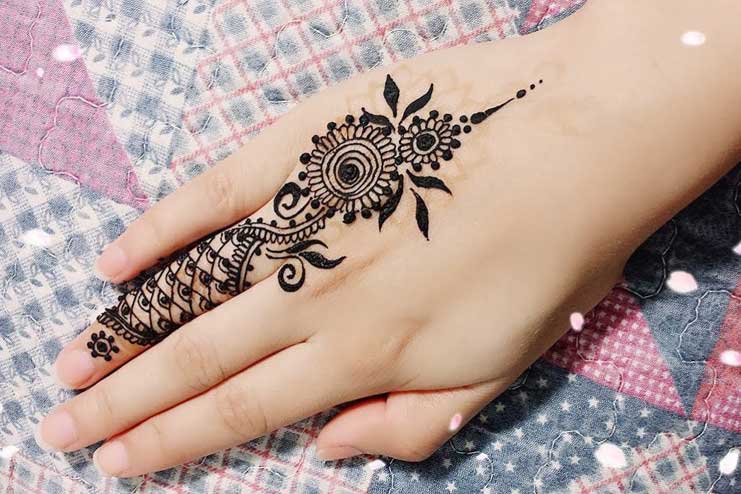 4. Cover Half of the Fingers: Indian designs inspired by nature and traditions. So, you can just cover the top or bottom of your fingers with some pretty Indian designs. As in the below images, those fingers are covered only on the bottom and left the rest space. Even the other part of the finger is not designed still it looks as pretty as in the image.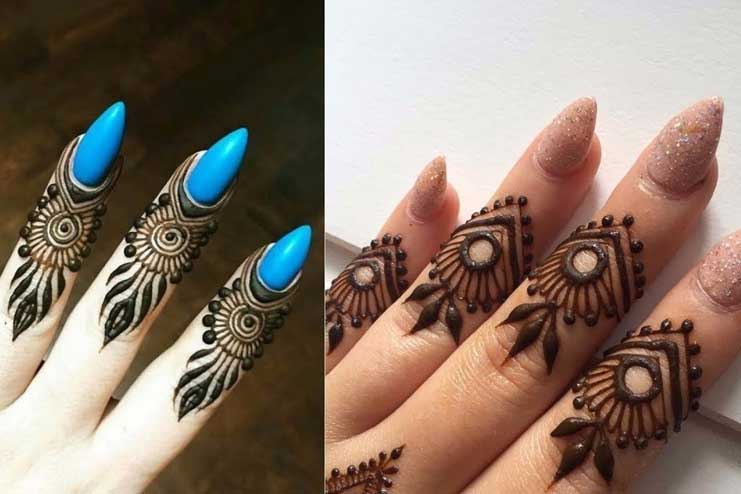 5. Checks Mehndi Designs: Checks are well used in Indian mehndi designs and it gives the complete design a great attraction. No wonder checks made their place in mehndi designs. They can be spread all over your fingers and can be filled in with mehndi. Just have a glance the way checks covered the fingers. It is simply an amazing design.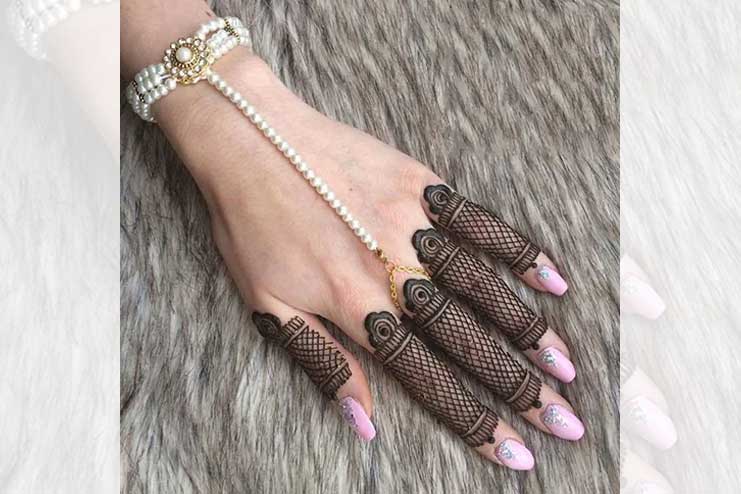 6. Ring Mehndi Designs: Generally you wear pretty metal rings on your fingers. But have tried mehndi rings on your hands. These designs are trending in mehndi designs, the finger can be covered with ring designs. The below image shows how a ring mehndi design would look like.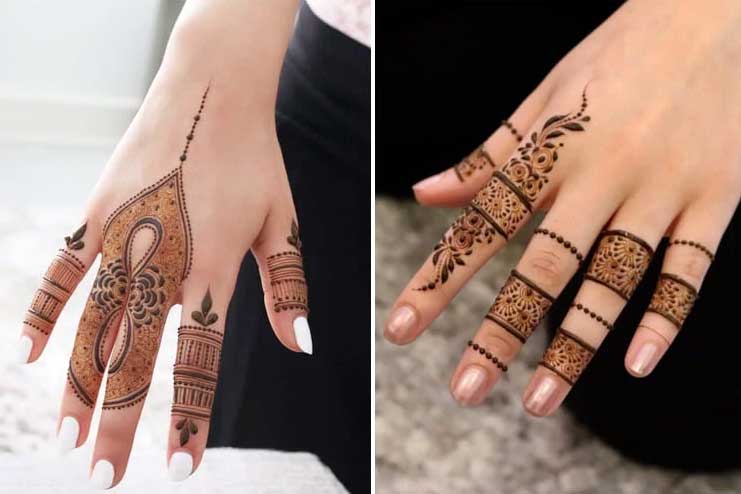 7. Chain Mehndi Designs: Chain mehndi designs are the coolest. How does an anklet look on your hand? It is the same a chain mehndi design looks on your hand. Different designs and connecting them with a chain with the help of mehndi is just a wonderful idea of mehndi designs. In the below image, it shows how a chain mehndi design looks like. The tiny and long hanging of chains are just flowing in a stylish way.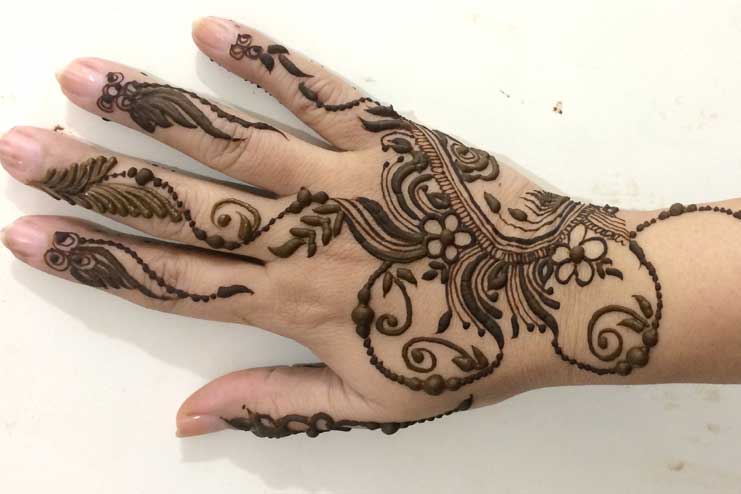 8. Floral Mehndi Designs: Floral anywhere makes a beautiful mark of it. A floral design of simple or heavy looks prettier on the fingers. A single pattern of flower on the complete finger or various flower patterns covering your fingers can give you an amazing look of your hand. Floral patterns are part of both Indian and Arabic mehndi designs. In the below image, the floral pattern did its best by covering the fingers.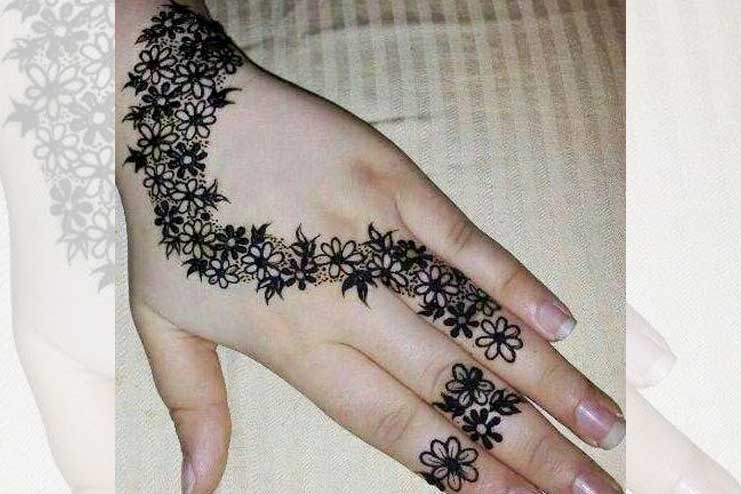 9. Swirl Mehndi Design: Swirls do the best in designs. The twist if the design itself makes the swirls pretty on your hands. Many swirls in the designs bring you a heavier look on your fingers and it is the easiest design to pen with mehndi. Just try something as in the below images. Look how the swirls made the magical they are.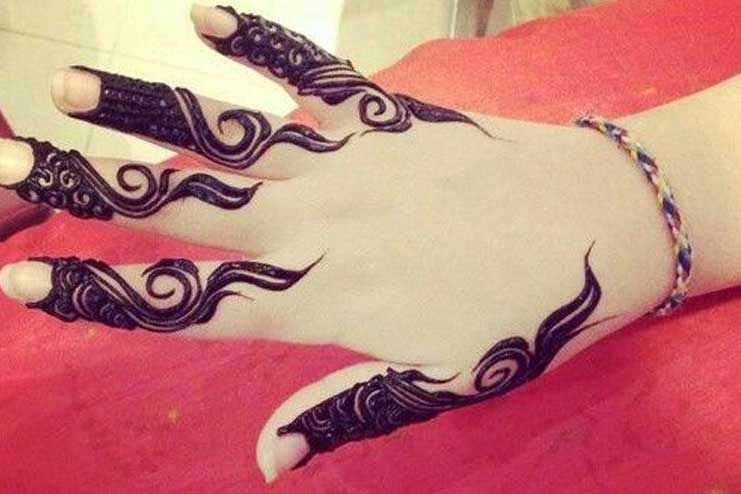 Let your pretty fingers get some color and designs. You can get number of mehendi designs out of your creativity. You may love your fingers to be decorated with mehndi designs than rings.