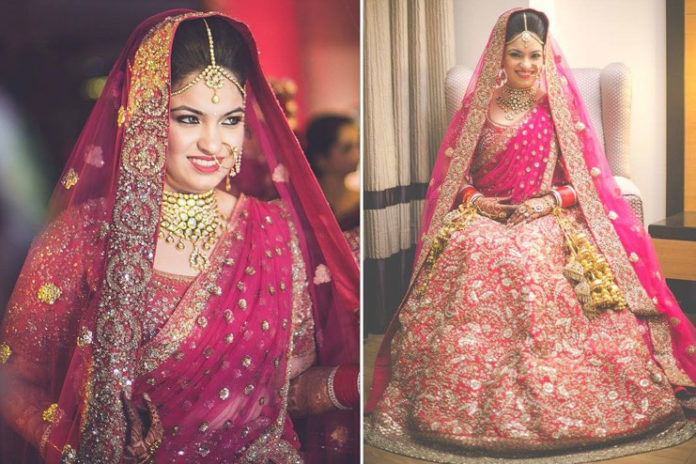 Getting a lehenga for your wedding can be a nerve wrecking feeling. You want to buy just the perfect colour, the best fit, and just the right fabric, but you do not know how to do that. If you go out buying your lehenga with a clean slate and research, chances are you will end up buying something really pretty but not necessarily the best fit for you. To help you chose the best Lehenga and style it in a way that will make you look slimmer taller and beautiful, here is a list of few styling hacks you need to remember to style your perfect wedding Lehenga.
1. Pick a lighter Fabric-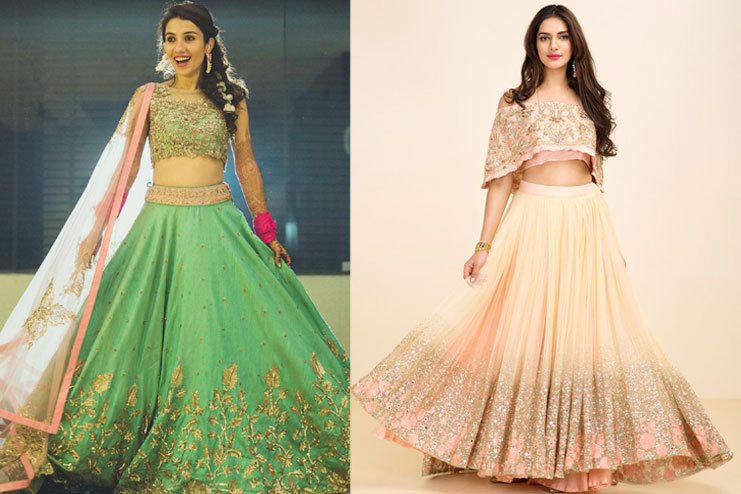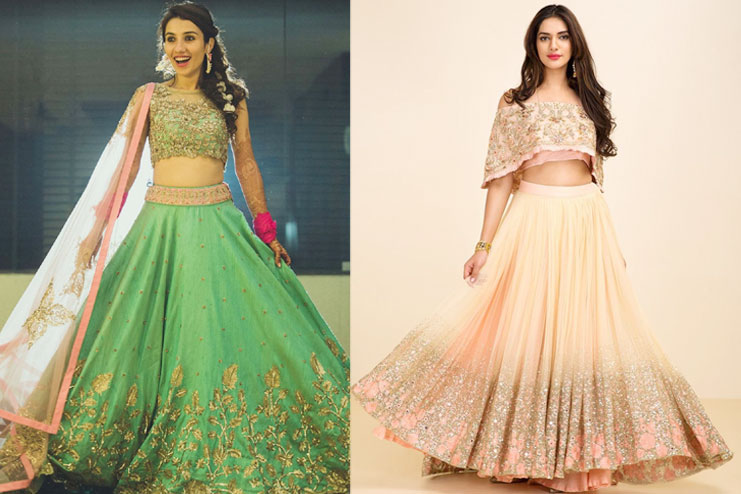 While buying the wedding lehenga always pick out a fabric that is not too stiff. Make sure not to go with fabrics like raw silk paired with bigger bulky motifs. This will make the raw silk even stiffer. The stiffer the fabric the more fluffed it will look. Where as the lighter fabrics like pure silk, chiffon and georgette will give you a nice fall that clings above and flares towards the base. An added advantage with lighter fabrics is that they won't be very heavy to stand and move around.
2. Shape of the skirt-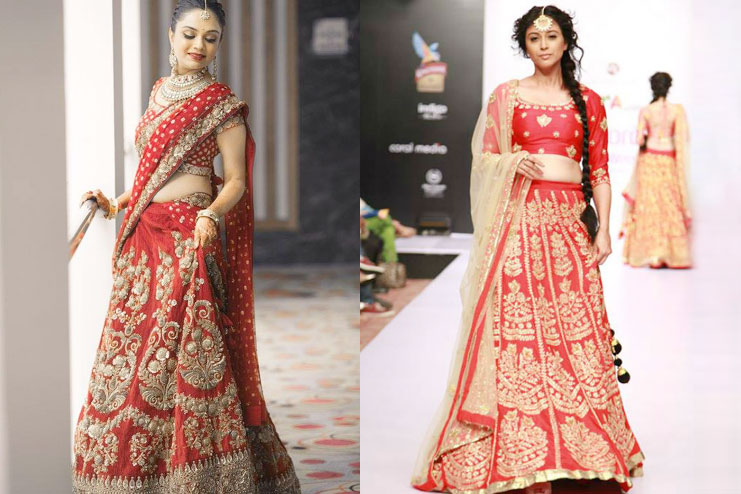 Make sure you buy a panelled skirt pattern. The number of panels, the better fit it will give. The panels are also called as the Kalis in Hindi. This panelled skirt type will fit at the higher waist and flare down below hiding any extra fat and inches. Make sure you do not choose skirt types like a Fish cut or less paneled. These will make your hips look wider and they only look nice on tall people with a smaller waist.
3. High waisted skirt works best-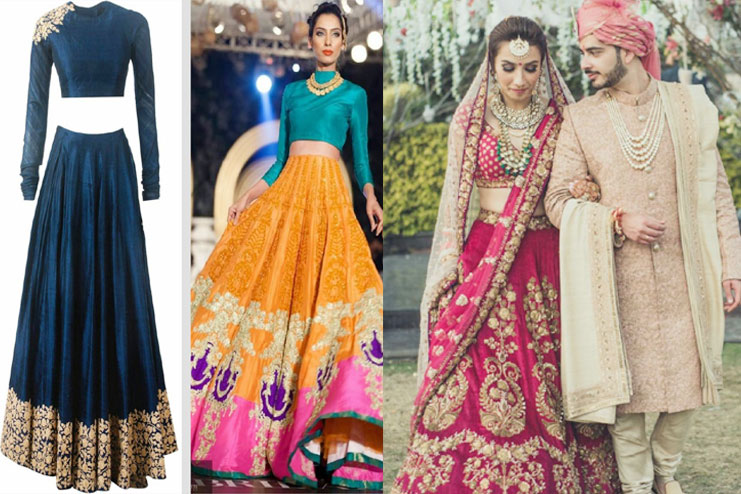 If you are a bride with slight chubby weight and you want to look just very toned in that lehenga, then you should look for a high waisted skirt with a slightly thinner waist band. This fit will ensure that your tummy gets a slight lift and support. It will give a toned smooth effect that will make you look taller and toned with a leaner waist. Also on the plus side, High waist skirts are very comfortable too.
4. Smaller Motifs-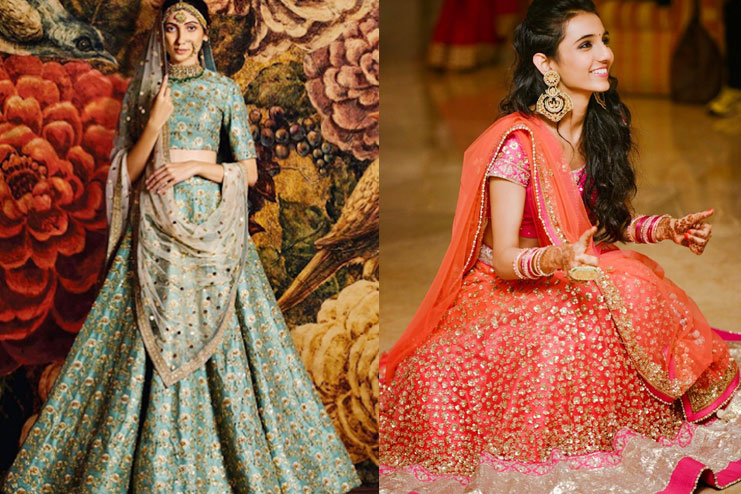 For ladies who want to look slimmer always choose a lehenga with smaller motifs or embroidery. The lesser the size of the embroidery the more delicate and intricate it will look. The larger motifs will pull attention and if it is all over the skirt it will give an illusion of wider size. Stick to small intricate embroidery or solid colour fabric.
5. Mid length sleeves-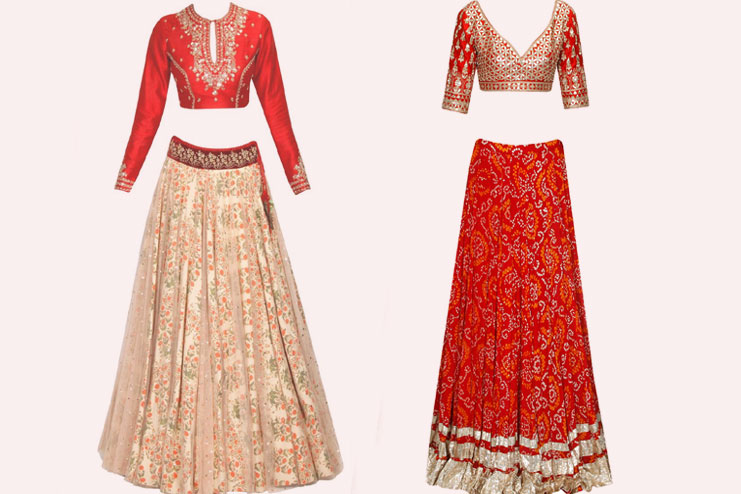 For ladies with heavier upper arms, it is best they stay away from sleeveless blouses. The sleeves should be of medium half length or may also use full sleeves for the blouse. The longer sleeves stick to your arms and the rich dark colour will make it look very toned and thin. Sleeves that are shorter than elbow length will look good on girls with great arms. Otherwise, it will just add bulk.
6. Use two Dupattas-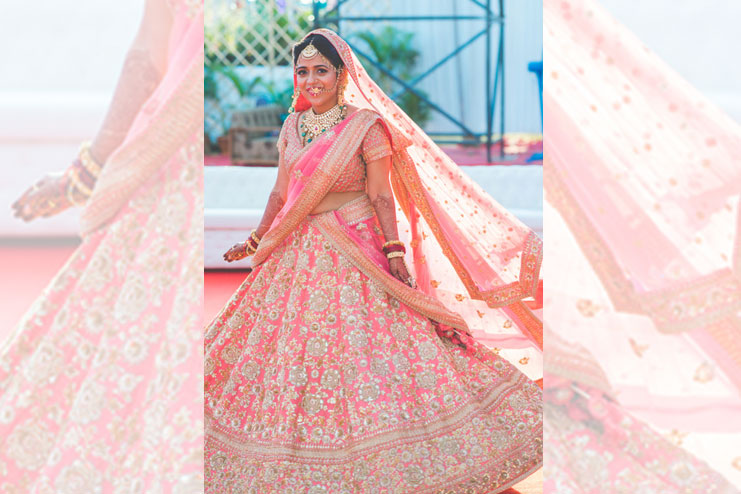 If you are shy about showing your mid riff and you're uncomfortable with it being exposed, we have a uber stylish way to hide that fat with a stylish way that everyone will compliment. Use two dupattas. Drape one of the dupattas around the Lahange and the other on your head. This way you don't have to compromise in putting the same dupatta over your head and body. And you can drape one entire dupatta with ease in a half saree type, that can hide your stomach.
7. Single colour outfit-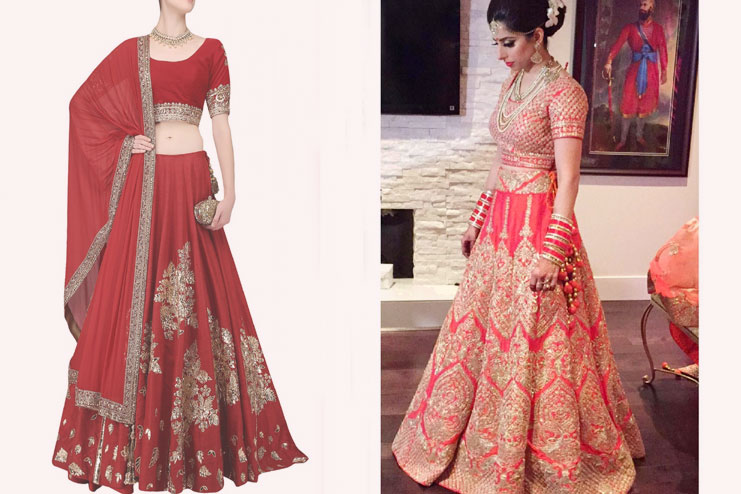 Usually, you can contrast your blouse with a different colour and it will look really nice. But for women who want tall looking torso and are slightly heavier on the bust size, choose to go for a single base colour for both the skirt and the blouse. This will give a continuity and make your lehenga look longer. It will make you look slimmer and taller. You may use a contrasting Chunni/Dupatta.
8. Length and Neckline of Blouse-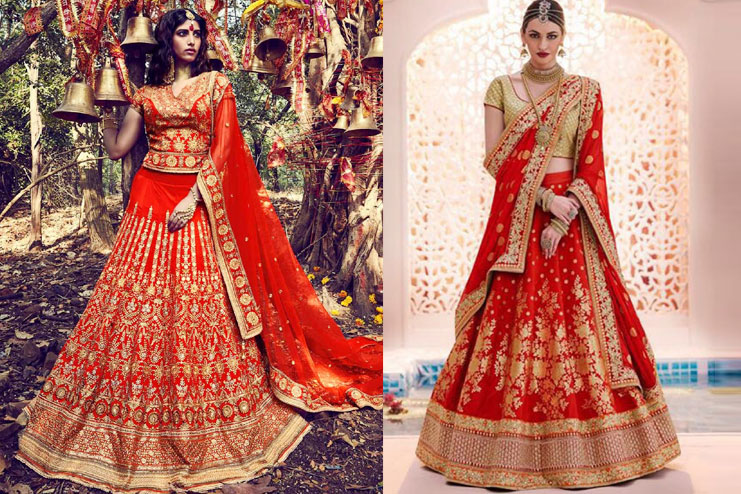 For girls with heavier upper body opt for a longer blouse and a high waisted skirt. You can leave just a little or no gap between the two pieces and club it with a sweetheart neckline and half sleeves. The length of the blouse will cover your heavy upper body and give you just hints of an accentuated upper body. The Back of your blouse can be broader. The back will not add to your weight and it will also photograph well through your dupatta.
9. Long neck pieces-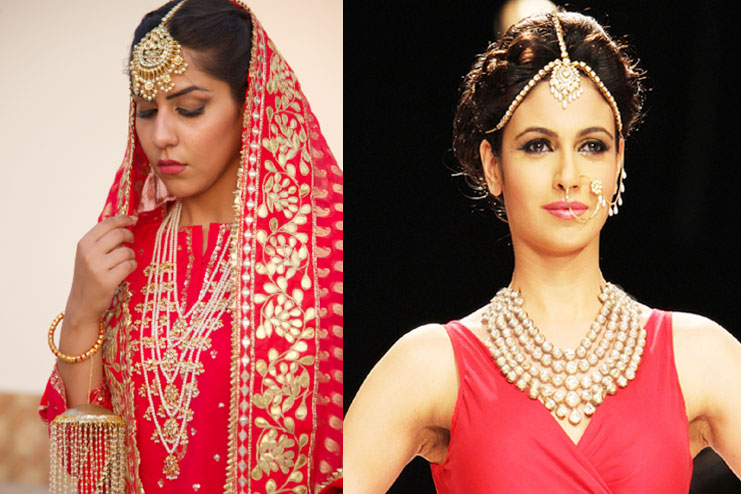 To add to the overall length of your silhouette opt for a longer neck piece. You can also layer shorter ones together to give a more put together look.
The choker style of the necklace will only draw attention and make the neck look broader. The layered long necklaces like slightly dipping Kundan Mala or rani haars will make the neck look taller and elegant.
10. Say yes to Heels-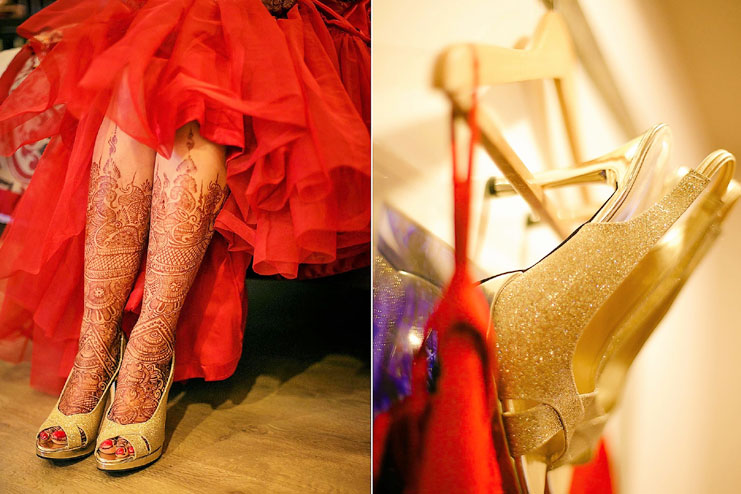 Ladies, please say yes to heels. Even if you're not in a practice of wearing one still, Opt for higher heels as they will instantly reduce pounds of weight from your figure and make you look taller and slimmer with great ease. Always make the length of your skirt long enough for a particular length of heel you want to wear. Wear platform or wedge heels, Always remember to choose a super comfortable pair of heels as you will be standing in them for the most important day of your life.
11. Smile-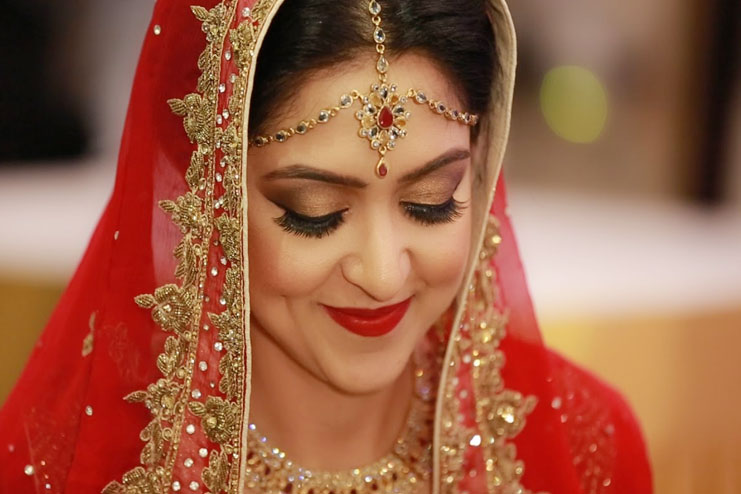 This is the most important style tip we can ever give a bride. No, matter what you wear and how to look, you'll make just the most lovely bride if only you smile. The smile it actually the best jewel a bride can wear. Your beautiful smile will make you look a million times prettier and make for the best photographs. So smile, cause you're getting married.