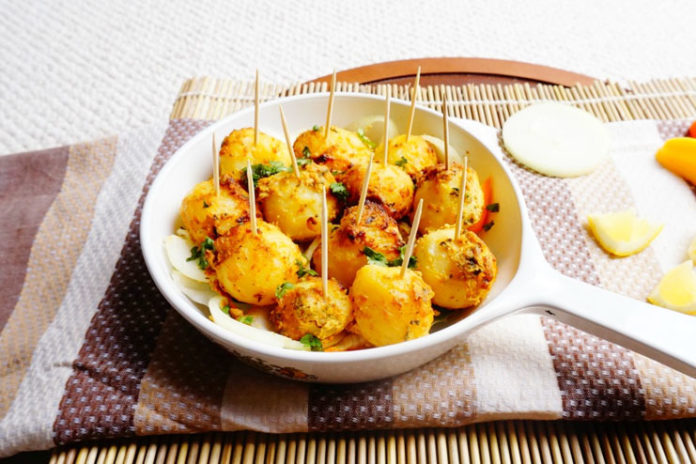 Are you looking for some exciting and innovative recipe then try this Tandoori Aloo recipe. It is a mouth-watering grilled starter recipe. You can enjoy this as snacks or as a side dish.
Ingredients
1. 12-15 tiny Potatoes
2. ¾ cup thick/Hung curd
3. ½ teaspoon Coriander powder
4. ½ teaspoon Chili powder
5. ½ teaspoon Turmeric powder
6. ½ teaspoon Garam masala powder
7. ½ teaspoon Chaat masala powder
8. ½ teaspoon Crushed Kasoori methi
9. Rock salt or Normal salt
10. 2-3 teaspoons Oil
Directions
1. Wash, scrub and par boil the potatoes and cut the potato into halve.
2. Add hung curd in a mixing bowl and whisk well.
3. Add chili powder, turmeric powder, garam masala, chaat masala to the hung curd mixture and mix it well.
4. Add salt, kasoori methi and mix well.
5. Add the halved potatoes to the hung curd mixture.
6. Mix well and let the potatoes marinate for 6 hours or overnight.
7. Heat a grill pan or tava and brush with some oil.
8. Add the marinated potatoes and cook till the potatoes are cooked and charred a bit. Serve tandoori aloo hot.
Notes
1. You can use a teaspoon of tandoori masala readily available.
2. If the potatoes are very small you need not halve them.
Also, Read Chicken Lollipop Recipe Indian Style