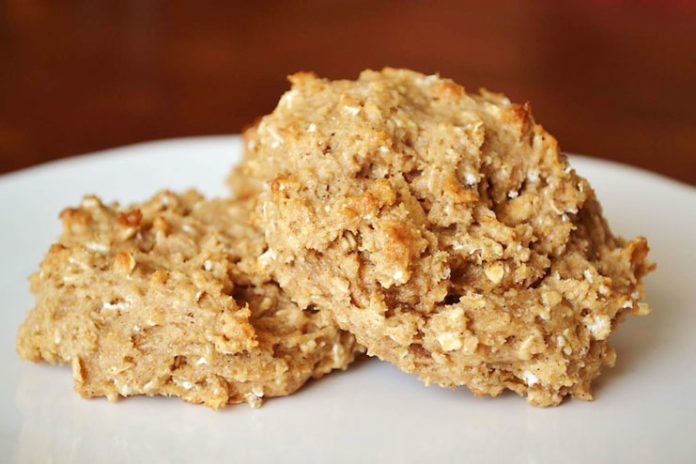 Topped with loads of crunchy oats, these biscuits cookies look tantalizing and taste brilliant. These biscuits have a mild flavor of cinnamon which enhances the flavor and aroma of the oats biscuits. Let's follow this recipe.
Preparation Time: 15 min; Baking Temperature: 150°C (300°F); Servings- 5-6
Ingredients
1/2 cup quick cooking oats, roasted and coarsely powdered
1/2 tsp cinnamon (dalchini) powder
1/2 cup whole wheat flour (gehun ka atta)
2 1/2 tbsp low-fat butter, softened
1 1/2 tsp sugar substitute
1/4 tsp baking powder
Method
1. Combine all the ingredients in a deep bowl and mix it well and knead into a semi-soft dough using enough water.( Do not knead much).
2. Roll out the dough into a 225 mm. (9") diameter and 6mm. (¼") thick circle.
3. Cut into equal sized square pieces of 37 mm. × 37 mm. (1½" × 1½") using a cookie cutter.
4. Knead the trimmed off dough portion well and roll again to make the remaining dough.
5. Bake them in a pre-heated oven at 150°c (300°f) for 12 minutes and turn them over and bake again for 22 minutes.
6. Remove, cool and store in an air-tight container.
7. These biscuits will stay fresh for a week.
Nutrient values per biscuit
Energy 19 k cal
Protein 0.5 gm
Carbohydrates 2.4 gm
Fat 0.7 gm
Fiber0.1 gm
Also, Read Condense Milk Cookies Recipe