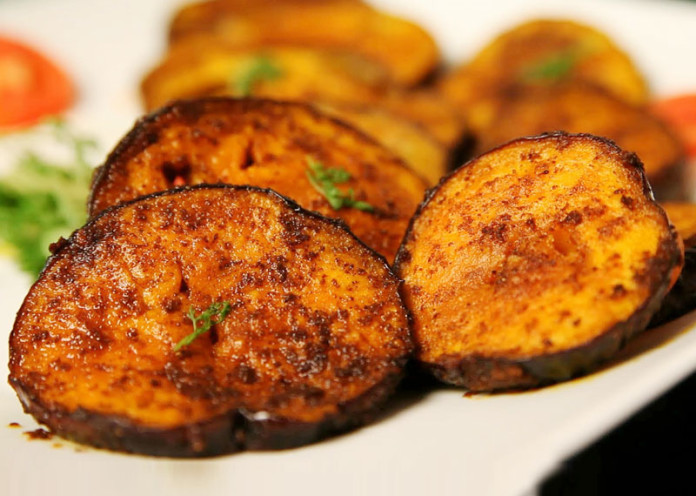 One of the easiest and quickest of all kinds of Brinjal dishes with simple ingredients. It also makes the healthiest snack, if not you can also enjoy this as a side dish. Take a glance over the brinjal fry recipe preparation process given underneath.
Ingredients
3-4 Brinjals (medium sized)
1tsp Sambar podi
¼ tsp Turmeric powder
Pinch of Asafoetida Powder
1tsp Salt
[Read: Masala Cashew Vegetarian Recipe]
Method of Preparation
Wash and cut the Brinjal's into ¼-inch thick round pieces and put them in water.
Wash well, take it out from water, and put it in a broad vessel.
Add asafoetida, salt, turmeric and sambar powder to it.
Sprinkle little water and mix well. Keep aside for ten to fifteen minutes.
In a flat non-stick pan, put some oil and heat it.
Now, arrange the Brinjal pieces in a single layer, and cover with lid.
Cook on low flame for 5-10 minutes, by turning it over now and then.
Then, remove the lid and turn the brinjal pieces and keep it on low flame on stove till it is dry.
It can also be served as a side dish with rice or you can even put these pieces with grilled bread slices and serve them as a sandwich.
Amazing Benefits of Eggplant/Brinjal
-Nikisha Uddagiri