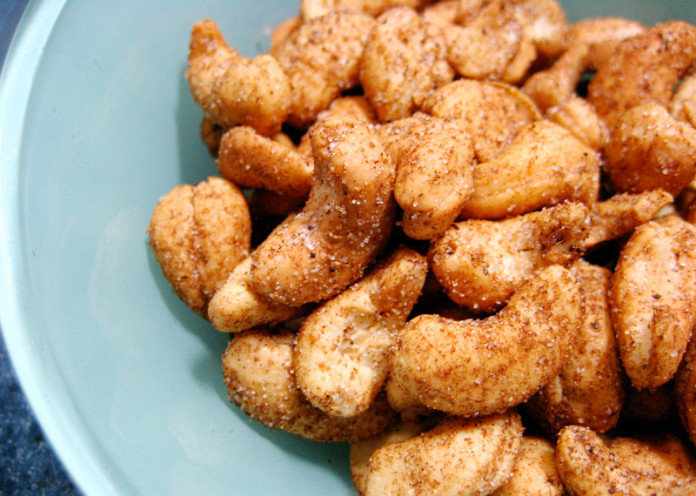 Wanting to go for an evening snack? Buying it from outside or making fat full dishes can be time consuming and hectic. But, if you make the right kind of snack, it would be useful in storing for later use as well. Here's an easy recipe that can make your kids go ga-ga about your cooking technique. Masala cashew can be an evening snack when kids are hungry after school hours or play hours. Check of the recipe below.
Ingredients
Cashew nuts – 1.5 cups (roasted) – Use peanuts to make masala peanuts
Rice Flour – 4 tblsp
Besan (Gram Flour) – 1/2 cup
Garlic – 5 cloves
Pepper Powder – 1/2 tsp
Dry Red Chillies – 5
Turmeric Powder – 1/2 tsp
Oil – for deep-frying
Salt – 1 tsp
Curry Leaves – 1 spring (optional)
Water – 1 cup (or as needed)
Method
Dry roast your cashews or its better to go for store bought roasted cashews for the recipe.
You should next soak chillis and garlic cloves for about 15 minutes in water.
Now, grind both the ingredients with a little bit of water.
Now add besan, rice flour, turmeric powder, pepper powder and salt and mix well. There is already sufficient water in the paste. So, no need of adding more.
Now add the cashews to it and mix well. Make sure that the masala content coats the cashews completely.
In the mean time heat oil in a kadai for deep frying.
Grease your fingers with oil and make sure to drop each cashew in the oil for it to deep fry.
Make sure you fry it till it turned golden brown. Now remove the excess oil using a paper towel.
It is good to make it in bulk and store it in an airtight container so that it doesn't get damp or moist. You could always use this to enjoy it for an evening snack or with your tea. Giving it to children or elders wouldn't be a problem since it doesn't have much of fat or unnecessary calorie content.
-Pavithra Ravi