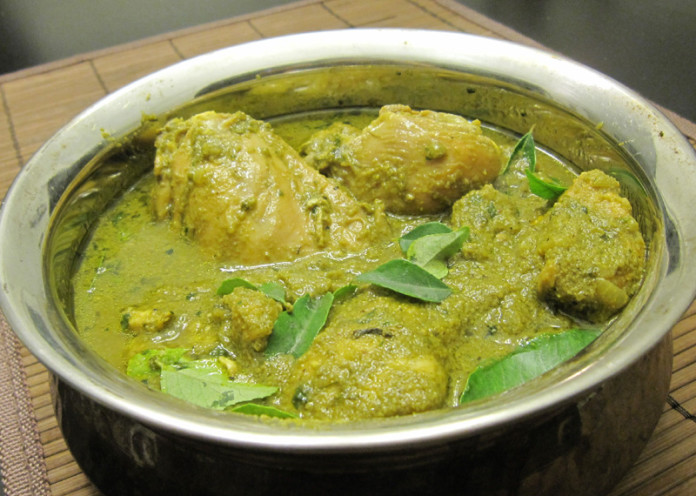 To savor the Indian Green chicken curry, you need to make sure that the chicken is definitely tender and the paste adds a bit of pungent taste to the chicken. This could be the easiest dish to be made and can be had with either rotis or rice.
Ingredients
3 tablespoons minced shallots
3 tablespoons green curry paste
2 tablespoon lower-sodium soy sauce
2 tablespoon dark sesame oil
2 teaspoons grated peeled fresh ginger
2 teaspoons minced fresh garlic
1/2 teaspoon sugar $
1/2 teaspoon ground cumin
1/2 teaspoon chile paste (such as sambal oelek)
1 tablespoon canola oil $
12 ounces cubed skinless, boneless chicken breast $
1 (13.5-ounce) can light coconut milk
2 cups chopped bok choy
1/4 cup sliced green onions
1/4 cup chopped fresh cilantro
2 cups hot cooked long-grain rice
[Also Read: Hyderabadi Biriyani]
Process
• Combine all the ingredients from shallots, green curry paste.
• Add soya sauce, oil, ginger garlic paste, sugar and cumin paste to it.
• Heat a bowl and pour some oil into the kadai. Now you can sauté the chicken for 2 minutes.
• Add the curry mixture and a little of coconut milk to it.
• Bring it to boil and reduce the heat immediately.
• Stir the onions, cilantro and let it cook for some time.
• Reduce the heat now and simmer it. Let it cook for 8-10 minutes. You will know the tenderness of the chicken. So remove it once it is done.
• After the mixture is cooked, close the curry and make sure it is cooked well. Now serve it with long grained rice.
-Pavithra