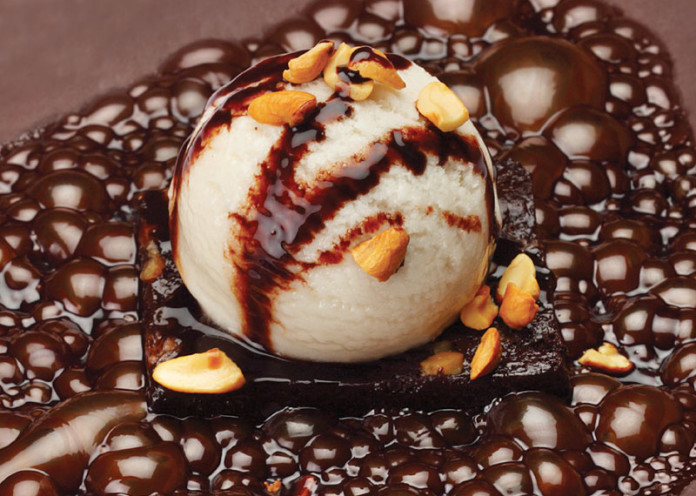 After a sumptuous dessert, if you are still grumpy for some reason, it's nothing but the craving for a dessert. Whenever you eat out, you keep place in your tummy to end your meal with isn't it? Well, if you are thinking what to do to hide or make your grumpiness vanish, don't look elsewhere. You can be sure that you want it. So, grab a few ingredients and get started to get make the most amazing dessert – Chocolate sizzler.
Chocolate Sizzler Preparation
Ingredients
For the Eggless Chocolate Brownie
2 1/2 Cup Maida
1Cup Powdered Sugar
1 tsp Baking Powder+1/2 tsp Baking Soda
3/4 Cup Dark Cooking Chocolate, Melted using a double boiler.
1 1/2 tbsp Condensed Milk (sweetened)
1/2 Cup Oil
For Hot Chocolate Fudge
Melted chocolate 1 Cup, you can use even dark chocolate
1 Cup Condensed Milk (Sweetened)
3 tbsp Butter
Vanilla Ice Cream as needed to serve
Process
Step 1
Preheat oven to 180 deg.C. You can use oil to grease the tin. If need be, dust it with maida also for smoothness. Now, riddle maida with baking powder and soda bicarb and add sugar. Mix the dissolved chocolate with oil. In a bowl, mix melted chocolate, oil mixture and add sugar and condensed milk to it.
Add maida, sugar mixture, and mix until a smooth pound is formed. You can now adjust the steadiness by adding some milk if the batter is too thick. Pour the batter in the greased baking tin and bake for 15 -20 mins
Now make sure that the brownie leaves the sides and a knife inserted at the center comes out clean. Cool, de-mold and cut into Squares.
Step 2
Now come's the fudge! Add butter to the melted chocolate. Place it in the sauce pan. Add condensed milk once the butter melts. Whisk it thoroughly until smooth fudge is formed. You can use a ceramic pot to get the mixture transferred. Refrigerate the mixture so that it becomes cool and rigid. It will become semi-solid. You could however reheat, or microwave it for making it maintain a consistency.
Step 3
This is the favorite part! Over a piece of brownie, you could now serve a vanilla scoop ice cream. Now, pour hot chocolate fudge over it. You can use heated sizzler plate if you have and place the brownie over it. Garnish with chopped almonds is needed. Serve immediately.
-Pavithra Ravi