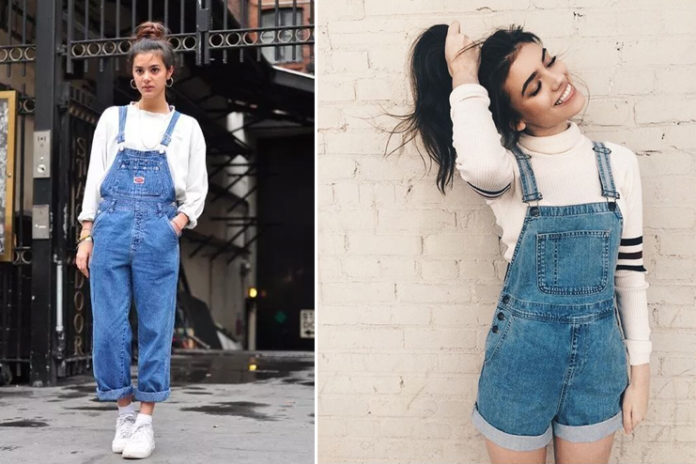 You fall in love with western outfits again and again. They can never go with a single style. The multiple styles and ways to wear keep on changing. That is how you stick to western outfits and it is all about fashion creations and innovations.
Dungarees took a top place in western outfits for women. Dungarees are vintage fashion and contemporary fashion as well. They came back with different styles. The comfortable outfit with a modern look is always loved by women.
Here, you will find the types of dungarees and the ways to style them. If you are only wearing dungaree with the white T-shirt, then it is a cliche idea. You can style your dungaree and make that the casual stylish outfit. You can also wear a dungaree as an office wear. Let your every style look chick with dungaree.
4 Types of Dungaree For Women
1. Skirt dungaree

Skirt dungaree is a cute outfit and suitable for young girls. You can simply style them with your casual t-shirts or shirts. The little flared skirt with the straps up is all stylish for with a pair of sandals. You can also pair it with your legging or skinny as your bottom. You can also get the vintage look easily with cute hairstyles for skirt dungaree.
2. Dungaree with Cropped Pants

Dungaree with cropped pants is a stunning outfit. The fully modern outfit is suitable as casual wear. The outfit can be your first option for casual and easy wear.
You can style with a pair of shoes as the pants are cropped. You also ultra-posh with this chic outfit on you. It is perfect for the airport look and travelling. The best choice for a comfortable time.
3. Short Dungaree

Short dungaree is voguish with the full sleeve shirts and t-shirts. You can appear fashionable with a simple outfit. The dynamic and stunning look that you can with casual wear is what you will love. This can also be your summer outfit which is cropped. Slip into a short dungaree for a casual street walk and it looks fashionable. You can wear this type of dungaree for a night out with friends or a small evening party.
4. One Strap Dungaree

One strap dungarees are trending and preferred to make a unique appearance. It is a complete informal look that you can choose for casual wear. You can simply style like other types of dungarees. The funky and messy look that you can create with one strap dungaree. Your messy hairstyle and a pair of stunning footwear are enough to style your dungaree.
How to Wear Dungaree in Multiple Styles?
1. Dungarees With off Shoulder

Off-shoulder tops are the ultimate option to make the outfit stylish. Off-shoulder top and dungaree is a cute combination. It can also be a summer outfit where you cannot compromise your fashion and comforts. You will love slip to this outfit for a party or casual walk. It also outfits of street style which appears to modern.
How to style?
Accessorize your look with sunglasses for this summer. Wear the sandals, flats for full-length dungaree pants. If you are wearing a dungaree with cropped pants, then pair up with boots or shoes.
2. Dungarees with Striped t-shirt

Striped t-shirts are trending in western outfit. You can utilize the style of striped t-shirts with dungarees. Black white striped t-shirt and a dungaree is a wonderful combination. This outfit will be your favourite at first sight itself. You will love to wear and slay with the chic outfit.
How to style?
You can wear other coloured stripes t-shirt with dungarees. Wear a statement necklace to make your dungaree outfit look unique and trending. Pair up with black or white boots which will look perfect with your outfit.
3. Dungaree with Crop Tops

Dungaree with a crop top is an amazing outfit idea for summer. Crop tops are trending with all the outfits. To see how it is trending with dungaree, look at the above image. You look chic with crop top and dungaree. It is an out modern look with dungaree and crop top. It is a perfect outfit for travelling and parties with friends.
How to style?
You can choose a torn dungaree to pair with a crop top. Pick and wear different colours of crop tops to match the dungaree style. Make a cute hairstyle to match your dungaree outfit well.
4. Blazer over Dungaree

You can add the blazer over your dungaree for an instantly stunning look. A white tee, dungaree and blazer over it is a voguish idea. Wearing this outfit you are stepping out in a perfectly modern and unique outfit. You look dynamic with dungaree and a blazer over it.
How to style?
You can also wear a one strap dungaree and wear a blazer over it, like in the above image. Pair up the look with a standard colour shoe. To make it more stylish, you can wear stylish hairstyle like a top bun or messy bun which will a perfect look.
5. Sweater and Dungaree

Sweater with dungaree is a chic style for winter days. It will be the most stylish and comfy outfit that you can wear in the winter season. This is an innovative fashionable outfit. It is suitable for travelling and airport look as well.
How to style?
A light coloured sweater with denim dungaree looks stylish. You can wear a dungaree with cropped or full-length pants.
6. Dungaree with a Blanket Scarf

This is another lovely style for winter outfit which keeps you cosy. It is also good for office wear. You can prefer wearing a dungaree with a formal shirt and wrap a blanket skirt. You will love dynamic and unique with this style.
How to style?
You can choose any colour scarf to pair with your dungaree. A high ponytail with dungaree and scarf looks chic.
7. Full Black Dungaree

All black dungaree style is ultra-stylish and this can be winter wear. You can also prefer this outfit for formal wear. You will stun with all black on you. You just need a black t-shirt and black dungaree for full black look stunning look for the day.
How to style?
Pair up with a white shoe or boots for that formal and stunning look. You can do a high or messy bun.
8. Dungaree with lace top

The pretty cool outfit with a fancy lace top and dungaree is amazing for parties. You will look all chic with a fancy and dynamic mixed look.
How to style?
A white lace top with a black or navy dungaree is a fashionable outfit. Go with loose hair and you can accessorize your look with some shining necklace. Wear the ballerina shoes to get the chic look.
9. Floral dungaree with a plain tee

Floral prints make the outfit stylish and girly. You get dungaree with colourful floral prints. It is the coolest outfit for small events like birthdays, house parties and get together parties. You can also wear this outfit for your date.
How to style?
You can make the outfit look stylish but classy with a plain tee/shirt. Pick your ballerina or wedges to style your dungaree dress.
The dungaree outfit can be your fashion but easy wear. It is simple to style your dungaree. You just need to add some modern styles with different tops and go for some chic footwear. Choose dungaree for a fashionable and ultra-posh look.
Related Article: 10 Stunning Ways to Wear a Long Skirt- To Look Smart and Well Dressed