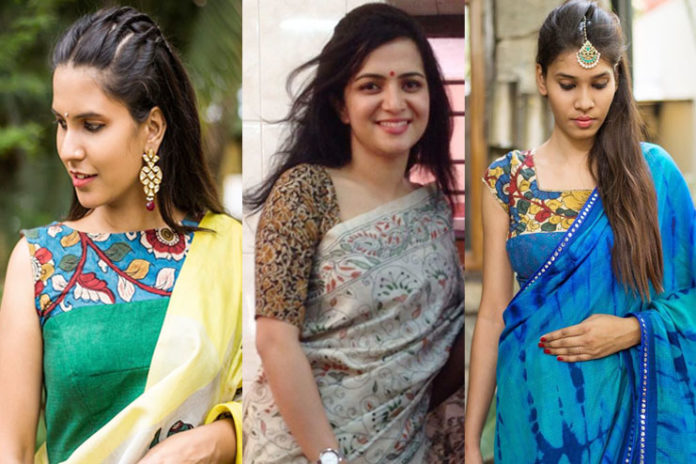 A beautifully crafted print has the potential to add an extra amount of glamour to any simple outfit, and the recent trending of Kalamkari blouse proves just that. This ethereal print inspired by the stories of Ramayan and Mahabharata makes these kalamkari blouse designs to go well with any type of sarees. It has beautiful Kalamkari motifs to stand out even more. And here is a guide to styling kalamkari blouses with every type of saree.
Kalamkari is an art of producing hand painted or block printed patterns on cottons or silk. It originated in the Golconda region of Hyderabad and its literal meaning is Kalam – Pen, and Kari- Craftsmanship.
A fabric with earthy tones this is sure to make a statement no matter what you pair it with.
1. Boat Neck with mid sleeves-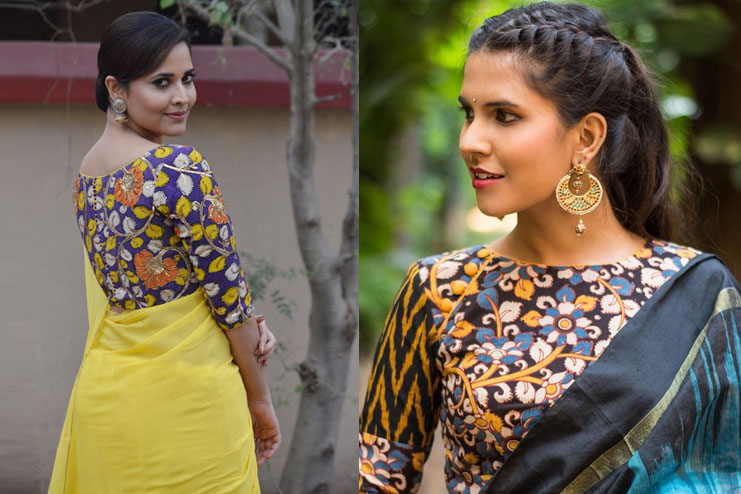 This simple but classic blouse will be a perfect choice for a plain solid coloured saree as well as a two toned saree. It is the best way to jazz up a simple saree. If your print is too crowded like floral kalamkari, you should definitely go for this pattern of blouse.
2. Boat neck short sleeves-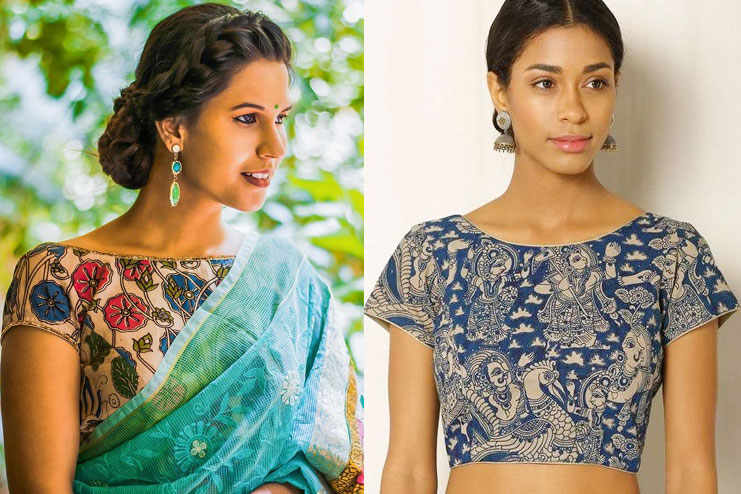 This blouse design is for women with heavier upper arms. It goes well with any type of saree. It is a more casual outfit look and it is best suited with Kalamkari fabrics of flowers in earthy tones.
3. Boat neck sleeveless-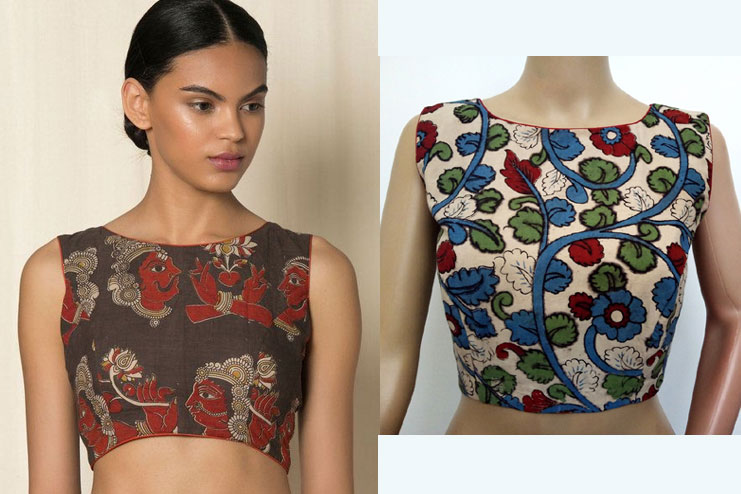 This blouse design is for ladies who are not shy to show off their beautiful arms. It is a very flattering silhouette and it looks very classy and sophisticated. Pair this up with a sheer georgette saree and your beautiful kalamkari print will show beautifully on you. You can also jazz up the back with cute potli buttons.
Also, Read: Gorgeous Boat Neck Blouse Designs For All Occasions
4. Kalamkari Sleeves-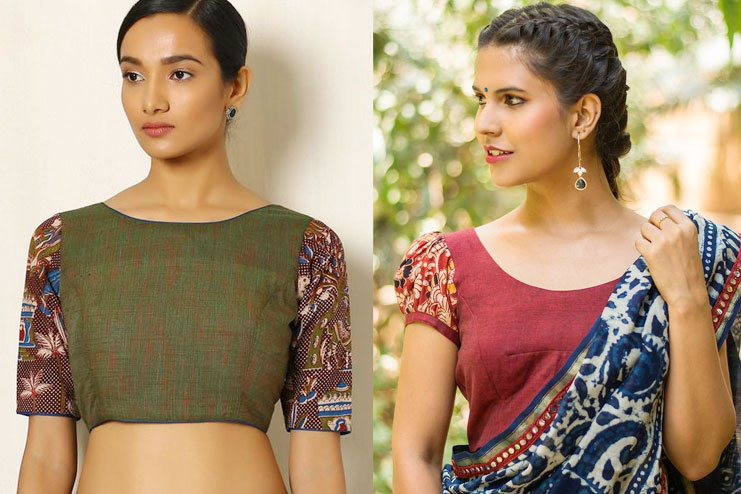 In this design, you can use a contrasting colour as the base and use the Kalamkari fabric for just the sleeves. This blouse can be made in two variants where the sleeves are long or mid length, or small and puffed sleeved. The mid length sleeve blouse is best for Office wear or official sarees. The puffed sleeved blouse can go really well with peppy sarees or sarees with a lot of prints.
5. Solid sleeved kalamkari blouse-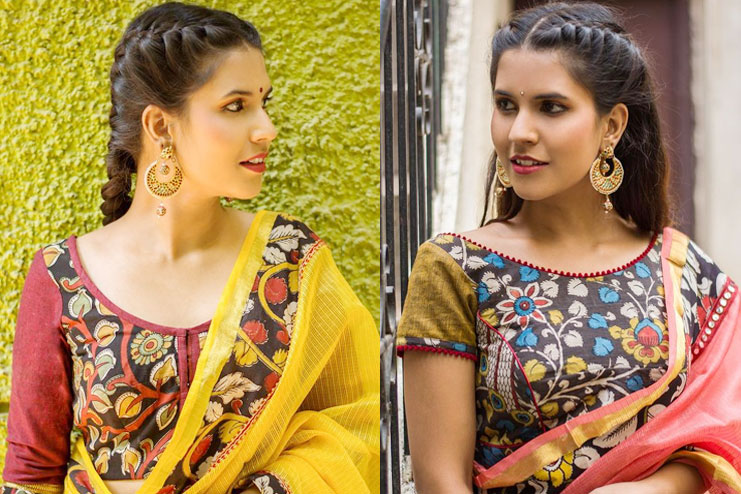 This design is just the opposite of the kalamkari sleeves blouse. The body of the blouse is made in kalamkari fabric and the sleeves are solid. The Saree to pair this with is a solid or lined saree which has No or little subtle prints. The bold colour of sleeves will tone down the body.
6. Collar blouse-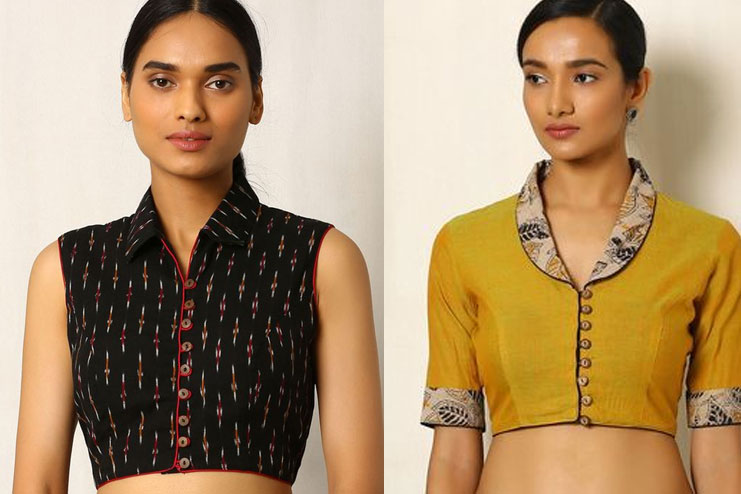 For ladies who love wearing sarees to work there cannot be a better option than turning boring office wear into just appropriately striking with this beautiful design of blouse. It is best if this design is made is dark rich colours like maroon and royal blue with the kalamkari buddha print, face print and peacock prints etc. It will pop out with every coloured saree.
7. Simple basic kalamkari-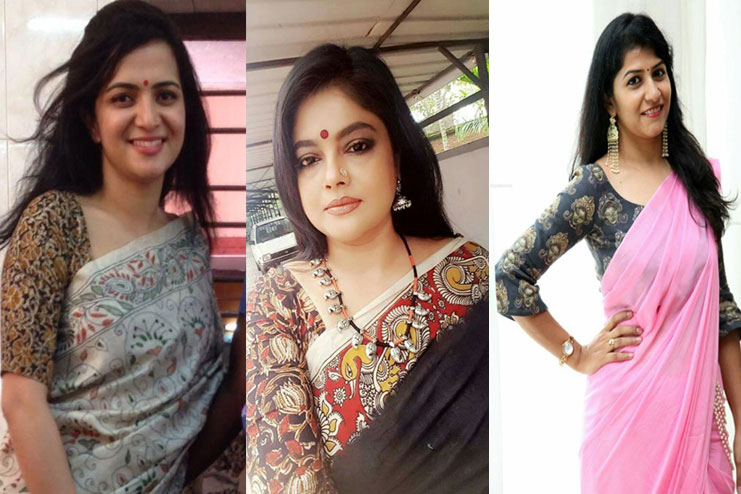 This is a staple blouse which every women should have in her closet. You will be surprised to see how many sarees it actually works with. It will be having a basic blouse to put on for times when you cannot find the matching blouse to your saree or when you just want to style an old saree differently.
8. Kalamkari Yoke blouse-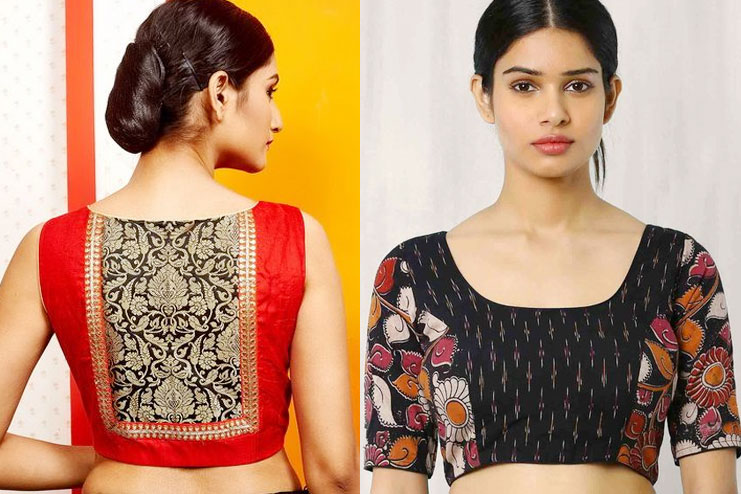 This is a composite blouse design with two different prints fabric. You can put up a neck yoke or on the back too. And it will brighten up your drab simple blouse. It will work with cotton light coloured sarees really well. It can also double up as a crop top for a skirt if you stitch it up a little longer in length, like a choli.
9. Back hole blouse-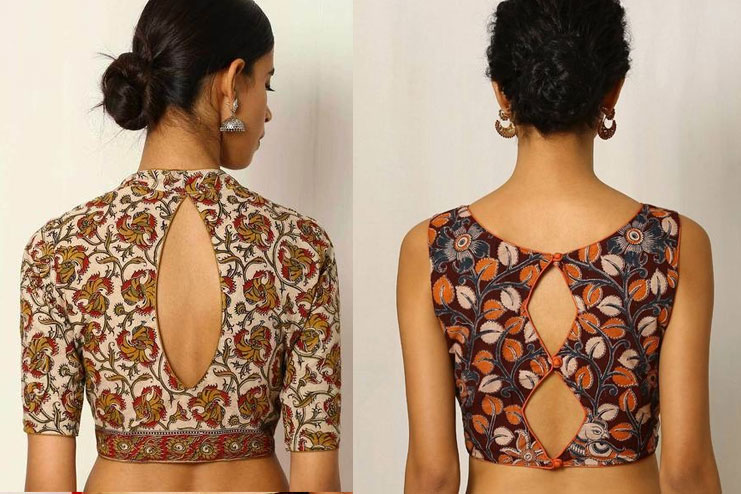 This is the most sensuous bouse to pair with literally any saree, and the kalamkari print just adds another level of class to it. Although you can make it in any colour, we suggest you keep it in lighter earthy colours to accent the back hole more than the blouse. It can be paired up with beautiful bright silk saree for any occasions.
10. Kalamkari Jacket blouse-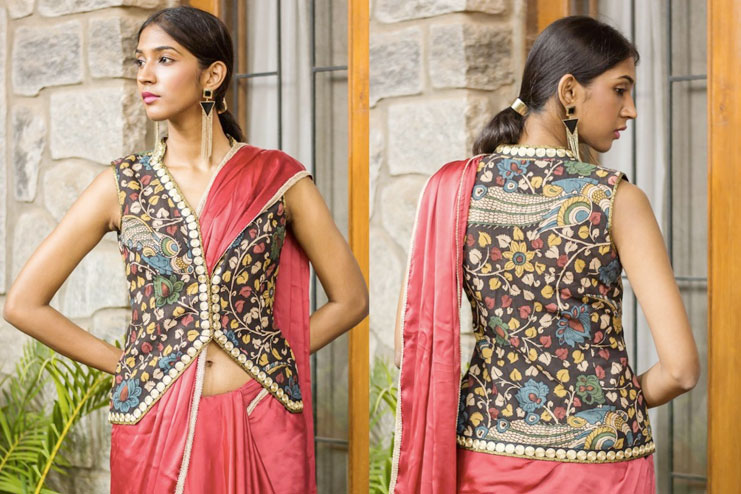 For the trendy women of today, who don't mind kicking the style quotient up a notch, we have found a really beautiful and fashion forward design, that can keep you in the center of everyone's attention where ever you go. It is the most chic style of all and it will look better with flowing and lighter fabric as it becomes easier to pin up the pallu.
11. Net back blouse-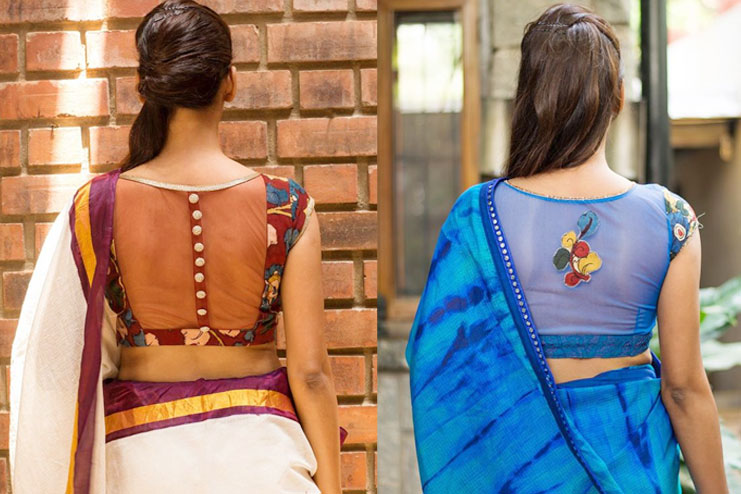 This is the newest design of blouse in recent times and adding the kalamkari print to it has only made it prettier. The is a perfect festive kalamkari blouse. Pair it up with a designer saree or a silk one, we are sure ,it will still get you a multitude of complements.
12. Kalamkari crop top blouse-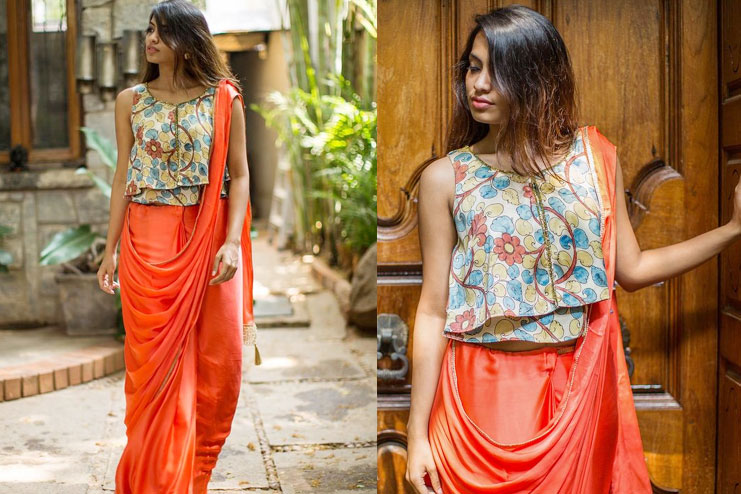 This design is for the youth of today who don't want to dress the conventional and even though a saree is an age old garment they still want to add that something extra to make it super fun. This is like normal crop top but over a saree. It looks perfect with a saree worn low waist. This is the most unique kalamkari blouse design. And it is best paired with perky colours such as coral orange.
13. Closed neck kalamkari blouse-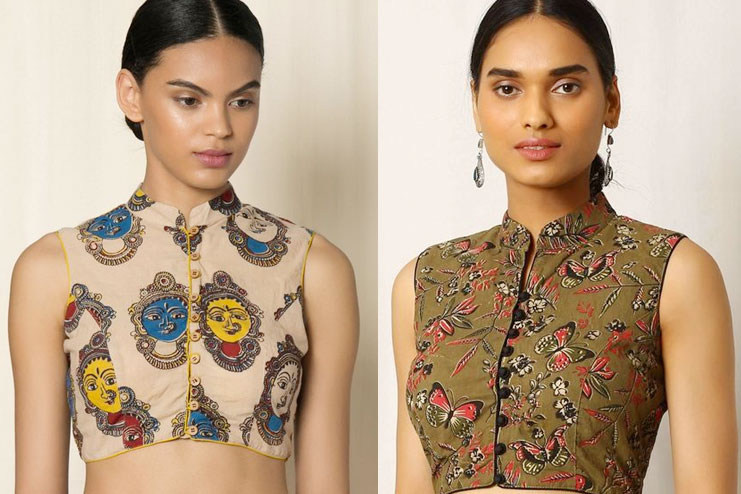 For work wear blouses this is another addition to the classy designs. It is a standard stand collar neck blouse, but to perk it up yu may add a zipper. You can use really bright shades and pair it with whites and creams and you will look really fresh. The bigger printed kalamkari works best with this design.
14. V Neck kalamkari blouse-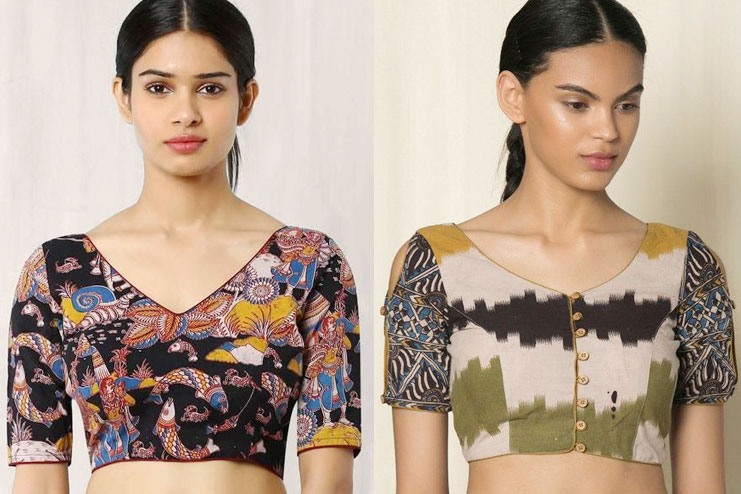 This neck design blouse is best for ladies who have little bulky shoulders. Make sure you make it in richer shades of kalamkari and it will quickly become one of your favourites after wearing it for the first time. It will look best with any fabric and any saree. It is for times when you want to keep the style and still be limited.
15. Deep round neck Blouse-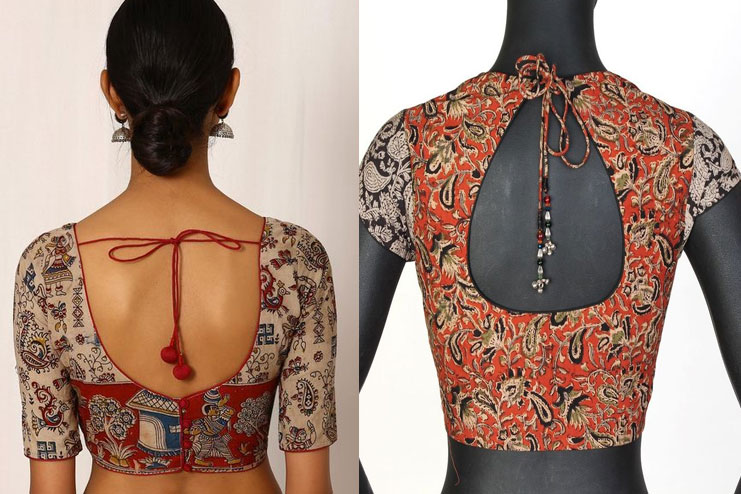 Although deep neck blouses are themselves very popular but the kalamkari blouse trend has taken this design to another level. This is our favourite design as it it the most versatile piece. You can put literally any colour or prints, pair it with any saree silk cotton or chiffon and it will still continue to look like the best blouse int he world. It will look even better will little dark dori (strings) with latkans (tassels) as it will accentuate your back even better. You can decide the length of the neck, both front and back according to your liking but the round shape of the neck will make a women look much elegant than any other shape.
Kalyani