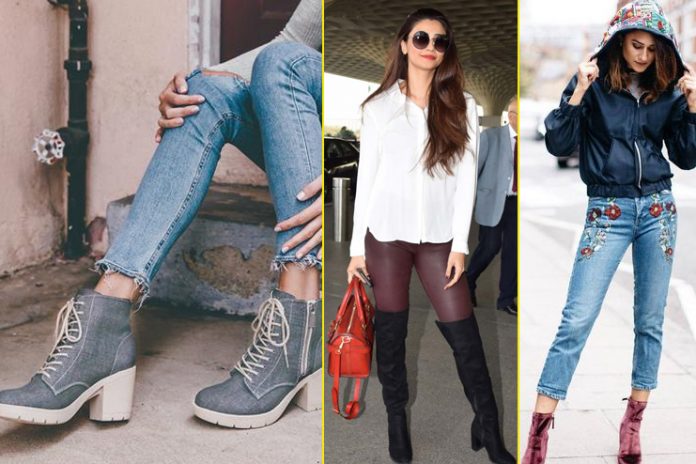 Women keep fetching the footwear from their collection to match up their outfit. They invest hours of time to choose the right footwear. Outfit may not take much time to select but footwear takes. So, get some idea of your style and trends that suit you well.
The footwear that can match all the modern women are boots. Boots are of many types and styles. Your every western outfit is stylish with a pair of boots. We classified the types of boots and the various styles you get in with designs and patterns.
Look at the type of boots you want in your footwear rack and style of boots you will love to wear. Let your style match with your taste and outfit. Be the fashion and dynamic lady with a right pair of boots.
8 Stunning Types Of Boots For Women
Women have various types of boots for all western outfits. Find yourself in fashion and trends with the types of boots. You can choose the footwear for every outfit for various occasions like office wear, party wear and casual wear.
1. Knee High Boots

Knee-high boots are the trending footwear that every woman must try. Knee-high boots can be the part of your outfit and they can accessorize your cool western outfits. Knee-high boots can be a part of winter outfits which are comfy and warm. Put on the high knee boots for a perfect formal outfit. If you want to style up for an evening party, then you can choose the high knee boots.
2. Ankle Boots

You can wear ankle length boots with your skinny jeans or cropped jeans. The more you are into fashion, the more you will find the trendy stuff. So, every woman loves ankle length boots with western outfits to get the perfect look.
3. Open Toe Boots

Toe open boots are great with western outfits in any style. They are comfortable and stylish footwear that you can prefer to level up your fashion sense. The trendy look you want is all possible with open toe boots.
4. Moto Boots

You can wear moto boots with skinny jeans and wrap yourself with a scarf over a lovely top. This is a perfect contemporary look that you to fill up your fashion goals. You can also slip your foot into these boots for formal outfits like a black leather jacket.
5. Rain Boots

Rain boots are a need when for every outfit in the rainy season. You can pair up with the leggings, jeans and other pants. They come in lovely colours with a glossy texture. You will be obsessed with rain boots and pair up with all western outfits. They make you look highly stunning and keep you away from the mess the rainy season does to your pants. For your office wear, you can choose rain boots and look professional.
6. Boots with wedges

Boots with wedges is trendy footwear that you can have for a chic look. Your walk goes all elegant with the boots with wedges. As these are the unusual boots and you can prefer them for party wear outfits.
7. Pointed toe boots

Pointed toe boots are the chic footwear and the style you get is stunning. You can wear boots with your skinny jeans. You also get the pointed toe boots with the diamonds embellishments. Combine you the fashionable outfits and pointed toe boots which are an ultimate style.
8. Boots with Belt Buckles

You can select the belt buckle boots if you like adjustable footwear. The boots also look dynamic for your western outfits. You can have all the fashion and comfortable footwear. The funky or formal style you want can be possible with these boots.
5 Voguish Styles Of Boots- Way To Trend UP
The stylish boots with various designs and patterns are the ultimate footwear for all trendy outfits. The different styles come in fabric, texture and designs. Every style make a unique footwear.
1. Velvet Boots

Velvet boots are amazing for party wear with the shine and style. The boots can be printed with flowers and stars. You look ultra posh with the boots and a party wear outfit. Calmly shining boots are voguish when paired up with your stunning outfits. You will love the silky texture of the footwear. The bright velvet boots can make you look stunning and all they grab all the attention.
How to style?
You can wear a white dress with vibrant velvet boots and slay the party walking like a fashion chick.
2. Boots with Lace

Lace up your footwear and do the chic style. The lace adds the style to the footwear which can be a good pair with trendy outfits. The colours are dynamic and you look stunning with the lace boots.
How to style?
You can choose the boots of standard colours like tan, olive and black. The stunning look with all the outfits is easy for you to set.
3. Boots with Fringes

Boots with fringes are a funky style and you can prefer for all your chic outfits. If you want a funky look, you can choose fringed boot over any footwear. If you are fond of funky stuff, a
How to style?
Your skinny jeans can be paired with the fringed boots and this is the finest look.
4. Shimmer Boots

Shimmer boots with the beautiful shine and splash colours look pretty. The vibrant colours of the shimmer boots elevate the shoe. These are perfect footwear for evening parties and you look all bright with shimmer boots. You will fall in with your all shiny appearance.
How to style?
A fancy outfit with little shine and shimmer boots is an amazing idea for you.
5. Printed Boots

Printed boots are pretty and colourful. You find the printed boots with cool designs. The floral prints and the galaxy prints are trending in printed boots. They look ultra posh and stylish with all kind of modern outfits.
How to style?
Printed boots are cool to pair up with your casual wear outfits. Your casual wear becomes unique and trendy with boots.
Hope you got enough types and styles of boots to clear off your confusion. Your attitude reflects in your style. Be a fashion lover and don't leave any chance of trending your path. When you choose all best, you appear confident and flawless.