A woman's choice of outfit is never specified with a particular taste and preference. Sometimes, the colour and combinations are enough to do the style talking. Sometimes, fabric says it all! There are some fabrics which over take the colour combinations, designs and the other fashion elements. One of the must try Indian ethnic fabric is khadi. Here you go khadi outfits for women which can take you to the next level  of  fashion.
Khadi is a stiff fabric that is seems like suiting the aged women and politicians. Khadi outfits never failed to give a decent and high class look for men or women. So, this stiff fabric khadi is it only for class for you?
Khadi outfits can be the coolest outfits for women. Before getting in detail to this point, we would like to share something more important about khadi outfits. Read further…
Khadi Outfits- Significance Or Fashion In India?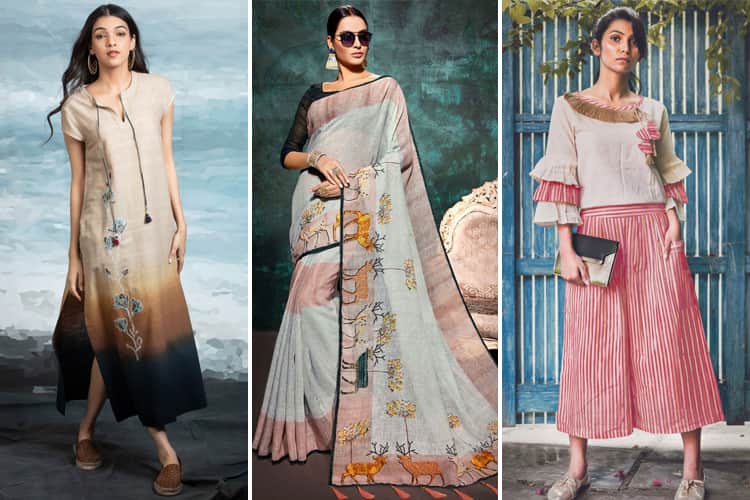 Khadi has the other names "khaddar". Khadi fabric came into existence during the swadeshi movement, when the English products were boycotted Mahatma Gandhi and his followers. During the movement, Gandhi started spinning cotton and encouraged others also to do the same. That is handloom weaving was encouraged.
Khadi is the fabric that is originated from India, Bangladesh and Pakistan. You know Khadi fabric and outfits have the historic significance which must be known before just treating it as fashion.
Khadi outfits for women can be for special occasions, outstanding formal wear and classy casual wear.
Here are some of the fashionable khadi outfits and ideas for women. You can call it best fashion with better choices- check it out!
Khadi Outfits Styles for women
1. Khadi Top with tassels- With harem pants

Nit just you, your outfits can also get the accessories. Wondering what accessories an outfit can get?
The embellishments like beads and styles like knots and tassels are the accessories that are joined to make outfit look attractive. You must have came through and worn the tassel style tops. Now try the khadi tops with tassels which is prettier and over takes all other routine styles.
A simple top for casual wear which is not over styled or not too boring is- khadi top with tassels. You can check out some of the outfits of this trending khadi outfit idea for women.
2. Frilled khadi tops- With culottes

Neck, waistline and sleeves designs play a big fashion role for women outfits. This is not missed for khadi tops which is a must try for stylish casual wear. If women are not getting overt the frill pattern, then they must also try the frilled khadi tops with culottes.
You can go for customized khadi top with frilled neck design or sleeves.The frilled neck khadi tops can also be off shoulder which is another version of western outfits. And You have many other western version to try with khadi tops. Also You got to explore the styles and ideas!
3. Peplum khadi tops- With dhoti pants

Peplum tops are excelling in woman's fashion outfits with various fabrics. It is an adorable style with khadi fabric as well. The stiff fabric khadi suits the peplum top and it can also be an amazing choice for ethnic wear.
Peplum khadi tops can be worn with various bottoms and one of the best combination is- Khadi peplum top and dhoti pant. You can also choose a striped dhoti pant which is fashion syncing and traditional.
4. Printed khadi outfit

The beautiful prints and designs also need the fabric that elevates them. The rough fabric khadi softly shows the designs and prints on it. You can pick the printed khadi outfits which give you a feminine and classy style.
The detailing of the prints and designs is stylish and throws the Indian ethnic essence. You can also name the printed khadi outfits as the ethnic dress for women.
You can opt the printed khadi outfits for mini parties, formal events, casual wear. Even the heavy designed khadi outfit looks like a sobering style. Check out the above images of printed khadi outfits.
5. Shirt style khadi kurti- With palazzo

Shirt style outfits are woman's new style for casual or formal wear. The reason behind this popular choice is classy and next level look.
You can choose this outfit of- shirt style khadi kurti with palazzo for a unique appearance. If you want to try it with other bottoms, then choose cigarette pants or leggings which are also great.
6. Stripped khadi outfit

Stripped khadi outfits is a blend of western pattern and Indian style. A stripped khadi outfit can also be a complete western outfit in gown style or shirt style.
As strips design is an on going fashion- you can go for a stripped khadi outfit. This is the outfit that makes you look fashionable for any occasion. Stripped fashion is great for formal events, casual outings, shopping and airport look.
The strips style can be of tops or bottoms. You can check out about the above stylish stripped khadi outfits.
7. Khadi stole

Sometimes, it is wondering fashion has become simple to set instantly. A fashionable piece can change over the whole style of outfit. Stoles let you believe this statement of instant fashion look.
A khadi stole is beautiful with various outfits. The attractive prints and hues make it the fashionable piece of outfit. You can add the grace and style to your simple and casual outfits.
Even your routine formal outfits can be get the super style with a single khdi stole. Look at the above khadi stole to believe in what we have mentioned.
8. Khadi midi dress

Summer fashion is tough! Isn't it?
If you find summer fashion is challenging, then collect some smart outfits like khadi midi dress. This is one of the super cool khadi outfits for women.
You feel light with wear but great with style in this outfit. This simple outfit is a must try for office and casual wear. Choose the light coloured khadi midi dress which keeps you comfortable and fashionable summers.
This is not only for summer but a smart outfit for any time. So, just go for it when you are in need of some ethnic fashion.
9. Multi colour khadi dress

Are you looking for any attractive outfits for festive times? Then, khadi outfits can be the celebrated outfits for women. The multi colours make it the most attractive and suitable for festivals.
The Indian traditional prints, motifs and embroidery designs can be part of multi colour khadi outfit. So, when you want to go in an ultimate ethnic outfit, simply choose a multi colour khadi dress.
10. Khadi Anarkali Kurti

Party wear is not just heavy and embellished. It can be light and simple which puts on the ethnicity and class. Here is the new choice that came for you- khadi anarkali kurti for special occasion.
Anakarli kurtis are mostly heavy and brimmed with embellishments and bright designs. Are you still on with the routine heavy worked anarkalis?
Every woman who wants to keep her style classy but not fussy must try this new khadi fashionable outfit for women.
11. Khadi saree- with khadi blouse

Khadi sarees are well known fashion outfit for women in India. Women in India, go for khadi sarees during festivals and puja like occasions. This is not just for the traditional look- but for the comfort and fashion too.
You can drape the saree in a western style for special occasions, semi formal events and night parties. And You have elegant patterns and designs that add the beauty to khadi sarees. Also You can look womanly and extremely fashionable with khadi sarees.
Many celebrities are making the style statements draping the khadi sarees in western style.
12. Khadi lehenga and choli

Lehenga choli is meant to play the role in various Indian occasions. During festivals, weddings, house parties, you keep chasing for lehenga and choli outfit. This time, let the khadi lehenga and choli be your choice.
You will not regret for this new fashionable choice of khadi outfit. The embroidery designs and intricate work makes the khadi lehenga look exquisite and royal.
Khadi lehenga and choli can also be an outfit for brides for wedding. The royalty flows with the khadi fabric and Indian traditional designs. The famous designers like Sabyasaachi bring these khadi lehengas for real Indian brides as part of their summer fashion collection.
13. Khadi maxi dress

Most of the modern women are preferring maxi dresses which for ethnic wear. It is a fashionable semi ethnic wear for casual and formal occasions. Moreover, khadi fabric makes maxi dress look Indian, ethnic and highly classy.
Khadi maxi dress with the lovely prints and designs are beautiful. When you are looking for a dress which is simple, comfortable and fashionable, just pick a khadi maxi dress. It will be the best choice for modish women.
The dresses also comes with the trendy patterns. You can check out the above images in which are the best sample of khadi maxi dresses.
Choose the fashion khadi outfits to keep the Indian ethnicity alive. The fashionable khadi outfits for modern women are feasible to team up with lovely accessories.
The significance and fashionable styles of khadi will let you stay on as a beautiful and modern Indian lady.
Recommended: