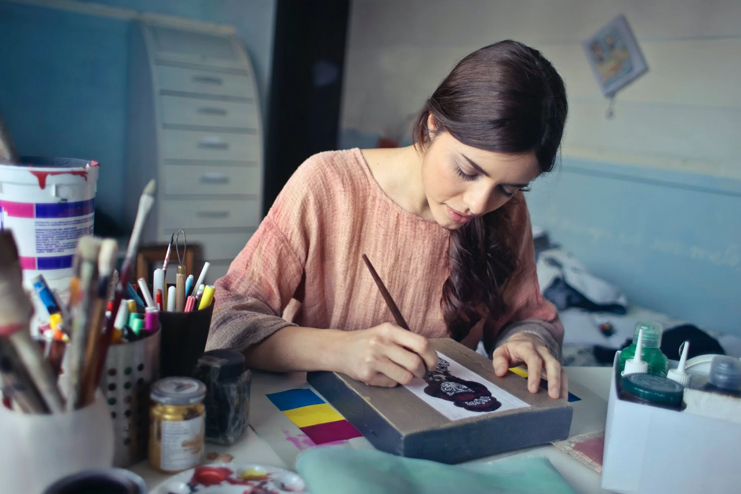 Every profession seems great and beneficial but the fact is the journey of reaching the position is tough. So, before entering the field, you must know the facts and learn the additional details.
One of the trending and prestigious professions in India is fashion designing. We find fashion designer fashionable by their looks, confident by their attitude and professional with their work. But there is struggle behind their prestigious position.
If you want to make your mark in fashion designing field, you must know what it takes to be in the field. Here are some of the guidelines that may help you in being a fashion designer. It is not to assure you to be the fashion designing just by reading this article, but you will get a better idea about the profession and field.
What is fashion designing?
Fashion designers make their career by working in wholesale or garment companies, retailers. Some of the fashion designers start their own designing studio and few may make their mark in films for costume designing. With various ways of exploring the fashion industry, fashion designing became one of the best careers in India.
How to become a successful fashion designer?
1. Polish your drawing skills

You must a the artistic touch to be a fashion designer. If you have the drawing skills, then do not let it go or just remain the same. You must polish your skills.
It can be any skills like sketching or painting which makes in use for your designing. You can also study design theory and techniques of sketching. As you practice, you will be able to the difference and perfection in your skills. Always aim for great finishing and attractive looks of the design or any sketch that you work on.
2. Keep the practice on
Once you get the perfection, you must keep the practice alive. Until your practice is reflecting in your professional work, you must not stop practicing.
It would be difficult for you, if you lose practice on the learned skills and tricks of designing.
3. Learn the basics

Before entering the course or field, you must know the basics. As fashion designing is a vast subject, you get to learn many basics. You must have fashion knowledge, colours combinations and fabric ideas. These basics give you a chance to explore in the field of designing.
4. Gather fashion business ideas

As a fashion designer, you would also deal with your customers. You must the business ideas. The business ideas that can attract the customers and expand your business is what you must learn.
You also improve on the sales and marketing skills when you want to be a fashion designer. Agree that creativity is the base for a fashion designer but business skills will let you survive better in the field.
5. Complete the fashion designing course

The right educational background is a must for any profession. Agree?
You must complete your fashion designing course achieving the admission in good college. While you are pursuing the course is a basic condition to become a fashion designer. You must also implement your basic fashion knowledge. Exhibit your drawing skills and try to make best use of every skill that you have or learned previously.
While you are pursuing, you will get a better chance to explore the designing industry. All this exposure gives you best opportunities in future.
6. Let the fashion reflect on you

When you want become a fashion designer, you must let your appearance also talk. You feel confident handling the profession of fashion designer. You must look presentable and dignified being in designing field. This is the basic expectation from a fashion designer. In fact, it naturally comes and must elevate it as well.
7. Work on your communication skills

When you are designing a product, you will have to work with other departments and colleagues. Here you must know how to communicate your ideas, views effectively. Your clear communication skills give a better idea to the person. It makes your and their job easy.
So, start interacting with your peers, staff and other departments which makes it easy to sustain in designing field.
8. Computer skills
Every profession is demanding the digital and computer skills. It is the same with fashion designing. Fashion designers have to work on various designing programs and softwares. It is no more restricted to just sketching and drawing designs by hand.
To become a fashion designer, you also need to create technology using adobe photo shop, adobe illustrator, CAD design, graphic design, MS office and many.
9. Catch every detail

As part of polishing your skills during the fashion designing course, you must be able to identify the fabric quality. You must know the trending colours and combinations. A fashion designer must also be capable of visualizing the image of design or product with the caught details. Catching the details is called as composition sense which let you reach the desired design of the product/dress.
Your spontaneity and keen interest in the role of fashion designer gets you the success.
10. Improve your style

Every fashion designer would have their own style. So, you must try to bring out your own style and work ways. Your own style makes you a unique and successful fashion designer. It will be easy to expand your label in designing field.
Moreover, your style is going to be your identity when you are trying to become a fashion designer. People recognize you as a fashion designer based on your unique style.
11. Make an attractive portfolio

Your portfolio is the best display of your designing skills and so far work. If you have worked on designing projects and assignments, then you must show all your best work in the portfolio.
Making an attractive portfolio must be presentable but not just with colourful pattern and beautiful font. The way you design your portfolio must be impressive. It give the first and best impression on you and your skills. An attractive portfolio is
12. Go for an internship

Internship is a great opportunity where you can enhance your knowledge and skills. Internship counts as good experience in the fashion industry. In fact, you will also learn the work ethics and fashion business ideas that are required for your fashion designing job.
When you complete internship it will be easy for you to take your first job. So, try to go for an internship and complete it for your growth of being a successful fashion designer.
13. Take a chance and explore

You must explore in the fashion industry by interacting with the famous designers and other people in your field. As you have to survive the long way in the field you have selected, you must create your identity. Let the exploring process be step by step but do not stop it. You must learn from your peers and fellow designers.
Exploring gives you an opportunity to learn and implement things in your role of fashion designing.
14. Teach people what you know

Teaching is one of the best quality that you must have to become a successful fashion designer. You know why?
You may have have great knowledge in something but it helps you when its taught to others. Teach the designing basics and the known skills to someone who needs it. It helps you in gaining the updates while you are teaching someone. You can also boost your confidence in this way.
15. Must be ready to go places

As a fashion designer, your stay locations would not be stable. You must be ready to come out of your comfort zone. You will have to work from and around the world being a fashion designer. The best part is you will learn different cultures, business ideas and many more while you are exploring places based on your job.
Being a fashion designer is cool but becoming one and sustaining is not simple. So, you must be ready to adapt every challenge that comes your way.
How long does it take to come fashion designer?
The one who wants to become designer must pursue the fashion designing course which differs from institute to institute. After bachelors of fashion designing, they can also go for masters which is totally an individual's wish. As it differs with the terms in institutes, we cannot say the ideal period of time to become a fashion designer.It also depends on the different niches like accessory designing, apparel designing and footwear designing.
Types of fashion designer
Fashion industry is about all the fashion stuff like clothing, accessories and footwear. At the time of course itself, the students study depends on the department they select. Every fashion designer would become an expert in their respective and chosen designing. Check out further to know the different types of fashion designers.
Apparel Designers
Apparel designers are into designing outfits. They can change a piece of normal garment to into a beautiful outfit with the stylish shape and colouring. Giving a piece of garment a proper shape and additional design is all about a fashion designer's role.
Accessory Designers
The jewelry and other accessories that you attractive into the showrooms are the great work of accessory designers. They design the shape and carve the material into fashion accessories.
Footwear Designing
Footwear designers take care of the shoe and sandals designing. The different types of material take a design that comes to a footwear designer mind. The heel shape or sole cut everything is designed by the footwear designer.
When yourself in your passion, it leads you to a higher position in life. Your love for fashion can be connected to your career and it is only possible if you are a fashion designer.
As you have seen what all it is to be a fashion designer and the requirements to be- Work on every need and skill to be a fashion designer. All the best!
Related Article: Top 10 Jewellery Designers In India To Watch Out For