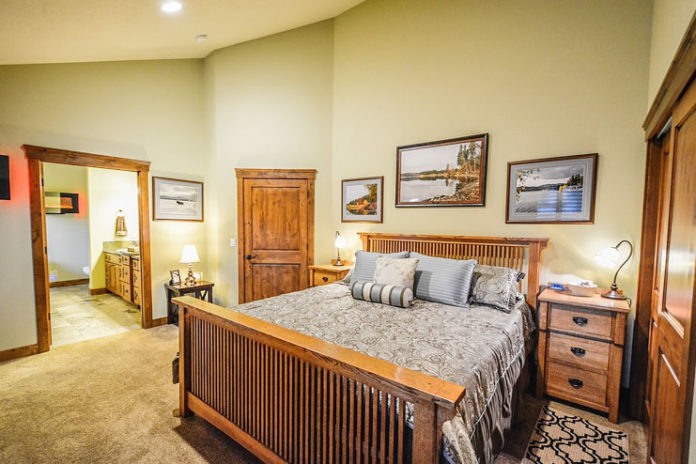 Are you planning to decorate your bedroom in the new house? Or are you trying to re-decorate an old bedroom to include a style and fun element into the decor? Do you want some simple yet genius hacks to decorate your bedroom in a trendy fashion? Well, your search ends here. We have with us some 15 genius bedroom decoration hacks that can make any dull and drab bedroom into a trendy room that is extremely fun and looks really well put together.
Just follow some simple hacks and make sure your bedroom decoration will turn up just the way you like, trendy and classy.
1. Keep Multiple pillows on the bed

Stack on or crate a pile of pillows of different sizes or colors on the bed to give your bedroom an edgy geometric print or floral touch with the choice of different fabric. You can mix patterns, fabric, pillow sizes and even textures. This is a nice and simple way of decorating a space. A great master bedroom ideas for decorating.
2. Hang some DIY artwork

One of the easiest bedroom decor ideas to add a tasteful touch of your personality to the bedroom is by adding a self made DIY artwork about something you like. It could be a printed poster from the internet or some of the paintings or artwork made by your family. Add a part of your personality to the bedroom.
3. Incorporate prints in your decor pieces

Prints are a fun way to add an element of intrigue in the decor. If all your sheets are minimal and the pieces of decor are also in the solid color type, using prints in a few accent pieces can up the trendiness of any dull room. Use a lamp with Aztec print or a floor pillow with intricate monochrome embroidery, prints are fun and we love them.
4. Use the vertical spaces

One of the least utilized space all over the world, vertical space can not just look much better that plain naked walls but it will also optimize the storage of your bedroom design. Be it a jazzy zig-zag book shelf that not just holds books but itself looks like an art piece or an under utilized corner over your head that can be put to such great use. Vertical spaces can make or break your bedroom look and to make the trendiest looking bedroom, you have to utilize your vertical spaces.
5. Keep your favorite corner

While some people would love to have only feather cushions all over your bedroom floor, other might want the room completely covered in glitter. This may be justified in some ways, but more often the utility of that room for various days is questionable. In such cases don't give up your dream of your unique space, instead shrink it down to a corner in the same bedroom. Take the best space in your bedroom and convert into something that is your own personal den. Stack a bunch of floor pillows by the window side and keep a few fragrant candles, if you ever feel stressed just sip a coffee by this corner reading a book and say bye to your worries forever. Or else you can even hang a swing and make your bedroom look really dreamy, and also have a personal corner.
6. Cozy comforters

Nothing makes a room look more comfortable and cozy, as the fuzzy soft comforters. This makes for a perfect bedroom design ideas for people who want comfort to win over style. Add a thick soft comforter with complementing color to the room and its decor and it will make even beautiful statement.
7. Add a pop of color

This step is really important in bedroom decorations of any kind. Always create a palette first and then add a few pieces with a pop of some random color that will really stand out. This way you can make your bedroom look less traditional and more trendy. The bedroom will instantly rise from dull to wow. One of the best bedroom decoration ideas, this is the trick to add the sass in every bedroom.
8. Make the floor pretty

Another great bedroom ideas for decoration is to concentrate on the floor. The floor can seem like a really simple and not so important part. But, what a lot of people don't realize is that bedroom design is only brought together with a nice rug. A carpet can only make the room look very put together and it can keep your room cozy and warm. Add a nice piece of carpet in any color to make the floor really pretty and eye catchy.
9. Maintain a color palette

This is another one of our important bedroom decorating ideas. Maintaining a color palette can make it seem that you have planned and put thought into your bedroom designs. This is a nice way to make the room look really sophisticated and classy. BE it classy petrol blue theme or a striking tinge of coral and black. This step is really important for decoration of your bedrooms.
10. Personalize your bedroom

What different is your bedroom than any other bedroom if you don't personalize it and add a touch of your own to its look. We are an ardent advocate of personalizing spaces, be it the hall, bedroom or even the entire house. A house should always be like your personality. So this simple step is an indication of this philosophy of personalization. Add a beautiful collage to the wall, of all the pictures of your family and best friends, Your travels, your feats and achievements and even your favorite quotes. This is the part of you that stays in even when you're far away. If you hate clutter and randomness hang pictures on a rope to tidiness. It will still look really perfect.
11. Utilize your furniture

If you have lesser space and a smaller bedroom you definitely want to make the best out of every corner you can get right? In such cases try to establish a synergy between two to three pieces of furniture. In the area of your desk, add shelves for not just books but nice decor pieces. If you don't have a side stand, make use of a movable trolley which can work as a night stand while we sleep and a stationary holder for the day. Make use of smaller spaces, add shelves behind the mirror and the door. Utilize the vertical spaces and make small tubs under the bed for storage.
12. Add a wall paper

One of the easiest Bedroom Decorating Ideas to make the room look really expensive is to add a piece of nice and classy wall paper. This simple thing can change the entire look of your room. It is also a way to avoid all the hassles of painting and experimenting with what you like. Givce it a go, you wont be disappointed.
13. Free the windows

There is nothing more refreshing that having a beam of natural light in your room daily at east for sometime. In some bedroom design ideas, people give up having operable windows and opt for shelves and furniture, in our opinion this is a really disadvantageous trade off. Natural lighting can lift the mood of your room and make it look really beautiful. Choose windows over anything else, natural light can not be replaced, neither its beauty.
14. Make way for bedside lights

An interesting way to include decor and functionality, this bedroom decor idea has all the more reasons to be followed up while decorating your bedroom. Lamps can be really simple and monochrome or they can be edgy and classy golden brass ones. If you have a side table good enough, or else mount them on the walls, there are ample opportunities and options for a bedside lamps, just give it a chance for a trendy bedroom decor.
15. Use a fragrance diffuser

For a more dreamy and sophisticated effect, add a few diffuser sticks and oil and make the room smell ethereal. You can also choose fragrant candles if you love the feel of a burning flame. A room is complete with this step and you have a room full of soulful vibes.
Include these amazing bedroom decorating ideas while decorating your personal bedroom, and we assure you, you will have a perfect space that screams out your personality and makes it look really edgy trendy and beautiful. Simple hacks to decorating even an old bedroom that needs a personality. We hope you like your style tips and hacks. Make sure you tell us if it worked out for you, We would be inspired to work harder.