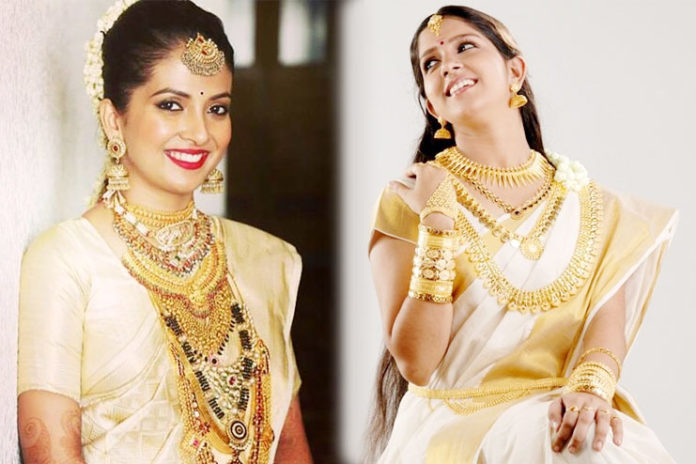 Becoming a bride is one of the most auspicious day of a woman's life. There is alot of things that you can do, like following the rituals as well as shop, like shopping for the wedding. When it comes to bridal jewelry, the very first thing that a girl inherits from her mother is this. Wedding is a special occasion again for this reason too.The girl gets to cherish all that her mother has done and how amazing it was to recreate the same moment with her mother.
So, while selecting jewelries maybe or maybe not we wear the inherited family jewelries there are some specialties on what we like to buy or wear at the wedding day. There are certain types of jewelries that do make a statement when you wear them, and one of that type is Travancore bridal jewelries.
Travancore is a very ancient Kingdom and presently some parts of Travancore are under Kerala and Tamil Nadu. It was ruled by the Royal family of Travancore from Padmanabhapuram from 1729 to 1949. This Kingdom covered most of the modern-day central and southern Kerala. Under the British rule this Kingdom became the princely state in 19th century, and under the rule of Maharajah Sri Chithira Thirunal Balarama Varma, Travancore tend to become one of the second most prosperous princely state in British India, with achievements in education, political administration, public work as well as social reforms.
So, who would not like to dress like a princess on her wedding day? As the royal family grew, their style and look also made an impact on the way of dressing and that tradition is still followed with its traditional bridal jewelries as well as bridal wears. So here, are some of the traditional Travancore bridal jewelry that you can try out at your wedding and feel like a princess.
Traditional Travancore Bridal Jewelry
1. Gold Kasu Mala Bridal Jewelry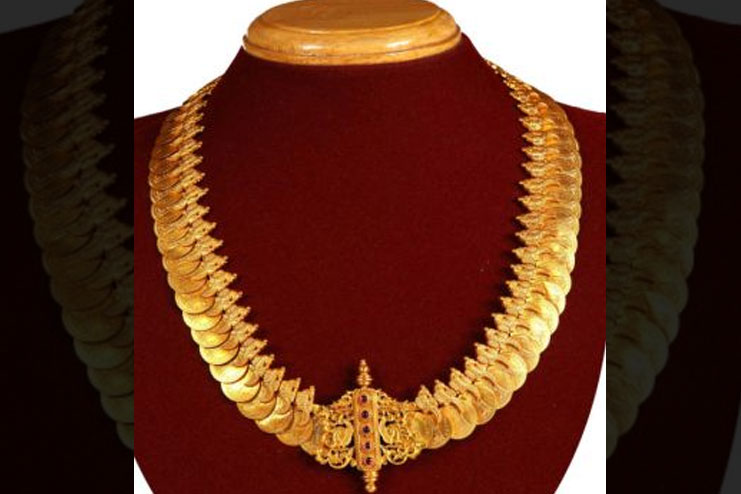 These Kasu mala jewelries are not only very famous in Travancore, but all over Kerala. Kasu malas are basically traditional long necklaces that hail from the state. This necklace is comprised of little coins, that add to its charm. The word 'Kasu' in malayalam means coin and 'mala' means necklace. This mala is the example of superior craftmanship of the gold smiths of Kerala.
Well, this necklace is not long, but it do contains the same charm as well as beauty as like any other gold designs. It is also full of gold and can make you look beautiful.
Fabulous Rajasthani Bridal Jewelries
2. Malli Mukku Mala Bridal Jewelry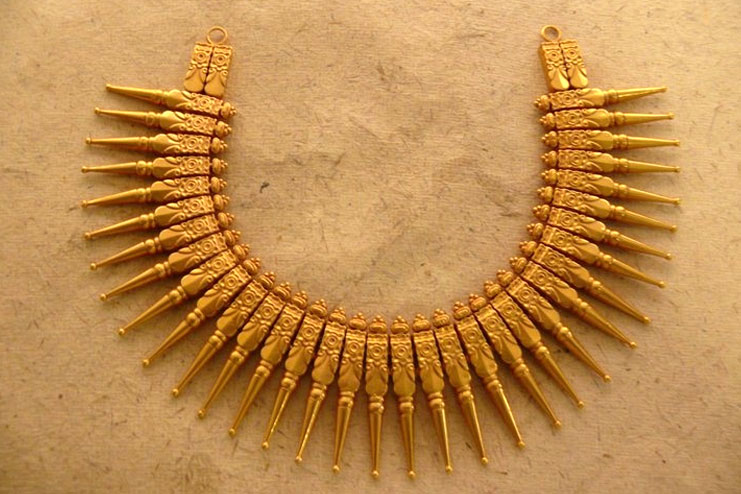 This malli mukku mala bridal jewelry is considered as a light weight jewelry, and is designed in a beautiful way of jasmine flower buds. They look amazing as well as beautiful, when wore with style as well as elegance. If for a party, then a single piece of this amazing jewelry can do the work, but if you are the bride, then try to wear some other necklaces with it, to complete the glamourous look.
3. Lakshmi Kasu Mala Bridal Jewelry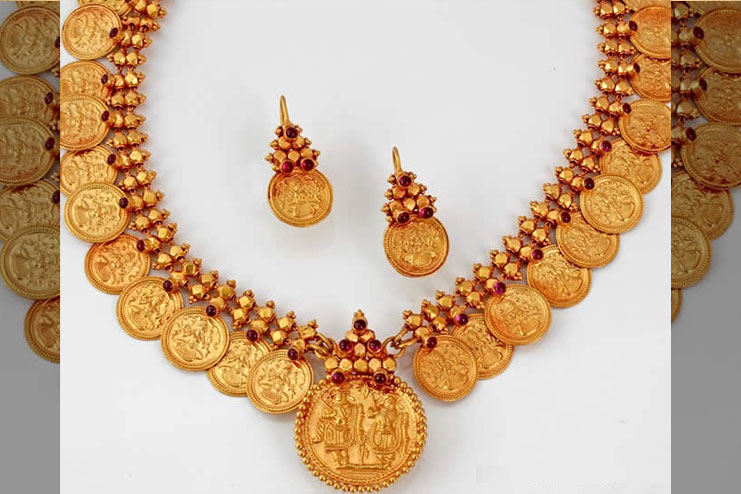 As I have mentioned before, Kasu mala is like the bridal tradition in Kerala. So if you are shopping for traditional bridal jewelry, then this beautiful Kasu mala is another trend that you can add to your bridal jewelry collection. In this jewelry, the coins in the Kasu mala are designed with the images of god and decorated beautifully that can glam up the bridal look. This neck piece is the add-on to your collection.
4. Mango Mala Bridal Jewelry Design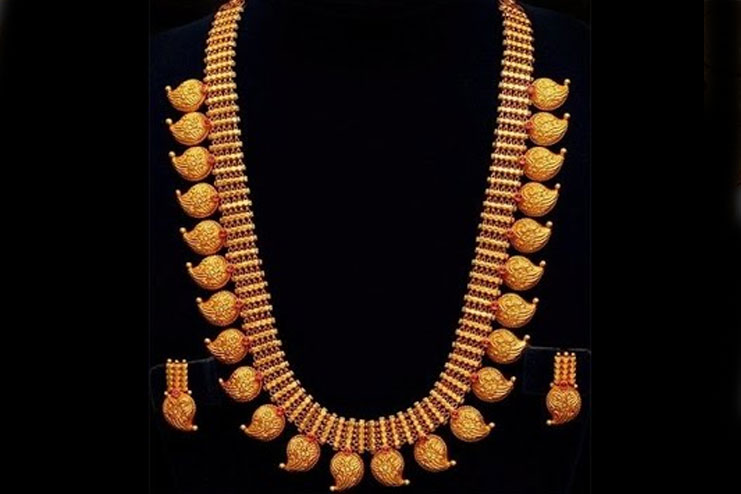 It is known as mango mala bridal jewelry, because of its unique design as the shape of mango. It is mostly in the form of long chainsand the mango design goes through the length of the whole necklace. There are also many types of designs available in the market. As the brides in Kerala wear a lot of jewelries in their neck, you can also try out the same with this one too. It can make your attire look more glorifying.
Exquisite Manipuri Traditional Jewelry
5. Nagapada Thaali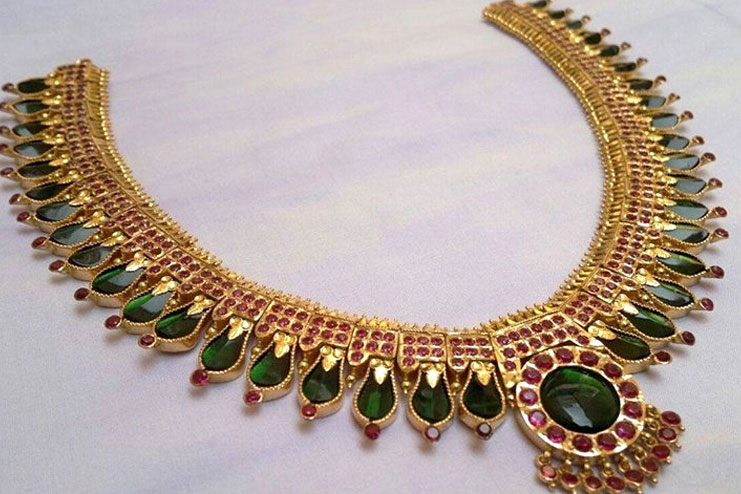 This amazing Travancore pattern ornament is very similar to the Palakka Mala. The difference mostly lies in the shape of the pendants. This design displays the excellent craftsmanship of goldsmiths from Kerala. It is a long chain set that have green stones as well as pendants that is shaped like snake's hood.
In Malayalam 'Naagam' means 'snake' and 'Padam' means 'hood.' This traditional jewel have an exquisite design of the cobra head and issymbolic tribute to age-old belief of the serpent gods.
6. Temple Bridal Jewelry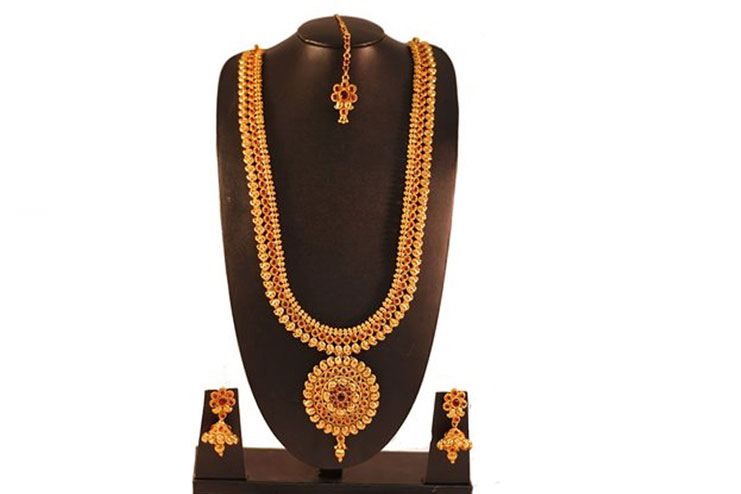 This is one of the most beautiful collection of Kerala or Travancore bridal jewelry. This amazing temple jewelry is all that you need to have on your collection of bridal jewelry. It is in the shape of long chain, and a big round pendant that adds to its temple design. A perfect bridal jewelry with all the blessings and designs of tradition that follows.
7. Palakka Mala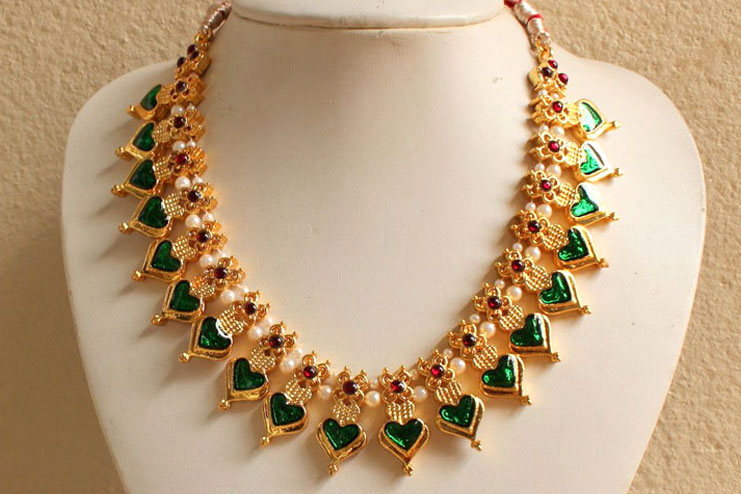 In this 'leaf' necklace, the emeralds which are mango shaped are mostly green in colour. The combination of this emerald as well as ruby makes Palakka Mala an enchanting piece from theTravancore jewellery. This Travancore jewellery pattern, has come a long way from its most traditional form.
8. Kasavu Mala Bridal Jewelry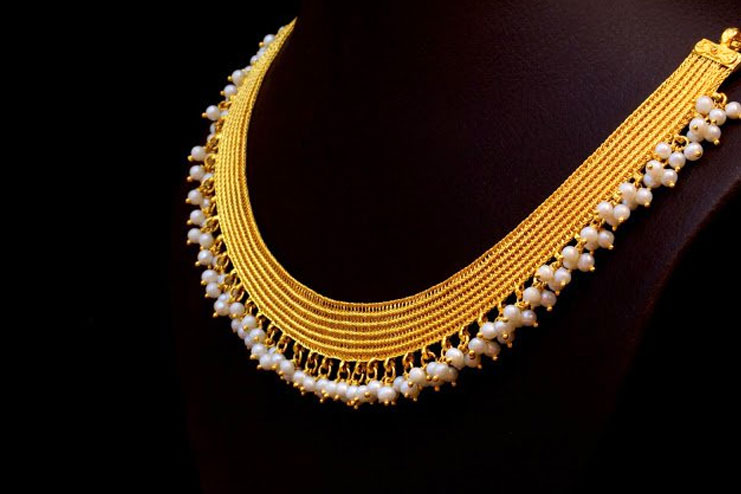 Who doesn't love elegant jewelry? This Kasavu Mala falls under one such category. It is being designed with real pearls and diamond studded jewelry. This vibrant and colorful jewelry is also made of emeralds, rubies and corals. This amazing gold jewelry is decorated to enhance the actual beauty of a bride.
Traditional Bengali Bridal Jewelry
So if your wedding is near, then do go and demand these bridal jewelries. As they can add glamour to your look, along with your mother traditional jewelry.