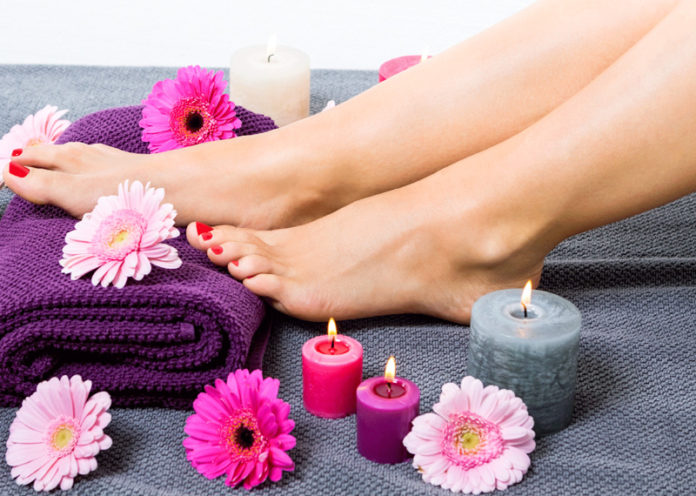 Let's face it, most of the time we completely ignore our feet. Our hectic schedule don't even leave us with a little time with ourselves. Most of the time we neglect sparing a few minutes on ourselves and our body to relax. The whole day we go on about running around and meeting errands. In the end, we rarely do anything to relieve the tension in our feet.
According to me, everyone must give some equal time and importance to there feet also because of our ignorance our feet looks either sore or have chapped heels. Maybe many of you don't know that your feet contain many vital nerves that helps in the functioning of the body. This is the reason for Thai's acupressure massage being popular for relieving stress. It can not only relax out tired feet, but can also heal parts of the body that are not working properly.
We all dream about silky smooth and shapely legs, but remember it is not an easy task. For a great toned leg we need to do some important leg exercises, like swimming, cycling, gyming and Yoga. It can help in relaxing and strengthening legs and feet.
Well with all the exercises you must all need to groom your legs. Like removing unwanted hairs, through waxing, shaving, cream, etc., and getting or giving your feet a perfect pedicure. If you don't get much time visit parlour for your pedicure, then you can try a pedicure at home. Here are a few tips on how to do a pedicure at home.
Tips to care for your feet at home
There is nothing like a good pedicure at home. Remember that doing a pedicure at home is never the same. So here are few things you might need to do a pedicure at home like nail brush, loofah, file, a heavy duty moisturising cream, pumice stone, nail cleaner, nail cutter, acetone, cuticle pusher, lemon slices, a tub of hot water, herbal shampoo, honey and marigold flowers.
[Also Read- Professional Manicure at Home]