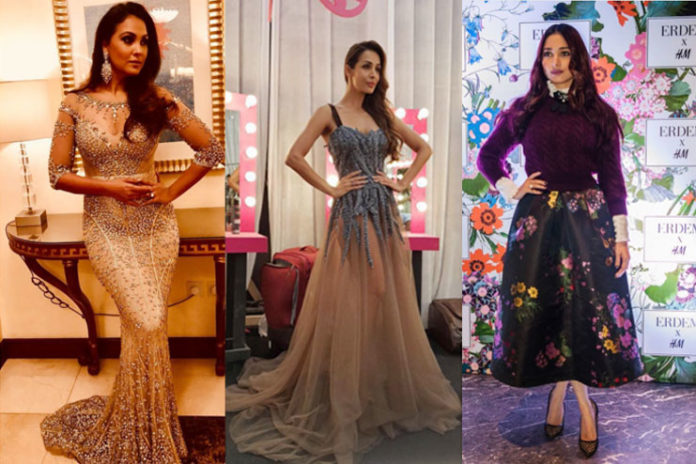 The festivals may have ended just by the calendar but not by the fashion. There are still some outstanding fabulous outfits worn by our B-Town celebrities this Diwali and after-Diwali season. Our Bollywood divas clearly know what it takes to be stylish – be it the casuals, red carpet or the festive dress up. With a number of parties around, they know to be comfortable during the day making it glam with simple easy breezy style but evenings are all about grace, appeal and elegance.
This week we had quite a few Bollywood appearances, having decked up in absolutely inspiring fashionable collections. Take a look at which Bollywood fashion are we talking about and how you could replicate the look.
Karisma Kapoor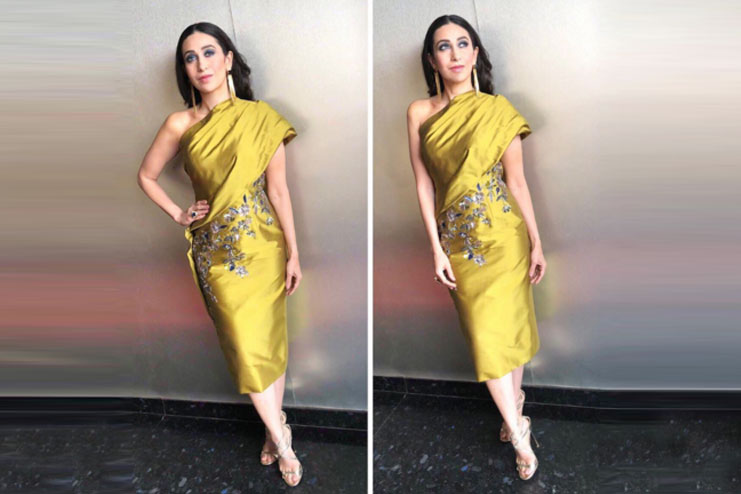 Karisma Kapoor totally rocked this Rajat Tangri's glossy golden dress with silver work on the waist. To add that glam to her costume, she paired it up with the perfect Jimmy Choo heels and made the evening even brighter. She kept her hair and makeup simple which looked flawless with her vibrant dress. A long golden dangler added the spark to her face.
Also, Read: 8 Bollywood Beauties And Their Signature Poses
Malaika Arora Khan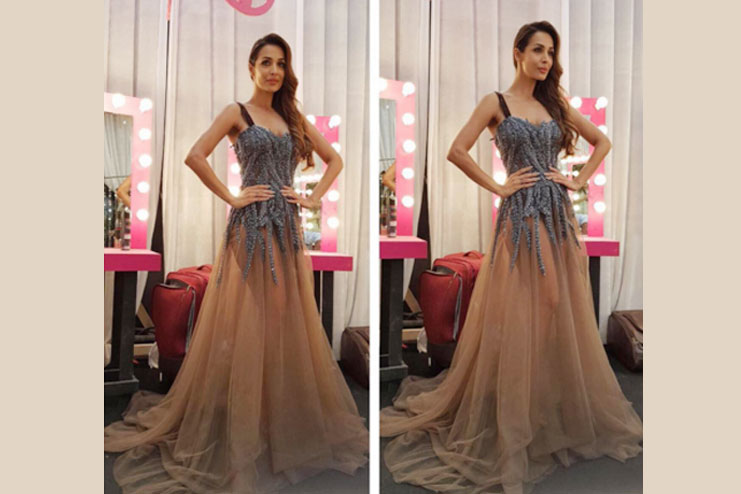 If you ever want to know how to dress up in your 40's, then take a look at this gorgeous woman Malaika Arora Khan. With her perfectly maintained body, she does justice with whatever she wears. She was seen wearing this lovely Manish Malhotra's designer full length gown which had a sparkling detailing on the first half of the dress. As always she was upright with her styling and keeping it simple by letting her hair loose and no jewellery to have all eyes on her gorgeous dress!
Parineeti Chopra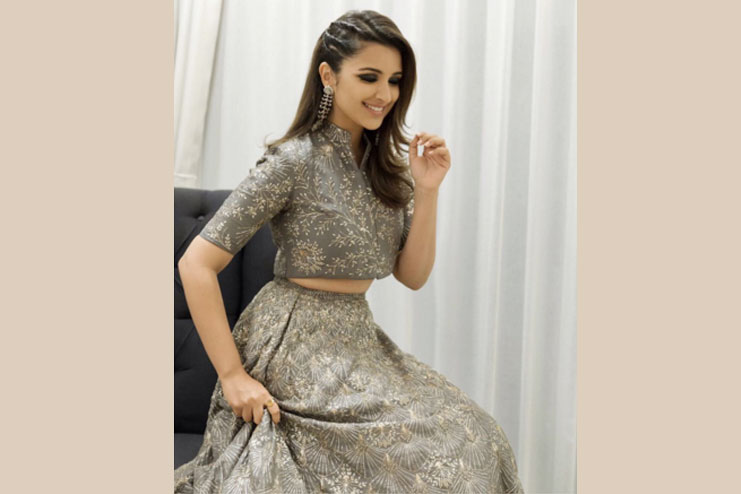 Here's the bubbly Pareeniti Chopra dressed up in a lovely fashionable grey high collared blouse and grey long skirt (Lehenga Choli style minus dupatta) with intricate golden work on it. Keeping it simple with an oxidized dangler for the ear, she just carried off the look effortlessly.
Sridevi Kapoor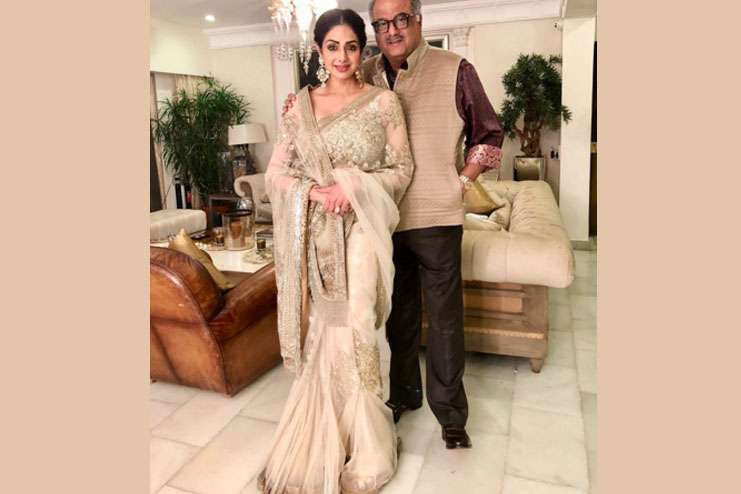 Sridevi Kapoor- the heart and charm of Bollywood was looking mesmerizing in Sabyasachi's designer Sari with elaborate gold embroidery zardoziwork. A shimmery sleeveless simple blouse just made the whole look elegant and glamorous! She styled her hair by tying a back low bun along with big kundan danglers and no neck piece. Needless to say, she looked just spotless and young!
Nargis Fakhri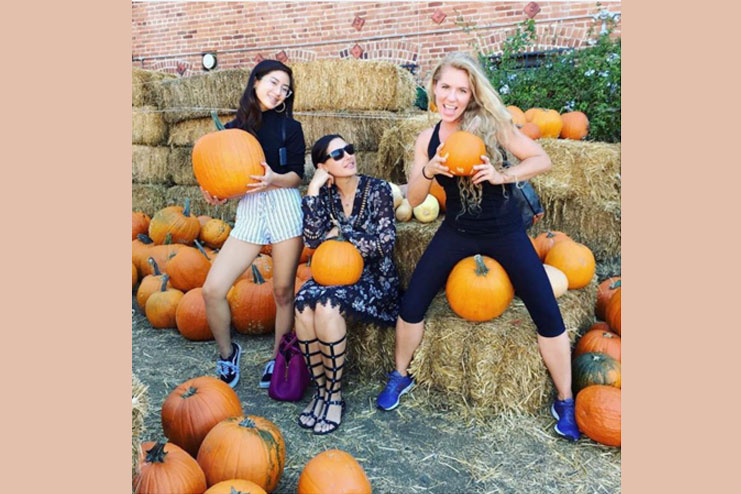 The always cheerful Nargis Fakhri was seen enjoying her vacation with her friends at Los Angeles wearing these beautiful full sleeve knee length floral dress and knee-high black gladiator flat sandals. She is totally getting into the Halloween mood posing for pictures with the pumpkins.
Vidya Balan
Bollywood's very successful actress whose fashion inspiration comes from Rekha was seen in a retro style makeup wearing a monochrome blue-grey silk sari with black blouse. No accessory on her neck but a small earring just made her look very stylish. Carrying this attractive charm in her face, she never fails to gather the crowd's attention.
Lara Dutta Bhupathi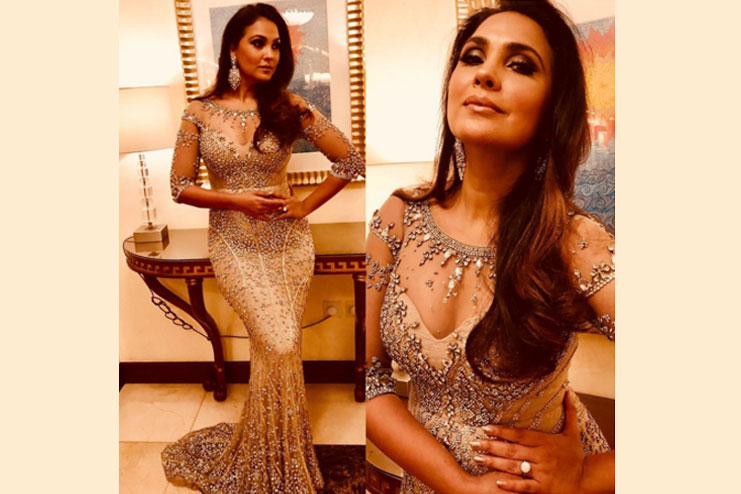 Former Miss Universe and actress Lara Dutta Bhupathi looked dead drop gorgeous in Falguni Shane's designer dress. With this stunning magnificent floor length dress all she needed was to keep it simple.
Tamannaah Bhatia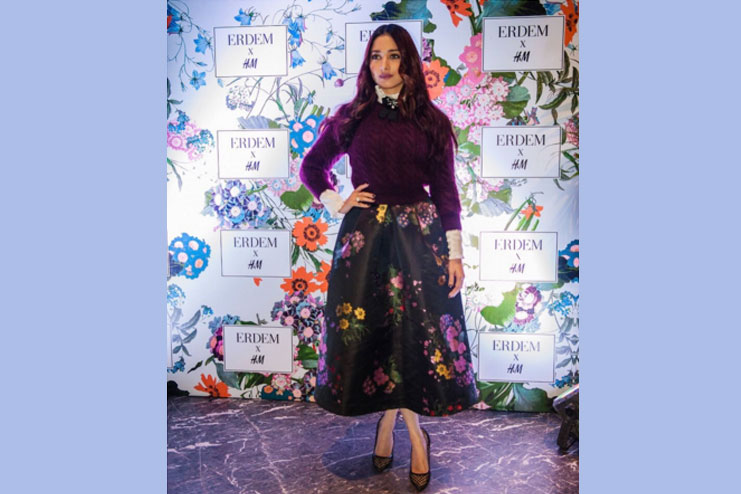 This Tollywood turned into Bollywood actress Tamannaah Bhatia, amazed everyone with this very different fashion this week. She wore a full sleeve high collared wine colored top with an ankle length satin black floral skirt. The combination did not look very obvious but she could carry off this fashion with style and simplicity. She paired it up with black pointed pumps to add an extra edge to her getup.
Athiya Shetty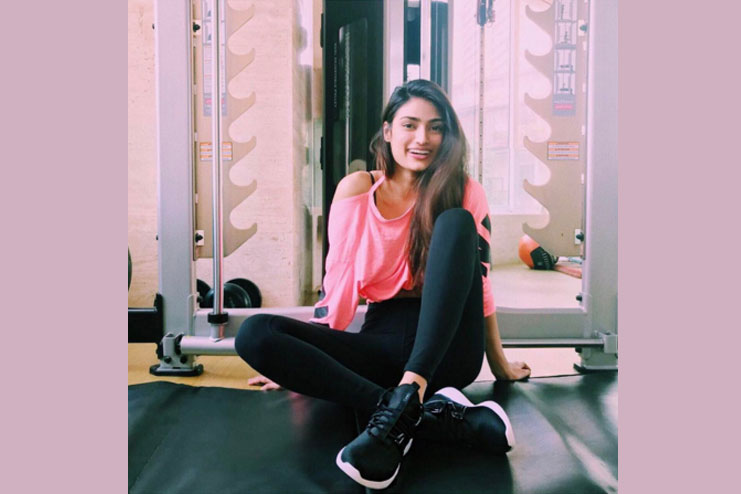 The new gen budding star, daughter of Sunil Shetty, Athiya Shetty showed a very sporty look with pink cold shoulder top and black high-hip slacks. She teamed it up with black sneakers to complete the sporty look posing in a gym.
Sussane Khan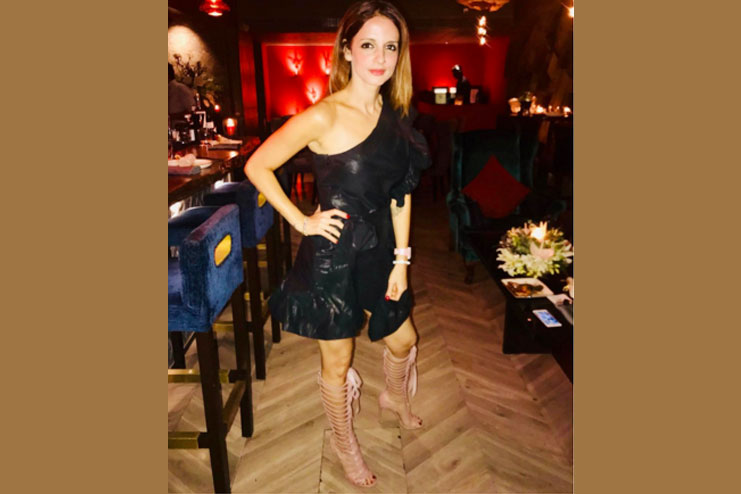 Sussane Khan seems to never age! She was seen celebrating her 39th birthday on the 26th October dressed up in an elegant black one off shoulder short jumpsuit. She paired it up with a peach high knee gladiator heels which made her look just perfect for the birthday party.
Gauahar Khan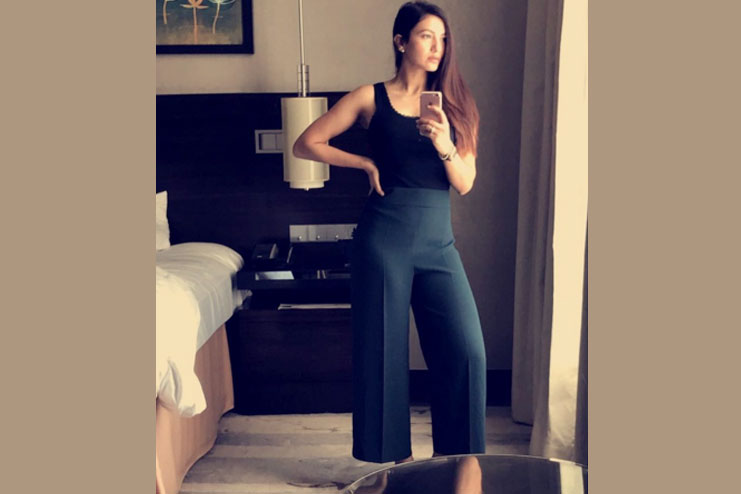 The model turned actress, Gauahar Kahn has defined classiness in simplicity. Wearing high-hip loose dark blue-black parallel pants and teaming it up with simple black round neck sleeveless top. Adding a pearl top to her style she made it look striking.
Shamita Shetty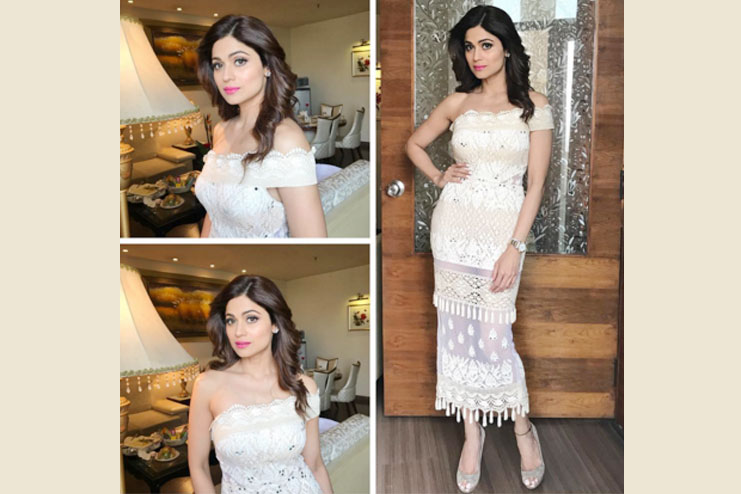 Flaunting this Arpita Mehta's designer off shoulder ankle length white lacy dress, Shamita Shetty looked dazzling. She carried off the look with a hot pink lipstick and Jimmy Choo silver shiny pumps. She look stylish and chic in this look this week.
Kajol Devgan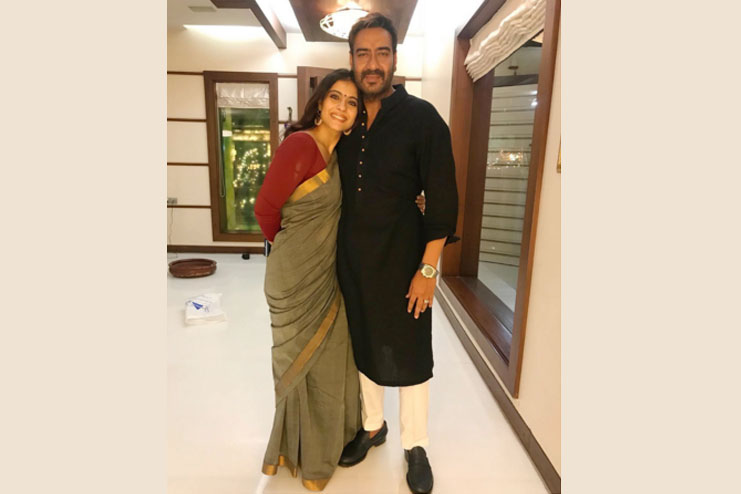 Bollywood superstar, KajolDevgan who chooses comfort over style was seen with her husband Ajay Devgan drapinga grey with golden border plain silk sari and a completely contrasting plain maroon full-sleeve blouse. Making it a sophisticated yet stylish look with a dark bindi and traditional danglers just looked adorable.
Sonakshi Sinha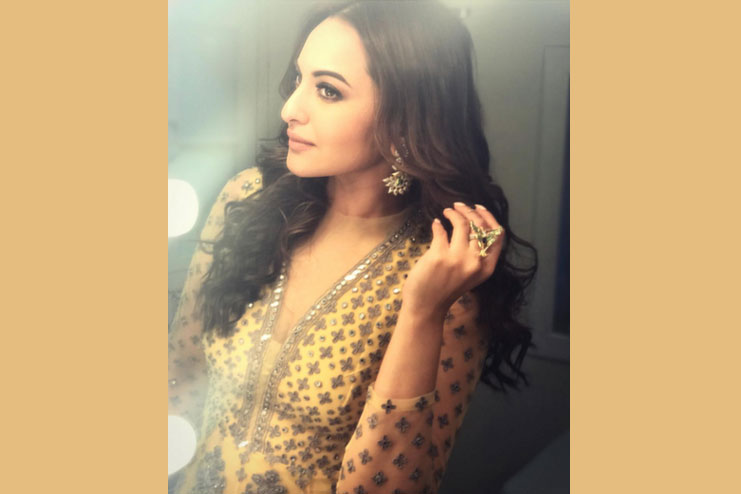 Sparkling in yellow this Dabangg girl Sonakshi Sinha can carry off any fashion effortlessly. Be it the bad- girl look or a lovely bridal look. She is seen decked up beautifully in a yellow traditional kurta with mirror detailing. She has accessorized it with a beautiful golden ring prominently showing up on her hand and lovely danglers. Keeping her make-up simple, and let her hair loose with some natural curls.
Recommended Articles: