While this fearless lady continues to create a stir with her volatile and scandalous statements about the whole of industry, there is something else about her that keeps us Google her name time and again, Her impeccable sense of fashion, and we love how absolutely versatile this lady is. Be it a simple Kasavu Saree or a high end Dior Gown. She carries every outfit with great élan and we simply love her charming smile that accompanies all those pretty dresses. Want some style tips and fashion inspirations for different occasions? Well, who else to follow than this small town girl turned complete fashion Diva. Here are 10 latest Kangana Ranaut Fashion choices that have our eyes glued to the screen.
1. Dreamy Floral-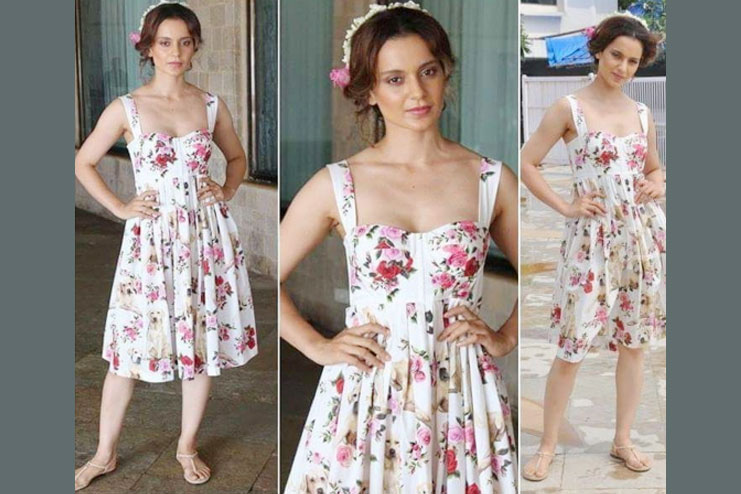 This dreamy Dolce and Gabbana floral dress has all the perfect princess elements to the dress and we absolutely love how wonderful that little hint of flowers in her head makes it even more fairytale like. The bust Corset highlights her perfect sleek and long torso and the midi length makes it completely apt for a casual day look and not a maxi for an evening. Kangana looks like a pretty princess and we adore her fashion sense on this choice. Wear this dress to your college functions and you will soon become the famous pretty face.
2. Date Night Perfect-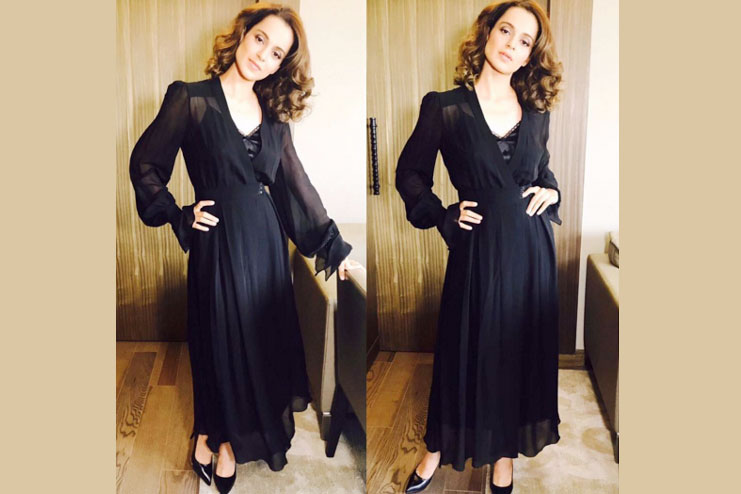 This simple yet extremely classy Ulyana Sergeenko black dress has literally very little on the outside but the sheer fabric is adding just the element of depth, perfect for the silky satin inner to pop out. This makes for a perfect date night dress with apt amount of sophistication with that depth that these two fabrics are giving out. Kangana always looks really great in black, but we love how simply effortless this outfit is.
3. Chic Yet Formal-

Need fashion inspiration for an edgy work outfit that will make you stand out in the corporate dull clutter? Well just follow Kangana's edgy choice of electric blue crisp pants with this Nude colour shirt and you will instantly become a fashionista you want to be. Just adore the perfect choice of hair bun. The simple hair keep the drama of that shirt going and make it completely perfect together. Those Nude pumps though.
4. Indian Edgy-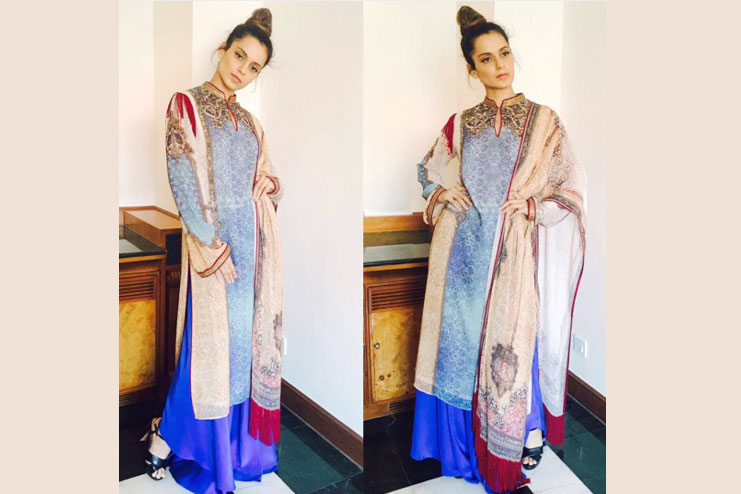 Kangana is surely taking Indian dressing to another level with this blue Tarun Tahiliani ensemble. The edgy kimono dupatta jacket is something we absolutely love. This will make for a perfect friends sangeet or Mehendi outfit and distinctly stand out in the pool of glitter at any Indian wedding. Kangana rocks this Indian attire with her high bun and those pretty heels.
5. Yellow Wonder-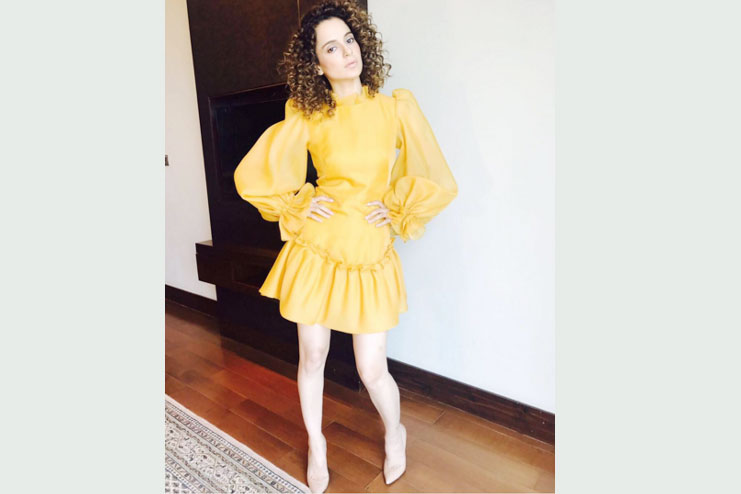 This Gauri and Nainika outfit is our absolute favourite amongst all the others in this list and we were left gasping when we first lay our eyes on it. The puffed up sleeve make for such a great wow factor and Kangana's curly hair have made it look even cuter. This outfit is the perfect example for subtle yet dramatic and those sleeve make for a great fun element. We simply are a fan of this yellow wonder for sure.
6. Ethereal White-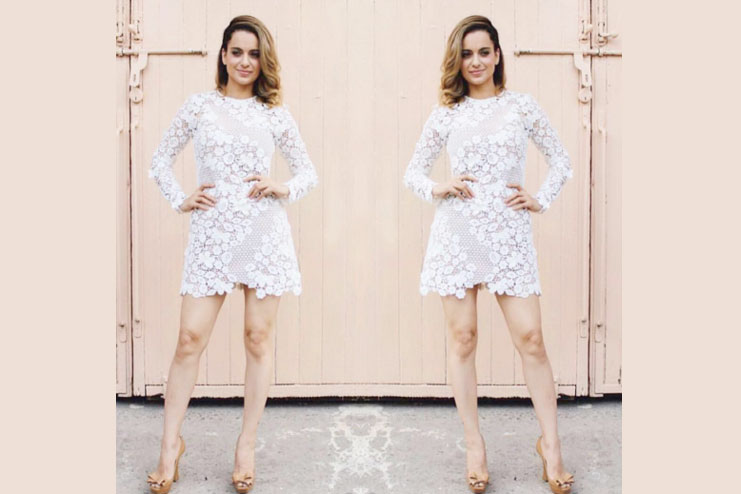 Kangana has once made us hold our breaths for this ethereal lace white dress. White has the most soothing and yet the most charming effect on anyone and the lace in this dress is only making it worth an eye treat. It is absolutely gorgeous and super stylish to say the least.
7. Dreamy Pink-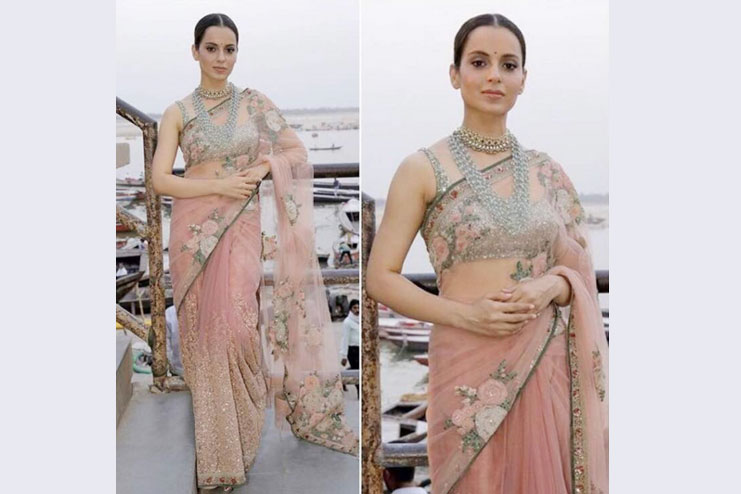 This blush pink saree has all the elements of a beautiful attire that can steal anybody heart. Everything about this saree is just perfect, The net sheer fabric, the glitter on the bottom, the floral embroidery and also the super flattering blouse and also the choker necklace. Kangana looks like a queen in the real sense.
8. Traditional And Classy Silk-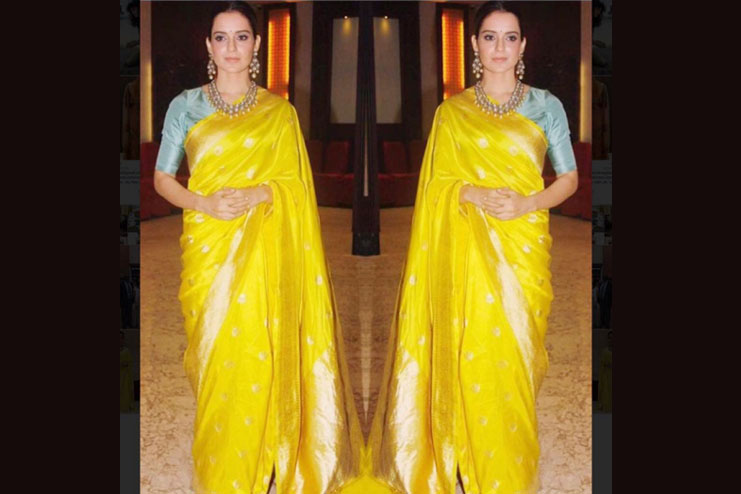 For women looking for silk saree inspiration model, Kangana Ranaut is your answer. She has been seen wearing silk sarees for multiple occasions and we love her choice of bold and bright colours. The subtle pastel blouse and those Polki earrings make for a perfect choice of jewellery and the diva looks stunning in this raw silk, mango yellow silk saree.
9. Fierce Bride-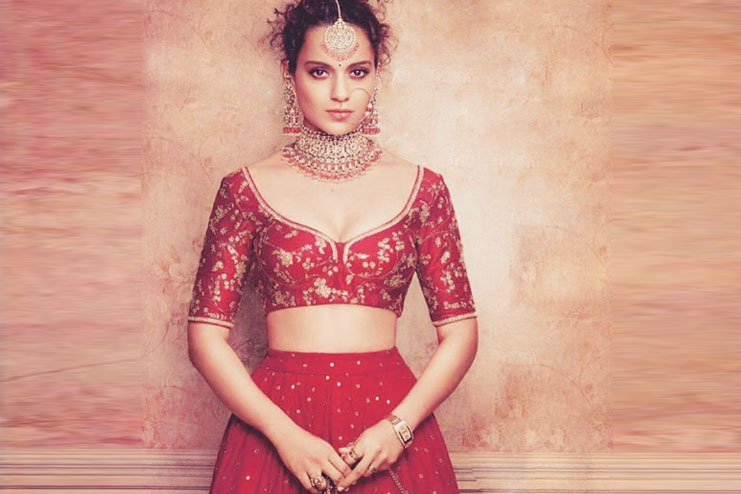 Have you seen a more confident bride? Well, we haven't. And looking at the daring statements this fearless women gives out we aren't surprised. This amazing harpers bazaar bride India magazine cover that Kangana did is giving us the chills. It is just perfect amount of sass, confidence and she still manages to look every bit the Indian bride. We love the red especially. Simple stunning.
10. Ultimate Beauty-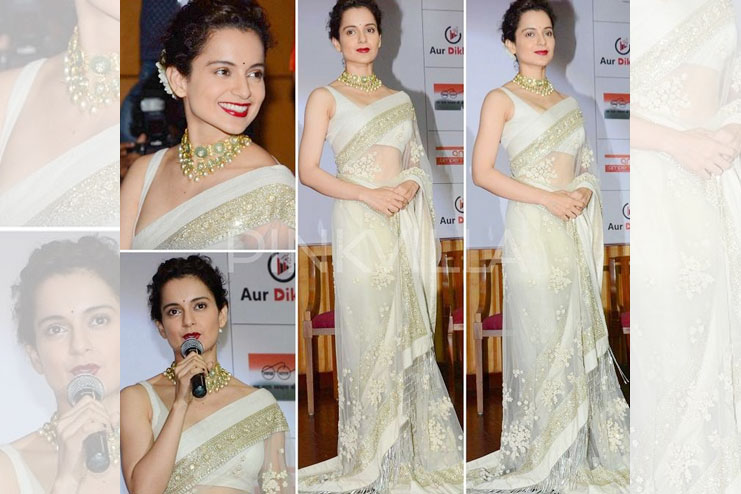 While Kangana is known for her perfect saree choices, this is one literally looks like it was meant for her. This Sabyasachi White masterpiece is paired with a perfect Red lip, a beautiful Meena Choker, and the effortless Kangana Hair. Wear a saree like this to any of the places and you will end up looking like a Roman princess for sure.
More Related Articles: