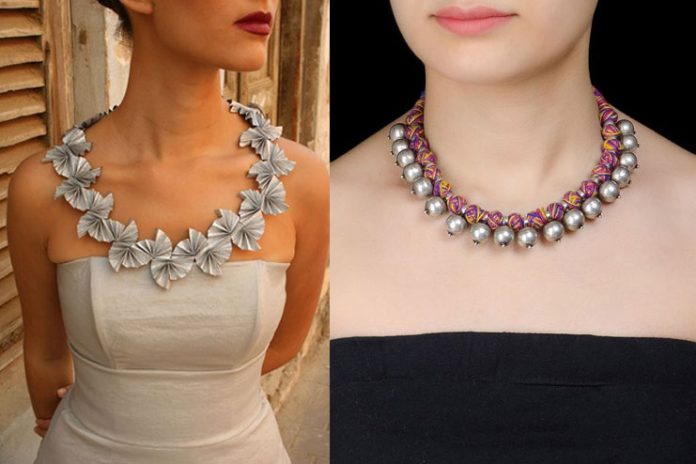 Your fashion sense is representing your personality and ideology. Do you agree with this?
It may not be the same everyone but must be. Women need to balance all the priorities and preferences.
It is not easy to show the intensity of fashion by wearing some accessories. It is all about your vision and choice. A wise woman, holds and feels the outfits and accessories. She becomes alert at the time of selecting her things. All these days your jewellery did the talking about your fashion sense and goals. Now, jewellery on you must support nature going Eco-friendly. All accessories and jewellery can be Eco-friendly.
You may feel Eco-friendly jewellery is not for everyone and there is a shortage of varieties, then you must read further.
You have many Eco-friendly accessories and jewellery to wear and set a style statement.
Remember that you are doing two extremely great things by opting Eco-friendly jewellery. One is taking your fashion sense to next level and raising your love for nature.
Eco-friendly Jewellery- Multi Styles and Ideas To Wear
Women find the intricate jewellery pretty and attractive. But Eco-friendly jewellery without any intricacy and details, it can grab your attention. The attention goes on the unique kind than already ruled fashion. The trending styles and ideas of Eco-friendly jewellery are naturally attractive. They are made from various materials. There are multi styles and ideas to wear Eco-friendly jewellery. You must take a glance at the images and read the description to know how Eco-friendly jewellery is into fashion.
1. Paper jewellery:
Paper may not sound classy and grand but it looks beyond your imaginations. You have various accessories with paper. It is not a difficulty to make the paper jewellery. If you are interested to make some accessories for yourself, you can make it easier. You try making paper jewellery as a playful act and you will love it if you are fond of handcrafts.
Moreover, finding paper is easy and the colours are many. The boring paper can be changed into the brightest jewellery.
Styles of Paper Jewellery
1. Paper Earrings: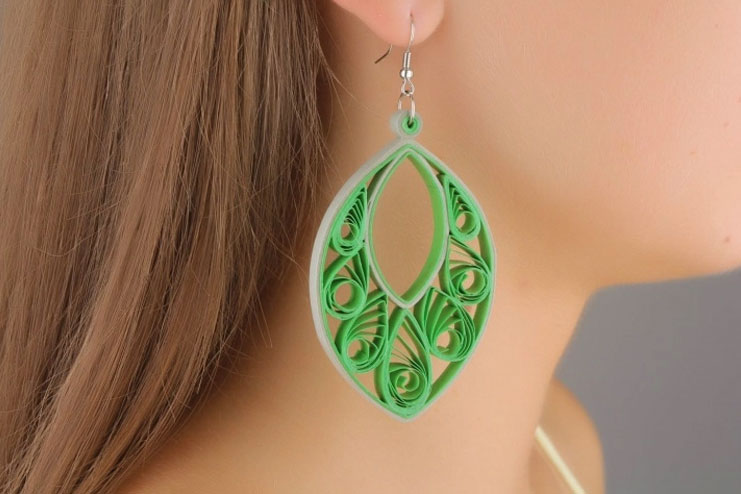 Less decoration is more classy. Just tuck in the paper earrings to your ears and wear a simple chain to appear stylish. You can pin the studs to your ears to get that extremely minimalist look. Once in a while, you love to appear casual with a stylish look and it becomes classy as well when you wear paper jewellery.
2. Indian Traditional Jewellery with Paper: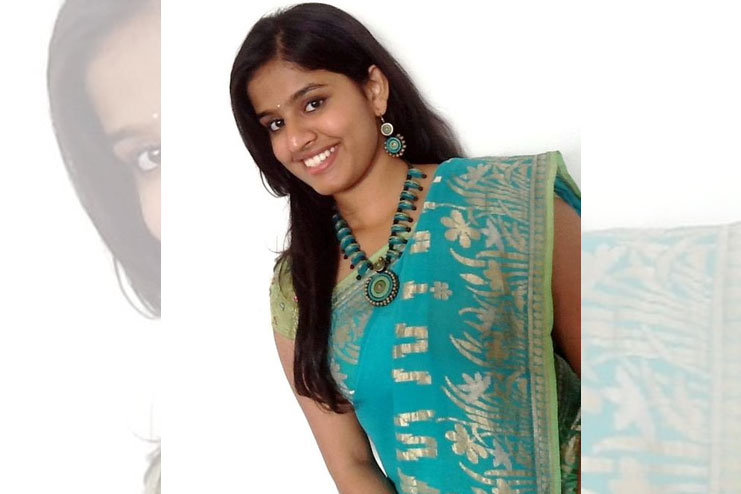 No more cliche look! Pick the paper jewellery for your Indian traditional look. Traditional is meant to be heavy and fully decorated. But now, you can shine less and still go elegant with paper jewellery. Paper takes many twists and turns to form into traditional accessories and it is a pleasure to wear such beauties.
3. Quilled Paper Necklace: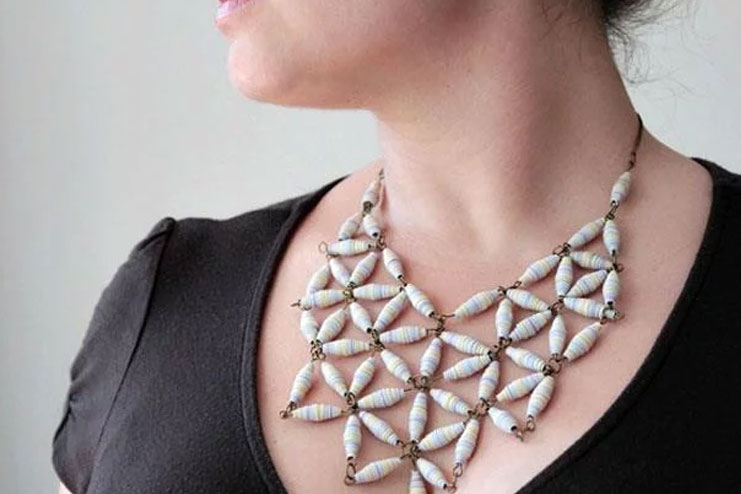 The simple quilled paper can be turned into beautiful accessories. You will also find rings, necklace and earrings in the quilled pattern. The quilled patter can be perfect for party wear outfits and you will rock the moment slaying with unique jewellery.
2. Copper jewellery:
The colour of copper is magical and gives the contemporary look. Copper wire is easy to twist and turn. It is not only the copper wire, but you can also give the coloured stones and beads. Wires are not only easy to twist but also feels easy to wear. The weightless jewellery is trendy for women.
Styles of Copper jewellery
Wire wrapped Ring: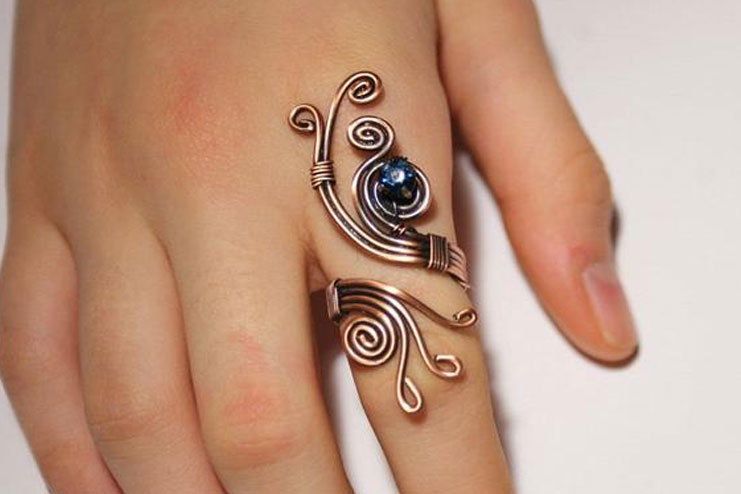 The giant ring made of copper wire is simply fantastic and a stone or colour beads in it looks charming. The hands elevate with the chic look when you wear such giant beautiful rings. The twists of these rings are wonderful and they can be easily created into floral designs with the copper wire which is super flexible.
Wire twisted bracelet: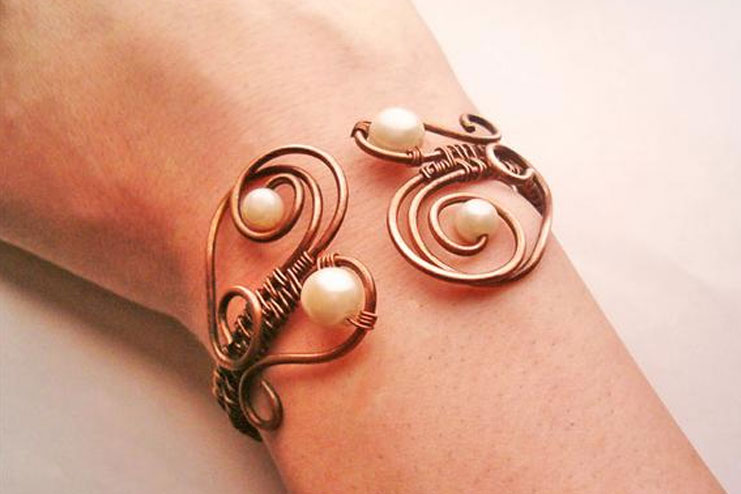 The straight wire into a stunning bracelet is magical. You can look at the below image, how the pearls are studded into the bracelet. Will you not love to stick such bracelets for a casual look. You can stud multicolor pearls and beads to make it a funky bracelet.
Spiral Earrings: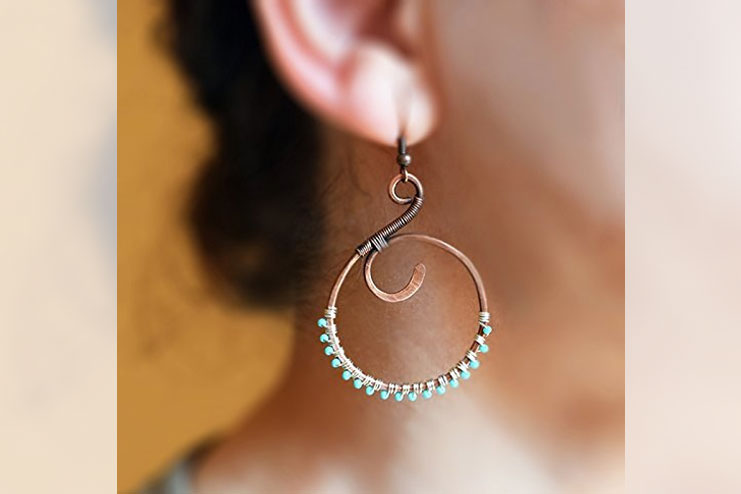 The spiral shape is common is jewellery but see how the copper wire made the earrings look unique. The fancy look is easy with the copper jewellery and such pair of earrings are easy to create for yourself.
Ear Cuffs: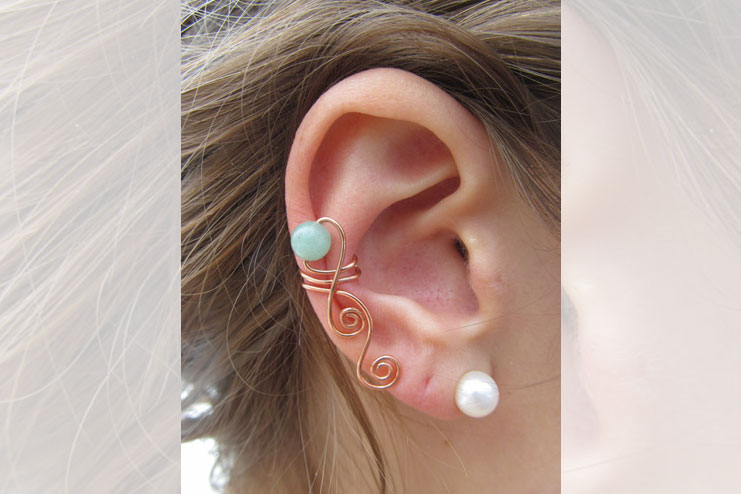 Ear cuffs are a piece of trending jewellery and it broke into many designs. One of the most loved designs of ear cuff is with copper wire. You can make a style statement wearing copper ear cuffs.
3.Thread Jewellery:
Thread jewellery is fitting all kinds of outfits. Western outfits or ethnic, you can stay fashionable and chic. The brilliant colour selection to make the thread jewellery is an art and you cannot deny these words after looking at the below images.
Styles of Thread jewellery
Vibrant threads and Pretty beads: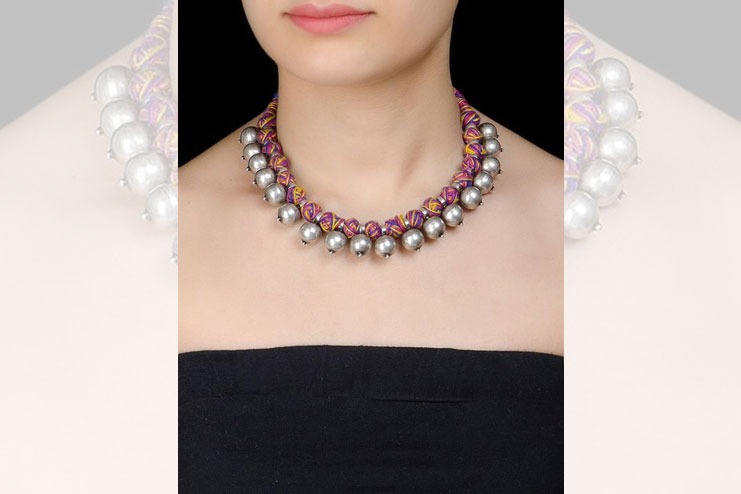 You can look at the below image, the threads are combined with pearls. The necklace is made with coloured threads and silver peals are along make the modish traditional necklace.
Rope Necklace:

Summer keeps your fashion goals tough and makes you choosy. This coming summer, you can wear the rope necklace which is light on you in pleasant colours. Let the summer lose this time wearing the rope necklace.
Colourful Neck Choker: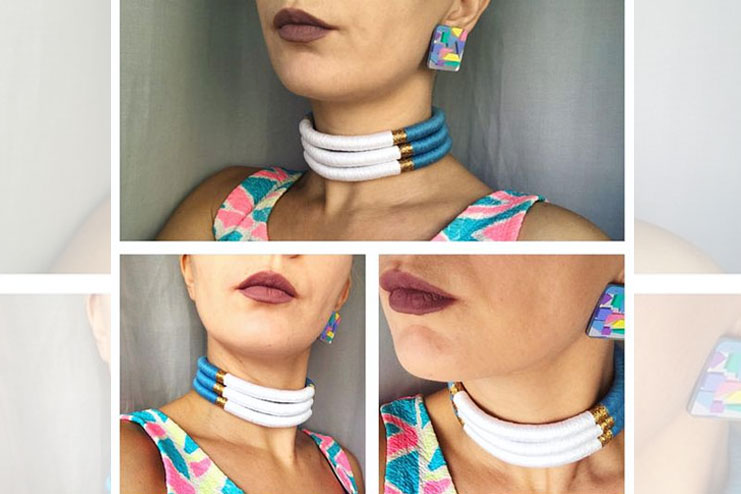 Making a style statement is easy these days. But you can beat all the styles that are standing out, just wearing a multi-strand colourful neck choker. Choose paper studs to pair it up with thread neck choker.
Thread Bangles: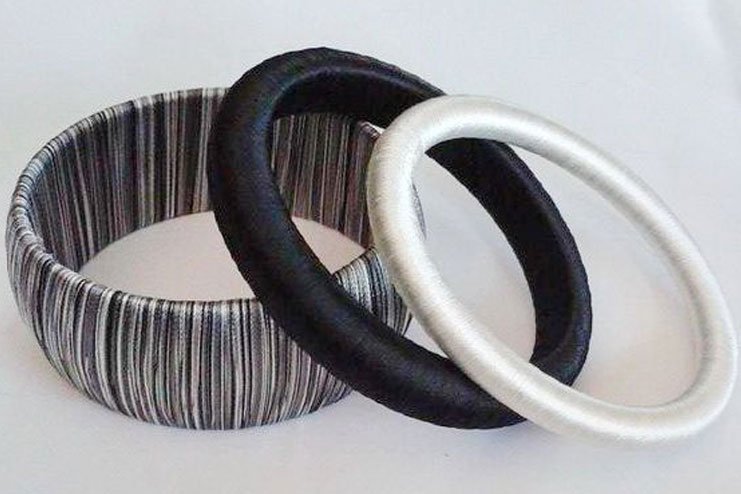 Before wearing these thread bangles you will be awestruck with their look. A set of thread bangles can deck up your hand and you will love these soundless bangles. No worry of breakage as well.
Tassels: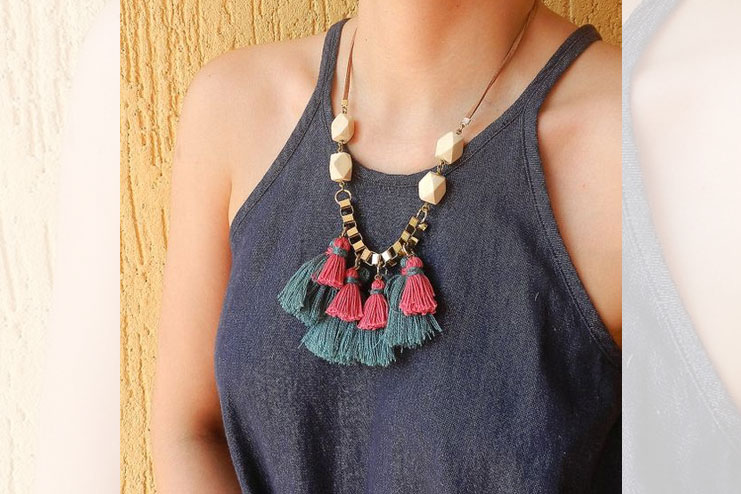 Accessories and jewellery look elegant with tassels. The delicate threads together make the pretty bunch and it is all pretty on you. Tassels can be for necklace, bracelets or earrings and it is more fashionable when you opt the thread jewellery.
4.Jewelry with Shells:
Shells are part of nature and they are as beautiful as nature is. The imperfect shapes of shells look great when they become accessories to be part of you. You can look flawless with the pieces of imperfect shapes of shells. You will love the shell jewellery, if you are a woman who loves to try something unique and distinct from routine. The inexpensive shells become expensive when they become jewellery. So, you can join a few shells together and make the unique neck pieces, bracelets and earrings.
Styles of Shell jewellery
Bracelet with shells: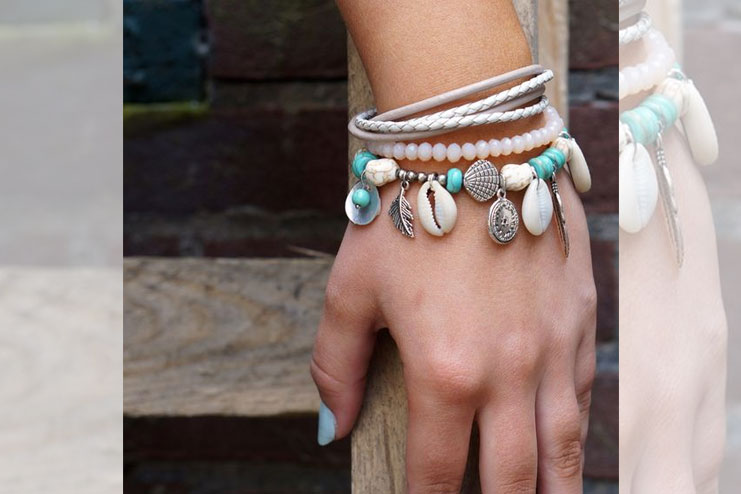 The tiny hanging shells on your wrist are lovely. The bracelet for western outfits is a fashionable look. With such accessories you feel beautiful and if you are still not convinced, you can have a glance at the below image.
A delicate chain: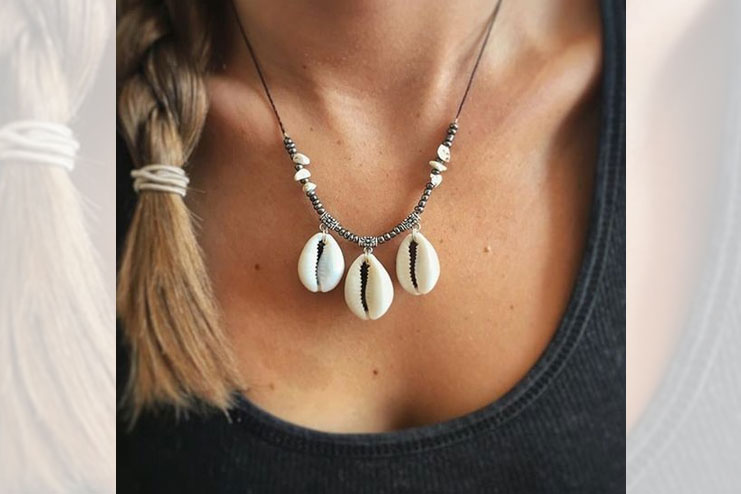 You can carry the delicacy wearing some pretty chains. The chain looks even more delicate and classy when you add a shell. Simply a shell and chain can make pretty jewellery you love to wear for casual outfits. The delicate chains are a lovely any time and you can wear them for your date or an outing as well.
Shell Anklets: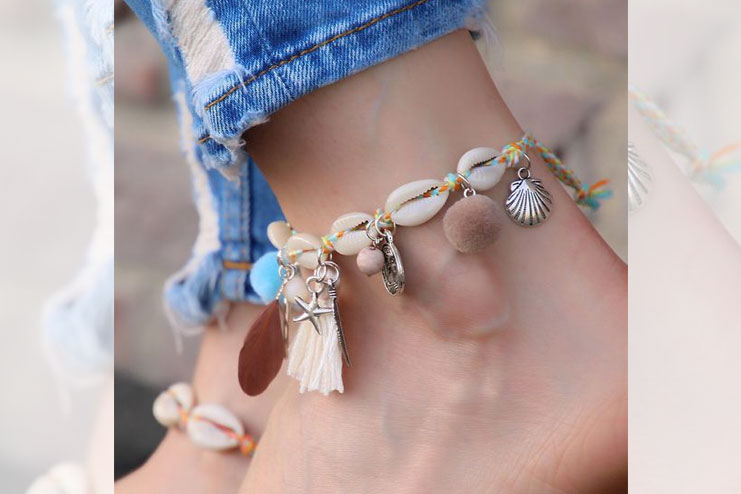 You can get that funky look easily wearing some funky accessories. Can you believe that shells can make you look funky than anything? Look at the funky anklets in the below image.
Be it the funky or simplest look, you can do it with shells. Such accessories are always ready to keep you away from expensive jewellery.
Neckpiece with shells: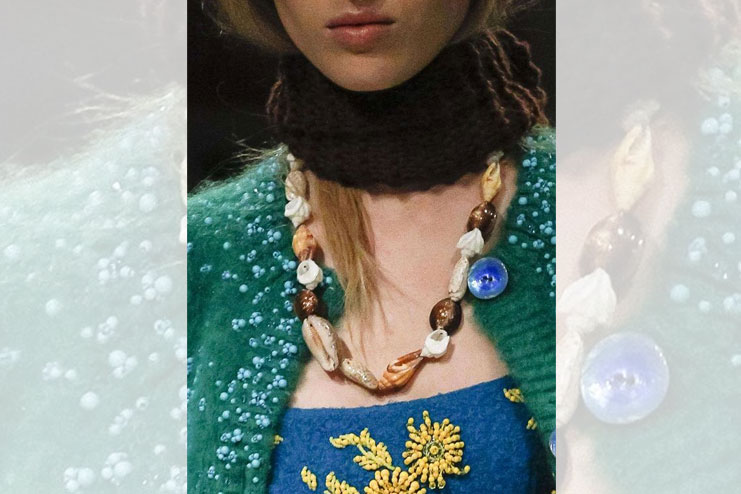 Shells are nowhere less with colours and shapes to fit into a lovely neck piece. Shells are naturally molded into the unique shapes and colours are all from nature. The neckpiece with shells fits well for a party wear outfits.
5.Pebble jewellery:
The naturally molded stones are smooth and their shapes are beautiful. They are worthy of fitting into jewellery. The various colours and shades of pebbles into accessories make them look precious and costly.
Styles of Pebble jewellery
Bracelet with pebbles: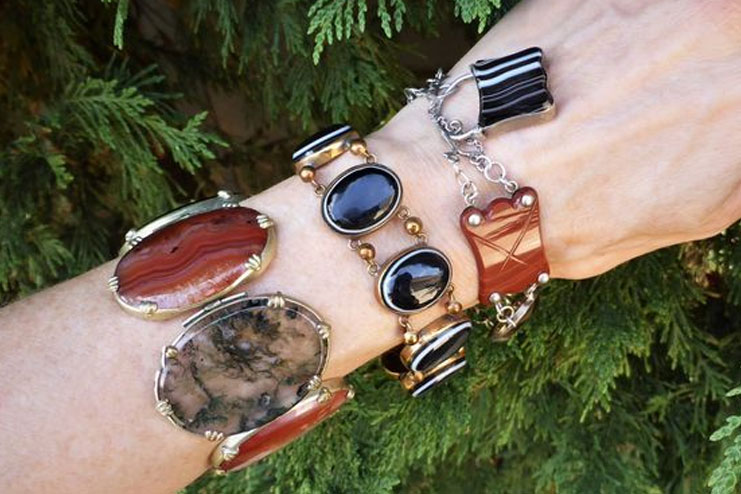 A stunning woman will love to wear the bold bracelets on her wrist. The unique of bracelets which stand on the wrist is mesmerizing. Check in the below image how pebble bracelets look like. The attractive bracelet with pebbles with vibrant coloured stones is all natural and much into eco-friendly jewellery. Go wearing a pebble bracelet to a birthday party or a family get together-all eyes on you.
Necklace with pebbles: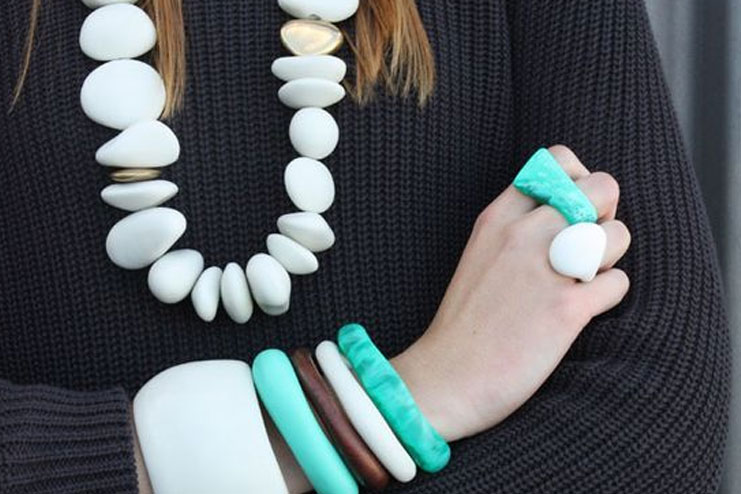 The pleasant colours are of nature. The natural colours into a necklace are classy. As in the below image, you can also pair up with same coloured bangles. You also get the pebble drop earrings.
Pebble Drop earrings: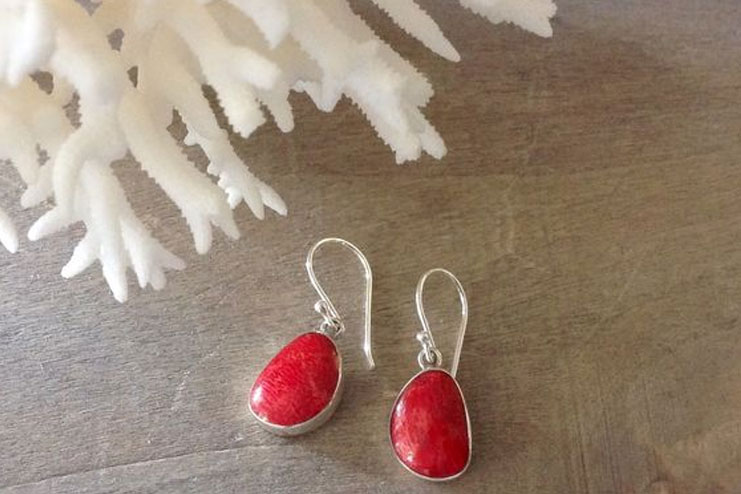 Pebble drop earrings can be an add on with other jewellery. Pebble drop earrings are for a casual and simple look. The soft colour and the soft texture of the pebbles will grab your attention.
Your jewellery sounds different and the shapes of pieces are imperfect. But this is the unique kind of jewellery to raise the fashion goals. Make a style statement choosing a statement piece of jewellery for yourself. These ideas and designs of Eco-friendly jewellery are inspirational and fabulous.
Related articles:
5 Eco friendly ways to celebrate Holi
Go Green! Happy Eco-Friendly Diwali!