Sisters start twinning from their childhood. They are brought up together and then, they love to stay for each other, for a lifetime. A girl feels lucky to have a sister as she gets to share all the emotions and stories. They wait to see the success of each other and to feel proud and say "that's my sister".
They feel safe and secured holding each other hands and they feel strong walking together. This magical bond is unbreakable naturally. They may stay apart from each other but never their unity comes down with distance. Sisters may get engaged with busy lives but the stand for each other will not be compromised. After sharing this special bond, they feel something less and get a sweetest tattoo without leaving the chance of sharing and twinning.
Many of the sisters are loving to share the tattoos and it is treated as a commitment for life. This may look fancy and fashionable but it is more about the sisterhood. The art must be proud to be associated with a previous relation of sisters.
Tattoos for Sisters- Twinning is Love and Sharing is Forever
If you are planning to get inked, you must look at the cute tattoos that are meant for sisters. It may also be something that is close to your heart and get it on your bodies. Anything matching can be an awesome idea to be on sisters. But these are the some of the coolest tattoos, which can be you are looking for but stuck on your mind. Check out these lovely tattoos:
1. Doll Tattoos- Beauty Queens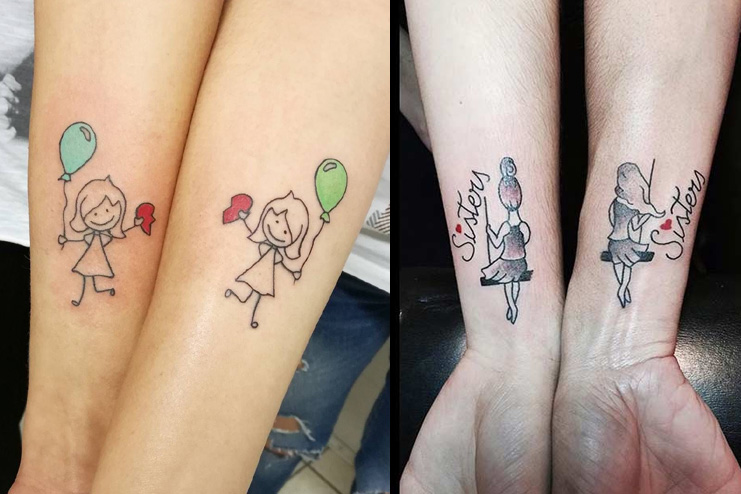 Doll tattoos are the cutest for sisters and it is much like they are carrying each other on their hands. The little girls on them will remain ever young even on their growing and wrinkled skin.
You sisters will love this tattoo if you love the art and tiny designs to be inked on your body.
2. Big Sis and Lil Sis- Sissy Love is Endless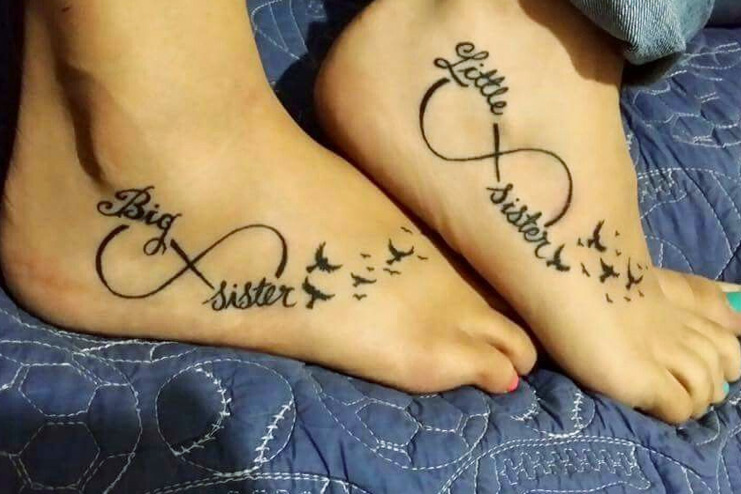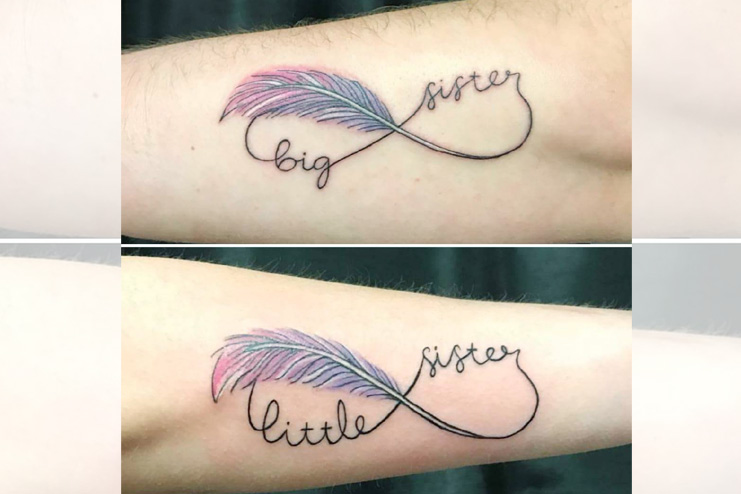 This is an adorable idea and you smile at it every time you look at. You can go for this idea if you really want something to write on your body. How much ever you grow, you are a little sister for your big sister says the tattoo. Not only just the words, but you can also have it with infinity symbol around with birds or feathers as shown in the above images. Never a big sister can forget to pamper the little sister!
3. Heartbeat Symbol- Feel the Heartbeat With Eyes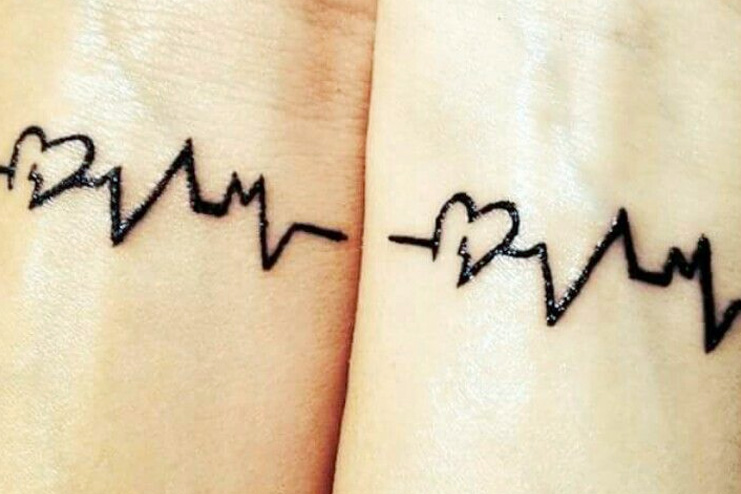 When you stay apart from your sister, your heart beats for her and your heart jumps with happiness to see her after a long time. Isn't it?
So, the heart beats for your loving sister are on you and show up by twinning the same feeling you have for each other.
4. Heart Symbol- Sister is a Sweetheart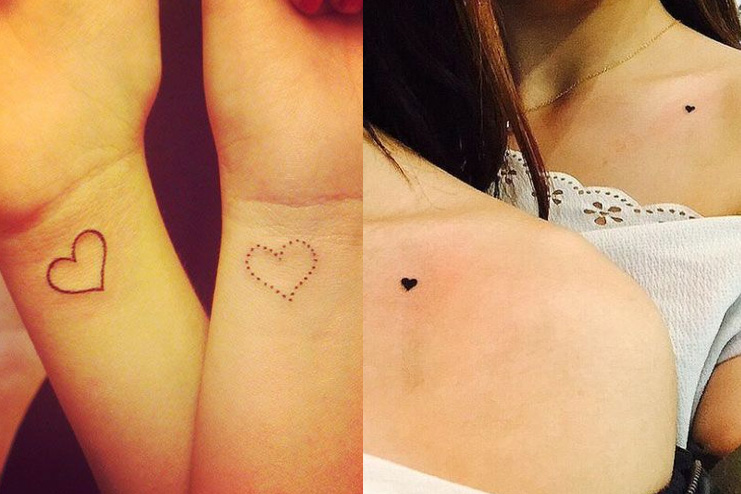 Sister is a sweetheart turn as a brave heart for you to stand beside in your thick and thin. The heart outline or tiny hearts on you and your sister will suit your relation and bond. You can have a heart outline or fully shaded heart symbol.
5. Quote Tattoos- It Means a Lot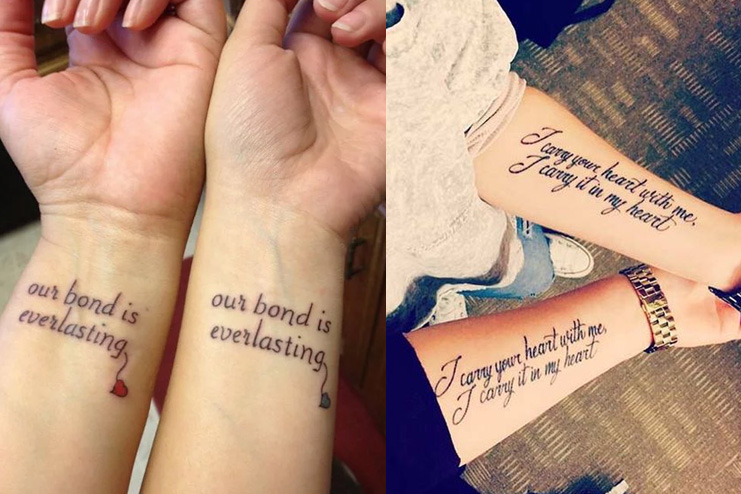 Such heartwarming quotes are posted on special days but take it to next level by doing a tattoo. With such tattoos bond is everlasting and the way you show it is also everlasting. Quotes are not just meant to be on your mobile and laptop screens, they can also be part of your body.
6. Twinning Intricate Designs- Beauty on You Sisters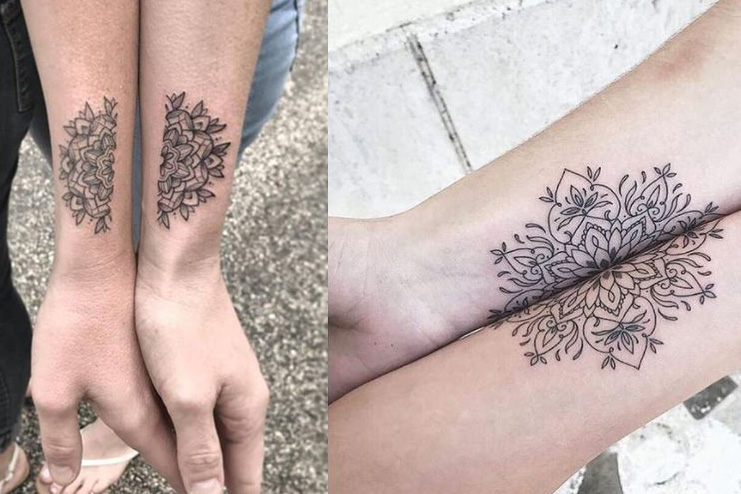 The intricate designs are the coolest tattoos and sisters will love to twin this way. If you love the intricate designs be printed on you, you can go for it. You need not show any expression or need not be anything meaningful when it is twinning. Twinning says you are bonded forever. No second thought to go for such beautiful ideas even if it is permanent.
7. Colourful Flora- Splash out the colours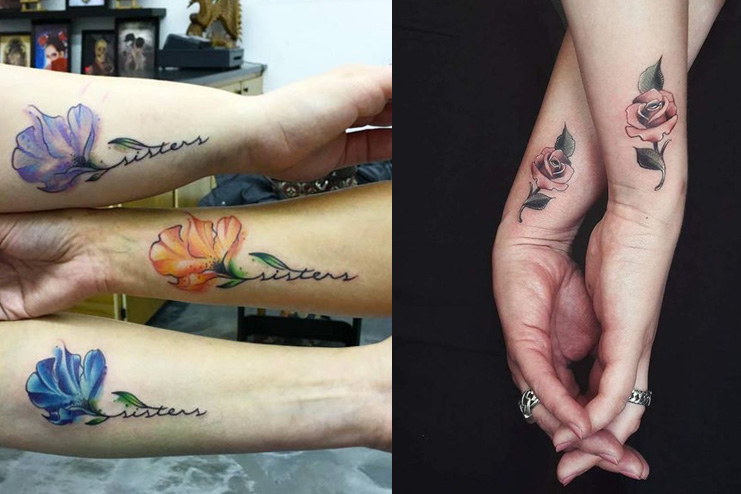 Extremely beautiful flowers on your beautiful sisters is all apt tattoo. The flowers flowing on you with pleasant colours is attractive and when you hold your sister's hand, it will give you a lovely feeling of twinning.
8. Mermaid Tattoos- Feel Feminine Together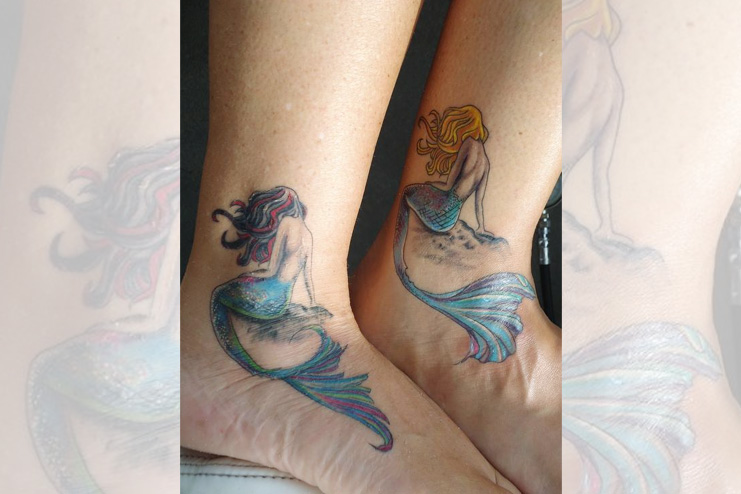 If you and your sister are fond of feminine art, then you will love such mermaid tattoos. It is not only about feminine art but the way mermaids float on you is captivating. You can get them on you in colours or black.
9. Birthdate/ Birthday- It is a Special Date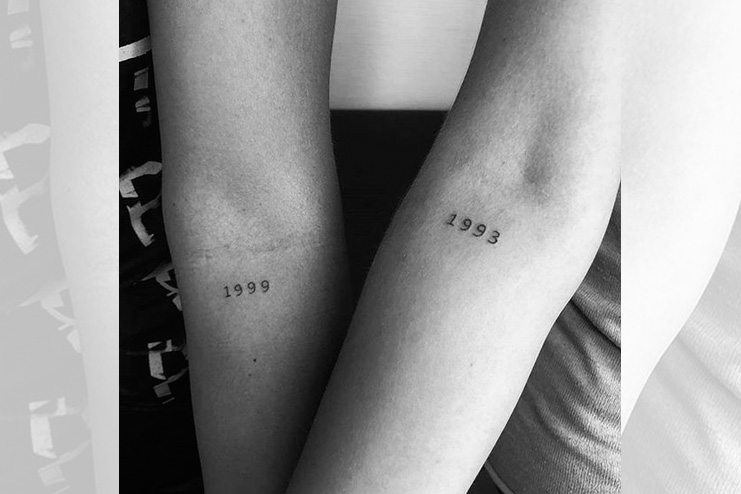 You feel blessed and lucky to have a sister throughout your life. Your sister's birthday is the most special day for you and it is a lovely idea to get tattooed with such a special date or year. This idea makes you special and a dated tattoo is one of the unique tattoos.
10. Little Flying Birds- Fly High Together and Let the Birds Fly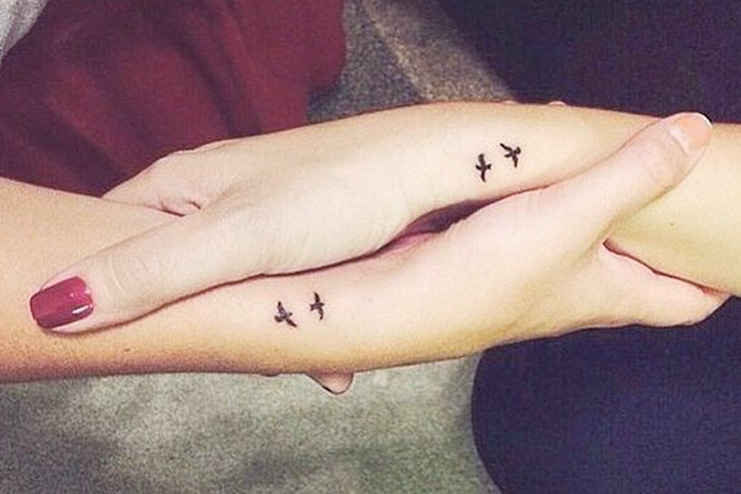 This is an idea to twin with tattoos and the flying bird is one of the trending tattoos. If you both sisters are in love with nature and want to express your freedom together, then it is a cool idea to twin with these little flying birds.
11. Sun and Moon- Shine Out in Each Other's Lives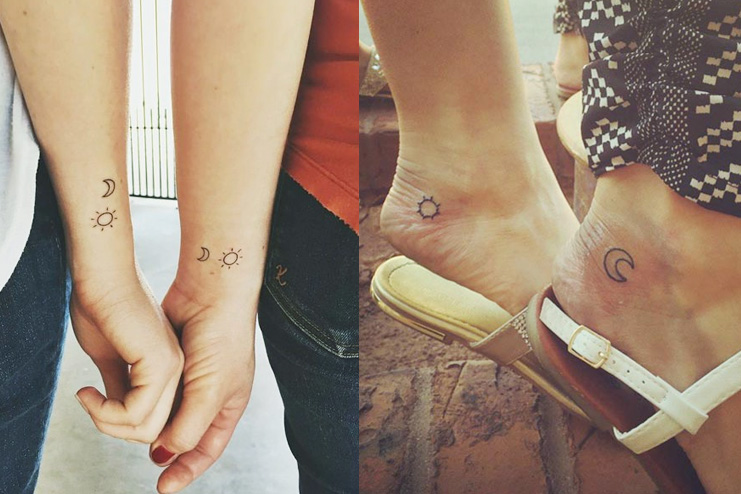 Sun and moon have the huge difference and your sisters may also have such differences but if you are celebrating the similarities, then you can go with this idea. You light up in each other lives in real and they same you are showing wearing sun and moon tattoo.
12. Matching Symbols- Ultimate and Forever Twinning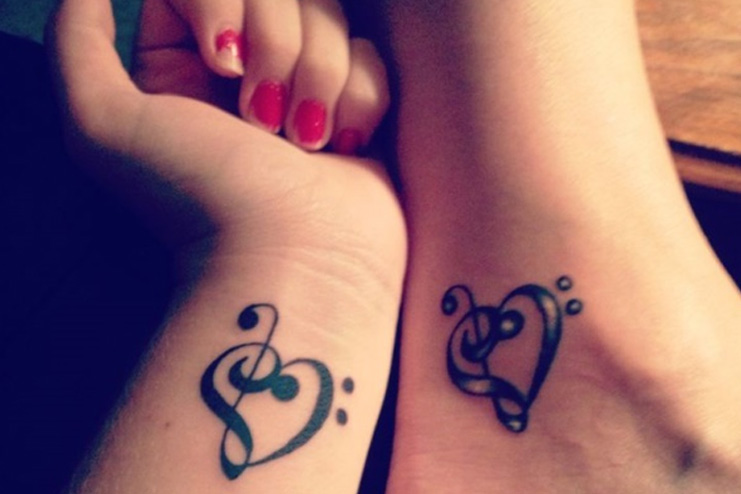 Symbols are great as tattoos, be in big or small. Sisters can wear any symbols to show the unity. When it is symbols, you have several symbols like arrows, music symbols and infinity symbol. These symbols look simple and the meaning is bigger irrespective of the size of the tattoos.
13. Girls with Can Phone- Playful Sisters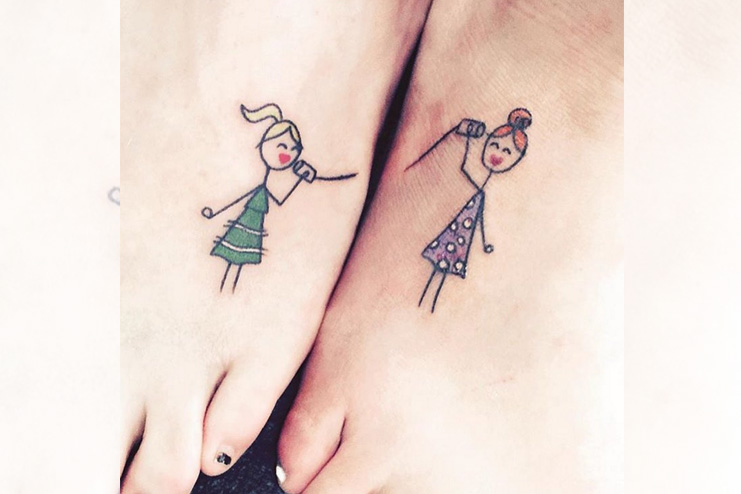 You sisters will love this tattoo if you are playful together. It can also be a twinning idea for sisters wearing this tattoo. The tattoo reminds your childhood whenever you look at it. Share the nostalgia with your sister by twinning with this tattoo. The girls with can phones is cute for playful sisters. You get to do in colours and make them look highly attractive.
14. Holding Pinkies- Deeply
Connected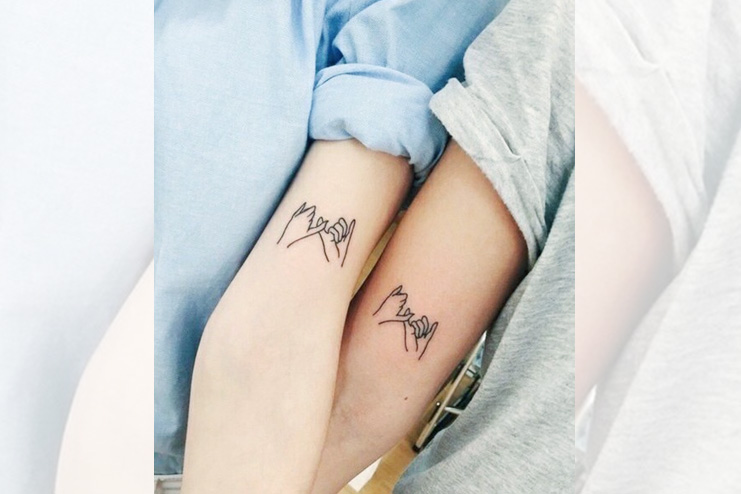 This symbol of swearing to each other is of promise to stay together. You can also feel that you are always connected, no matter what. The fingers locked tattoo also looks cute and a unique idea to express something precious.
Tattoos are permanent on you like your sisterly love is. Show your affection by keeping the bond in different way. We have given the meaning of all the tattoos and you can fix one of them on you and your sister/sisters. You can never get over and get enough of a sister and express the feeling with tattoos.