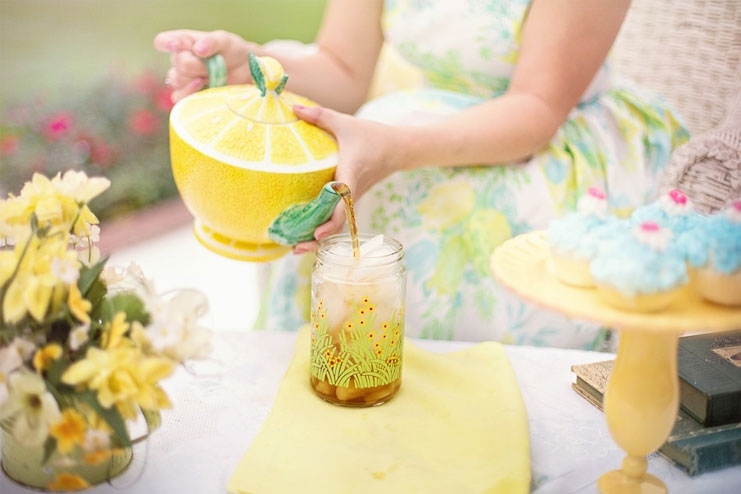 During periods, women going through cramps is common. But this common condition is cannot be left or can be taken. The painful days every month scar woman when the date is approaching. The pain and weakness kills the working and smiling mood even. All this comes together and mood swings starts.
As you would want to have something soothing and everything comforting, we suggest you to have teas. You have herbals and normal teas to take care of your period cramps. Your pain and mood swings clams down with the some special teas. Not that special though but specialist in treating period cramps.
You can look here for the amazing herbal teas that are useful for you during your menstrual cramps. Let the menstrual cramps not trouble by taking the below mentioned teas.
Best Herbal Teas That Calm The Period Cramps
Many of the women go for hot coffee thinking that it helps in improving mood. But you must totally eliminate caffeine during periods as it increases inflammation. So, you need which works on inflammation during the periods time. And the herbal teas are proven to be the best for period cramps.
1. Ginger Tea

Ginger tea can be your saviour! The refreshing and spicy tea can sooth your period cramps. The inflammatory properties in the ginger tea make can give you whole peace from periods pain.
If you are also a woman who go through nausea, sickness during periods, then you need ginger tea to have instant relief from these problems.
Some of the women also lose excess blood during periods. Such women can also go for ginger tea to control blood loss. The heavy blood flows and cramps are no more a problem with ginger tea from your next periods.
How to do?
Simply add a piece of ginger into boiling water. Let it steep for few minutes and then strain the tea. Consume the prepared tea when it comes down to warm temperature.
2. Raspberry Tea

Raspberry tea is made from the raspberry leaves. You can buy the raspberry leaves from the nearby hypermarkets to use for the menstrual cramps.
Thinking how raspberry can treat menstrual cramps? Raspberry consists of fragrine which tones the uterus. Raspberry helps uterus to function effectively with smooth blood flow. As the muscles get pressurized during the blood flow, we have to take the cramps. Here, raspberry acts sensible with instant relief.
Raspberry tea also reduces the anxiety and mood swings during periods. The inflammation reduces during periods which is helpful for proper muscle movement. It is believed traditionally that raspberry tea can strengthen the womb for prevention of excess bleeding.
How to do?
Add raspberry leaves to hot water in bowl or pot. Let the leaves boil for five minutes and you can also add honey for sweetness. Then off the flame and strain the tea to drink.
3. Chamomile tea

Have you heard chamomile any where? May be you have seen or heard as an ingredient in beauty and skin care products. Chamomile is a herb that is magical in many ways. Chamomile tea is made from the chamomile plant leaves.
Chamomile tea is a proven remedy for period cramps. In a study, the women who consumed the tea one week prior and during first five days of periods. It is observed that women who consumed the tea had less period period cramps, anxiety and stress.
Chamomile is great at activating the chemical reactions. The chemical reactions reduce the blood pressure and stress in the nervous system. It is also needed of proper blood ciruclation during menstruation which can be taken care by chamomile.
How to do?
Boil a cup of water and add two teaspoons of chamomile tea powder. Let it boil for 5 minutes and strain the tea to consume.
4. Peppermint tea

The muscles of uterus need to be relaxed to not to have period cramps. Here, peppermint oil comes to work on the muscles relaxation. The peppermint leaves can contain menthol which soothes the uterus and the muscles of it. All the good work of peppermint tea is possible only with the antioxidants and menthol content.
The mint flavour also calms your disturbed mood and reduces anxiety during your periods time. It makes you feel refreshing instantly. And it is a handy herb that is available in every kitchen. Really blessing!
How to do?
Take some fresh peppermint leaves and add to the boiling water. Let the leaves boil for few minutes and then extract the tea from it. Now take hot sips of peppermint tea for period cramps relief.
5. Green tea

Green tea is an expert at reducing water retention which may prevent the period symptoms like bloating and cramping. You may want to drink something hot that keeps you light and refreshing. Then, take few sips of hot green tea.
Green tea also helps in promoting the blood flow. The uterine walls sooth instead of giving pain when they contract. You can also stay away from tension and mental discomfort with green tea. As this herbal tea contains antioxidants it helps you to keep your body hydrated.
How to do?
You can steep the green tea bags or leaves in hot water. Let it steep for 5-6 minutes and strain the tea from it. Consume the tea before cooling down.
6. Fennel tea

You only know that fennel seeds are for digestion. But you have some other benefits and relieving period cramps is one of them. The anti inflammatory properties in fennel seeds can help in decreasing inflammation.
Fennel tea can also react on excess bleeding. This herbal tea is best and easy for period cramps. You also feel light and refreshed by having a cup of fennel tea. It is a must try remedy for period cramps!
How to do?
Add a few fennel seeds to boiling water. Let the goodness of seeds infuse into the water. For this you need to wait for 5-6 minutes. Then, extract the tea and have it before cooling down.
7. Cramp bark tea

The cramp bark is known for relieve the cramps and it also works for period cramps. The cramp bark can heal the period cramps in lower abdomen which is painful for many women. Women who also suffer from nausea can intake this tea and come back to normal. The menstrual symptoms can be challenged with cramp bark.
You can have the cramp bark tea for soothing the muscles and uterus that causes painful period cramps.
How to do?
Add two teaspoons of cramp bark into a cup of water. Let it boil enough and then strain the tea to drink.
8. Cinnamon Tea

Is cinnamon tea your favourite? Then, you chose the right tea for yourself. It greatly helps during your menstrual cramps. The anti- spasmodic properties helps in giving you huge relief from period cramps.
As it is also loaded with anti inflammatory properties, even that can take action in healing the period cramps pain. In a study, it is clearly proved that women who consumed cinnamon tea suffered with very less period cramps and bleeding.
How to do?
In bowl of water, boil enough amount of water. Add a piece of cinnamon stick and let it boil. You will get the aroma of cinnamon and the tea turn brown. Then, extract the tea and have it immediately for high relief and refreshment during menstrual cycle.
From now, don't go for pastries and chocolates to feel refreshed or normal going through. The herbal teas can help better for period cramps compared to anything else. So, the tea for period cramps are to help you instantly and naturally!
Also read:
Good Food For To Reduce Period Cramps – Relieves From Aches
Food items that you cannot take during periods