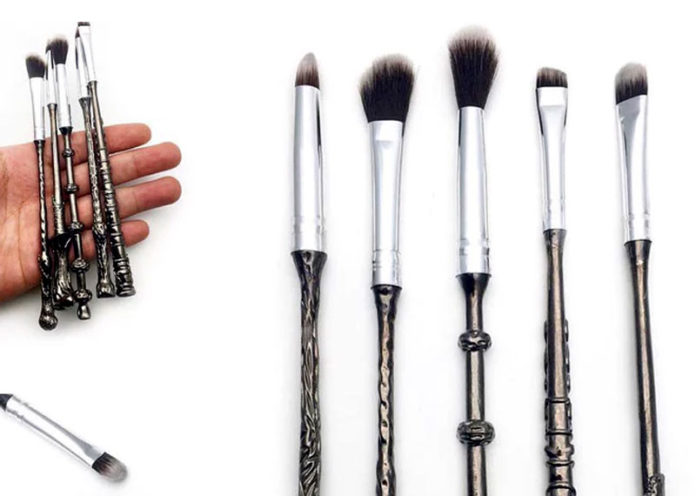 Harry Potter is a book series of a young eleven-years-old British boy, who lives with his uncle and discovered, about his magical powers, that changed his life completely. These book series have also been made into movie series, of the same names. These magical book series have since, gained a lot of name and fame. J.K Rowling is the most renowned author of Harry Potter book series.

Since the popularity of the book as well as the movie, there has been many related merchandised products available in the market, like T-shirts, shoes, accessories, and much more. Even the same exact props from the movie, are also available. Some people make a personal collection of these products.
Can you guess any relation with Harry Potter and makeup? No right? Neither did I. but, as the trends change with time, these Potter craziness is going beyond just collecting props and items. Now that here come Harry Potter Makeup brushes too. These makeup brushes consist of the Harry Potter, Hermione, Ron, Dumbledore, and other characters wand theme. The handle of the brush are made, in such a way that they look like a real small and the cutest wand ever made in the world. These brushes are too good to be true, that you will become a fan of these brushes.
Select A Foundation, Is Easy As A Pie
I hope it creates magic just like the movie, and make us beautiful like they made Hermione, in the series of Harry Potter and The Goblet of Fire. For sure, that you will fall in love with this stylish brush and will get obsessed with them. You will never leave them at home.
An Omaha-based company called the Geeky Cauldron and Storybook Cosmetics, are co-creating these brushes. Storybook Cosmetics, is already famous for releasing products, with storybook inspired or movies inspired theme. The Geeky Cauldron, are known for selling many fandom products including scarves, phone cases, and jewelry. These wand-shaped makeup products, are quite very new and are not released yet in the market. It is one of their dream project to merge their two most loves, makeup, and fandom.
These makeup brush's handles are, mostly inspired and featured in the cult of this magical fiction series. The creator said that they were working on this brushes for five years. A collection of these brushes can make a fantastical magic brush theme as well as face paint and tools to apply.
Only makeup addicts can tell that how good and magical it is to use a really good product and this analogy is taking a whole new level because we can barely control our excitement with the magic inspired brushes. Storybook Cosmetics, has released its first teaser on this wizardly set, on their Instagram, and we know that the prototype has been approved and they are ready to produce. It is going to be released in less than six weeks. This latest project is sure to make some buzz among the users of makeup as well as among the Harry Potter fans.
So, remember the time and don't forget the date to pre-order this product. It will not only look cool, instead it will add magic on your face.
Beginner's Guide On Selecting A Concealer
By –