Some of the spices are a must for in Indian diet. The spices are not for taste but also included for health and fitness. Now, we must talk more about- jeera, which is highly beneficial in many ways. Be it digestion or treating period cramps, it works wonders.
You have more benefits of jeera and its water in every aspect well being. When it is for weight loss, you can definitely take help of jeera water. It is nothing tough to do for better health and fitness.
If you are looking for some simple ways to lose weight, then jeera water can encourage you in achieving it. Jeera for weight loss work with certain nutrients, properties and reactions.
How does jeera water work for weight loss?

It is one of the best remedies from Ayurveda for weight loss. Traditionally jeera is included in Indian dishes and diet to promote digestion. It is not only for weight loss but also helps in poor digestion, constipation, insulin resistance.
Jeera releases the the nutrients into water and it helps in greatly for weight loss. Futher, you will the detailed descriptions of jeera water helps in weight loss.
Jeera Water for Weight loss
1. Fewer calories

You must always go for the dietary options that are low in calories. You can a have a glass of jeera water with teaspoon jeera which is about seven calories. When you are doing, this you take less calories in later part of the day.
You also need not worry about intake of calories that you need per day. It keeps your calories intake stay balanced all the day. A smart way of staying fit!
2. Helps in digestion

Indigestion can also be a cause for weight gain. Indigestion is the culprit for that bulged out tummy. So, you must encounter the digesting problem with jeera water.
If you want to know how it works in digesting- it breaks down the sugars in your body with it's enzymes. You can also increase your metabolism with proper digestion.
3. Hunger suppressant

When you start your weight loss goals, you may tend to crave for your favourite food, The best way to stay away form eating on is, going for something that suppresses your hunger.
A glassful of jeera water is enough to make your stomach feel full. It also makes you feel light and filled at the same time.
4. A natural way of body detox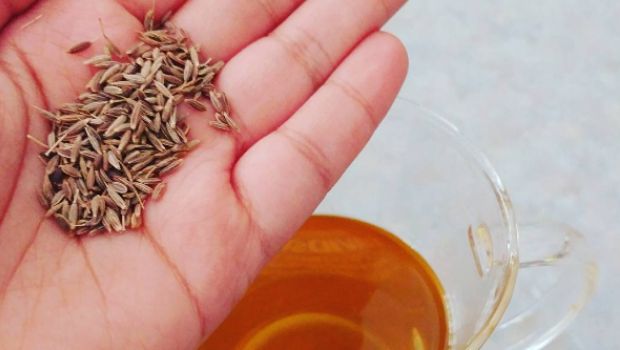 You need to let your body detox on daily basis. To detox your body, fluids help better than anything. Now, you need not got for something that is of long process and tough to consume. Simply, go with a glass of jeera water after meals.
You replace with the other drinks that are making you gain weight.
5. Fat burning becomes easy

You can let the fat burning process be easier with jeera water. It is not the same with other options. You can become fit in 15-20 days, if you start consuming jeera water.
It is one of the healthiest drinks for fat burning and simple too.
6. Hydration

For weight loss, you must keep your body hydrated. Consuming jeera water, it helps you to flush all the waste from your body through digestive system.
When your body is retaining with hydration, it will help the cells to work normally.
7. Boosts metabolism

The lower rate of metabolism fails you to use sugar and fat properly. This can result in weight gain. So, you must always maintain the metabolism rate and jeera water helps thew best at it.
The various vitamins and minerals aids in increasing the metabolic rate. It observed that jeera water increased the metabolism of the participants in a research.
How to make jeera water for weight loos?
Add a teaspoon of cumin seeds in a glass of water.
Soak it overnight or 5-6 hours.
The next morning, boil the seeds in the soaked water.
Strain the water and drink.
How to drink jeera water for weight loss?

You can start your day with a glass of jeera water. Make sure you drink jeera water on an empty stomach for effective results of weight loss.
You can also have jeera water in the night for better digestion. But remember that you must have the water 1 hours prior to bed.
How often to drink jeera water for weight loss?
You can have jeera water as a everyday drink. Taking it regularly everyday can make you fit. Particularly for weight loss, it is suggested to drink once a day and the best time is before sleep as mentioned above.
How much weight You Can Lose With Jeera Water?

You can loose around 4.5 kgs per month by consuming jeera water. But we also suggest you to stay on the basic workout on everyday basis along with consuming jeera water for weight loss.
As you are consuming jeera water, you any ways shed less sweat. But you cannot totally depend on jeera water.
Possible Side effects of cumin seeds

Cumin is known as the non toxic herb even in the bigger amount. It is not harmful in general but you must know the possible side effects before consuming.
It is observed that taking cumin seeds or water can suppress the testosterone levels. The meaning of suppressing the testosterone levels means making men less fertile.
In some culture, cumin is also used for miscarriage. So, women who are pregnant or planning for pregnancy must be informed with the effect of cumin seeds before taking it.
Jeera water is a two simple ingredient process for weight loss. Not just tempting to be fit but it be a dream come true of achieving trimmed body with jeera water. Hope we have put everything together about jeera water for weight loss.
Related Articles:
10 Effective Household Chores for Weight Loss – The Best Workout
10 Super Indian Foods To Eat Before Bed For Weight Loss
Surprising Weight Loss Benefits Of Different Types Of Tea