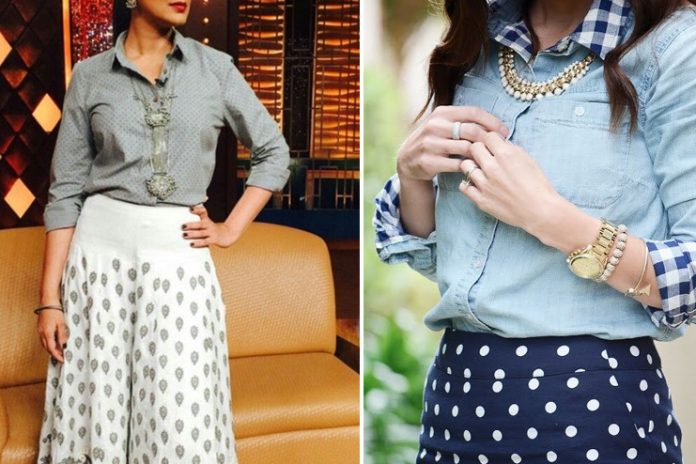 Our Indian styles are great to do fashion experiments. The Indo-western outfits which are trending are of love on western and Indian styles. When you want to look modish but still have the love for Indian styles, then such wonderful ideas come to your mind.
The trending style in fashion is Indian jewelry with a western outfit. The never-ending creativity in fashion made this style come in variations. Indian jewelry represents the Indian traditions with beautiful flora and fauna designs.
The styles of India are roaming places. And how Indian women stay away from their very own styles. The western outfits keep you modish and comfortable. It is a monotonous idea to wear western accessories with western outfits. To make the monotonous highly mesmerizing, you must go with the fusions. Now, you must know how western outfits look with Indian jewelry. The ideas are to avoid fashion disasters and to make the style statements easily.
Mind the below tips to style Indian Jewelry with Western Outfits
Show it off
As you want to show the unique style of the day, let the jewelry not go under your dress. Over a shirt or tee, let the jewelry elevate. The way you style must be seen and the outfit must show your enchanting jewelry. The jewelry and outfit matching is to focus along with the show-off.You can make a style statement effortlessly while wearing it over your tops.
Wear a necklace over your shirt and wear a bangle with sleeves up. The off shoulder outfits are perfect to show your necklaces.
Let the Colours Blend
Let the colours of your outfits be light to make the Indian jewelry stand out. If the outfit colour is dark then you can choose to wear silver or black metal jewelry to match up your outfits. The combination of western outfits and jewelry create a fantastic look with apt colours.
The colours have the power of keeping an outfit on the next level in fashion. All the fashionistas, prefer the colours that can do the magic together. So, apply the same rule with Indian jewelry and western outfits as well.
You are into this style to make a unique look. In order to look fashionable, you must pick a jewelry piece which makes you feel uncomfortable. Indian jewelry is heavy and more with hangings. See that the neck pieces don't choke your neck, the bracelets don't make your wrist feel heavy and the ear hangings pull down your ears.
Ways to Style Indian Jewelry with Western Outfits
Indian jewelry is made with the designs and motifs that depict Indian traditions. The carving and prints that Indian jewelry suits ethnic wear and make women feel beauty enhanced. Ethnic wear and Indian jewelry is a rule but western outfits and Indian jewelry is a sensational fashion fusion. Some of the styles of Indian jewelry with western outfits is trending high.
1. Gold Neck Choker with Western Outfits

White is the colour that stays open to style in your way. Plain white shirts were a kind of formal outfit and now they can give an elegant look. Indian gold jewelry over a white shirt is a wonderful fusion that women are loving to wear. You can keep it all desi but still modish with a heavy gold necklace and earrings. Many of the celebrities made a successful fashion statement wearing a golden necklace over a plain white shirt.
2. Gold bangles with western outfits

In Indian jewelry, bangles are one of the auspicious ornaments. Such precious ornaments need not be missed even with western outfits. You can make them an alluring accessory for your western outfits like off-shoulder tops, stylish gowns and denim outfits. Golden bangles are in plenty of designs and they can be a replacement of bracelets.
3. Black Metal Necklace with Western Outfits

Black metal jewelry with blazers is the styles that scattered everywhere in the world. It also looks cool with a blue denim jacket. The Indian motifs on the black metal show the tradition. We can see motifs like peacocks and flowers on black metal beautifully carved. Black metal jewelry is trending all kinds of western outfits. Let the classy style stay on you wearing the black metal necklace.
4. Silver Necklace with One Piece of Western Outfits

One piece is the chicest outfits that a modern woman can wear. An adorned long necklace with one piece can be a superfusion. If you can choose the outfit which is of white colour and wear a gold long necklace. The multi colour one piece outfit with long necklace fully stylish. You see the images attached above and the ladies slaying with one piece and Indian jewelry as a team.
5. Long Heavy Silver Earrings with Western Outfits

The long heavy earrings can give you a traditional look. Be it gold or silver, both suits the western outfits. The intricacy in Indian jewelry is the finest. You can only choose jewelry with coloured stones, pearls. With heavy jewelry is much suitable for party wear outfits and you can set your style easily with the fusion of western outfits and Indian jewelry.
6. Silver Chain with Western Outfits

Women prefer wearing delicate silver chains with western outfits. The delicacy that you were all these days is extremely beautiful. But sometimes you must look bold and stunning. So, you must see the silver heavy chains with western outfits. The silver chains attached with lockets of Indian motifs are fashionable and traditional.
7. Multi Colour Necklace with Giant Lockets and Western Outfits

The giant lockets are the most fashionable jewelry. You get coloured stones in multi colour Indian jewelry. The combination of colours in the jewelry is alluring. You look more Indian with a bit of western essence which is a great idea of making a style statement. Like in the above image, you can a multicolour chain for your fashionable look. If you want to add some ethnicity, you can wear an ethnic bottom or top. The embroidered western outfits look extremely fashionable with Indian jewelry.
The various styles with Indian jewelry are let you stay in fashion. The more you want to be fashionable, the more styles and ideas you find. Such passion created a mesmerizing fusion with Indian jewelry and western outfits. While following trends, you also create your own style and there you make a remarkable style statement. Make the style statement silently and pat your back for being a true fashionista.
You may also like this: Mesmerizing Eco-Friendly Jewellery and Styles- Fashion is all over