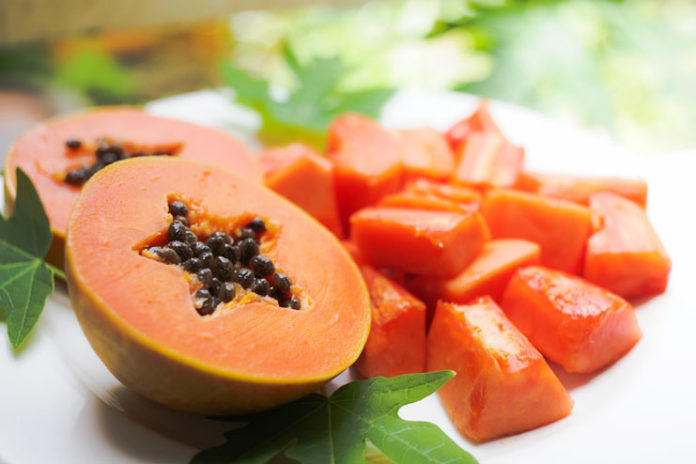 Papaya, hmm! What a delicious subject to talk or write about.. The one thing good or say amazing about this beauty treatment is that it is very tasty. So, maybe more than applying, you might end up eating it. Papaya is known as "The Fruit of the Angels". Papaya is very popular all over the world for all the good reason. It can help a lot and is an amazing tips for glowing skin.
Papaya is rich in vitamins A, C, E as well as K, and has many antioxidant properties. It also have magnesium, niacin, potassium, carotene, fiber, protein and enzyme known as papain that can provide many health benefits.
In papaya not just its fruit pulp, even the seeds have many types of health benefits.
One of the most effective as well as amazing beauty benefits of papaya is its ability to lighten the skin complexion. It also have many natural bleaching properties.
In addition, it can help in cleaning impurities. The presence of vitamin C in it can help to protect skin cells against sun damage.
Papaya is very rich in water content which can help to keep the skin soft, smooth as well as moisturized.
The vitamin A presence in it can help to remove the dead skin cells and keeps the skin soft and supple. The presence of alpha hydroxyl acids in it, can help to dissolve the dead skin cells to prevent the signs of aging, such as wrinkles and the fine lines.
The vitamins C and E in the papaya can help to rejuvenate skin and help to enjoy younger-looking skin.
The papain enzyme in the papaya has many skin-cleaning properties which can help to get rid of all the clogged pores. This can help to prevent acne as well as pimples. In addition, the exfoliating effect of the papaya can help to remove the dead skin cells to help unclog the pores.
Papaya is also very beneficial to lighten the skin spots and remove tan from the skin due to its several enzymes. It can help to treat the black spots, brown spots, acne spots as well as dark elbows and the knees. In addition, papaya can help to tone the skin and improve the complexion.
Papaya can help to diminish all the appearance of the wrinkles as well as crow's feet. Its antioxidant properties can help to reduce the appearance of the crow's feet around the outer corners of your eyes as well as wrinkles around your mouth or the forehead. In addition, the vitamin C can help to fight off free radicals that can damage the skin's collagen as well as elastin.
Tips For Glowing Skin