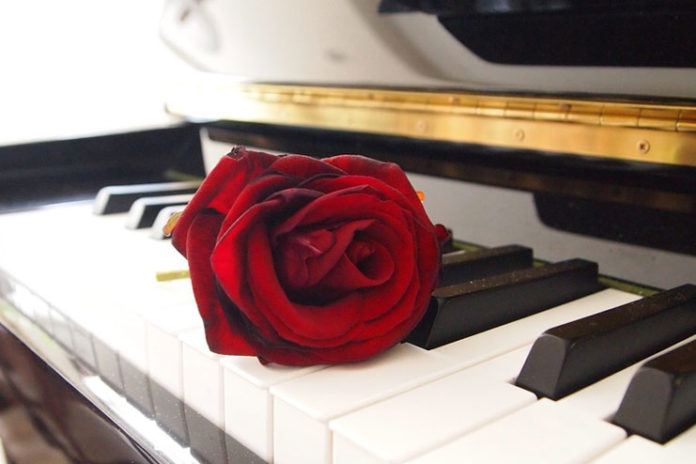 Being bit by the love bug can have some really weird effects on you. You suddenly don't find time to eat, rest of sleep. You are filled with excessive zeal and everything just seems so right. The most striking thing that happens to everyone is love is, You suddenly start finding all the love songs so meaningful. Like everything makes so much sense when you are in love. Every word of the love song feels like they have been written for just the two of you. What do you do then? You share and dedicate it to your partner. So, we made a list of all the soulful Hindi romantic songs to dedicate to your boyfriend, that will suit every love story and be such a great choice to give a meaningful gift. Have a look,
1. Pehla Nasha..
Movie: Jo Jeeta Wohi Sikander
This yesteryear classic romantic song is a perfect song to dedicate to the first love of your life. The teenage years when we usually feel love for the first time are so exciting and we want to just somehow explain them out, but not many of us can do it. Well, this song is a perfect way to explain that first love feeling. Go ahead and listen to it once, you'll know exactly what we are saying.
2. Jab Koi Baat Bigad Jaye..
Movie: Jurm
One of the most meaning full song sung with a soulful voice by Kumar Sanu this song probably your elders also dedicated to your each other. Go ahead and give it a shot, It will still melt your heart.
Also, Read: Bollywood Songs every woman wants to hear from her boyfriend
3. Tum Hi Ho..
Movie: Ashiqui 2
This amazing song gave goosebumps to everyone who heard it the first time. This great song stayed on top of all music charts for almost a year and we can't disagree why. The wonderful lyrics by Mithoon and Arijit singh's voice make it one of the best love songs of bollywood.
4. Tum Se Hi..
Movie: Jab We Met
A song that stays with you, it will bring back memories whenever you hear it. One of the best songs of Mohit Chauhan, Tum Se Hi, is probably the one song that tries to explain what goes through the eager heart the moment you thin about your loved ones. Loved the composition and the wonderful singing.
5. Tu Hi Re..
Movie: Bombay
This timeless song by AR Rehman and sung by Hariharan is a classic example of why he rules the music world. This song has been around since we can remember and has such a soulful almost hypnotic feel this song has on everyone. Just use this as a perfect song to dedicate to your boyfriend and get full marks for the song selection.
6. Tu Mile Dil Khile..
Movie: Criminal.
This song is sung by M. M. Keeravaani & Kumar Sanu. A great way to tell your loved ones how much they mean to you. This can be fun to dedicate these songs on crush. He will know how much you really like him. And since there is no feeling in the world greater than love, we are ure he will appreciate this.
7. Saathiya
Movie: Singham.
This Song has a certain charm to it, a soft happiness attached that can make you just love your life right now. It is a perfect song for happy couples. It's about celebrating love and being just completely in love. One of the great songs to dedicate to your boyfriend. This can never go wrong.
8. Jadu Hai Nasha Hai
Movie: Jism
This song is an all-time favorite, A lovely melody everyone will love. A perfect song to listen on a lazy afternoon or when you miss your loved ones. This will also make for a perfect dedication song for a boyfriend.
9. Tujh Me Rab Dikhta Hai
Movie: Rab Ne Bana Di Jodi
One of our absolute favorite this song is so lovely and sweet melts our heart every time. For a long committed relationship, this is exactly what you feel.
10. Raabta
Movie: Agent Vinod
Something about this song just tears us up. It is extremely emotional and a wonderful composition that haunts your mind throught the day. If you want him to remember you for a long long time, dedicate this song to your boyfriend and he will find it difficult to get you of your mind.
11. Kaise Mujhe Tum
Movie: Gajni
A perfect song for someone who is emotionally very invested in you. Make him special today. Dedicate this lovely melody and you will soon be appreciated. This will also make for a perfect dedication song for crush.
12. Soniyo (Raaz 2)
Movie: Raaz 2
With Sonu Nigam's soulful voice this song has the perfect power of calling you out. A massive hit, this song will leave your boyfriend feeling really happy. It's just so cute. See it for yourself.
13. Mere Hath me Tera hath ho…
Movie: Fanaa.
This absolutely amazing song is what we feel when we think about the immense love we share for our partners. Dedicate this song to your boyfriend and he will know exactly how greatly and passionately you love him. Tell him this through the lovely song
14. Do Dil Mil Rahe Hai
Movie: Pardes
This super cute song is a perfect song for young lovers. A lovely song for crush. This will make him realise that you're crushing on him. Dedicate this romantic song for your boyfriend and he will know your innermost conflicted love.
15. Lag Ja Gale Se..
Movie: Woh Kaun Thi
This is one of the old classics that will always find relevance, such is its beauty that the first time you listen to it you well up with tears.With some really meaningful lyrics this song is an absolute must listen for every couple in love even if you do not want to dedicate it.
16. O Saathi Re
Movie: Omkara
If you are one of those persons who want a song that expresses your everyday plight of wait and the normal monotony without him. This song will strike all the right chords. This Omkaara song has a certain charm that has a subtle vibe which will definitely leave you touched. Take a deep breath and let the song take over. A wonderful choice of song for the dedication.
17. Aaj Din Chadheya
Movie: Love Aaj Kal
For people who want to think about love every single moment of the day. Choose this song. A great composition with some really meaningful words that make just absolute sense in love. This song tells exactly what you feel right now.
18. Tum Ho..
Movie: Rockstar
For a soulful melody that strikes just the chords you want. This song is one of your best in the list and we completely suggest this song for people who want a soft and melodious way to explain the pull they feel every time you meet that one person and how his coming has completely changed your life. This is your song. Totally.
19. Zehnaseeb
Movie: Hasee to phasee.
A cute composition for someone who has emotionally bonded with your loved ones and feeling separable. This is a song written especially for you.
20. Zara Zara
Movie: Rehna Hai Tere Dil Me.
The perfect song to dedicate to your boyfriends. The first years almost feel un-explainable. Right? Have you heard this song at least once? Well, you might just realise how to explain what you feel. This is a great song for dedication to boyfriend. This will make you a star in his eyes. Just give it a shot.
With this perfect list of soulful songs to dedicate to your boyfriend, you won't have to look anywhere else. The perfect melodies for every occasion and every unique couple out there. Be it your first love, a long distance story or even the first feelings of being loved. This list has all the songs a passionate lover can dedicate to her boyfriend, husband or Fiance. Just write a perfect little message and send him this song. There couldn't be a better gift.