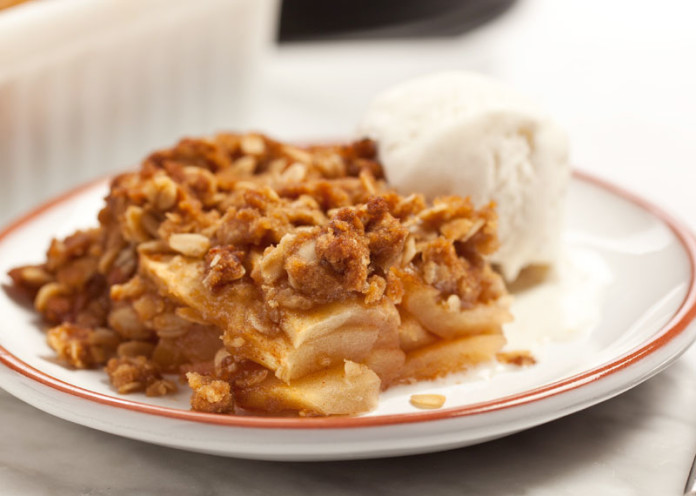 Apple pudding is quite different from the other ones. It is not soft and mushy, but it is crumbly and has a unique texture to it. The texture is what the pudding stands out for. You have to hand mixed the muddle of wheat flour, sugar, butter and oats to get the texture of it. To enjoy the full flavor of the pudding, you need to savor it as soon it is baked. Hot and warm pudding tastes much better than the cold now. Now, here's the recipe of apple pudding. It is always nice to bake for your family and friends, so enjoy the pudding!
The preparation time of the entire pudding shouldn't take more than an hour, which also includes the baking. Baking temperature – 180c (360c) Serves 6 people
Ingredients
4 cups of peeled and nicely sliced apples
3/4 cup of whole wheat flour (gehun ka Atta)
6 tbsp soft butter (Salt free)
1 cup brown sugar
1/4 cup quick cooking rolled oats or any oats that is available
1/2 tsp cinnamon (dalchini) powder
A pinch of nutmeg (jaiphal) powder
Process
To start off with, use the whole wheat powder and the butter and mix it lightly with your fingers in a small bowl.
After you mix it lightly, add the sugar, cinnamon and the nutmeg powder to it. You have to mix well with your hand.
The nicely cut apples should now be placed in a glass bowl and place it inside the oven.
Once the apples are placed, make sure to add the mixture that you have prepared on to it. Make sure the mixture is evenly overlaid on the apple slices. You have to press the mixture in order to make it settle for which you need to use only your fingers.
Preheat the oven and place it inside. Bake it at 180 degrees for about 20-25 minutes.
It is best to serve immediately. Warm and tasty!
The blend of the mixture and the apple, gives in a whole new taste to your taste buds. You can enjoy the pudding after your dinner! A warm apple pudding dessert with ice cream is the best way to end a happy meal.