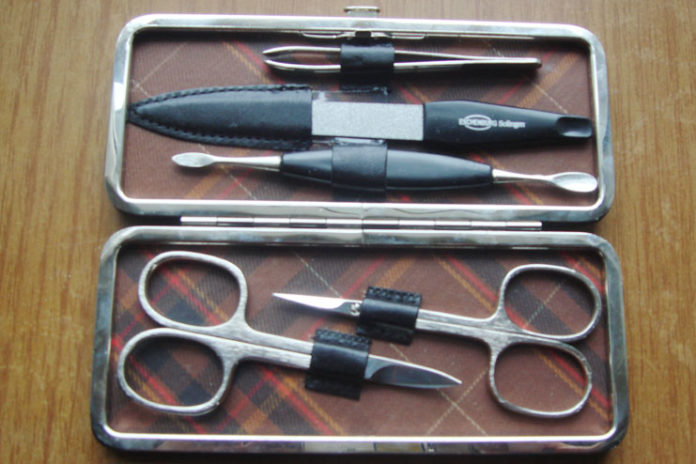 Clean hands with beautiful nail polish sure look really attractive, but it can also say a lot about a person's hygiene and personality. While we make take a bath every day but only that is not enough to maintain beautiful and delicate looking hands. Your hands and feet come in contact with much more amount of dirt and grime than your other body parts.
They are constantly touching and coming in contact with different surfaces in both public and personal space. So in order to protect your hands and feet from getting dirty and filthy, you should get a manicure and pedicure done at least once every few weeks. If you do not have time to go visit the salon you can very easily do it at home too. With right manicure and pedicure tools, it won't be a difficult task at all. So if you wish to do your own DIY manicure at home, here are all the manicure and pedicure equipment and tools you need to have.
Manicure And Pedicure Equipment List
1. Pumice stone
A pumice stone is a naturally found porous stone that is used extensively by manicure salons for exfoliating your heels of the feet. They are brittle and slightly softer than other stones. It helps in removing the dead cells build up over your heels.
Before using, immerse your feet in soapy warm water for ten minutes and then rub all over your heels and other dry skins build up. Make sure you do not use it very aggressively.
This is one of the best Manicure and Pedicure Tools, that helps in removing dead skin cells. Its regular use also prevents cracked heels. You can also use it every day over your elbows and knees.
2. Nail brush
In this manicure equipment list, one of the most important pedicure and manicure tool is the Nail brush. It has soft bristles and it is responsible in removing all the dust particles in your hand and toenails. Hygiene is very important and so to completely clean off your dirty hands and feet make sure you use warm water to clean them with. Soak your feet and hands in the water before brushing. Then gently brush your nails in light stroke. Use mild soap if you wish to, or else by plain water you can scrub away dirt fixed inside the nails.
After use sterilize your brush to prevent it from catching bacteria.
3. Nail Clipper
A Nail clipper is a must have in any stash of manicure tools and equipment. It is used to clip away the length of the nail and give it a proper shape.
You should always soak your nails and wait for them to turn soft before clipping them. You can choose whichever size or type of nail clipper you want. It is also advised that you have a minimum of two. One smaller for the hands and a slightly bigger one for the feet since your toenails tend to be thick and hard, so it won't be clipped properly with a simple small clipper.
4. Nail File
Another Items in the pedicure tools and equipment list is a simple Nail File. A nail file is a simple tool used to grind down the rough edges of your freshly clipped nails and make them soft and even. There are so many different types of nail files available in the market one of the most common is a metal file with crisscross lines. Although this is great in doing it job it can be slightly rough for your nails. Instead, you can use an emery board file, it is soft and gentle on your nails. It won't break your nail or disturb the natural structure of your nail.
5. Cuticle Pushing Tool
For someone who is completely new to the world of pedicure and manicure tools, cuticles are the thin lining of skin present on the base of your fingernails. A cuticle pushing tool is used generally to push inside the thin lining and increase the area on the nail to apply polish. It is a naturally present lining to protect your fingers from any dirt getting stuck in the skin and causing infections, So we suggest to not clip away the cuticles just push them back.
You can use a simple metal, rubber or a wooden tool to do that. A cuticle pushing tools is really important in this list. Keep your hands soaked for a while before attempting to push your cuticles back. It will be easier as well as painless.
6. A Good Nail Buffer
A nail buffer is a life changing tool for someone who hasn't ever heard of it before. This manicure tool is actually used to even outlines on your nails and polish your nail surface. This imparts a sudden shine to your nail and makes them look super finished and glossy. A good nail buffer can be affordable bought and even though you may not regularly carry out the entire process of a manicure at home, you can always have time to use the buffer to make the nails look polished and shiny clean.
Make sure you do not over use the buffer since it can cause thinning of your nails and also be painful after a point.
7. A small tub
Well, we need something to immerse the hand and the feet in right? So, we suggest you buy a small tub in the size that fits your feet nicely and easily. This tub can be dedicatedly used for pedicures only. So you do not have to run around looking for a tub to carry out your pedicure. Also, you can buy a finger bowl in which you can immerse you, complete palm. You will need this manicure tool extensively. You can also buy a simple tub and bowl just make sure they are not very thin or made of plastic since the hot water can melt it. Use wooden, metal or fiber tubs.
8. Creams and other supplies
Well, this is actually a list of all the materials you will require other than the manicure tools list we already gave. You can customise these according to your needs and may not necessarily buy all of them. It is up to you what you like and what not.
Hydrogen Peroxide.
Sea salt / common salt
Foot scrubs or hand scrubs.
Soap for feet and hands
Towel
Cuticle Oil
Hand and feet creams
Top and Base coat of nail polish. Etc.
9. Nail Polish
Well, what manicure and pedicure is worth the effort if you don't have nails that look absolutely pretty in your favorite color? Well, the men may skip it but we women just absolutely love applying nail polish. And hence, one of the definite most important manicure tools is a nail polish.
A good manicure seems incomplete without a nail polish. You may apply just the shine coat but a single swipe of it makes your nails look really and completely different.
Do not forget to apply a base coat first and above that apply your favorite colour. The base coat protects your nail from staining. You can also add a top coat to make it long stay.
10. Toe separator
Another great one of the pedicure tools and equipment list is a toe separator. While applying nail colour on your fingernails can be easy, usually applying it on the toenails is quiet a task. Especially since you start applying to one end and the other most likely always ends up smudging. In such cases, a toe separator comes to your rescue. Put in on your feet and you can really relax while your nail colour dries out. This is great for someone who doesn't have help like friends around to apply nail colour. Also, they look super cute and make you feel completely pampered. Don't they?
11. Nail Art Tools
We also need a few tools if you want to have a different nail art on your newly polished and shiny nails. Here is a list of all the nail tools and how to use them to achieve the perfect nail art.
Dotting tool used for making dots.
Rhinestones to paste over the nail art
Stripping tapes are used to make clean lines over the nail
Cavier beads are used to decorate the nail art
Loose glitter
Stamps for taking an impression of a design and stamping them on your nail.
Thin brush for freestyle drawing.
Sponge for blending nail colours.
Remover wipes or liquid for removing any mistakes.
Other nail art brushes for drawing.
Nail Polish, well what can be done without them.
Why Should You Get A Manicure And Pedicure Done?
It is a perfect way to keep on removing the dead skin build up regularly. They can be really bad if not removed for a longer time. They remove callouses from your feet.
If you regularly groom your nails they have lesser chances of chipping the brittle nails and breaking.
It helps in relieving stress and strain from your feet and boosts the circulation of that area.
Regular Manicure and Pedicure will keep your hands and feet free from any fungal and bacterial infections.
Prevents early signs of aging and wrinkles on your hands and feet.
Just bookmark this page for the time you want to go out for buying all the pedicure supplies. We hope you have a great time indulging yourself in a little pampering of your own. Have we missed out anything? Let us know and we shall update this comprehensive Pedicure and Manicure tools list.