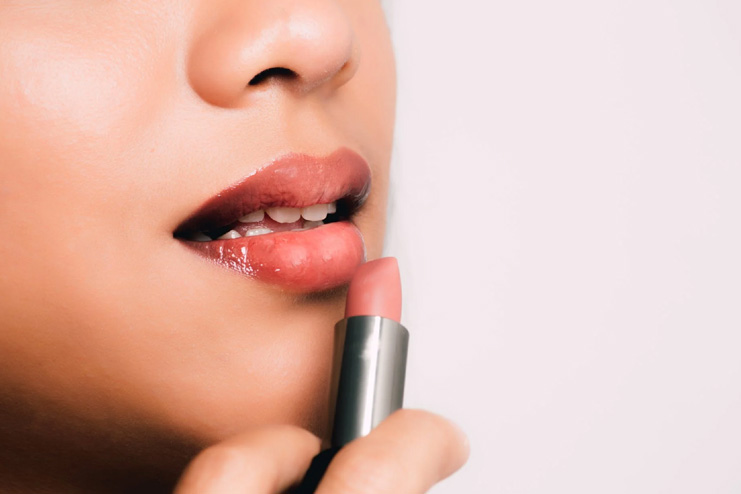 Makeup mistakes are clear but the solutions to set them until you learn the art. Lipstick bleeding and kajal smudging are slight and more and more. The angelic makeup is all with tricks and evil like makeup is just with wrong ways of doing the makeup. So, it's all about how you do it.
When you are rotating the lipstick around your lips, all you want is flawless flow. A little colour crossing the lip line makes your overall makeup look mistaken.
To ace the lipstick as you want, you must handle it well. This is a clear tutorial that shows how to avoid lipstick bleeding. By End of this article, you will realize that passion for makeup doesn't need super skills. You can also be your own makeup artist. Now learn to be!
What Is Lipstick Bleeding?
Lipstick bleeding is the product creasing out of the lip line. When the lipstick flows messing your lips it is a blunder that may repeat.
What Causes Lipstick Bleeding?
Look at the causes of lipstick bleeding and keep it as a reminder to avoid it. All the time you were wondering what was going wrong with your lipstick application. Now you will do it right and it will be alright!
Excess Lipstick
The excess lipstick runs out of the lips. For your lipstick to stay in the boundary you must apply it adequately. You must always keep it in mind is- less is more.
Wrong Consistency
The liquid-like consistency bleeds easily. You may not be able to control the lipstick to stay within for a longer time with a liquid consistency.
Bad Texture
Texture of the lipstick matters when we talk about not bleeding. If the lipstick is not well textured then it scatters and makes your lips messy.
Wrong Product
The product choice is crucial for makeup. The wrong product could be a cause for lipstick bleeding again and again. You must recheck the quality of the product.
Humidity
The high humidity can be a cause that melts your lipstick that is double coated over and over it. When your lips get sun kissed, it naturally causes lipstick bleeding.
Lip Skin Texture
If you are applying the lipstick over a dry or flaky coated lips then it may spread unevenly. For lipstick to go smoothly and perfectly, you must maintain the lip texture. You have the way to get a smooth skin texture. Go further and find it out!
How To Stop Lipstick Bleeding?
Giving no chance of lipstick bleeding counts as art makeup. It is not needed to be overly conscious to save your lipstick from bleeding. Also, don't do it vaguely as it can fade vaguely. Just keep a note of these tips to avoid lipstick bleeding.
1. Prep Your Lips

As we said before you must keep your lips healthy. Smooth lip texture without flaky skin can let your lipstick glide well. It is never right to apply lipstick on dry or dead skin.
Exfoliate, cleanse, and moisturize your lips. Don't over moisturize but apply lip oil or lip balm to prepare your lips for makeup.
2. Don't Coat Excessively

The excess amount of lipstick is nothing but just a culprit for lipstick bleeding. The overflowing lipstick comes out slowly. Lipstick overloaded lips may look bright and bold but it becomes a disaster within no time.
Instead of applying too many coats of the product, you can choose a bold colour. Anyways experimenting with the shades is far better than a blessing. Don't you think so?
3. Blot- It's a Finishing Touch

After applying the lipstick, you think you are done. But it is undone without blotting it. Blot and touch up with a blotting paper extra lipstick if any.
Keep the blotting papers handy on the makeup day. If there is any natural oil or moisture accumulated on your lips, the blotting paper absorbs it. This is why blotting papers are makeup must have.
4. Choose Right Lipstick

What all covers to be the right lipstick? A right lipstick has good texture and consistency. Though it is glossy, it must stay locked to lips without blessing.
The quality and the stay power of the lipstick is a must check before investing it. Take a review of which lipstick suits you. The texture, consistency, and your lip skin everything comes in a line for lipstick to not bleed.
5. Go For Smudge Proof Lipstick

Select a smudge proof lipstick to stay for long hours. Smudge proof lipstick would be formulated to last longer than normal. You anyway want your lipstick to stay longer on a special day. You can also choose a waterproof lipstick which stays up like your real lip colour all day.
6. Pick a Perfect Textured Product

If your lips are oily or get oily quickly then matte texture is the best for you. You better skip those buttery and creamy lipsticks. Creamy textured smooth lipsticks are for dry skin to avoid dryness. As your skin is already oil, matte is perfect to stay without blessing all day.
7. Don't Skip Lipliner

Why is lipliner this important for lip makeup? Many exclude lip liners as they don't understand the purpose of it. Lip liners give you the desired shape of lips. You can frame your lips well as you want using lip liner. Using lip liner is the best way to apply lipstick like a professional for beginners.
If you are not skilled to apply lipstick without bleeding, then you must not worry. Just apply the lipstick without exceeding the liner mark.
8. Lip Primer Is For Best

Do you use face primer for makeup? Let's hope you use a primer as base for your makeup. The same way, you need a vase for your lips. Applying lip primer to extend the staying power is the best idea.
Primer prevents lipstick bleeding. It just keeps your lip colour in place until you touch to remove it.
9. Switch To Other Lipstick

If you are doing it all right and still lipstick is bleeding, then could be your lipstick problem. Just ditch it and replace it with a good lipstick. Something that is spoiling your whole thing is better not to be part of.
10. Blend The Lipstick With Brush or Finger

The secret that we missed to notice from the makeup artists coat the lipstick- they blend it with a finger or brush instead of the stick.
It is a simpler task to blend the lipstick with a finger tip or a brush. If you can't handle the brush then try to work on it with your finger. Spread it evenly and set it not to bleed.
11. Avoid Using Expired Lipsticks

Expired makeup products not only result in skin infections and allergies but also don't stay as true as new ones. Colour transfers when you expect it to stick well.
When the makeup products go expired, the quality reduces. Staying power wouldn't be the same. So, have a check on your lipstick expiry date and then use it.
12. Don't Eat Soon After Lipstick

Soon after layering the lip shades, don't go to eat. Give some gap for the lipstick to settle on your lips. Even if you are eating after a while, eat consciously.
Oily foods may cause your lipstick bleeding. You need not be too conscious of your lipstick colour transfer and bleeding if it is a smudgeproof and waterproof one.
13. Follow The Steps

Follow all the steps while applying the lipstick. The tips to avoid work effectively if you can follow the instructions of coating the product without faults. Faults are still okay if you know the tricks to correct it.
How To Apply Lipstick Without Bleeding?
Knowing the tips to avoid lipstick bleeding is useful for you if you also like the steps to apply it. Following it step by step is a secret more than an art.
1. Firstly cleanse and prep your lips before lipstick gets on
2. Apply lip primer and spread over the lips.
3. Draw the outline for lips with a lip liner.
4. Coat concealer if you want to hide the imperfections
5. Apply lipstick and spread it evenly.
6. Blot your lips multiple times.
You will love your lipstick for staying in your control. It doesn't bleed anymore as you are doing the way it is to be done. Also, you realized that you need not be super skilled to apply lipstick perfectly.