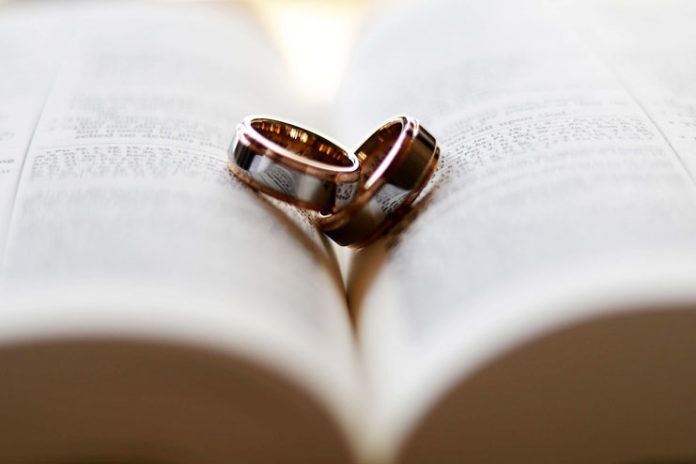 With the wedding season in full swing right now, one of the most important things that every couple needs to finalize before the big day are their wedding rings. And while the Solitaire princess cut ring, and the couple bands have been too popular for very long, you want actually consider buying them after looking at these amazingly innovative, different types of wedding rings designs for your coming wedding. A ring is one of the most important bridal jewellery that you buy, after all, who doesn't like the surprised faces of people after looking at your completely any ring.
Well, Choose one of these unique ring designs and enjoy the amazing reactions from all your friends and family.
1. Rings engraved inside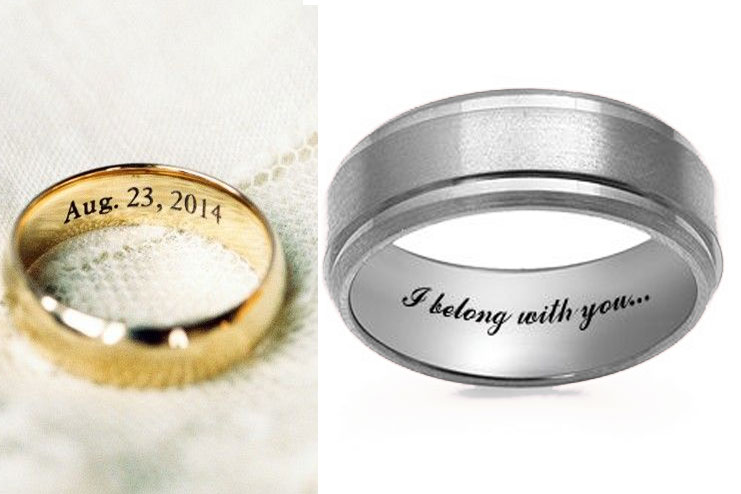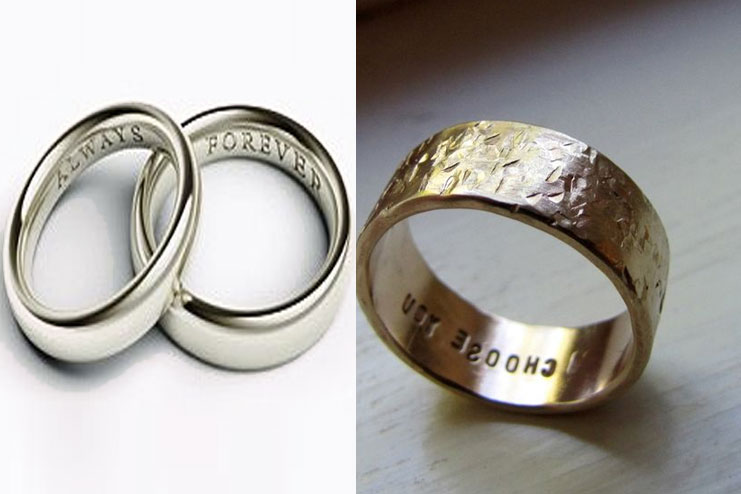 Well, engraving wedding rings is not something new. People have been doing it for quite some time now, but what is more innovative about this ring is that you can engrave a small message, a quote or something that you mean to say to your wife/ husband on the inside of this ring.  It is a secret message that only your wife will know and from the outside, it will look like a simple wedding ring design.  The beauty of this engraved ring is that whenever you take off a ring it will put a smile on your face.
2. A Quote ring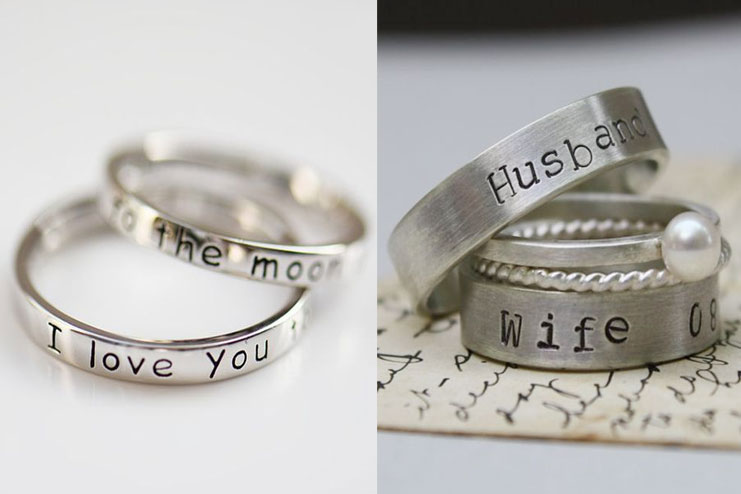 This is another type of ring engraving, but this is a slight twist to it. The engraving if something really fun like a quote.  you can also break that quote into two parts and have each ring have half of it.  You can also write something really simple, like husband and wife or even your names.  It will look really customised and pretty. Some people also put the Crown of a king and queen over it we think it is completely adorable and definitely suggest you get your bands engraved like this. It is so much better than having a simple Platinum band.
3. Embossing rings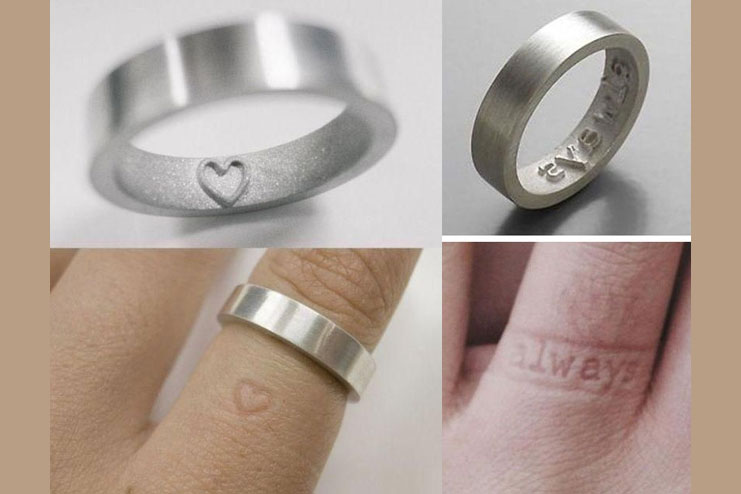 We absolutely love this couple wedding rings designs, It is minimalistic sophisticated and yet has a really cute lover charm to it. These rings have a cute design like a heart, Infinity sign or even your wedding date embossed on the inner side of this ring. When you continually wear this ring it leaves an impression on your wedding finger. So even after removing the ring, you can still see the impression of the sign that you have put. It seems like such a great idea. It will be a constant reminder of your partner even when you are not wearing the ring. will love it and really recommend getting a wedding ring designed like this.
4. Fingerprint rings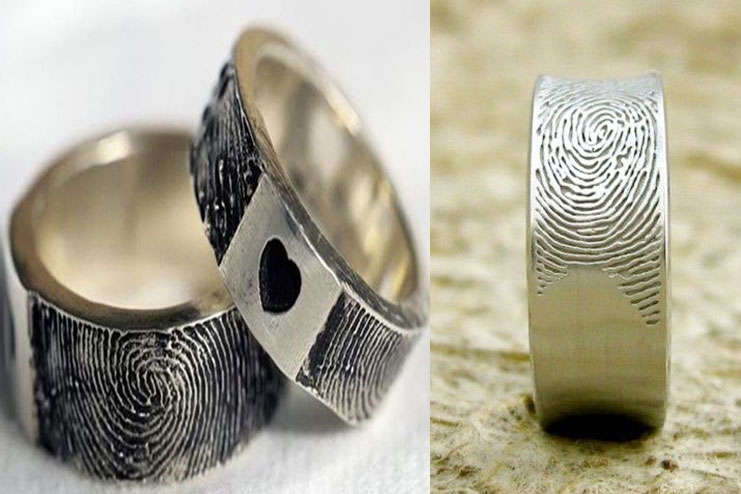 This is one really fun and quirky wedding ring design. Of all the different types of wedding rings designs, this one stands definitely is one of the most closely customised wedding ring. This ring has The fingerprints of both couples on each others wedding rings. we absolutely love this idea. It can be a great way to have a unique part of him with you throughout the day.
5. The projector ring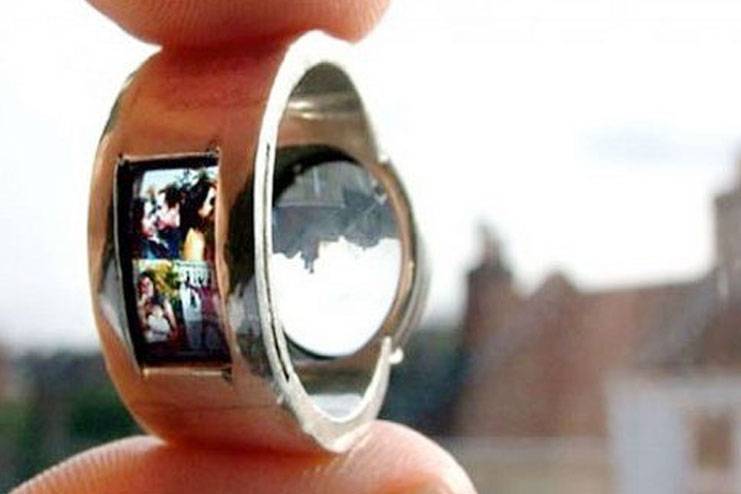 Yes, you read it right, a projector ring. A groom to be went one step ahead in getting one of the most innovative wedding ring design ideas into a reality. he closely worked with the Jewellery designer and got himself a ring that project his favourite picture of the couple. The ring have a lens on one side and on the other a thin film of favourite picture. When you pass the light to the lens the picture is projected on the screen. what could be better you can even change the picture do whatever you like. This is definitely the most coolest wedding ring we have ever come across.  while it may not be available in the market as easily, but you may get it made if really want to surprise your bride/ groom.
6. The Crown rings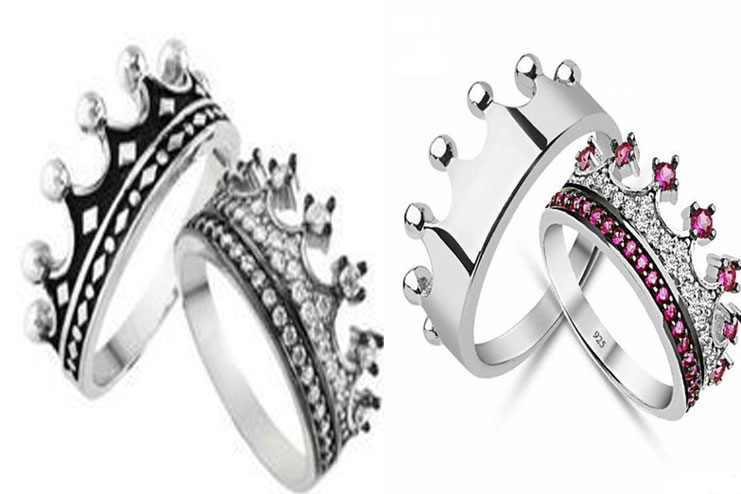 Well, you have finally found your Prince, Right? then why not get a crown for him and for you as well. These Crown couple wedding rings designs are definitely eye catchy and innovative.  You can go for the more simpler and single is a metal crown for the guy, where is a girl can have Pretty Little gems like Rubies or diamond encrusted on her Queen crown. This is a perfect wedding ring idea for couples who want to treat themselves royally for the wedding. What more it even looks really beautiful. we suggest you definitely use these crown rings as you are design for the wedding rings.
7. The Infinity bands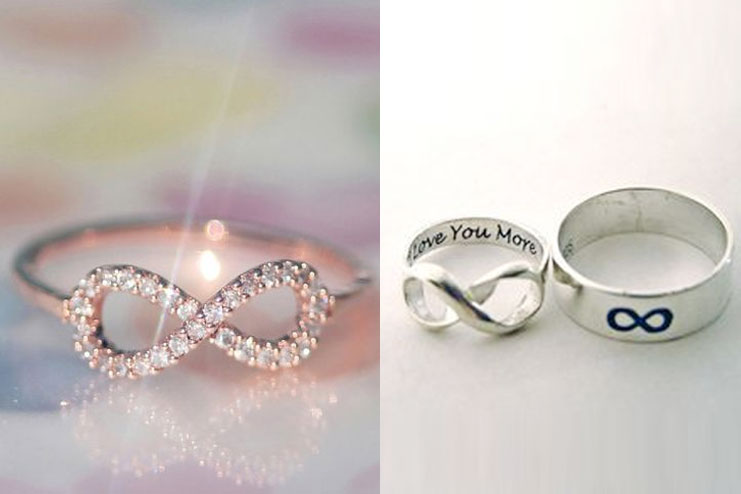 These are not the typical Infinity band that you find in every other wedding ring shop. These are actually like rings with the sign of infinity made out in metal. The groom can have a simple band with an engraved Infinity sign over it or he can also have it embossed beneath the surface. For the bride, it can be more embellished with Diamonds or any other gemstones that you love. The eternal love that you both share can be put into your wedding rings with the sign of infinity that shows the bounds and leaves of your love. We hope that you continue to feel infinite love for your partner with these pretty Infinity bands.
8. The complementing rings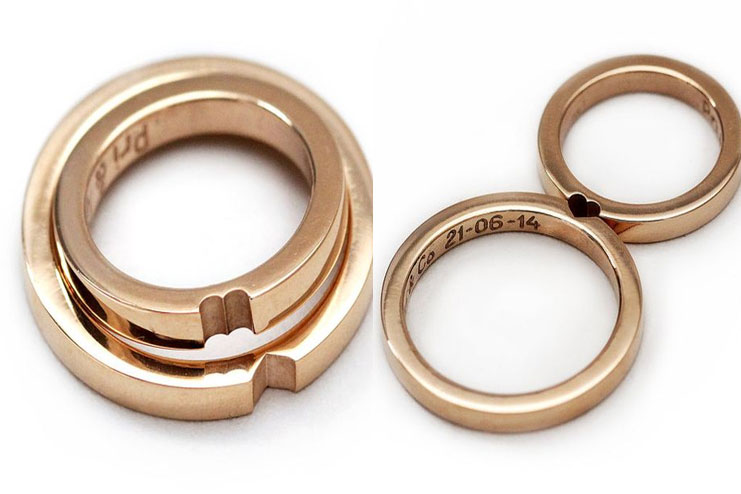 If you look at the Rings at first they seem like any normal wedding ring with a defect or chip on the side, but wait, if you look closely Enough you realize that is not the truth. These lovely complimenting wedding rings together join to make a figure, in this case, I heart. You can have it customize to make a shape of your own. Some of the most common ones are a piece of a Jigsaw puzzle, Infinity sign, a crown and even an arrow. This can be the perfect couple wedding rings designs for your pre wedding shoot pictures, Since when you hold hands it completes your heart. It is really adorable and a perfect sign of celebrating your love. Definitely one of the most innovative wedding ring ideas.
9. The Braille ring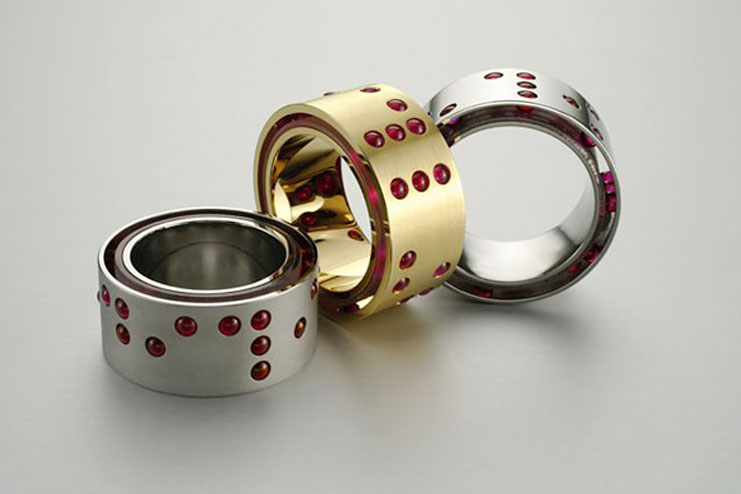 Love  knows no boundaries, for someone who truly loves his partner  nothing should matter but the beautiful love that you share for each other. This ring is one of the most romantic wedding rings ever.  It has " I love you"  written in Braille. If your partner is visually impaired, the moment you give him this ring he will be absolutely delighted.  Even 4 people who are not very open about expressing their feelings but still want to show it to their partner every single day this ring can be a great choice. You know what the Braille on your ring says, not everybody needs to know, just the both of you.
10. The nut and bolt Rings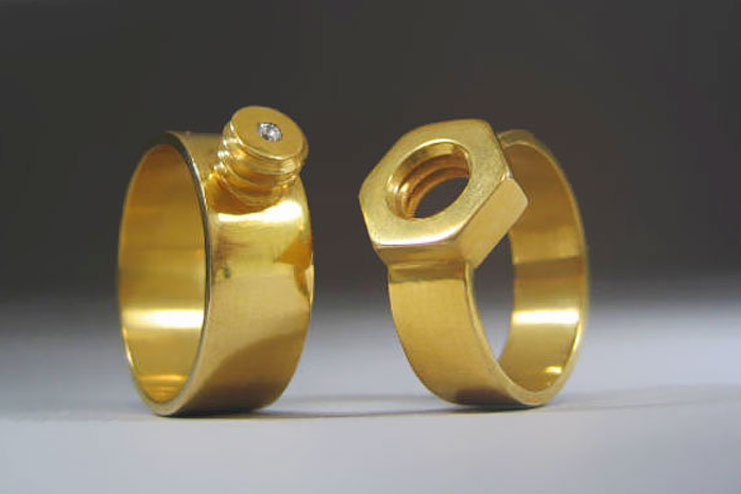 For a couple who doesn't mind a little bit of humour on their wedding day this ring can be just perfect. When you are ring bearer presents  this hilarious wedding ring, it can absolutely crack anybody up. We definitely don't suggest that you use them as you are only wedding rings, but it could be a fun idea for a nice promise ring. Well in the end it shows connect and how you complete each other, At least that thought we love.
11. The Interlocking rings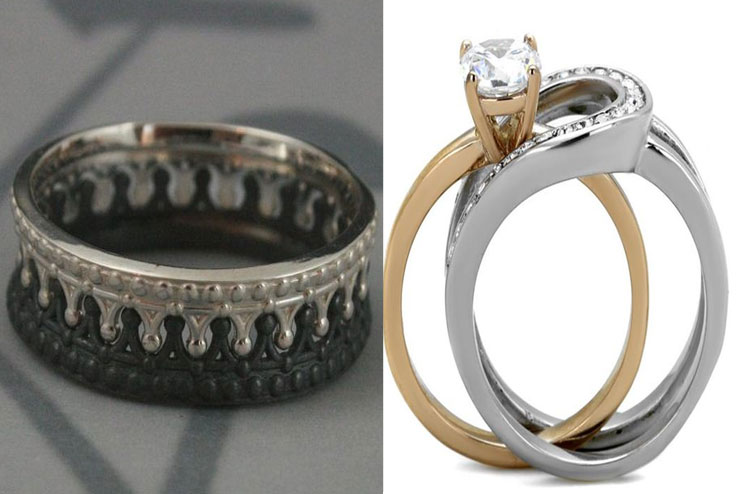 An extension to the complimenting ring design, this is another really innovative ring design for the couple who want to have a unique wedding ring.  You could have it in the Crown design in which both the grounds come together to form a single Monolithic piece.  There are many more other designs like the sliding away rings, the merging together interlocking rings or even a Jigsaw puzzle interlocking rings. The options are infinite and this can be a great conversation starter.
12. The sound of love rings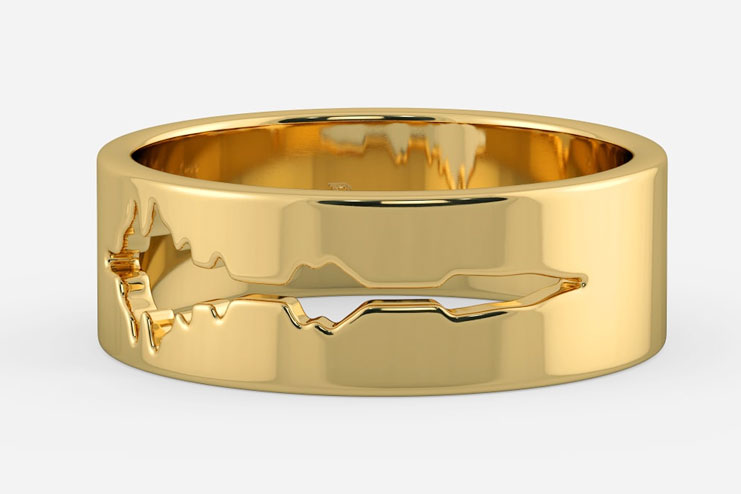 When we came across this ring we were completely floored with the amazing idea. This ring is a simple band of precious metal with the sound wave  pattern of your partner's voice saying "I love you". it is so romantic that we suggest you get one even if you are married. You can have any message of your own recorded with the sound waves graph and have it made into the sound of love rings from your jeweller.  It is like having a secret message encrypted on your wedding ring that not everybody knows of. It is a brilliant idea and we are completely sold on it.
13. The secret Message ring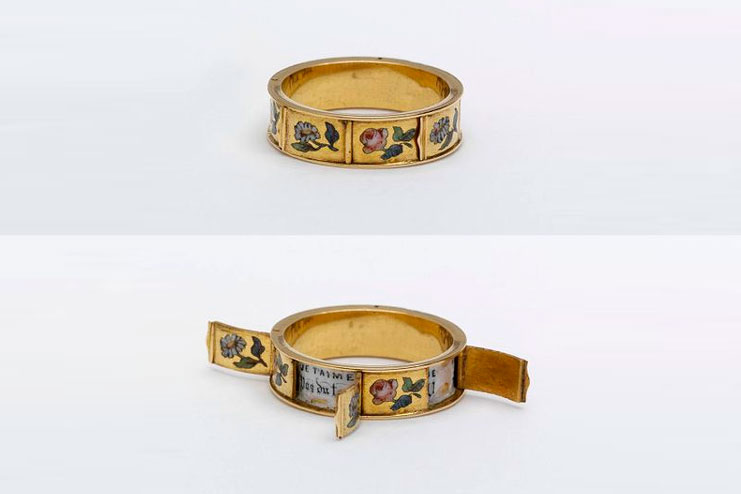 A ring that open up to show a  love message, now who doesn't like that Idea?  you can have a beautiful Meenakari ring like this with simple brackets that open up to reveal I love message written inside in enamel.  The enamel makes it waterproof and the bracket close to keep it secret. One of the most innovative rings, these can be amazing couples wedding rings designs that will garner so much of attention at your wedding.  we need not tell you what the message could be, but something really meaningful like the" my precious.."  line from Lord of the Rings could be simply mind blowing.
Choose your wedding ring design from our list of innovative wedding ring designs and definitely get a lot of Amazing reactions throughout your life. You can choose a design and get it made in your favourite metal and size. We hope that you enjoyed going through this list as much as we loved putting it together. If there are any more innovative designs you think we missed out let us know we will be thrilled to know more of such unique wedding ring designs. Good on choosing the right one.