Women need unlimited time and unlimited options to finalize an outfit for a wedding. It takes many things to appear in a wedding even as a guest. The outfit must be good looking, traditional and dignified. We have various ideas of outfits which covers all your requirements for a wedding.
The wedding party should be a fun to go on but not a puzzle to be stuck. We want to give you some interesting and unique ideas. So that you can enjoy yourself and make the wedding floor enthusiastic.
A trending outfit is of many attires together. A top can make the complete outfit dashing, the same way a bottom has the power of ruling the complete outfit look and a dupatta can change the style of the outfit on whole. Hence, here we are classifying the various outfits with tops, bottoms, and dupattas.
Tops for Wedding:
Many varieties of tops can be paired up with ethnic bottoms. The pairing of both tops and bottoms must be the best. That is how complete outfit gets wonderful gaze. Any mismatch of the tops and bottoms will be the miss of the whole look. So suggest selecting a right top and bottom along with it.
Collar Neck Tops and blouses: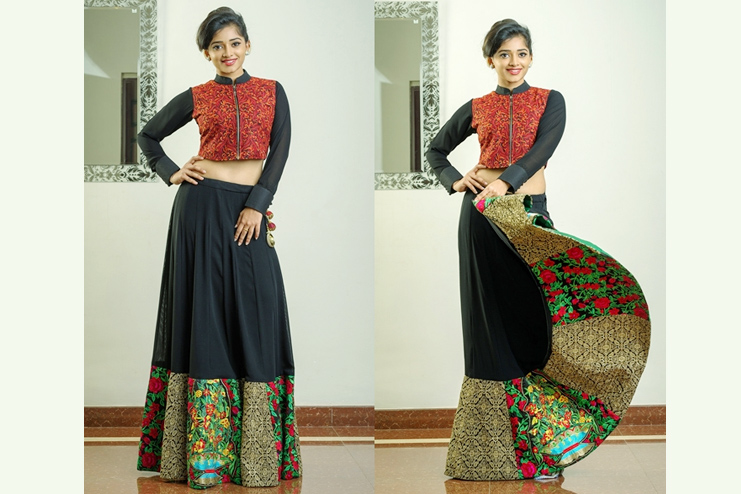 Collar neck designs are the most preferred style of tops. They can be happily paired up with various kind of bottoms. Collar necks also got wide kinds like Chinese collar neck, back pen collar neck, butterfly style collar, and many others. Following are the collar neck tops and blouses with apt bottoms. You can wear any of the collar neck tops and rock the wedding floor with your grace.
Capes As tops: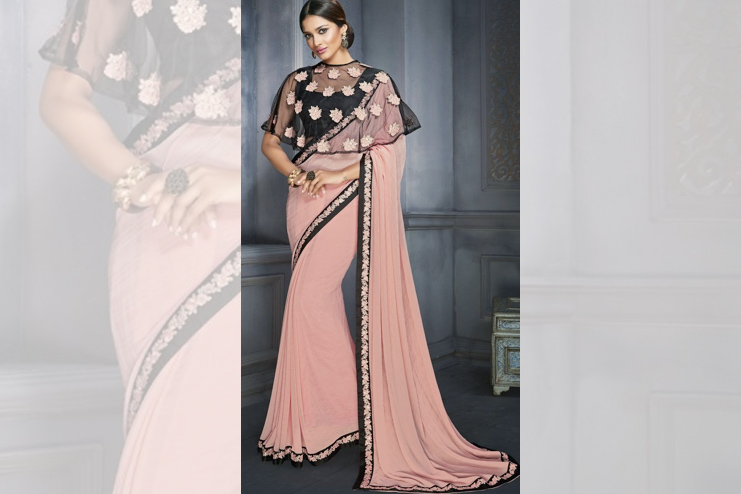 Capes are helping casual outfits to turn stylish. Capes are taking all the outfits to next level by giving a unique look. Sheer capes, netted capes are the most preferred. Capes with a slit are also cool to wear on any bottom. A simple light weighted beautiful fabric can change the entire look of an outfit, that is only possible for a cape.
Crop Tops: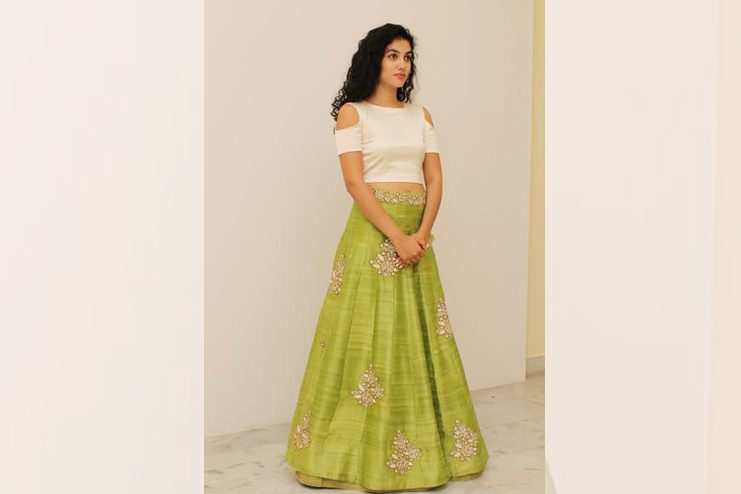 Crops tops started to be a part of ethnic wear for many days. They were initially paired with lehengas but now crop tops can be paired with salwar pants, cigarette pants as well. Anyways crops tops work best with lehenga. A plain crop top with embellished lehenga is a classic combo, like in the below image.
Peplum Tops: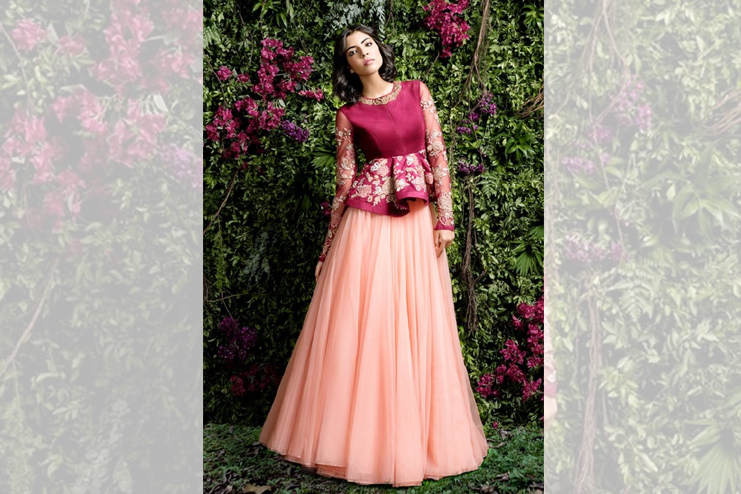 Peplum tops can be worn on sarees, palazzo or skirts. The lovely peplum top grabs all the attention and makes you the center of attraction. Peplum top has a lovely variation with raffles at the bottom of the top. So it a light embroidered or embellished top with a plain bottom gives you a fabulous look. In the below image, it is full sleeve peplum tops with a plain peach skirt.
Bottoms For Wedding:
Every outfit has it won beauty nut the beauty lies in the choice. Dhoti pants, palazzos, lehengas and cigarette pants can be paired up with various tops. All these bottoms are trending as Indian tradition and well suitable to wear for a wedding.
Dhoti Pants: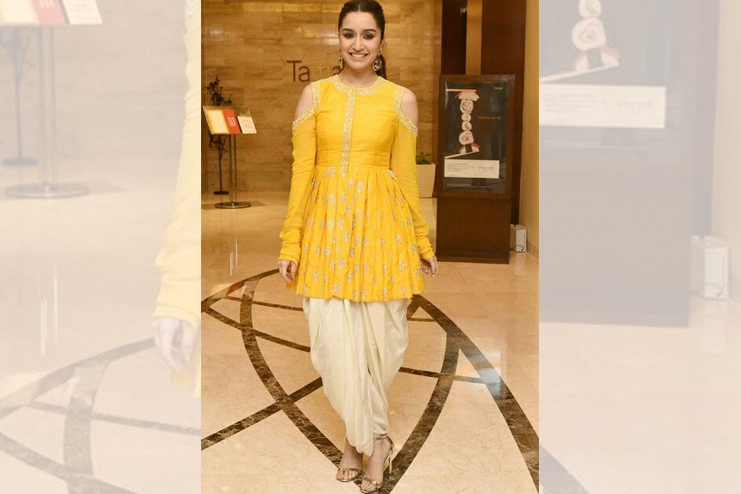 Dhoti pants are the symbol of Indian tradition. They are no more for men now. Women are wearing dhoti pants better. They can be worn with any kind of tops with ethnic designs. It can be called the most comfortable outfit and fashionable at the same time.
Cigarette pants: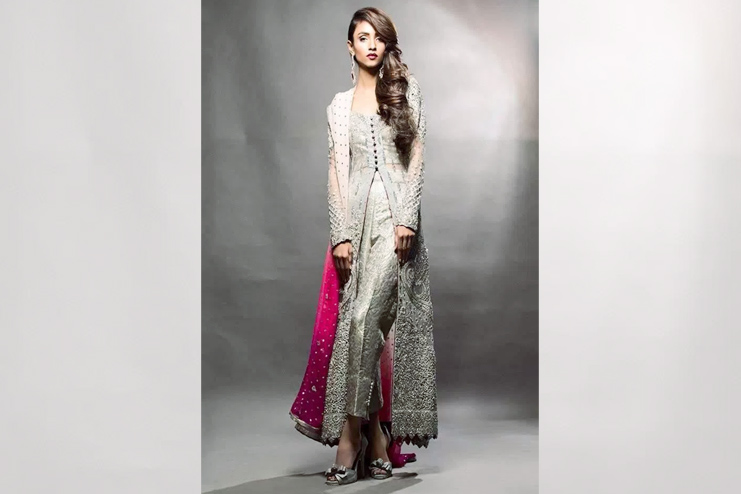 Cigarette pants are coolest bottoms. These can also be designed at the bottom with traditional designs and they give a complete ethnic look. The way they stick to your legs is cool and it is one of the stylish bottoms to wear for a wedding. You can pair up cigarette pants with slit kurta, peplum tops. Making right combo is important for cigarette pants. As in the below image, the cropped cigarette pant with slit kurta is wonderful and women look stunning.
Palazzo Pants: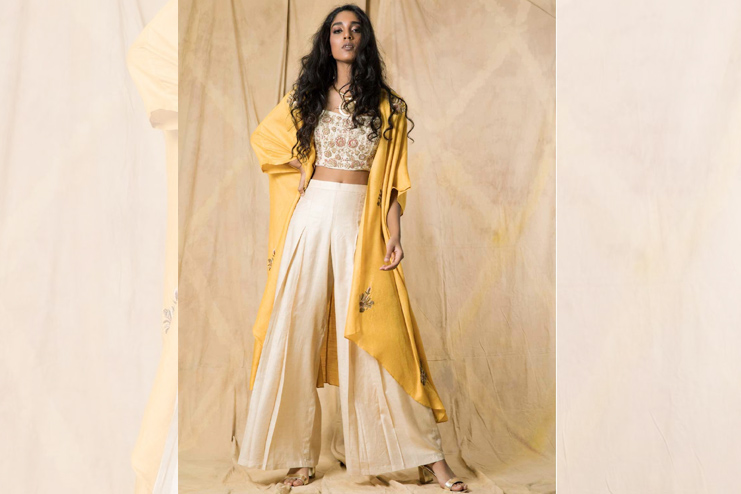 Palazzo pants are the most preferred bottoms these days. The printed, less embroidered palazzos are the doing best even for party and wedding wear. Palazzos are worn on crop tops and kurtas. Much paired up with a kurta. In the below image, you can find a palazzo with a crop top and look how stunning the lady appears.
Lehenga: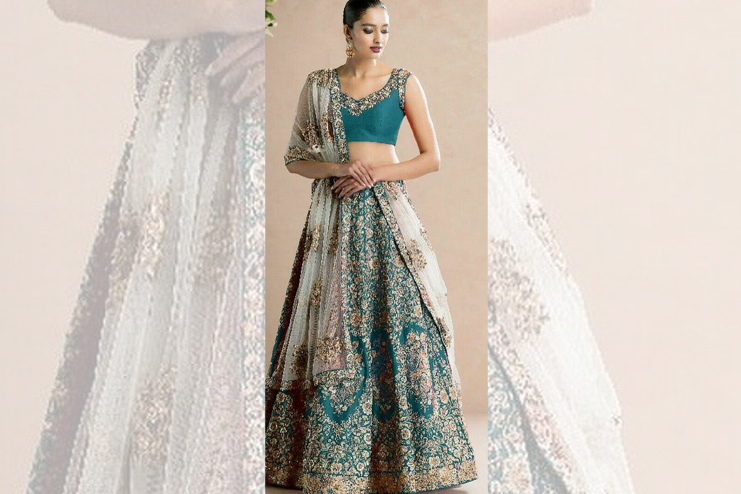 Lehengas are the most preferred for weddings. They taking place in every grand event and keep trending with various designs. Lehengas were known to wear with choli but now lehengas are pairing with Anarkali tops, crop tops, off shoulder tops. You can also try a fishtail lehenga. Actually, you can look sparkling wearing a lehenga and get compliments now & then. The main asset for a lehenga is dupatta and the way drape your dupatta will give you much variety of looks.
Dupatta:
Dupatta has a good preference just like the rest of the outfit. Few a time, women are extremely choosy about the dupatta. Women also pick up an outfit just for a beautiful complimentary dupatta. Not only a beautiful dupatta but it should be put in a beautiful way. Dupatta can be worn in different styles. Dupatta can be worn simply on the shoulder side or casual open style. But here now we want to give you some different wearing styles of dupatta.
1. Tie Up with a waist belt: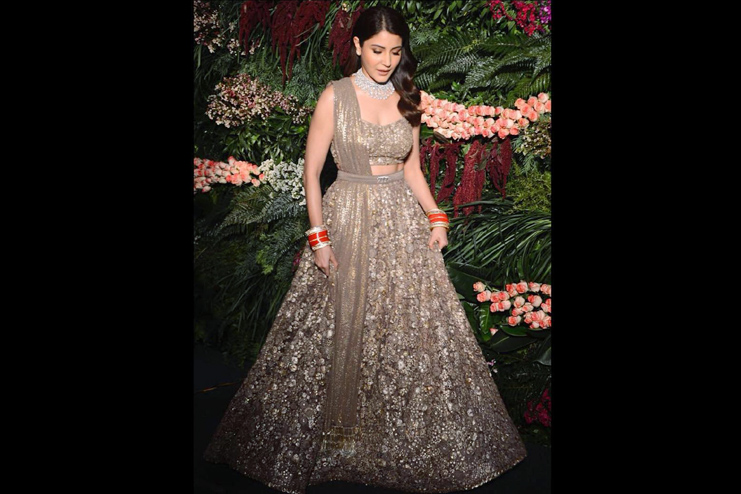 The look of outfit changes pretty wearing dupatta this way. It is an Indian tradition to wear waist belt but with a simple fancy belt looks simply lovely. It makes heads turn with this draping style of dupatta. If you love to try something easy and want to look fashionable then you can go with this style. When you wear the dupatta this way, you need not to worry about outfit's embellishments will be hidden, it perfectly shows off the beauty of outfit. This is much suitable for lehengas. Better if you can secure it with safety pins to keep it as is.
2. Pallu Style Draping: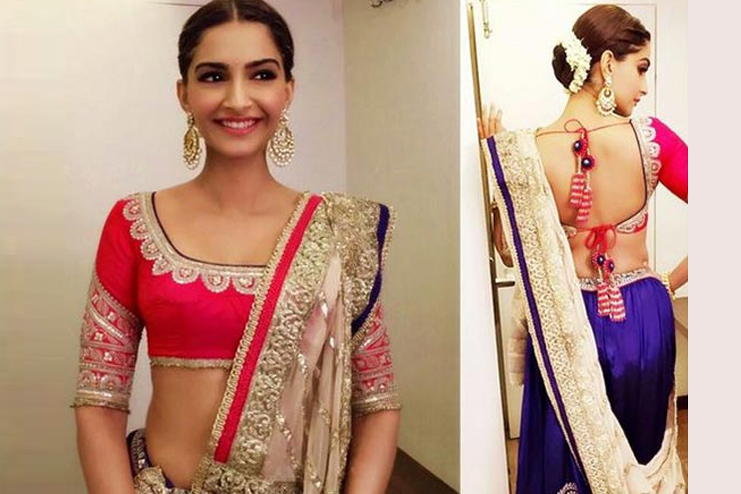 This is only possible with lehengas. If you want to try something different this time with your dupatta, then you have to try this style of wearing. It simple to do and carry as well. Tuck dupatta on one side of lehenga and wrap it around your body, then let it flow back. You can just secure the dupatta with safety pins, for dupatta to stay as draping.
3. Wrist and shoulder Drape: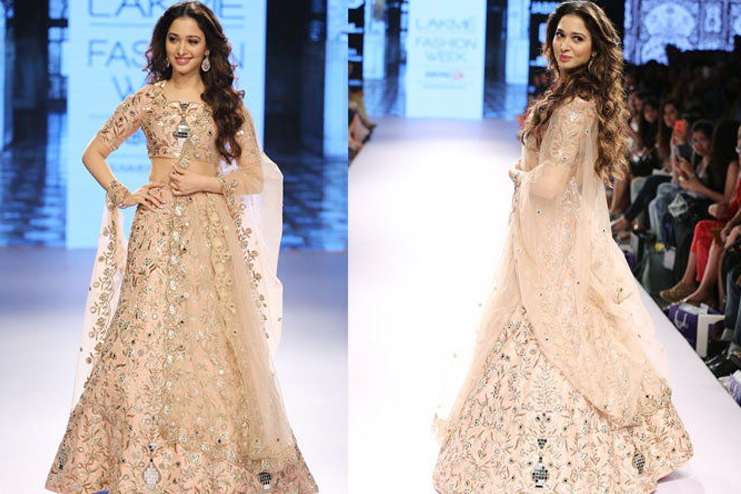 If you are bored with the routine style of dupatta wearing, then you can just come on to this idea. This is a brilliant style of draping a dupatta. You will love your outfit even more. No decoration of your outfit will be covered. It is also comfortable and won't stop you to flaunt your way on wedding floors. In the below image, you can check how a dupatta can be worn from wrist to shoulder.
4. Let dupatta flow around arms: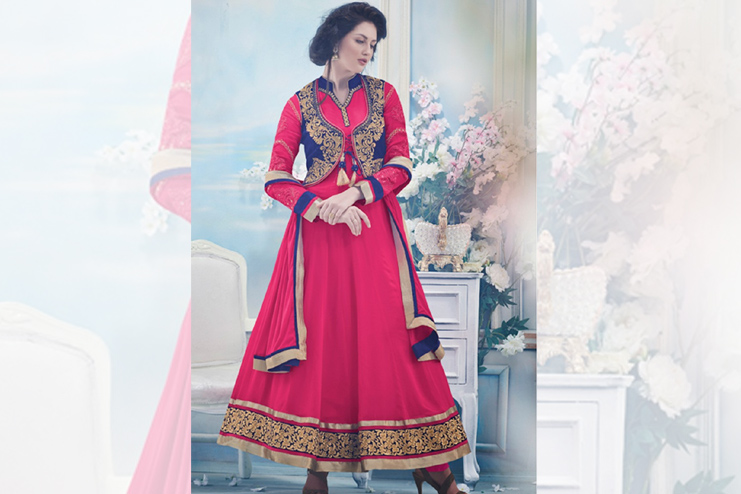 This is a common style but very much suitable for floor-length outfits. It will let your outfit design show up and very comfortable style to wear on a kurta, floor-length outfits and lehengas if you want to.
5. Punjabi Style Draping: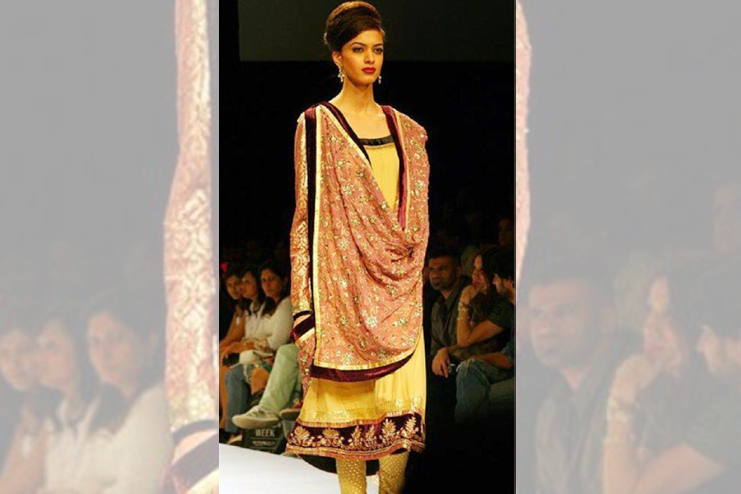 It is worn like a stole but with the whole neck and bosom portion of yours covered with the dupatta. You can opt this idea of draping a dupatta for your kurta. It is worn in stole style and covers your neck & bosom portion of yours with dupatta. It can be carried and move around easily. In the below image you can have a look, how the draping style made look even a casual outfit special and unique.
6. V-shaped Dupatta Draping: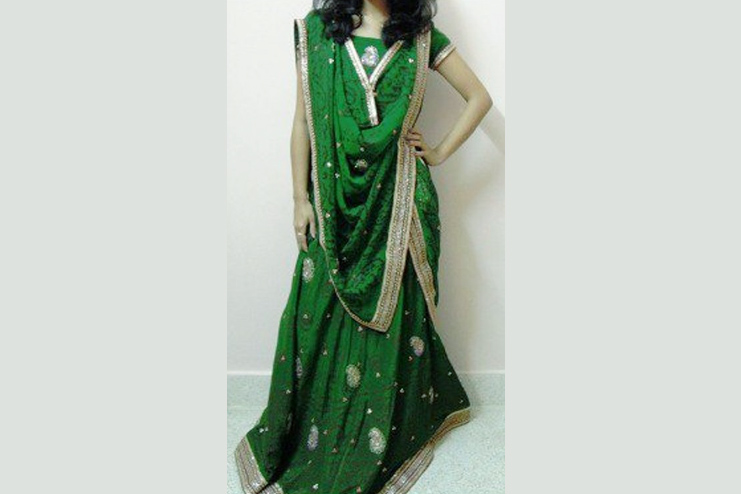 V-shape style comes by pinning the dupatta on the shoulder and it is another idea which ladies love to go with. You will love to give your sarees this kind of draping or lehengas too. It is a brilliant idea of draping dupatta in V-shape over lehengas and sarees. You can drape a heavily designed dupatta in this style and show off the beauty of the outfit.
7. Dupatta as Neck Choker: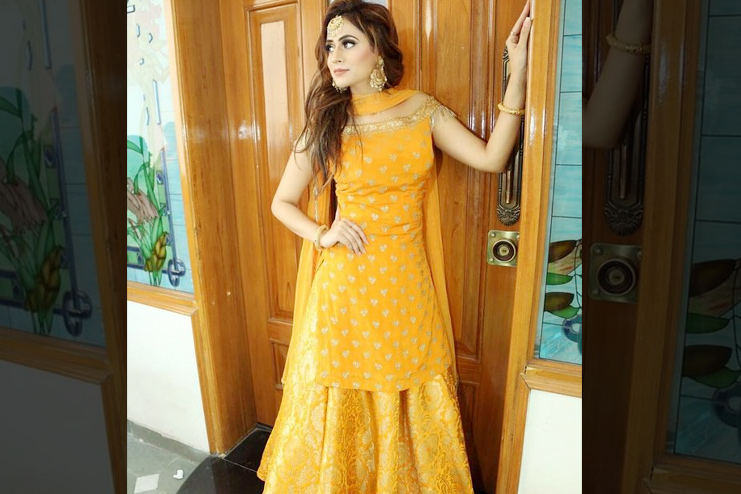 Few dupattas are well designed and look amazing than the rest of the outfit. You can really make the best use of such heavily embellished dupattas. You can drape around your neck or just leave to the neck simply. You can just hang the heavy juhmkas without any neck piece and your dupatt6a will be the best neck piece of the day.
When it comes to fashion, the sky is the limit. You can blend, twist and make the best of your outfits. Hope we gave you a lead to keep your fashion goals up. The most important thing before fashion is traditions. Hence, we never take a back step at promoting traditions and fashion attached to it. Pick any of the ideas and rock the wedding floor to the best. Cheers!!