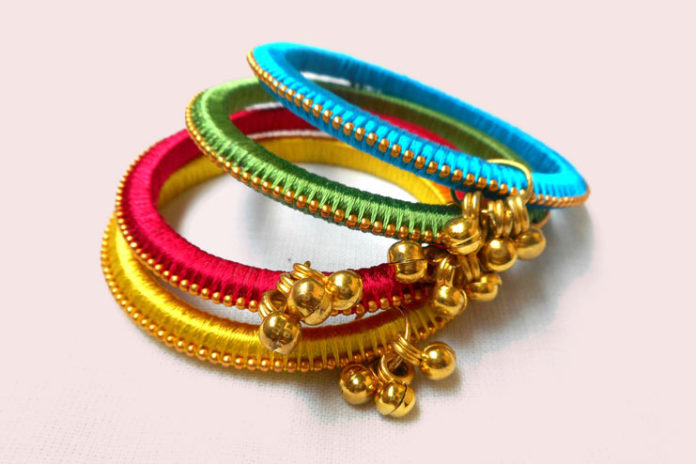 One of the most Beautiful ornaments a women wears is a bangle. It gives her the elegance and poise to go about with almost any piece of garment. Be it glass bangles, metal bangles or the latest trending silk bangles, It will only add to the delicate charm of a nice outfit.
These silk bangles are made up of thin silk threads wound on a bangle brace and it is further decorated with rhinestones, pearls, and Swarovski diamonds studs. The silk bangles have been around for ages now but the trend seems to have caught up again. With beautiful ghungroos, pearls etc. being attached to a vibrant silk thread it has complemented the two elements together, in an even better fashion.
Do It Yourself (DIY) Silk Thread Bangles
1. A few Bangles rings.
2. Silk Threads in different colours.
3. Fabric glue.
4. Pearl strip or rhinestones to decorate.
Here is a simple tutorial for silk thread bangles at home. It is a simple project with basic supplies and takes little time.
1. Clean and sand the bangle ring for any deformity in the bangle. This will also help the thread to be glue nicely.
2. Take the bangle ring and choose any colour silk thread of your choice. Now, tie the thread to the bangle ring in a tight knot.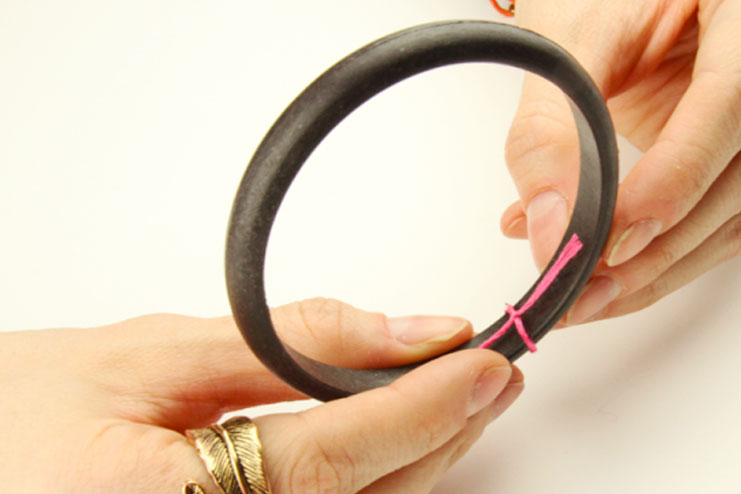 3. Now Hold that hold with a finger and start winding the silk thread around the Bangle ring uniformly. For making it easy you may take multiple threads together to form a broader strand. This will help cover the bangle over fast.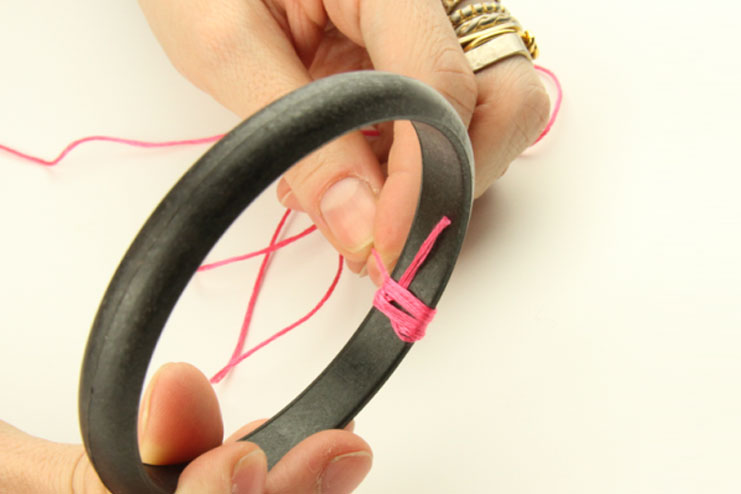 4. Now complete this winding till the entire bangle ring is covered in silk thread and you can no more see the ring.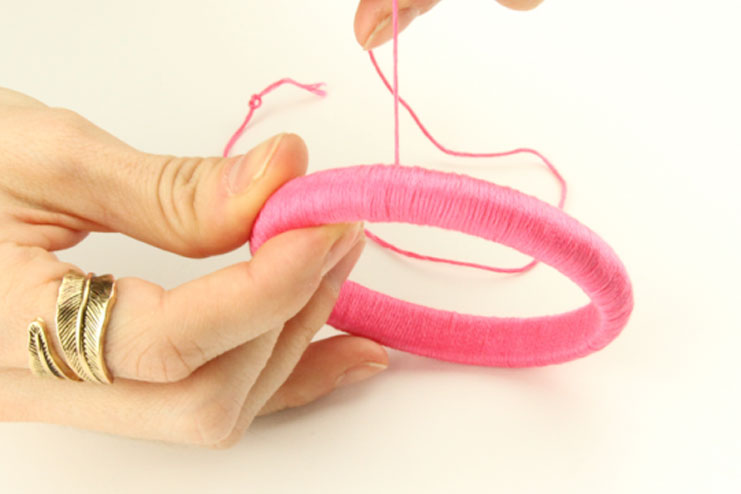 5. After completing above step tie it with another knot to firmly secure the threads together. It should not be loose as it can slip away. Now, Take a little bit of Glue and apply over the knot and press it till the threads are secure.
6. Now the bangle base is ready. You may also use this as a simple one coloured bangle or further decorate it. To decorate put a strip of pearls over it and paste with glue.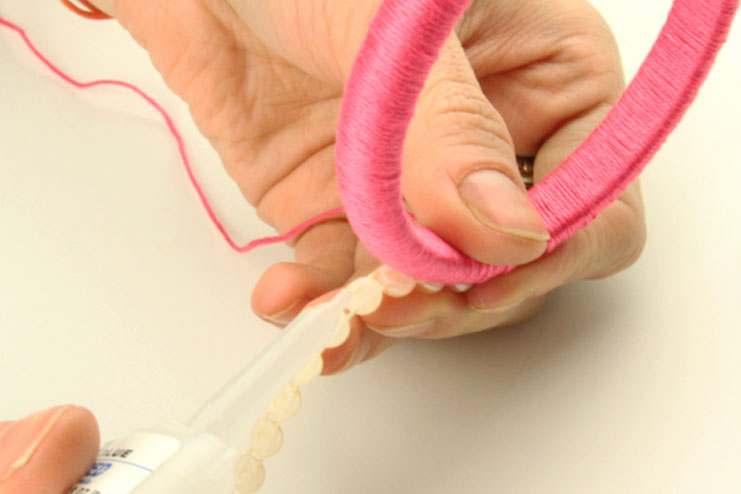 7. Wind another thread over this strip in a fashion that the link between two pearls gets hidden and the pearl is visible. This step will make the bangle more finished and fine. And Voila! Your bangle is ready.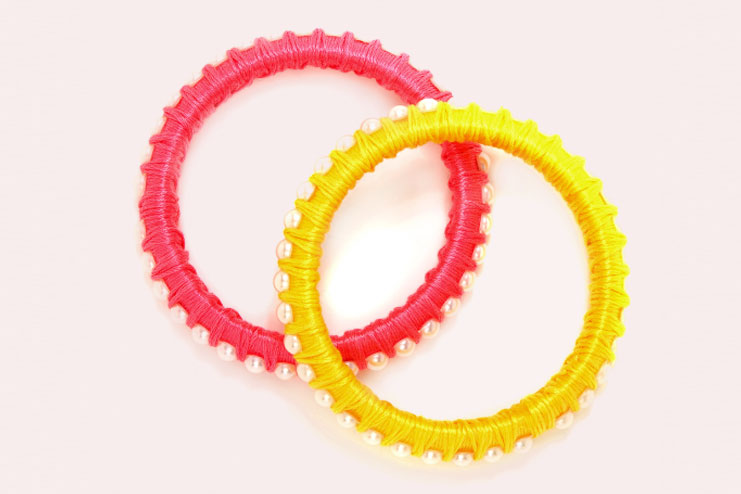 Tips-
To further decorate the bangle you may put different coloured rhinestones and gold stud's to decorate. This will give it more traditional looks.
You may also choose to use multiple coloured threads in one bangle make a pattern. This does not require embellishments to decorate.
These bangles should not be washed or soaked in water. To care for them always remove before sleeping or working.
These bangles can also be attached tassels below for a more kitsch look.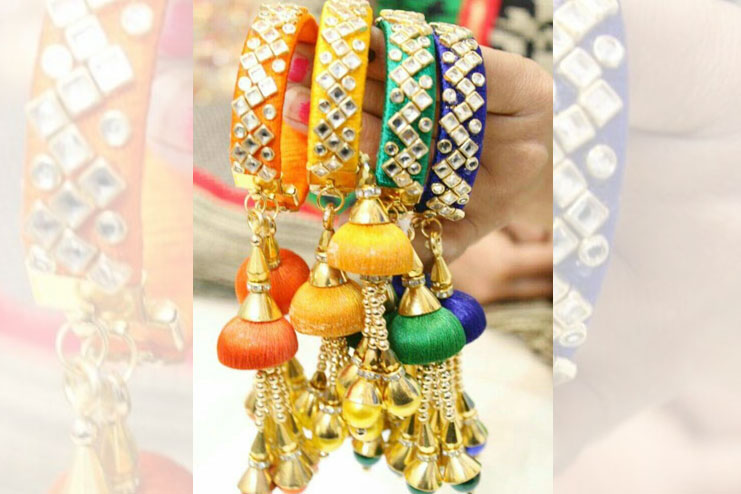 With almost any colour thread available for this projects you can have multiple bangles for all those lovely sarees and Anarkalis you are planning to wear. These silk bangles are a great gift for friends and family and will serve as a perfect party favor at Mehendi parties to all your bridesmaids, Moreover, you've made them yourself so it would mean even more. So what are you waiting for? Start making these right away and stack up these beautiful thread bangles to become the trendsetter in the coming wedding season.
kalyani