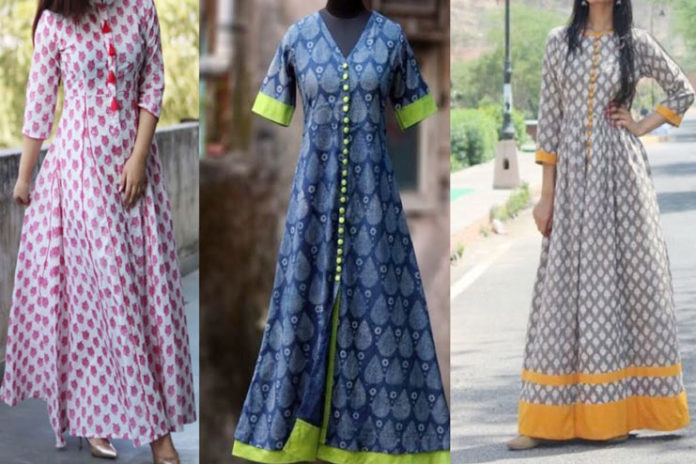 Every time we buy a beautiful fabric and head over to the tailor the biggest looming question in your head is the Neck Pattern to put. It won't help when the boutique shows you catalogs from 2 years ago with dull designs and styles. You do not want to make a bad decision out of desperation as you love the fabric but where do you look for designs then?
Worry not ladies, We have you covered here. Here is a list of all the latest trending churidar and Anarkali suit neck designs to go with all fabrics and patterns. New designs that will leave you inspired and give you exactly the satisfaction you need.
Neck Designs for Salwar Kurti and Churidar Suit
1. Closed Neck Collar-
This pattern of a neck is great for office wear or formal clothing that you want o look sophisticated and classy. It can be varied according to the fabric prints, colour and thickness. Here are a few examples of this pattern,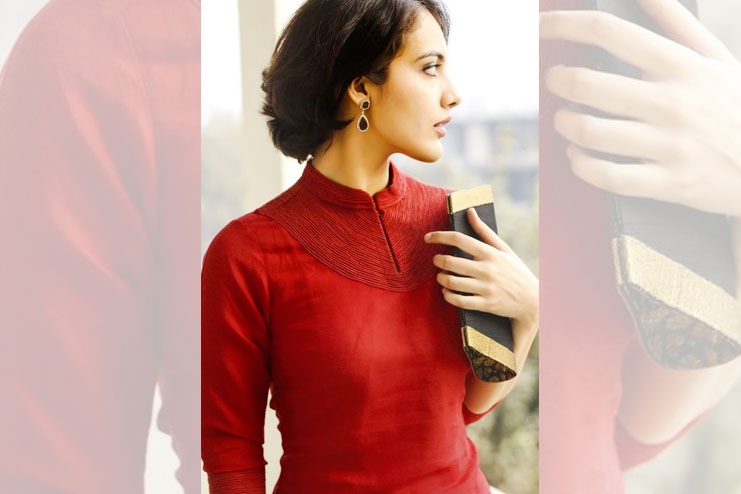 This will look good with solid colours and little embellishments around the neck will flatter a long neck.
Also Read: Gorgeous Boat Neck Blouse Designs For All Occasions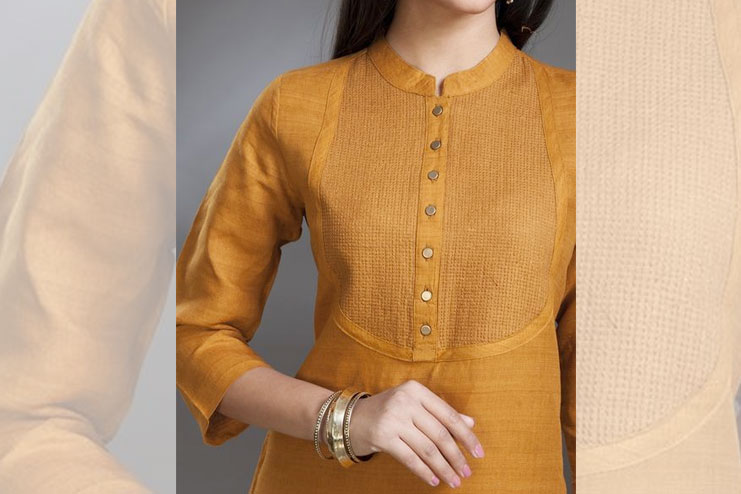 A typical office wears it can be used for linen and cotton fabric. Smaller prints and solids will look good in this pattern.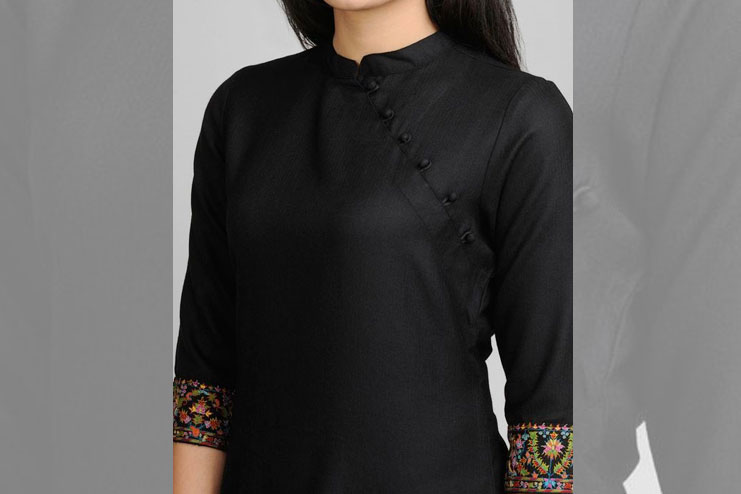 Another trendy way to jazz up a simple neck pattern is doing asymmetrical. It will add an extra element of a trend to it.
Add these layers around the neck in contrasting fabric to add depth.
2. Boat Neck-
When in doubt go for a Boat Neck. This design looks so versatile. It can be trendy yet subtle. Classy yet simple. It can be done on bold prints, solids and even on traditional zari. It is Our favorite pattern of neck designs and here are ways to tweak this style according to your tastes.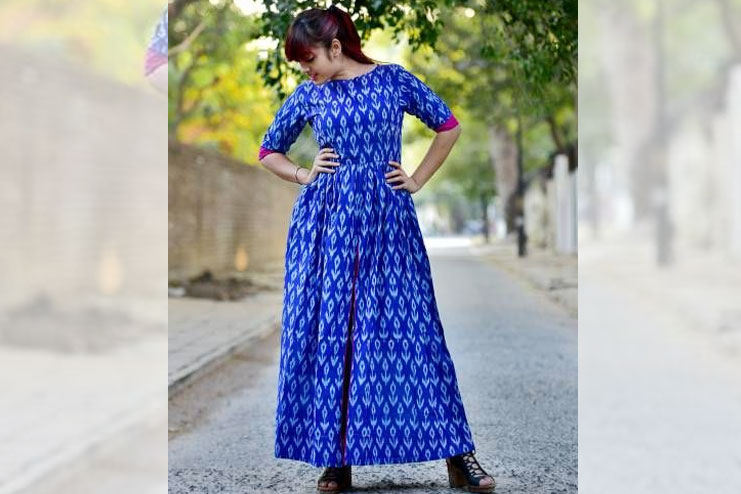 The simple boat neck pattern, It looks best with these cotton prints and can look very casual and smart. Use this pattern with heavy dupatta and you have a beautiful outfit.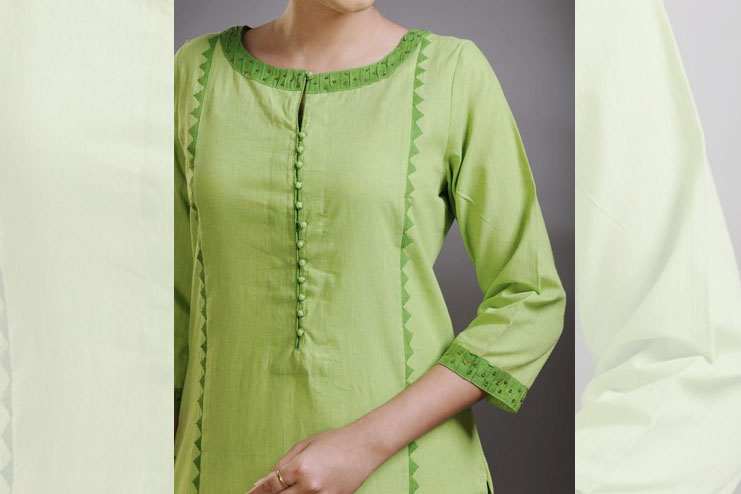 Add buttons, patches, and patterns to this solid boat neck to just make it a little less simple. This is best suited for simple dresses with less prints or solids.
Must Read: Choker Necklace Designs And Fashion Jewelry For Women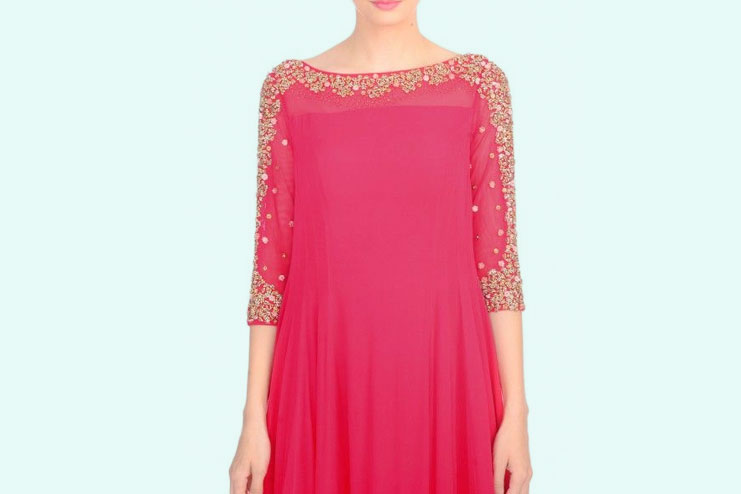 Add very delicate embroidery throughout your neck and sleeves like this pink Anarkali suit and you have the most beautiful show stopper outfit. This will work really well with solid light fabrics like chiffon and georgette.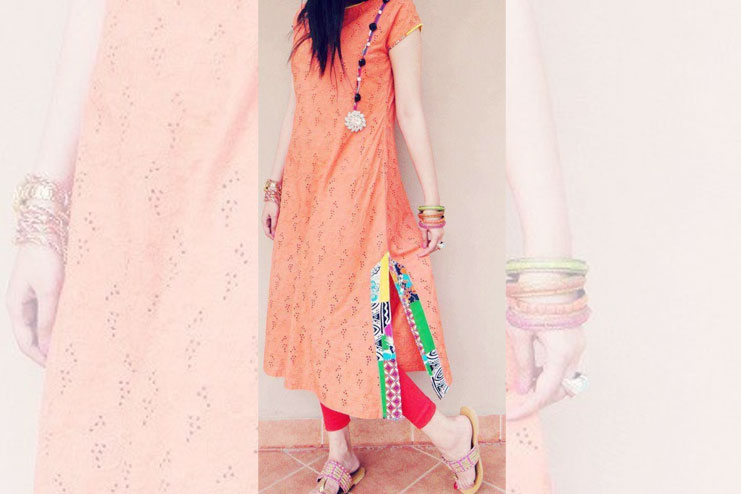 Trendy side zip or buttons can make your simple outfit into that boho chic kurti. Just use contrasting colours and this will work best.
3. Round Neck-
The classic round neck never fails. Just add this pattern to any fabric, any print, and pattern and it will always look good. It is the best way to fake a taller neck and wear your jewelry right.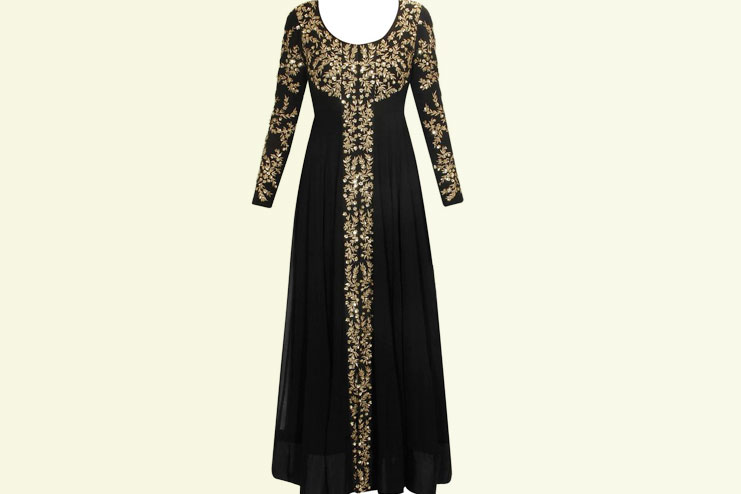 This is a simple round neck. It will go well with every churidar dress type.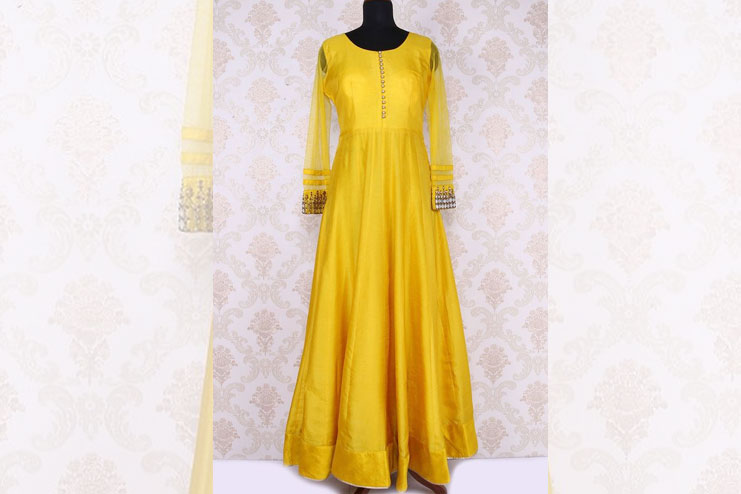 Add sheer sleeves and a few Potli buttons and this look completely changes to another level. This best suited with solid churidar and printed kurta.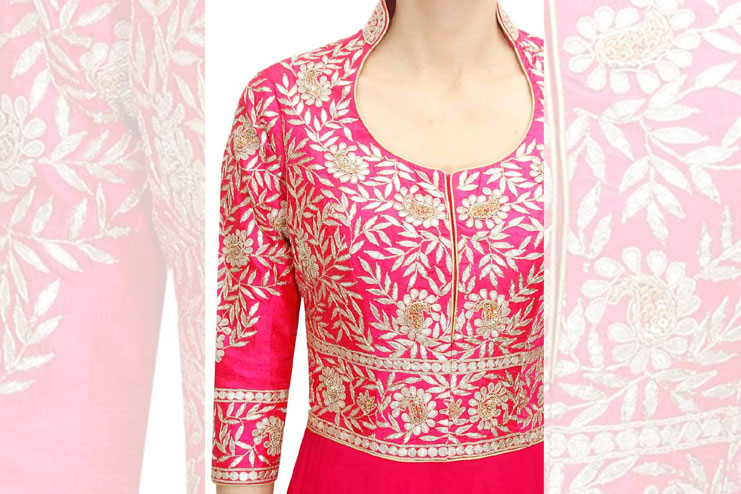 Add a collar on the back along with round neck and it gives you beautiful sophisticated look to wear with all your heavy traditional. This will look best with heavy and embellished fabrics.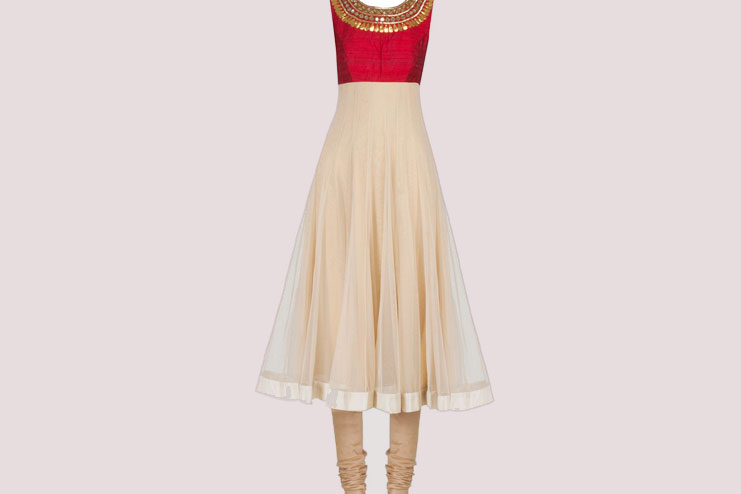 Round with embroidery around the neck. Best suited for Anarkalis and churidar neck designs.
4. V Shaped Neck-
For women who have round faces and broad shoulders, a V shaped neck will tone down the torso and make them look leaner. The pattern looks nice with almost all dress types. This will work best with churidar pants or legging. It will complement the length with the flow long looking legs. Here are a few variations to add to the simple V neck.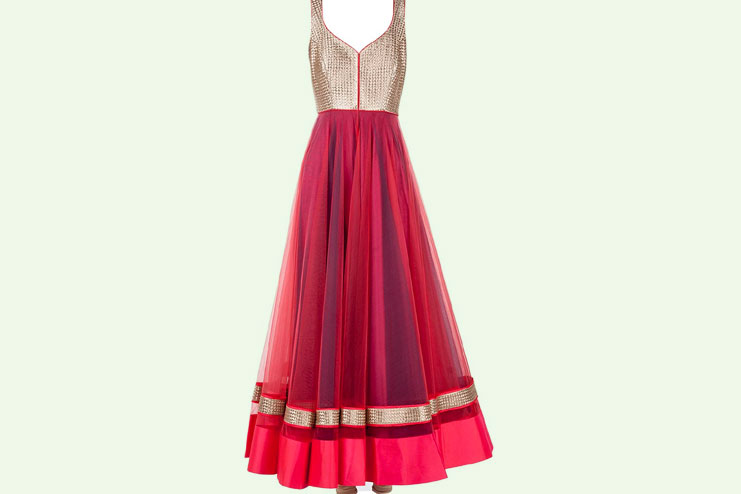 Simple spread V neck for an elaborate traditional dress like this.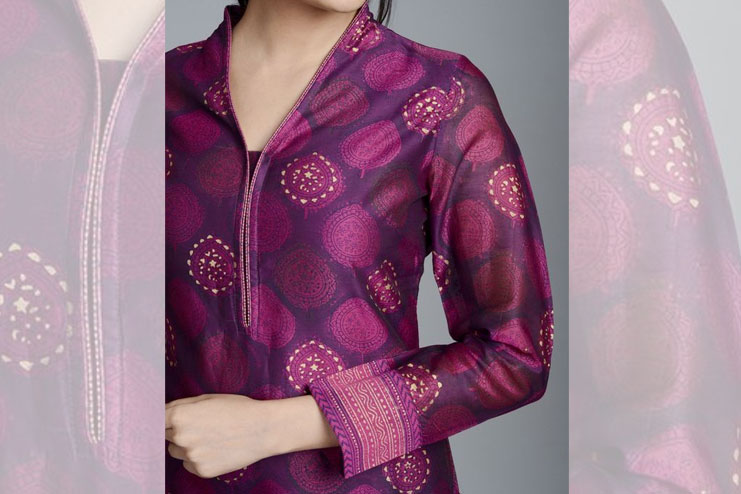 V shape with standing collar Best for subtle and office wear dresses. Will look really nice of silk and cotton fabrics. Esp. with piping around edges.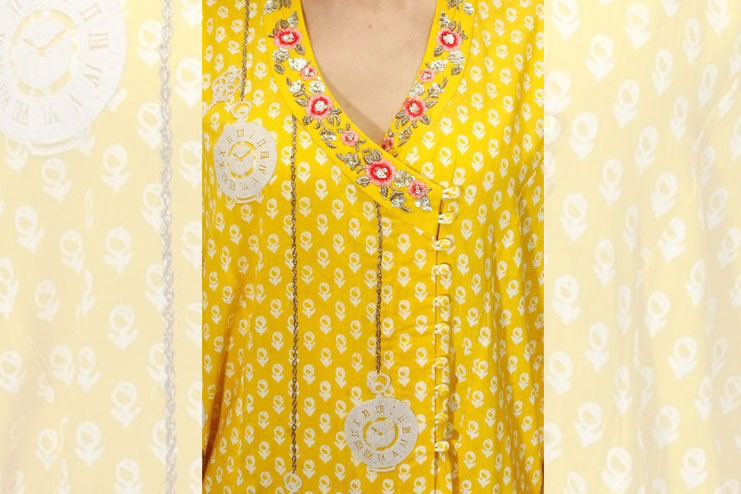 V shape with side buttons Use potli buttons or simple one to add an extra element to your dress.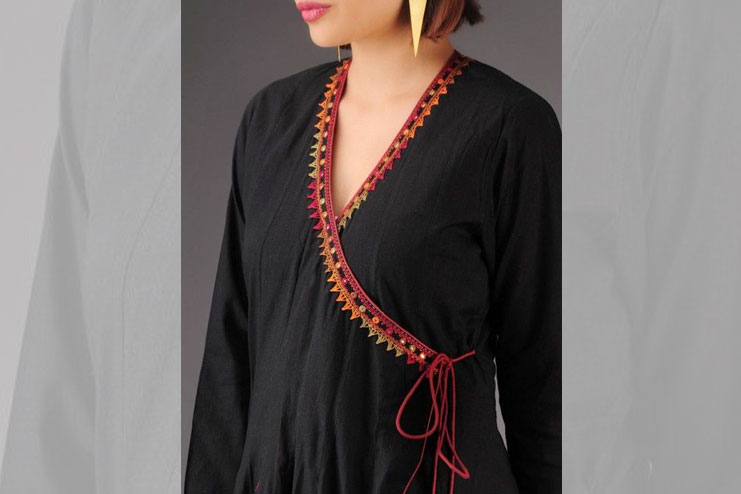 Angarakha with V shape neck. Angarakha looks best with this shape. It is also made in a square and round shape necks but V gives it a more natural looking finish.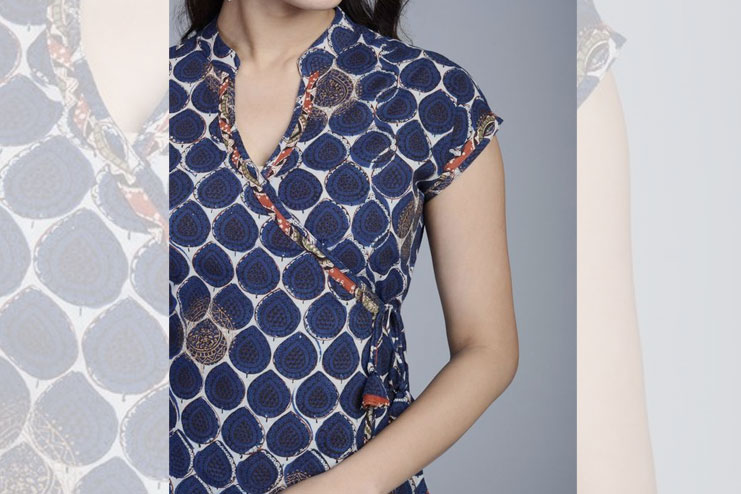 Angarakha with a collar will look best for very simple cotton suits. It will also work with silk and cotton.
5. Key Hole and cut out neck pattern-
A recently trending neck pattern is the key hole neck design. It is super fun and quirky way to jazz up the dress and we are absolutely in love with this design.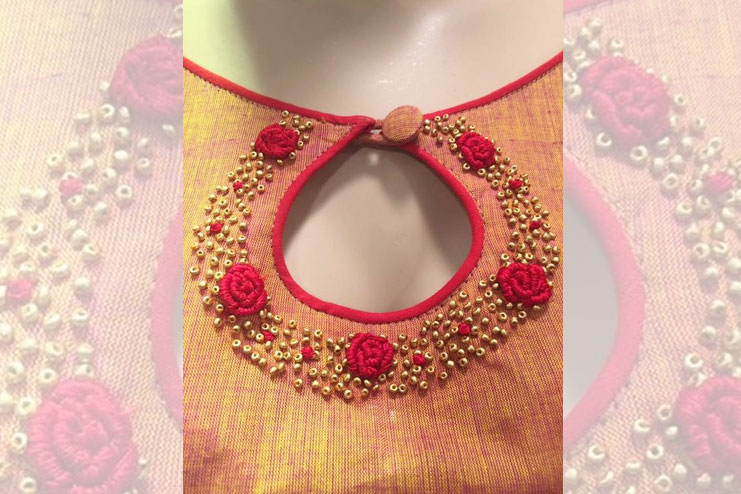 Key hole with embroidery for solid dresses with traditional touches.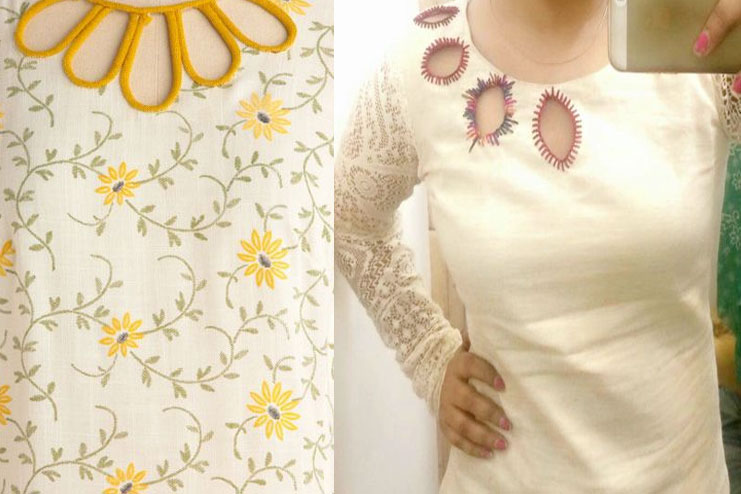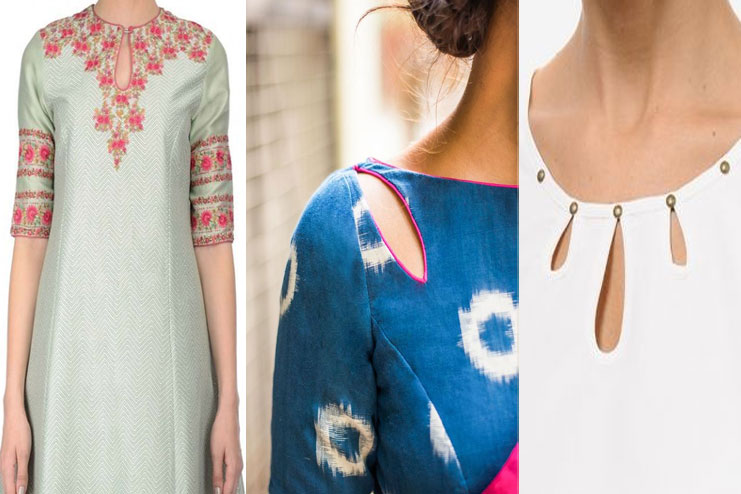 Add these fun little peeping holes or cut outs around your neck to add that chic vibe to your dress. It is the most effortlessly trendy style we came across and we love how well it has turned up a simple outfit into the most attention catching one.
6. Patch work and other Neck patterns-
Here is a list of dome Patch work and other patterns of a neck that have been around for a while, but these can never fail to inspire the designer in you.