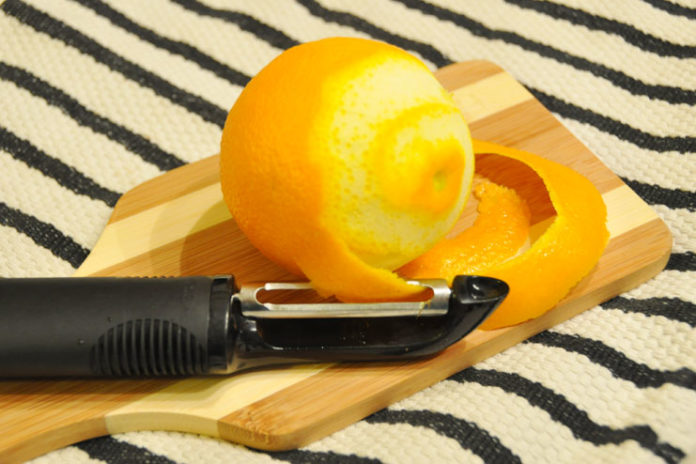 Orange is a multi nutrient rich citrus fruit with a refreshing smell and a taste like no other. It is full of skin benefiting anti oxidants to keep the skin young and healthy and also an abundant source Vitamin C to keep away blemishes, Acne, and spots.
Other than skin care Orange also contains Folic acid and Calcium, it extremely beneficial in the development of our brain and bones. A glass of fresh orange juice every day will make you healthy and keep your skin rejuvenated. After the extraction of orange juice, the remaining peels can also be used to create dry orange powder which works as a wonder for skin problems.
So, the next time you eat an orange, do not throw out the peels. Because after reading this article on the benefits of orange peel powder you will definitely want to make some for yourself. And to help you do that here is what you need to do.
How to make Orange Peel Powder?
To make this orange peel powder all you need is orange peels and a metal tray.
Cut these peels in small pieces and spread out evenly on the metal tray.
Lay out this tray in the sunlight for a good 3 to 4 days.
After the peels have completely dehydrated and turned hard and brittle collect the peels.
Put all the dried peels in a grinder and grind to make a fine powder.
Store this powder in a jar for instant use at any time.
Nutrient value of Orange Peel
If you take 1 tablespoon of dried orange peel powder it has,
6 Calories
Zero Fat
13mg Potassium
1.5g Carbohydrates
Vitamin C, Calcium
0.6 g Dietary fiber
1 mg of Phosphorus and Magnesium
And some traces of Zinc.
Hacks to Use Orange Peel Powder-
1. Face Wash-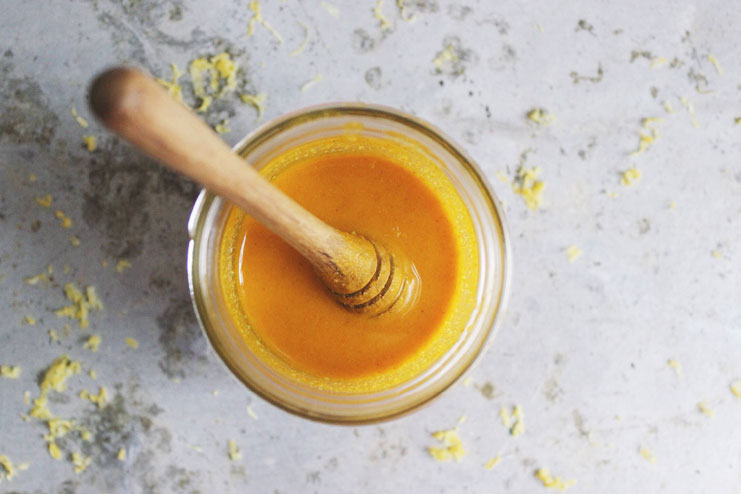 You can use orange peel powder to make a face wash. This face wash will gently clean your face and help in removing stubborn tan. This is what you need to do,
Take 1 Tsp of Orange peel powder, A pinch of Turmeric and Honey to make a paste.
Apply this over your face and rub it for 2 – 3 minutes.
Wash is off with normal water.
This mask works best for less sensitive and acne prone skin.
More at: Turmeric Face Pack Beauty Tips
2. Face Pack-
One of the most extensive uses of orange peel powder is in making face packs. It works wonders for skin and has so many variants for different skin problems.
I. Orange powder and Sandalwood for glowing skin-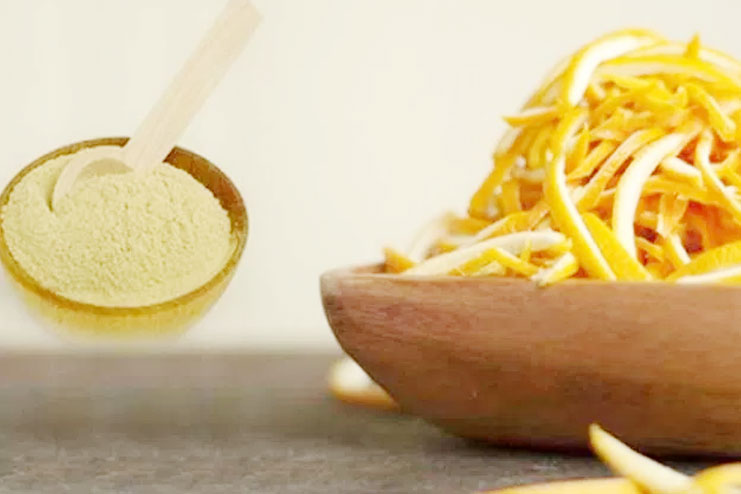 This Pack is best suited for a more youthful skin. Orange has antioxidants that prevent skin from wearing out and slows down the aging process. The sandalwood is known to nourish the skin cells and impart a glow right from the first use. To make this pack here is what to do-
2 tsp Orange peel powder and 1 tsp Sandalwood powder.
Mix it with milk or water and make a paste.
Apply over your face and let it dry for half an hour.
Wash it with cold water. Repeat twice every week for best results.
II. Orange peel and Oatmeal for Acne-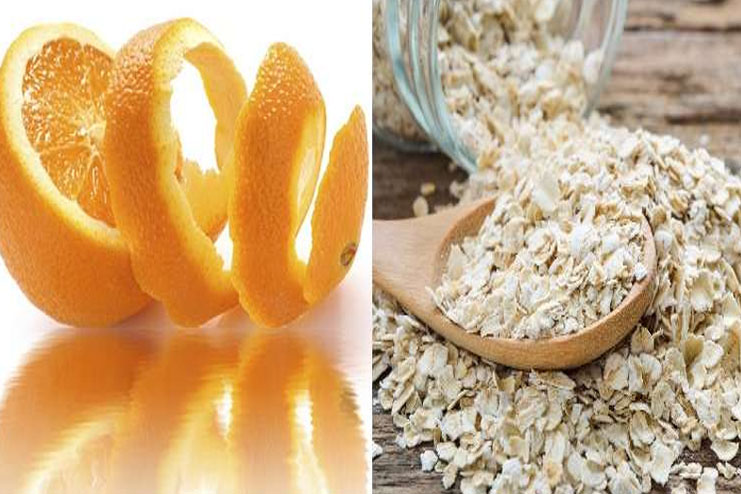 The Vitamin C from orange peel will protect your skin from free radical damage and the oatmeal will exfoliate your skin for impurities and dirt. This is an excellent home remedy with orange peel face pack. To make this mask-
Mix 2 tsp orange powder, 1tsp oatmeal, and 1 Tsp baking soda.
Add water to form a thick paste and apply it over your face and neck.
Massage it for 20mins and wash it off.
Repeat it twice a week for acne free and a healthy looking face.
III. Orange peel and yogurt for skin care-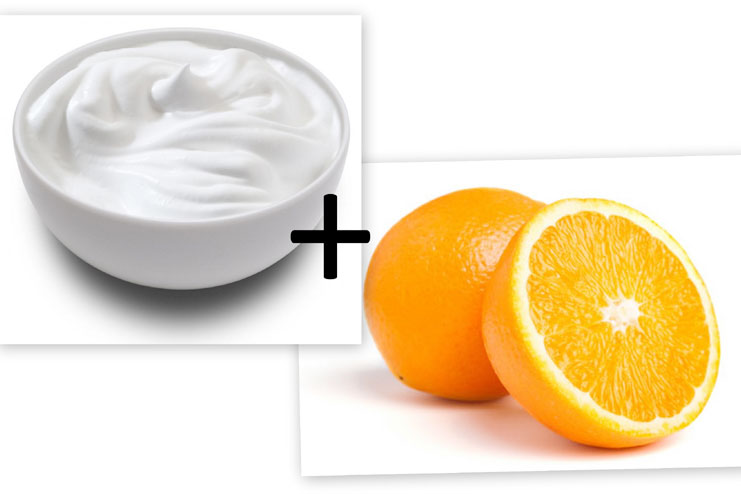 This is a very nourishing and exfoliating orange peel face mask for skincare. Yogurt removes inflammation and gives nourishment. The orange powder acts as an anti aging agent and prevents fine lines and removes dead skin cells. This pack has astringent qualities also. How to make this pack-
2 tbsp Orange powder and 2 tbsp Yogurt.
Mix them to form a paste and apply evenly on face and neck.
Let it dry for 30mins and wash with cold water.
Repeat twice a week for best results.
IV. Orange peel and honey for Blemishes-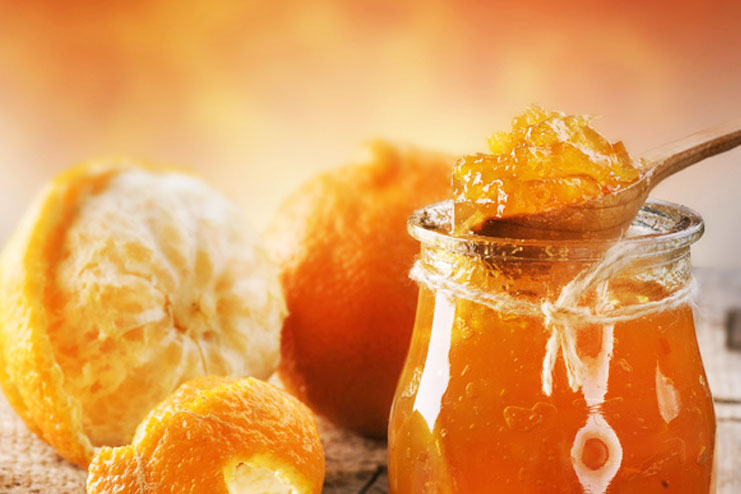 Presence of vitamin. C gives this face pack skin lightening qualities and reduces dark spots. The honey nourishes your skin and prevents it from any bacterial breakouts.
2 tsp Orange powder, 1tsp Honey and 1 tsp Yogurt.
Mix these together and apply evenly on face and neck.
Leave for 20 mins and wash off.
This pack can be a little drying so you can either add 2 drops of olive oil to the mix or apply moisturizer after removing the pack.
V. Orange peel and fullers earth for tan removal-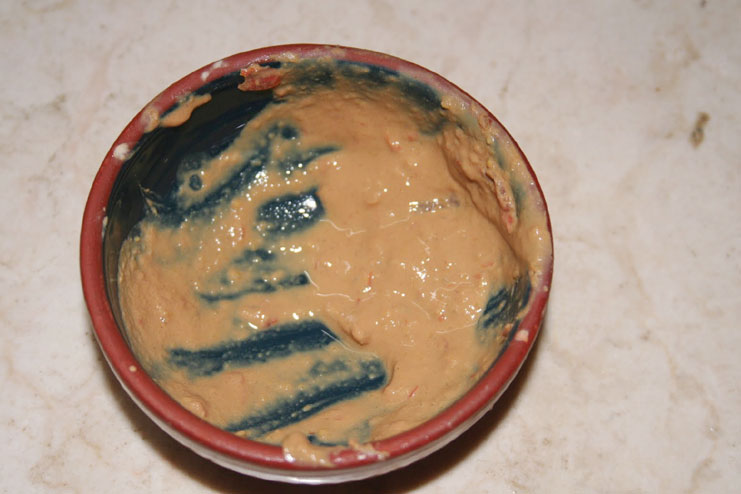 Fuller's earth is also known as Multani Mitti is an excellent remedy for oily skin ladies having tan on face and body. Combine it with Orange powder along with its natural skin bleaching tendency and the De-tanning properties of this pack increases multifold.
1 tsp Orange peel Powder and 1 tsp Multani Mitti.
Add rosewater to make a paste and apply over face, neck and even on Back.
Leave to dry for a while and then wash with water.
This can be done every day until you completely vanish off the Sun Tan.
3. Face Scrub-
The abundance of Vitamin C helps in Orange peel powder making the best skin exfoliant. The coarse and granulated Orange powder can also help remove dead cells and reveal healthy glowing skin. This works best for any skin type. Only women with severe acne may not use this very often but only once in two weeks. This is what you need to make your own Face scrub with orange peel powder.
1 tbsp each of Orange powder, sandalwood powder and walnut powder.
Add few drops of lemon juice and rosewater to make a paste.
Rub it over your face with gentle circular motions.
Leave for 2 minutes before washing off.
Repeat daily.
4. Orange peel face Mask (Peel Off)-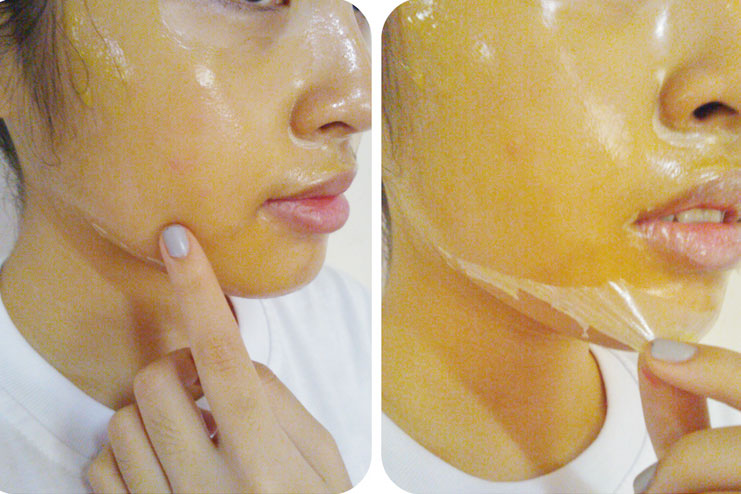 Orange peel makes for the perfect peel off mask ingredient as it is an excellent exfoliator and also removes dirt and impurities from the skin. It also lightens the skin so the mask makes you look instantly glowing and young.This is a great beauty hack for instant skin brightening. As it removes black heads too. This is a super simple mask with very few ingredients and it works like a dream almost instantly giving your skin an uplift.
Just take 1 tbsp each of Edible gelatin, Orange powder, and Honey.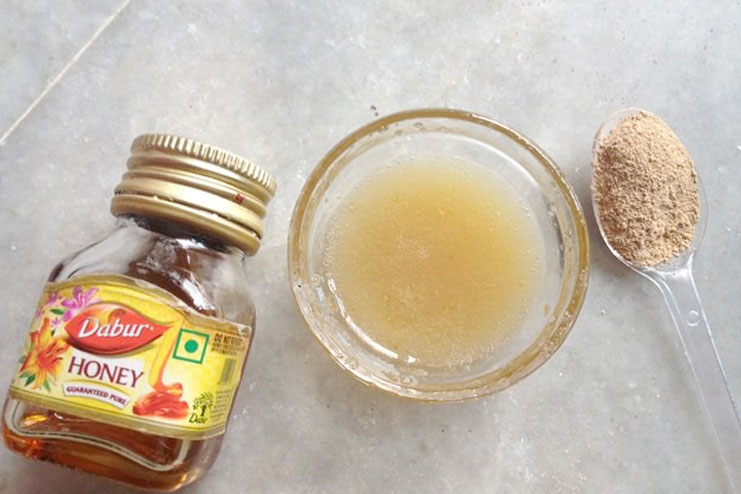 2. Mix the gelatin with warm water to form a gel like consistency
3. Add and mix all the dry ingredients to make a thick consistency. Do not let it cool too much as it may solidify on cooling completely.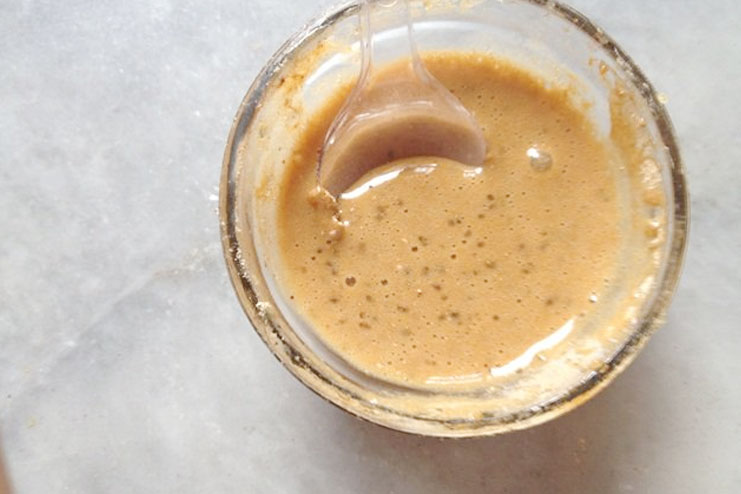 4. Apply this paste in a thick and even coat over your face and let it dry completely.
5. Then comes the most fun part. Peel off the mask like a skin.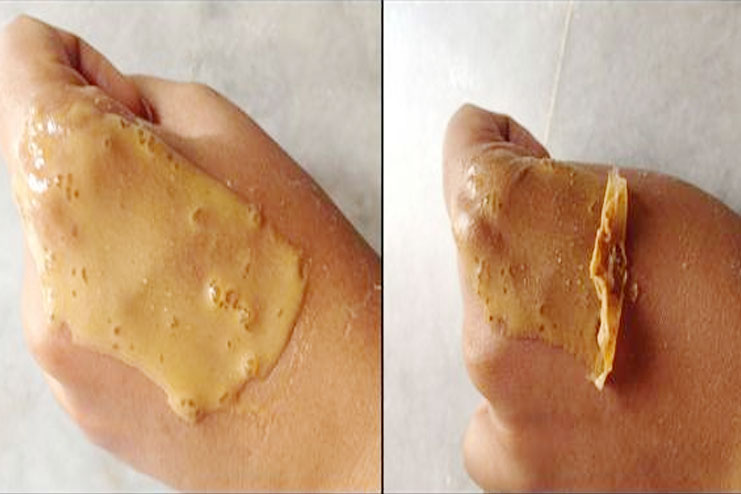 6. Clean face with a wet cloth.
This orange face mask is really fun to do and much nicer as the face looks radiant almost instantly. You will fall in love with this peel off orange peel mask and will never want to go back to the cosmetic peel off masks you get at markets.
5. Lip Balm-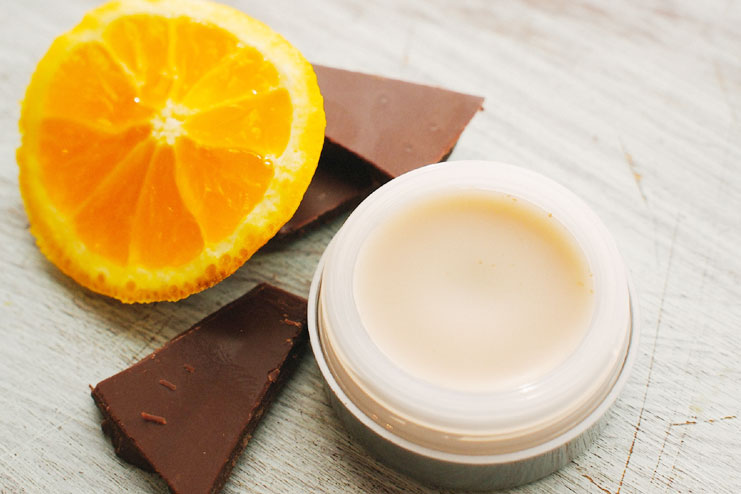 This homemade Orange peel Beauty hack is great if you have pigmented lips and the cosmetic lip balms are making it even worse. This lip balm is great for applying at night to let it heal your lips and bring out a blush pink shade your lips deserve.
Mix a tsp of fine Orange powder, powdered sugar, and edible almond oil.
Mix it and beat it till it forms a smooth mixture.
Store it in an airtight jar and use every night before sleeping for healthy pink lips.
kalyani