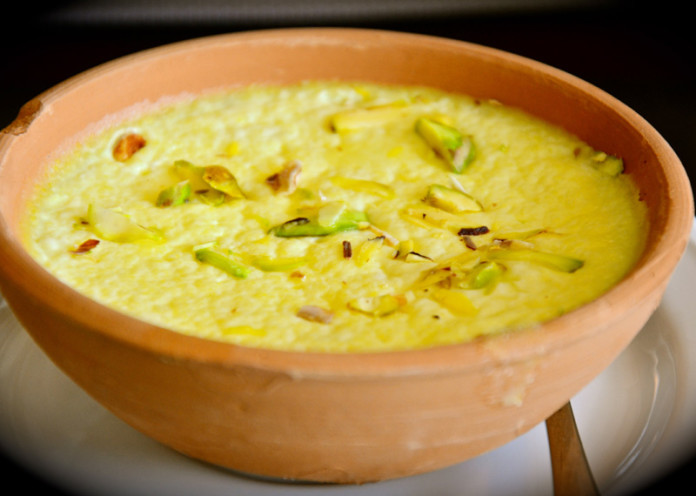 The most amazing dessert, which needs your rapt attention for a very less time is Mango phirni. It is a comfortable dessert which can be served to all age groups. A milky, creamy, rich in milk, smooth pudding, it is called as "aam ki phirni" in Northern India and is the most famous kind of dessert. This sweet is prepared with the help of full fat milk, basmati rice, sugar and cardamom. Using the mango puree, this fresh dessert is fruity, tasty and damn interesting to make. Here's the recipe for the same.
Ingredients – Mango Phirni
4 Mango
1 Cup Basmati rice, soaked in water for 20 minutes, drained and ground to a fine paste adding a cup of milk with it.
Full cream milk – 4 cups
Sugar – 1/3 cup or according to taste
Almonds – 8-10, soaked in hot water for 30 mts, peel off the skin and grind to a paste
Mango puree – 1 cup which includes 4 mangos
Green cardamom powder – 1 tsp
Pistachios – fistful, finely chopped or half ground
Saffron – 8-9 strands (optional) soak in 2 tbsps of milk
Method
1. Heat the milk in a big bowl and bring it to simmer when you find that it has reduced to 3/4th of its quantity.
2. Side by side, drain the soaked basmati rice and grind it to a fine paste, add ½ cup of boiled milk. Remove to a vessel and set aside.
3. After the milk has reduced to 3/4th of its original quantity, now add the ground rice mixture and keep stirring it slowly until it blends perfectly with the milk. You will notice that the mixture will thicken.
4. Keep on stirring so that the bottom does not burn. The stirring could take anytime between 12-15 minutes. Add almond paste, cardamom powder and sugar and continue to stir until the sugar dissolves and it forms a nice creamy mixture with no lumps. Turn off flame and allow to come to room temperature.
5. Add the mango puree to the phirni mixture and mix well. Remove to a serving bowl and chill until serving time.
6. At the time of serving, ladle the phirni into serving bowls, garnish with chopped pistachios.
Tips
Adjust sugar according to the sweetness of mangoes.
If using saffron, add it to the milk mixture at the time of adding cardamom powder.
If your phirni has turned too thick, you can loosen it have adding a few tbsps of boiled milk.
If using saffron, add it at Step 4
-Pavithra Ravi