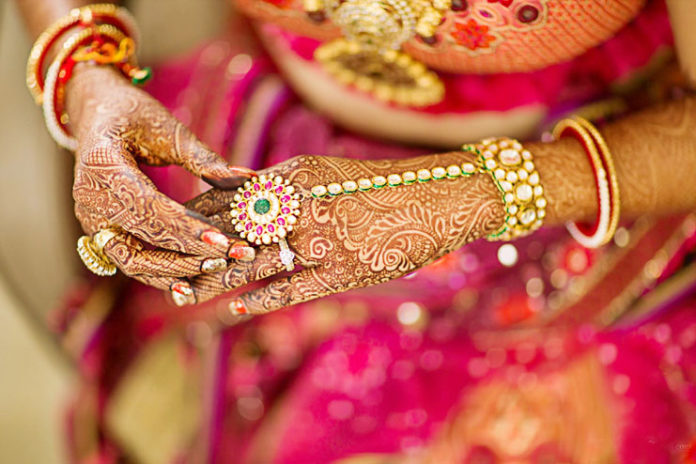 Mehendi is considered as a very essential part of Indian culture and Indian society. It plays a very significant role in all the wedding as well as other types of auspicious rituals. It is not only about mehendi, but even the use of turmeric is being described into the earliest Hindu Vedic ritual books. Originally Rajasthani mehendi designs are supposed to be used only on the women's palms as well as feet but with time, it is becoming a trend and part of rituals that even men apply it on the ceremonies as well as other rituals. Staining yourself with all the mehendi paste in today time in our religious customs, shows a very symbolic representation of the "awakening of the inner light".
Rajasthan is basically known all over the world for its rich as well as alluring colors and its glory of culture. From the clothes to jewellery to the mehendi designs, Rajasthani art work is mostly all about attention to the details as well as its exotic beauty. Rajasthani bridal mehendi designs do deserve all the attention due to its extravaganza. Rajasthani mehendi designs have always been loved and adorned by the women of all the cultures for a very long time.
These designs are quite very intricate and use many elaborate design elements that is beautifully put together to create a very mesmerizing pattern of the art as well as artistic charm. If you are someone who is about to tie the knot very soon, then check out the collection of these 11 exclusive Rajasthani mehendi designs for your hands.
Rajasthani Mehendi Designs
1. Dulha-Dulhan Rajasthani Mehendi Designs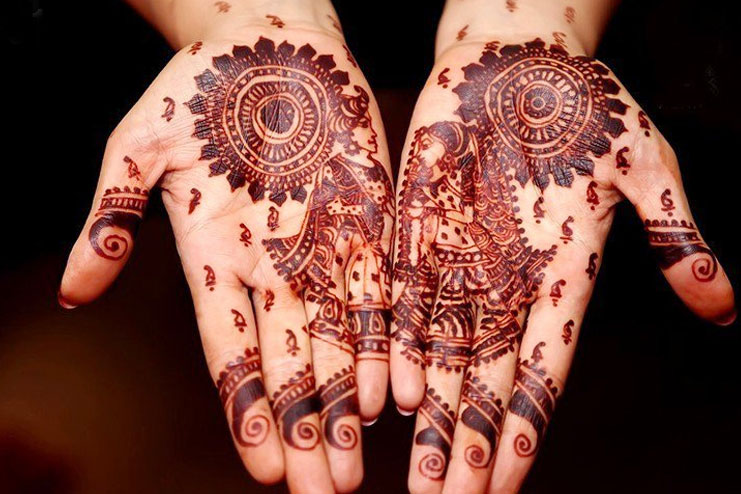 This amazing dulha-dulhan bridal mehendi design is very quintessentially Marwari mehendi design. As the name itself translates to, on the hand a small caricature of the bride as well as groom is made. It can be decorated with other designs as well or can be left out alone. They look quite very unique and beautiful on whoever wears it. This amazing Rajasthani mehendi design has become so popular, that it is now used all over the India by the brides of various states.
How To Throw a Memorable Mehendi Party At Home
2. Flower Motifs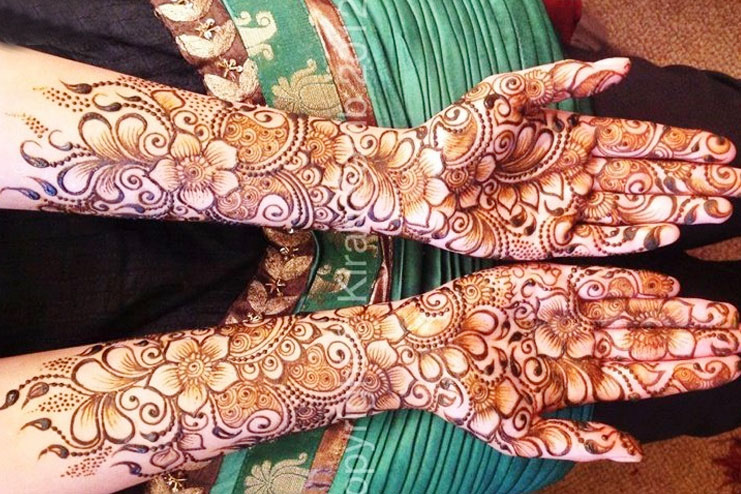 Flower motif bridal mehendi designs is one of the most common as well as popular bridal mehendi now-a-days. The various intricate motifs of this flower motif mehendi designs make up to the elaborate Rajasthani mehendi designs. Beautiful as well as delicate flower petals are drawn in the hand, such delicately that it do take a lot of time as well as patience to make.
3. Contemporary Mehendi Designs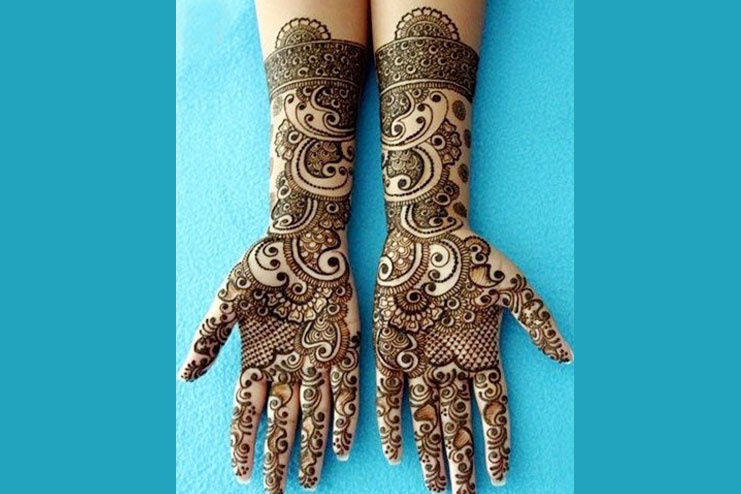 If you look through this bridal mehendi design, it have a little modern day touch as well as contemporary style. It is a little contemporary and is designed to get a very appealing visual effect. The gaps that are present in between these designs are also meant to accentuate the beauty of this pattern.
4. Krishnan-Radha Mehendi Designs Figurine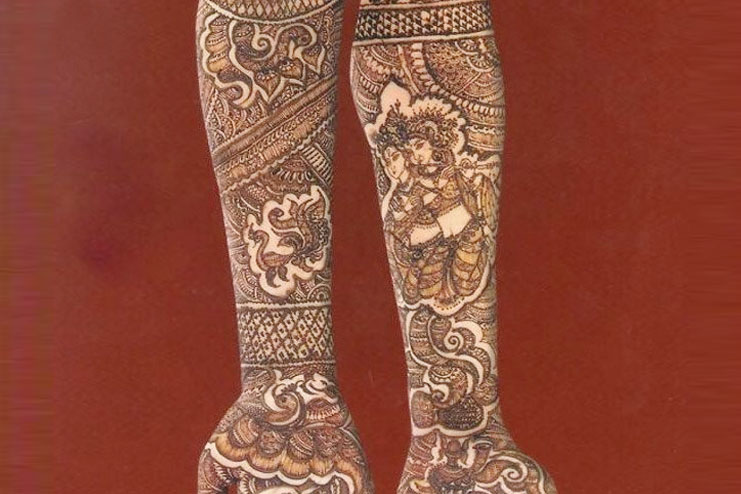 Another beautiful traditional as well as classic design, apart from a dulha and dulhan is the drawing of amazing figurines of Lord Krishna and Radha. Krishna is considered as a very romantic person and the love story of Radha and him is quite famous. So what more can be better than starting your love story with the blessing of famous love gods? Krishnan-Radha figurines is one of the most recurring theme in Rajasthani mehendi designs. The mehendi artist have done a very exceptionable job in this mehendi piece. Krishna and Radha are outlined with a painstaking clarity.
Tips On How To Make Mehndi Long Lasting
5. Full Hands Bridal Mehendi Design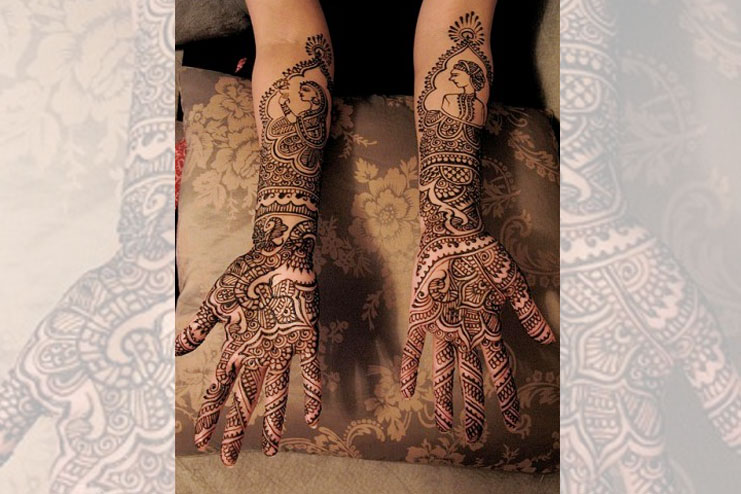 This is another typical Rajasthani mehendi designs for the full hands with very intricate details. The left hand consists of the image of a Rajasthani prince which is obviously the groom as well as the right hand has an image of the princess that represents the bride. Since both the hands are full with detailed designs the tip of the finger is then left open. This image of the bride and groom can be drawn anywhere in the whole hands like the palms or the wrist or even in arms. This Rajasthani mehendi designs is also suitable to decorate the bride's feet with the veil sheets as well as bird motifs. It is also considered as one of the best Rajasthani mehendi designs.
6. Modern Bridal Rajasthani Mehendi Designs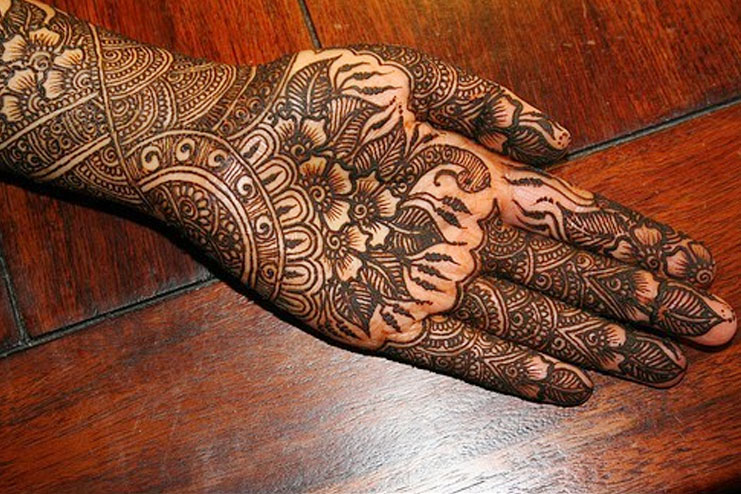 This one is one of the most extreme artistic and modern Indian bridal mehendi designs. The work is done very neatly with very few big flower motifs. You can see on how the flowers and the leaves are having a shade into them and how the bands are able to bring out all the fullness of the design. The design also gets better and denser towards the wrist followed up in the elbow.
7. Circular Rajasthani Mehendi Patterns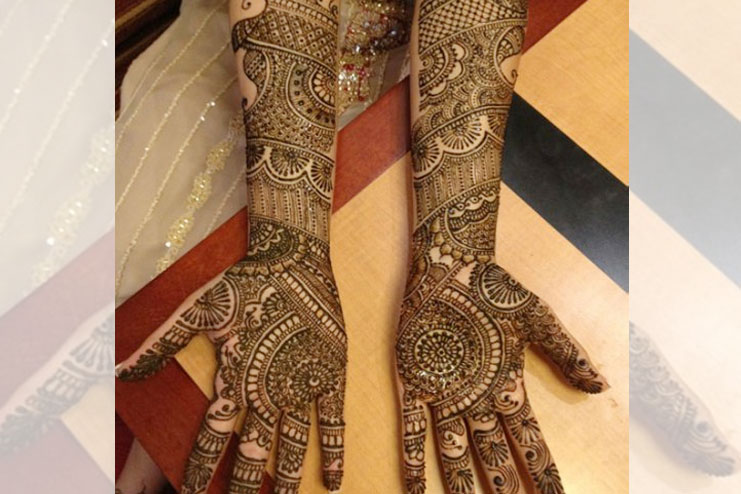 Apart from all the peacock motifs, or flower motifs or the leave motifs; circular patterns with very few shaded portion are also considered suitable for many types of occasions. These designs are also hard to create as mehendi is able to show of its colors. So here, you are unable to remove the applied mehendi and draw it again. Circular mehendi designs or the round structures do require a lot of accuracy and it is also better to have these type of bridal mehendi designs being applied by mehendi artists.
8. Easy Rajasthani Mehendi Designs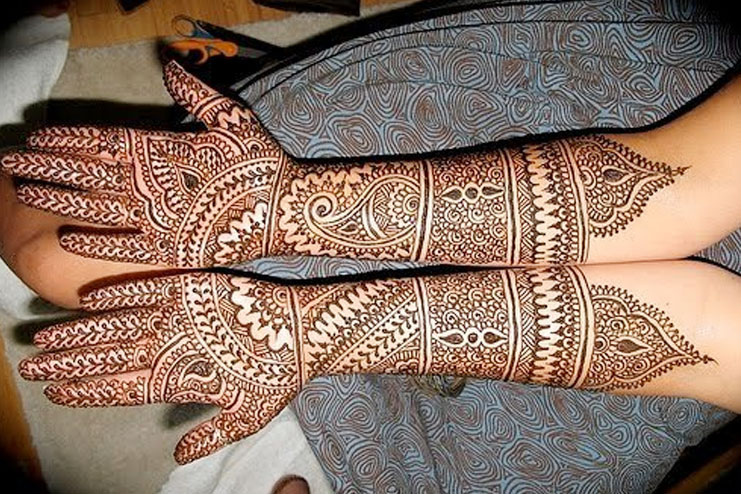 This design is considered as one of the most common as well as the easiest form of Rajasthani mehendi designs. It have many traditional motifs that include designs like the mango leaf border, which is then filled with all the small squares. The leafy patterns in it add more touch into the design. This design is also considered suitable for any type of household function rather than any kind of big occasions like weddings. These designs can also be extended to the entire length of your hand, making it a very suitable for the bride as well as her closet friends.
9. Classic Rajasthani Bridal Mehendi Designs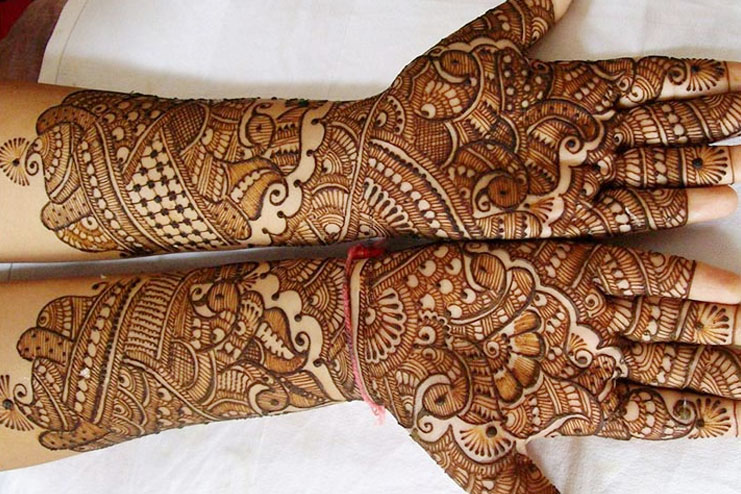 This particluar work is being recognized as one of the classic Rajasthani mehendi designs for the hands. It is known to use all the traditional design elements that can add beauty as well as the charm. The paisleys, or the floral patterns or the fine lines also together make this type of design an evergreen as well as popular choice for the brides.